"Global earnings are now 14% off the peak set in August 2014 and back to where they stood five years ago. Equity prices on the other hand are 25% higher. Gravity beckons." Andrew Lapthorne
The Hedge Fund Connection

The hedge fund industry and the charter movement are almost inextricably entangled..... Several hedge fund managers have launched their own charter-school chains. You'd be hard-pressed to find a hedge fund guy who doesn't sit on a charter-school board ...


Many critics of the corporate education-reform movement are quick to accuse proponents of seeking to cash in on the privatization of one of the United States' last public goods. And while there certainly are those in ed-reform circles who stand to benefit from a windfall of new education technology, testing, and curriculum services, hedge funders by and large do not fit that stereotype...


He directed his anger at what he says is the most powerful special-interest group in the Democratic Party: teachers unions. So in 2005, Tilson got together with a number of other highly educated, wealthy investors to build a political instrument to simultaneously advance pro-charter education reform and beat back what they saw as oppressive teachers unions.


"Our public school system—including charter schools—is a governmental system, and that means at the end of the day, it's run by politicians," Tilson says. "And politicians respond to votes and they respond to money. That means if you want to change a governmental system you've got to play the political game."
The list of original funders is chock-full of Wall Street A-listers. There was Joel Greenblatt, head of Gotham Asset Management and author of the seminal high-finance book You Can Be a Stock Market Genius. There were Charles Ledley and James Mai of Cornwall Capital, perhaps most well known for betting big against the subprime-mortgage market, which was depicted in the book-turned-blockbuster The Big Short. There was David Einhorn, head of Greenlight Capital, who has drawn scrutiny on more than one occasion for financial wrongdoing.


Basically, if you were anybody who was anybody in hedge funds, you probably chipped in. Tilson called the group Democrats for Education Reform (DFER), and set it with a mission "to break the teacher unions' stranglehold over the Democratic Party."
Early on, DFER identified then-Senator Barack Obama and then–Newark Mayor Cory Booker as promising politicians willing to break with teachers unions. DFER was instrumental in convincing Obama to appoint charter-friendly Chicago Superintendent Arne Duncan as secretary of education, and it spent a lot of time and money lobbying the administration to pursue reformist education policies like Race to the Top and Common Core. Tied to Obama's coattails, DFER was now one of the most influential political players in the ascendant education-reform movement.


"All of a sudden, there were politicians all over the country who were willing to back education reform," Tilson says. "We were able to raise more money, but there were also a lot more fields to play on." As it found tremendous success at the federal level, DFER tried to maximize its newfound influence to leverage reform in local politics...


Behemoth groups sponsored by mega-billionaires like Eli Broad, Bill Gates, the Koch brothers, and the Walton family have spent hundreds of millions to launch charter schools, sponsor think tanks, and more broadly steer the ideological DNA of reform. In recent years, newer organizations have positioned themselves adjacently to that machine while focusing more explicitly on politics. Critics, though, say there's little difference between groups like DFER and those on the right. DFER has taken heat for teaming up with the Koch brothers and the American Legislative Exchange Council (ALEC) in backing California referendums that attacked public education and unions, and in opposing a ballot measure to impose a tax on millionaires. They've also given money to a right-wing group that was a booster of Wisconsin Governor Scott Walker's anti-union agenda, and took out an ad in 2012 blasting the Chicago Teachers Union in the lead-up to a strike.


For his part, Whitney Tilson insists, "We're writing the checks, but we're not dictating everything that's going on." In a written statement to the Prospect, DFER National President Shavar Jeffries added: "Our state chapters are not run by people flying in from Washington. They are staffed by local political organizers and education experts that are overwhelmingly from the communities they work in." But the financial influence of the outside charter-boosters is an ill-kept secret. The pushback against outside pro-charter money in local races has been steadily growing as more and more cities are impacted. That anger likely becomes more visceral when it becomes clear to voters that out-of-state billionaires are trying to tip the scales in their own backyard
3 Corporate earnings have declined for four consecutive quarters. This never happens outside of a recession.


#4 Profits for companies listed on the S&P 500 were down 7.1 percent during the first quarter of 2016 when compared to the same time period a year ago.


#5 In April, commercial bankruptcies were up 32 percent on a year over year basis, and Chapter 11 filings were up 67 percent on a year over year basis. This is exactly the kind of spike that we witnessed during the initial stages of the last major financial crisis as well.

#10 U.S. GDP grew at just a 0.5 percent annual rate during the first quarter of 2016. This was the third time in a row that the GDP number has declined compared to the previous quarter, and let us not forget that the formula for calculating GDP was changed last year specifically to make the first quarter of each year look better. Without that "adjustment", it is quite possible that we would have had a negative number for the first quarter.


#11 Barack Obama is poised to become the first president in U.S. history to never have a single year during his time in office when the economy grew by more than 3 percent...


the mainstream media loves to point the blame at just about anyone else. In fact, the Washington Post just came out with an article that is claiming that the big problem with the economy is the fact that U.S. consumers are saving too much money…
The surge in saving is the real drag on the economy. It has many causes. "People got a cruel lesson about [the dangers] of debt," says economist Matthew Shapiro of the University of Michigan. Households also save more to replace the losses suffered on homes and stocks. But much saving is precautionary: Having once assumed that a financial crisis of the 2008-2009 variety could never happen, people now save to protect themselves against the unknown. Research by economist Mark Zandi of Moody's Analytics finds higher saving at all income levels.
So even though half the country is flat broke, I guess we are all supposed to do our patriotic duty by going out and running up huge balances on our credit cards.
What a joke




In the ongoing Verizon strike, nearly 40,000 workers are pitted against a giant corporation that is the product of the decades-long consolidation of the telecommunications industry and its increasing subordination to giant banks and hedge funds. The sole purpose of this multinational company is, as Verizon's president, Lowell McAdam, has stated, the maximization of returns for its shareholders, dominated by Wall Street and its large financial institutions.


Major institutional shareholders of Verizon stock include: Vanguard Group Inc. (5.65 percent), Capital Research Global Investors (4.17 percent), State Street Corp (3.75 percent), and BlackRock Fund Advisors (2.52 percent). These five major financial firms alone possess over 16 percent of Verizon shares. There are many more similar firms with smaller stakes. Together, they exercise substantial control over the company
Suspected 9/11 mastermind Khalid Sheikh Mohammed's defense team is calling for the entire prosecution at Guantanamo Bay to relieve themselves of their duties after suspicions arose that they secretly destroyed evidence in the long-running case.
They also believe the entire case against Mohammed should be dismissed, based on the alleged actions of the prosecution, which the defense labeled as "at least the appearance of a collusion."
"Now, and indeed over other matters previously, Khalid Sheikh Mohammed's military commission is fatally flawed," lead defense attorney David Nevin told the Guardian.


US President Barack Obama's term is nearly up, and if the defense gets its way, it will be the new administration that has to figure out what to do with the suspect, who has been in custody for 12 years now for his suspected role in the September 11, 2001, attacks on New York and Washington, DC


Several trucks, carrying improvised chemical weapons, have been transported to the Aleppo province from Idlib, the Russian Ministry of Defense reported. The area to the north of the regional capital, Aleppo, is controlled by al-Nusra Front.
The arms are said to contain "chlorine-based toxins," the ministry detailed.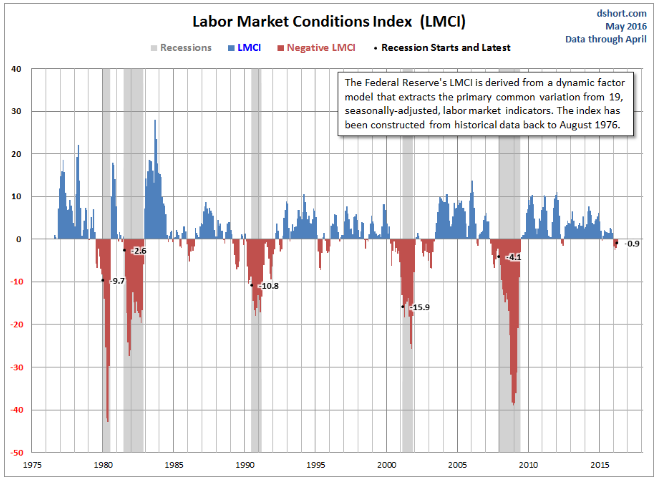 As we readily see, with the exception of the second half of the double-dip recession in the early 1980, sustained contractions in this indicator is a rather long leading indicator for recessions