'Labor Market Flexibility ' Definition:


A flexible labor market is one where firms are under fewer regulations regarding the labor force and can therefore set wages (i.e. no minimum wage), fire employees at will and change their work hours. A labor market with low flexibility is bound by rules and regulations such as minimum wage restrictions and requirements from trade unions. ...Supporters of increased labor market flexibility argue that it leads to lower unemployment rates and higher GDP. However, its opponents claim that flexibility puts all the power in the hands of the employer, resulting in an insecure workforce.
http://www.investopedia.com/terms/l/labor-market-flexibility.asp
In their April "Capital Markets Monitor," IIF executive managing director Hung Tran and his team blamed the global decline in earnings on poor productivity growth, weak demand and a general lack of pricing power. U.S. companies also are being squeezed by rising labor costs as they add people to their payrolls.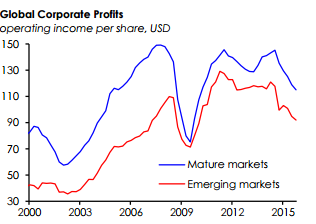 The pervasiveness of the downturn means there's nowhere for corporations to turn. "In the past, if you had poor performance at home, you could recoup and compensate for that with overseas investment," Tran said in an interview. "But if you suffer declines in profits domestically and internationally, you tend to retrench."
That in turn raises the odds of an economic recession. He put the chances of a U.S. downturn within two years at around 30 to 35 percent due to the earnings slump, up from 20 to 25 percent.

The prolonged profits recession makes Tran and his associates skeptical that the recent rebound in global stock markets can last. They see prices stuck in a downward trend

Once they start trading, the BOJ will buy shares of these newfangled ETFs at a rate of ¥300 billion ($2.7 billion) a year with the explicit goal of driving up the stock prices of the companies in the ETF. If it works out that way, which is doubtful since practically nothing in the Japanese stock market has worked the way the BOJ had planned, it would be the reward for those companies that asset managers deem obedient to the BOJ's wishes.


So just how helpful is all this?


Stocks tanked, again. There's a reason why the Japanese stock market has become a hedge-fund hotel, and why Japanese retail investors try to stay away from it. The Nikkei dropped 2.4% today to 15,733. It has plunged 24.6% from its recent peak in June and is sinking deeper into its bear-market mire.
In a new survey by the Pew Research Council, half of the registered voters surveyed said they think the future for the next generation will be worse, while just 24% said life will be better for the next generation. The survey indicated this pessimistic sentiment is spread across racial and economic lines.
When the Wall Street Journal/NBC News poll asked Americans in December whether the nation's economy would get better or worse over the next year, just 24% said it would get better, while three quarters said it would either get worse (24%) or stay the same (50%). In the fall of 2012, the share seeing economic improvement coming was at 45%.


Russian Foreign Ministry warned on Friday that supplying terrorists in Syria with man-portable air-defense systems will be deemed a direct support for terrorists and means that those who do it must face the consequences.
According to Russian News Agency TASS, Deputy Foreign Minister Oleg Syromolotov said that no air defense systems have reached terrorists as of yet but information point to attempts by terrorists to acquire Western-made man-portable air-defense systems from countries neighboring Syria.


The Russian diplomat affirmed that in case such systems end up in terrorists' hands, the country involved will have to be held to account for siding with international terrorism with all the attendant consequences this act implies. "This should be taken as a serious warning," he added.
US and other regional countries such as Saudi Arabia and Turkey are continuing their military support to terrorists in Syria which they dub "moderate opposition" to justify their support.
The Saudi regime had provided terrorists with large amounts of weapons and ammunition, most of them are US-made, according to terrorists' pages on social media sites.