The U.S. consumer might be the engine of global growth — just not the roaring V12 it used to be.
From the fourth quarter of 2003 through 2006, amid the real estate bubble, personal consumption expenditures grew at an average annual clip of 3.5 percent. Since the S&P/Case-Shiller Composite 20-City Home Price Index bottomed out in March 2012, however, personal consumption expenditures have increased by just 2.3 percent, on average.
In an economic letter published by the Federal Reserve Bank of Dallas, economists John Duca, Anthony Murphy, and Elizabeth Organ identify one reason why this American muscle car has lost its nitrous oxide.
The researchers found that the wealth effect from real estate — that is, the extent to which home price appreciation juices consumer spending — has been cut in half since the mid-2000s: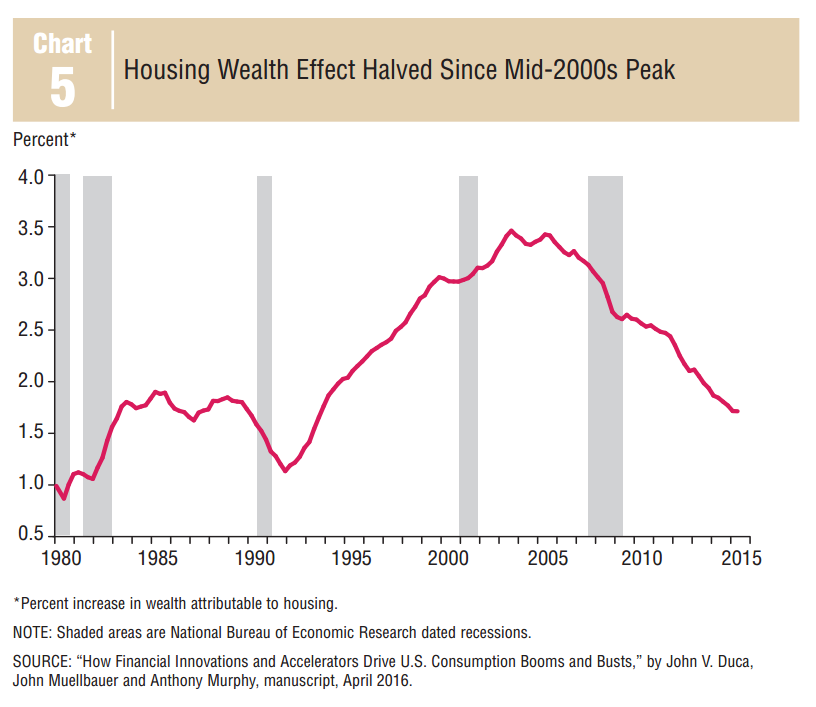 Source: Dallas Fed
The housing bubble of the aughts was characterized not only by soaring real estate values, but also households' penchant for using real estate as a piggy bank to finance current consumption.
In the wake of the crisis, access to credit by this channel was curtailed dramatically and the debt overhang served as a notable drag on consumption, to boot.
"In the U.S., increased availability of consumer and mortgage credit, along with rising asset prices, contributed greatly to the consumption boom in the mid-2000s; reversals in these factors exacerbated the bust in consumption during the Great Recession," the authors wrote.
Years removed from the bust, households may still be scarred from its effects and reticent to tap into home equity lines of credit.


The Federal Reserve recently put its interest rate plan on hold, but it will presumably resume at some point in the near future. Benzinga asked Theodore how much of an impact rising interest rates will have on companies that have been repurchasing shares. He explained that companies using debt to fund buybacks will suffer most.
"Because we focus on companies that are generally using growth in free cash flow to finance buybacks, rising interest rates have less of an immediate impact on them," Theodore said.


Despite the sharp decline, the Japanese currency remains 7.5% higher against the greenback year-to-date.
The yen's strength has become a headache for Prime Minister Shinzo Abe because a weaker currency was seen as one of his administration's biggest accomplishments.
But whether or not the BOJ acts might not matter, Foley said.
"Irrespective of the policy decision taken by the BoJ next week, a stronger [dollar] would be very useful in supporting growth and inflation in Japan," she added.
Investors are turning their attention to the BOJ and a meeting of the Federal Reserve next week in the wake of an uneventful European Central Bank meeting on Thursday. Speculation of more BOJ easing has increased since the Japanese southern island of Kyushu was hit by a powerful earthquake earlier this month.
The Fed and the BOJ will each wrap up their two-day meetings on Wednesday and Thursday, respectively.


no one is buying Japanese debt, other than the Bank of Japan, which buys every JGB (via its "primary dealers") that the government issues and every JGB that isn't otherwise bolted down....


The BOJ's loans to Japanese banks at negative rates aren't going to increase lending and investment in Japan. Interest rates on loans are already low. The problem is there's insufficient demand! And there's insufficient demand because, among other reasons, these policies are strangling demand!....
Japan's national debt is between 230% and 250% of GDP, depending on who does the counting, compared to debtor-nation USA, at 105%. It has one of the worst credit ratings of any major developed economy; Standard & Poor's rates it A+, four notches below the top.


The Bank of Japan has been printing about ¥80 trillion ($716 billion) a year for three years – QQE, it calls this – on top of the money it printed in prior years, and uses the proceeds to buy Japanese Government Bonds and other securities. It now holds ¥410 trillion ($3.7 trillion) in total paper. That's 82% of GDP, versus money-printer-nation USA, at 25% of GDP.....


Japan's economy has been vacillating between growing a little and shrinking a little for years.
Now it's shrinking again. It shrank in the October-December quarter, and it's likely to shrink in the January-March quarter. That would be a technical recession.