The problem you Americans have in dealing with us is that you think you understand us, but you don't. You look at the Chinese and you think: 'They're not like us.' You look at us Russians, and you think, 'They're like us.' But you're wrong. We are not like you.
"
http://www.defenseone.com/threats/2015/02/american-education-vladimir-putin/105387/
"Against stupidity, no amount of planning will prevail."
- Carl von Clausewitz
Ian Welsh
got it right
in 2010. These words are still true today:
The left must be seen to repudiate Obama, and they must be seen to take him down. If the left does not do this, left wing politics and policies will be discredited with Obama. This is important not as a matter of partisan or ideological preference, it is important because left wing policies work. It is necessary to move back to strongly progressive taxation, it is necessary to force the rich to take their losses, it is necessary to deal with global warming, it is necessary to deal with the fact that the era of cheap oil is over, it is necessary to stop the offshoring engine which is destroyin the American middle class.
Only left wing solutions to these problems will work. America has spent 30 years, since Reagan, trying to fix its problems by going more and more right wing, and it has been a disaster. Each additional step to the right has made the problem worse.
The first step to fixing America is fixing the Democratic party, and the first step in fixing the Democratic party is fixing Barack Obama and destroying, forever, publicly and in the most high profile way possible, the idea that Democrats can ignore and abuse their own base. The lies spewed by corporate media figures who earn millions of dollars a year, that every time the Democrats lose, it is because they were too left wing, so more tax cuts are necessary, must end.
1--GE Announces One Of Largest Buybacks In History, Will Repuchase $50 Bn In Shares After Selling Most Of GE Capital, zero hedge
...
the main reason stocks soared in February after the worst January in years, is that
companies announced a record $100 billion
in stock buybacks in the month even as both earnings and the US economy continued to sharply deteriorate .
Moments ago, General Electric showed why April is much more likley to be a rerun of February than January or March when it announceed that it would go ahead and repurchase
half of the total record stock buybacks announced in February,
or some $50 billion in what may be the largest stock buyback announcement in history!...
'
From the press release:
GE to Create Simpler, More Valuable Industrial Company by Selling Most GE Capital Assets; Potential to Return More Than $90 Billion to Investors Through 2018 in Dividends, Buyback & Synchrony Exchange
2--
Deutsche Bank nears $1.5B-plus Libor settlement,
USA Today
Although Libor rate-setting may seem arcane outside of banking circles, the rate-rigging potentially affected millions of consumers who paid financial rates that were artificially high or low.
3--BRICS long-run aim to remove dollar
, ZH
"Each of the BRICS members may apply to any party to the treaty for loan," Medvedev said, adding that key decisions will be taken by the Governing Council, which consists of either finance ministers or central bank governors. Russia will be represented by the head of the Central Bank of Russia Elvira Nabiullina.
"I hope [the agreement on establishing the pool] will not only strengthen our economic cooperation, but also provide the participants of the 'five' more independence from the current international financial situation and the problems existing in the international financial institutions," he said adding that it's one of the most significant practical initiatives of BRICS.
Unless, of course, what the Russian PM is suggesting is that the currency pool will provide the "fresh start" equity in a new, post-dollar world, in which any debt denominated in dollars is nullified once the crisis strikes. Of course, for that to happen, it would mean that the USD is no longer the world's reserve currency. Which is, of course, the unspoken message here (and one which would promptly explain China's ravenous gold buying in recent years).
On Wednesday the Government Commission on legislative activities approved the bill on the ratification of the agreement to establish the BRICS reserve currencies pool. The ratification of this agreement will help Russia advance its monetary cooperation strategy, particularly in the development of privileged relations with its partners from BRICS, said the Russian government.
4--
19 Signs That American Families Are Being Economically Destroyed
, ZH
Incomes fell for the
bottom 80 percent
of all income earners in the United States during the 12 months leading up to June 2014.
#8
At this point,
more than 50 percent
of all American workers bring home less than $30,000 a year in wages.
#9
After adjusting for inflation, median household income has fallen
by nearly $5,000
since 2007.
#10
According to the New York Times, the "typical American household" is now worth
36 percent less
than it was worth a decade ago.
#11
47 percent
of all Americans do not put a single penny out of their paychecks into savings.
#12
One survey found that
62 percent
of all Americans are currently living paycheck to paycheck...
The rate of homeownership in the U.S. has been declining for
seven years
in a row, and it is now the lowest that it has been in
20 years
.
#16
For
each of the past six
years, more businesses have closed in the United States than have opened. Prior to 2008, this had never happened before in all of U.S. history.
5--
Stocks surge: Nikkei tops 20,000, Europe hits 15-year high
, Reuters
World shares approached record highs on Friday, as hopes of more easy money from top central banks pushed Japan's
Nikkei
past 20,000 points for the first time in 15 years and European stocks reached similar heights.
The stock market push was complemented by another low for euro zone bond yields, after Greece repaid a loan tranche to the International Monetary Fund to keep alive its hopes of more aid.
6---"
Another Crisis Is Coming": Jamie Dimon Warns Of The Next Market Crash
, ZH
warning shots across the bow."
Here's Dimon:
Recent activity in the Treasury markets and the currency markets is a warning shot across the bow


Treasury markets were quite turbulent in the spring and summer of 2013, when the Fed hinted that it soon would slow its asset purchases. Then on one day, October 15, 2014, Treasury securities moved 40 basis points, statistically 7 to 8 standard deviations – an unprecedented move – an event that is supposed to happen only once in every 3 billion years or so (the Treasury market has only been around for 200 years or so – of course, this should make you question statistics to begin with). Some currencies recently have had similar large moves. Importantly, Treasuries and major country currencies are considered the most standardized and liquid financial instruments in the world.
7--
Recession 2.0: Abysmal Wholesale Sales Join Factory Orders In Confirming US Economic Contraction
, zh
8--Why the American dream is out of reach
, wolf st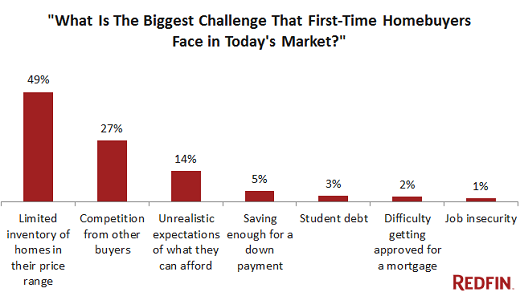 Note that in these days of once-again easy mortgage lending, "difficulty of getting a mortgage" has become inconsequential (2%) among the challenges. This is in part because many of the first-time buyers might have contacted a realtor first to see what is on the market at what prices before they tried to qualify for a mortgage. When they figured out that with their puny incomes they could never afford buying a home at these inflated prices, no matter how low the mortgage rate, they gave up looking, and the mortgage issue never came up....
First-time homebuyers are a boon to the economy. They're spending money they don't have to fix things up. They're maxing out credit cards to buy furniture and towels and kitchenware and a million other things they might not even need. They're spending every last dime of credit they have available in a drunken effort to make this house their home. There's a housewarming party, and other people dig deep into their pockets. This is in addition to all the activity associated with the transaction.
First-time buyers are a powerful force in America's consumer economy. But they're being sidelined by monetary policies designed to inflate asset prices – the "wealth effect" – to enrich a relatively small number of people. And in the process, these policies are stifling real demand.
9
--

We Traveled Across China and Returned Terrified for the Economy
, Bloomberg
10--Lagarde speaks....http://www.bloomberg.com/news/articles/2015-04-09/lagarde-warns-of-bumpy-ride-as-fed-prepares-for-rates-liftoff
A long period of low interest rates in the U.S. and other advanced economies has fostered a higher risk tolerance among investors, "which can lead to overpricing" and could pose "solvency challenges" for life insurers and defined-benefit pension fund, she said.
Lagarde, 59, warned that "liquidity can evaporate quickly if everyone rushes for the exit at the same time -- which could, for example, make for a bumpy ride when the Federal Reserve begins to raise short-term rates," she said the text of a speech at the Atlantic Council in Washington.
The turbulence could be especially rough for commodity-exporting emerging economies, which may find themselves caught between falling prices for their goods and a stronger dollar, which increases the burden of dollar-dominated debt, she said
Dollar Debt
The risk is that a surging greenback and higher interest rates will make it
harder
to service U.S.-denominated debt held outside the country by non-bank borrowers. This debt is estimated at $9 trillion by the Bank for International Settlements.
11---
U.S. Consumers Will Open Their Wallets Soon Enough
, Bloomberg
People are constantly exhorted to save, but as soon as they do, economists pop up to complain they aren't spending enough to keep the economy growing. A new blogger named Ben Bernanke wrote on April 1 that there's still a "global savings glut." Two days later the Bureau of Labor Statistics announced the weakest job growth since 2013, which economists quickly attributed to soft consumer spending. The U.S. personal savings rate—5.8 percent in February—is the highest since 2012. "After years of spending as if there were no tomorrow, consumers are now saving like there is a tomorrow," Richard Moody, chief economist at Regions Financial, wrote to clients in March
12--
Why Your Wages Could Be Depressed for a Lot Longer Than You Think, Bloomberg
Another factor keeping wage growth depressed is labor's declining share of income, the Fed authors note. While it's been on the downtrend for years, "the evolution of the technology used to produce goods and services, increased globalization and trade openness, and developments in labor market institutions and policies" have exacerbated it since 2000, likely holding down wage growth, they wrote. The faster decrease since then has shaved 0.4 percentage point each year from average real wage growth, compared to the period before 2000.
This mirrors the sentiment Fed Chair Janet Yellen expressed in March 27 remarks at a monetary policy conference in San Francisco:
The outlook for wages is highly uncertain even if price inflation does move back to 2 percent and labor market conditions continue to improve as projected. For example, we cannot be sure about the future pace of productivity growth; nor can we be sure about other factors, such as global competition, the nature of technological change, and trends in unionization, that may also influence the pace of real wage growth over time. These factors, which are outside of the Federal Reserve's control, likely explain why real wages have failed to keep pace with productivity growth for at least the past 15 years.
13--
Fed Heeds Banks' Warning on Where Next Crisis May Come From
Swaps trading -- when it was largely unregulated -- amplified the meltdown seven years ago and prompted a $182 billion U.S. rescue of American International Group Inc. The recent government scrutiny comes as more derivatives trades than ever are guaranteed at central clearinghouses.
"There must be sufficient financial safeguards and resources to minimize the threat of failure under market stress," Sandie O'Connor, chief regulatory affairs officer at JPMorgan, is slated to say Friday in remarks at a Federal Reserve Bank of Chicago conference on clearinghouses.
Barbara Novick, a vice chairman and co-founder of BlackRock, said in an interview that a clearinghouse's ability to withstand a future crisis or be wound down is her "No. 1 systemic risk issue." BlackRock is the world's largest asset manager.
14--
Turkish Stream will make Greece Europe's energy hub- Putin
, RT
"The new route will provide for European fuel needs, and would allow Greece to become one of the main power distribution centers on the continent, and could help attract significant investment into the Greek economy,"
Putin said at a joint news conference with Tsipras.
The new Turkish Stream
pipeline
will travel to the Turkish town of Ipsila close to the Greek border. The possibility is that 47 billion cubic meters (bcm) of gas can be delivered to Central Europe, the Balkans, and possibly Italy via the new pipeline.
15---
Keep Pushing Until Something Really BIG Breaks?
, wolf str
The minutes of the FOMC's March meeting make clear just how hard it is for the Fed to even think about the
possibility
of unwinding what they've wrought. After six-plus years of interest-rate repression, absurdity has become the established norm. Now they can't even figure out
how
to get out of it without bringing down the whole construct.
They handed the fruits of their monetary policies to folks who bought assets with them. Assets values have skyrocketed, yields have plunged, and risks have disappeared from the calculus. You can still get run over by a car, but you can't lose money in stocks or junk bonds. That's the established norm.
This stream of money created
asset price inflation
and funded the fracking boom, the tech bubble, and a million other things that produced a lot of supply. But demand remained lackluster because they didn't hand this moolah to the folks who'd spend it on gadgets or food or gasoline, the folks who'd actually create demand. The economy languished, and
consumer price inflation
, though bad enough for consumers, remained mostly below the money printers' lofty goals.
Now the Fed is trying to figure out
how
to unscramble the omelet....
Same in Japan, where the Bank of Japan just voted 8-1 to push QE at full tilt. It's buying every Japanese Government Bond that isn't nailed down. It's buying J-REITs and equity ETFs every time the market dips to make it head the other way. Absurdities are playing out with increasing intensity. The JGB market has dried up under the BOJ's relentless bid. And even conservative pension funds are dumping JGBs into the lap of the BOJ to buy equities at inflated prices.
And inflated they are: the Nikkei is up 135% in three years though the economy has languished. Real household incomes have been whittled down by a bout of inflation and a sales tax increase. The Olympics are coming, real estate values are soaring in Tokyo and some other places as foreign buyers and developers are pouring in, armed to the teeth with cheaply borrowed money, even as the hollowed-out middle class gets to hold the bag.
Oh, and Chinese stocks! Shanghai's SSE Composite Index has nearly doubled in 12 months....
But how the heck do you stop this madness before something BIG breaks? How do you get out of it without bringing down the whole construct? You'd think that six-plus years of these policies would have given central bankers enough time to figure it out. But no.
The Fed doesn't know how, according to the
minutes
from the March FOMC meeting. To its credit, it's at least discussing it. But it doesn't even know
how
to raise interest rates, now that the huge balances of excess reserves the banks keep at the Fed render the traditional way ineffective.
So they're playing with novel mechanisms. But they might pose "risks to financial stability" – market swoons, in Fed speak. One of these mechanisms would be to sell some assets that mature in a relatively short time. A minor move, a total no-brainer, you'd think. But even the
mere announcement
, according to the minutes, "would risk an outsized market reaction…."
The "public" – the speculators the Fed has been feeding with free money – might see this as a "signal of a tighter overall stance of monetary policy than they had anticipated." And it could make this whole construct come unglued.
The mere announcement of such a minor move
16--Why is there no response from the UN? RT
SF: They didn't respond because the US supports it and politically calls the shots. When you look at the Saudi invasion, bombing campaign and what the UN has said in the past at other countries when there is US instigation. Look at Iraq going into Kuwait years ago. And the immediate orchestrated response – "war, invasion" - that this created. And yet here is Saudi Arabia invading and bombing Yemen with full US encouragement and support and also all the other imperialist powers who operate together in order to push back any form of resistance that they feel will… These all regimes are collapsing. They can no longer be propped up and held up and that is what they are trying to do – to use military measures to put back into place governments that are completely collapsing because they provided the population with nothing that won the loyalty of the population. And this is what happened in Yemen in essence.
17--
BRICS
$100Bln
Currency
Reserve
Pool
as
Economic
Foreign
Policy
Tool
, sputnik
18--US propaganda war in Ukraine, sputnik
Documents posted on the web reveal a high-level anti-Russian propaganda war being waged in south and eastern Ukraine by the US, the UK and NATO on behalf of the Kiev Government, using non-governmental organisations (NGOs) as agents.
According to the Drakula blog, the West is raising its game in its campaign against Russian President Vladimir Putin. While it is — on the one hand — pumping up the military volume by moving NATO and US hardware nearer to the Ukraine and Russian borders, it is also playing a hybrid war by pumping funds into an anti-Russian propaganda war. ...
The NATO document reveals the Kiev Government has a "weak Public Affairs capacity" and sets out proposals to counter Russian influence and tackling what it describes as a lack of cross-government work and co-ordination as well as a lack of understanding of the importance of "national narrative".
"Decreasing the Russian Information Influence....


Further documents reveal a project run by the UK Foreign Office, the Department for International Development and the Ministry of Defence worth $360,500 with the purpose of: "National reconciliation in Ukraine through effective communication for restoring public trust and empowering of the participatory democracy mechanisms using regional media coverage, counteraction to Russian information influence"...


It outlines a pro-Kiev propaganda battle using Ukrainian agencies including the Ukrainian Institute for International Politics (UIIP); the Analytical Center for Geopolitical Studies 'Borysfen Intel' (BI); and the Department of the civil-military cooperation, HQ of the armed forces.
19--

New

Silk

Road

Meets

Eurasian

Union, pepe escobar


What Wang was referring to is the planned Eurasian transport corridor — which will feature a $278 billion, brand new high-speed Trans-Siberian railway connecting Moscow and Beijing, and everywhere in between, in only 48 hours.



So inexorably it was up to Wang himself to connect the dots Washington refuses to acknowledge; "The construction of the China Mongolia-Russia economic corridor would connect China's Silk Road Economic Belt to Russia's transcontinental rail plan and Mongolia's Prairie Road program."
What we have here, above all, is the China-led New Silk Road(s) directly connecting with the Russia-led Eurasia Economic Union (EEU). China and the EEU are bound to set up a free trade zone. Nothing more practically natural, as this is all about Eurasian integration. The details will be fully discussed when Chinese President Xi Jinping visits Moscow next month, and at the St. Petersburg Economic Forum in June.

20--Obama's criminal war against Yemen, wsws


AQAP is the most militantly anti-Houthi force in the country and therefore a de facto ally in the US-Saudi coalition. AQAP, like the Saudi regime itself, is viciously sectarian in its hatred of the Houthi movement, which is based among the Yemeni Zaydi population, a Shia-related religious group comprising up to 40 percent of the population.
Washington has virtually ceased even attempting to invent new lies to justify such head-spinning realignments. The Obama administration has said next to nothing about this latest war being carried out behind the backs of the American people.
The "war on terror," "human rights," "democracy" and even "regional stability" are all equally fraudulent pretexts for naked aggression aimed at solidifying US hegemony over the Middle East and its vast energy resources.
This predatory imperialist offensive threatens to ignite a region-wide conflagration, even as Washington deliberately ratchets up military tensions with both Russia and China. The threat of these separate conflicts coalescing into a third world war grows by the day
....
The Houthis have not crossed any "international boundaries" to wage war, and neither has Iran. The Houthis are an indigenous movement whose successes stem from the hatred among broad sections of the population for both the old regime of Abd Rabbuh Mansur Hadi—the puppet installed by Riyadh and Washington—and Western intervention in Yemen. As for Iran, for all of the denunciations, neither the US nor anyone else has produced a shred of evidence of its direct or even indirect involvement in the fighting. Those violating the sovereignty of Yemen are the Saudi and Gulf State potentates backed by Washington.....


Their target is Yemen, the poorest country of the Middle East. Even before Saudi and other Gulf states sent warplanes to drop tons of explosives on crowded urban neighborhoods and mobilized warships to block all food and fuel imports from entering its harbors, over half of the population lived in poverty and roughly half the country's children suffered from malnutrition.


Now, this desperate situation has grown immeasurably worse. Basic infrastructure is being bombed into rubble. Food supplies have grown critically short, while electricity, including power to pump water, has been cut off. Attempts by aid agencies to deliver relief have been thwarted repeatedly by the Saudi-led bombings.
While official UN estimates place the number killed at over 600, this includes only those reported by medical facilities, with the real death toll far higher. Thousands more have been maimed. The overwhelming majority of the casualties are civilians, with the bodies of entire families being pulled from the rubble of their homes....


US officials acknowledged this week that the Pentagon is playing a decisive role in making these war crimes possible. It has accelerated the delivery of bombs, missiles and other weapons to Saudi Arabia for the purpose of killing more Yemenis and boosting the profits of the US arms merchants. Just between 2010 and 2014, the Obama administration reached $90 billion worth of arms deals with the Saudi monarchy, making it the top US customer.
On a trip to Riyadh, Antony Blinken, the deputy secretary of state, revealed that the US has also stepped up its intelligence sharing and logistical support for the Saudi-led onslaught, establishing a "joint coordination planning cell" in the Saudi capital. McClatchy News cited unnamed Pentagon officials as saying that this operation is being headed by a two-star general from US Central Command.
And on Wednesday, the Pentagon announced that US Air Force KC-135 Stratotankers have begun daily aerial refueling of Saudi warplanes, to allow continuous airstrikes.
Thus, the US military is not only shipping the bombs to drop on Yemen, but providing Saudi pilots with the targets to be struck and the fuel to reach them. The Obama administration's hands are covered in the blood of the thousands of civilian victims


21--The Misunderstanding Of El-Erian's Cash Position, streetwise


22--Blaming Iran for Shi'ite Unrest Throughout the Middle East, SC


Iran has not invaded another country since the 1730s, when Nader Shah waged war on both the Ottoman and Mughal empires and established an ephemeral empire stretching from the Caucasus to the Indus Valley. In modern times Iran has been the victim of repeated attacks and encroachments on its sovereignty—by Britain, tsarist Russia, the Ottoman Empire, the Soviet Union just after the Second World War, and Iraq (with U.S. blessing and support) from September 1980 to August 1988. But it has not directly attacked any of its neighbors.


In 1953 the U.S. itself engineered a coup in Iran against a democratically elected prime minister (to prevent his plans to nationalize the oil industry). It imposed on the Iranian people the brutal, tyrannical rule of the Shah up to 1979. In the latter year, in the most genuinely mass-based revolution in Islamic history, the Shah was overthrown. Ever since then the U.S. has held Iran in the cross hairs, applying economic sanctions, freezing its U.S. bank-holdings, even providing Iraq in the eighties with military aid and satellite intelligence as Saddam Hussein waged an aggressive war against his neighbor. All to punish the Iranian people for having the audacity to (at least try to) shuffle off the shackles of imperialist hegemony.


Recently, as the USA Today headline put it: "Arab League agrees on military force to combat Iran." But why is it necessary for that league (of 22 U.S.-backed states) to combat this peaceful country? Because as Nabil Elaraby, the Egyptian who serves as its secretary-general, put it during a recent news conference, Iran has intervened "in many nations."
But how has it intervened? By supporting with funds and weaponry south Lebanese forces fighting Israeli aggression and occupation? Why should the Arab League find anything wrong with that? Should the Arab League oppose Hizbollah, perhaps the most powerful political party in Lebanon, its support largely earned by forcing the Israeli occupiers out in 2000?


23--Kiev "disappears" bloggers, SC


24--Kiev invokes Nazi era powers to shut down blogsites, SC


Here is a video of Ukraine's troops shelling the Donbass village of Slavyansk and joking that they'll turn it into a "crematorium."
As I reported earlier, the founder of Right Sector, Dmitriy Yarosh, was the leader of the thugs who perpetrated the May 2nd massacre, and who also carried out the February 2014 coup that brought these people to power in Ukraine. Starting on April 20th (Hitler's birthday), his men will be receiving military training and weapons from U.S. troops, whom Obama is sending in to help them and other exectuioners with their program of exterminating the residents in Donbass —
...Yarosh is already the most powerful person in Ukraine, and yet his power is still increasing there. He's a man to watch. He wants Putin dead, so Putin is probably watching him carefully....


The head of the Security Bureau of Ukraine, Valentyn Nalyvaychenko, the man who closed 10,000 online sites on April 7th, was reported, a week earlier, on April 1st, (translation here) saying:
"SBU does not need to invent anything new. It is necessary only to build on the traditions and approaches that were set forth by the Security Service of the OUN-UPA in the 1930-1950 years. They battled against the aggressor [Russia] during the temporary occupation of the territory [Ukraine, which 'temporary' period was already 350 years], had a patriotic education, military counterintelligence, and relied on the peaceful Ukrainian population, using its unprecedented support."
This video recounts and shows the history of "OUN-UPA in the 1930-1950 years" and documents that it carried out most of Adolf Hitler's extermination program in Ukraine during World War II — including 80% of the Babi Yar massacre of Jews, which the Russian poet Yevtushenko memorialized. To the people that the Obama Administration has placed in power in Ukraine, it was a heroic achievement. And yet, far-right Jews are part of it — ideological brothers-under-the-skin, and it also has the support of 98%+ of the U.S. Congress.


25---U.S. to Start Training Nazi Troops in Ukraine, on April 20th, Hitler's Birthday


26--Iran's asymmetrical response options, saker




The Saudi Theatre: Iran could also attempt to trigger an insurrection inside Saudi Arabia whose overpaid armed forces are totally inept and whose only real combat force, the National Guard, is entirely dedicated to regime protection, i.e. shooting at civilians. In case of a war with Iran, Saudi Arabia would be totally relying on the USA for national defense. It just so happens that the key Saudi petrochemical targets are in northern Saudi Arabia, very close to Iran – an area where the population is mainly composed of Shia Muslims who have been brutally oppressed by the Saudi Wahabi regime for decades.




The Afghan Theatre: Another place where Iran could create a crisis is Afghanistan where the main political and military force, besides the Taliban, is the so-called Northern alliance. The Northern Alliance has very close ties with Iran.



27--In Lack Of Self Awareness Kerry Accuses Iran Over War On Yemen, MOA




Yet another food distribution center was

destroyed today

. A ground attack is

in planning

and may commence soon....




Yemen is depend on food imports and also on imported hydrocarbon products like fuel, gasoline and for electricity. The ports are blocked and expected import transports with food and petrol get turned away. For lack of raw materials the last running refinery in Yemen just shut down. Lack of food and gasoline for water pumps and transport will predictably create mass starvation within the already destitute population.
The new ruling group in Yemen has no interest in creating trouble abroad. It is successfully fighting AlQaeda which tries to nab up parts of the country. Is that the reason for the Saudi attacks? The Houthis claim that Saudi air attacks on prisons are designed to free AlQaeda members.


28--Saudis bomb food storage centres, , MOA


The Saudis continue their senseless war on Yemen. Next to bombing army troops and installation and thereby hindering it to go after AlQaeda they are systematically bombing electricity plants, water supplies and food centers:

Yemen Economic Corporation, one of Yemen's largest food storage centres, was destroyed by three coalition missile strikes in Hodeidah last Tuesday, according to the Houthi-controlled defence ministry. The corporation had enough food for the entire country. The government's military food storage centre in Hodeidah was also targeted and destroyed on Tuesday, according to the defence ministry.
Also in Hodeidah, country's second largest dairy plant was hit by five Saudi missiles on Wednesday, killing at least 29 people, mostly employees, and injuring dozens of others.


29--A decisive turning point in the crisis of American imperialism, wsws


30--March US jobs growth slowest since 2013, wsws


31---Hard evidence that banks were involved in fraud, NC


The second panel included Bowen and three other witnesses who testified that there were epidemic levels of fraud during the crisis and that it was the norm for brokers and lenders to ignore or even encourage these frauds. Bowen's testimony, as he had originally prepared it for FCIC, would have fit well with the testimony and provided data not only on Citi's frauds, but also the fraudulent originators who sold Citi vast amounts of fraudulent loans through false reps and warranties.
Richard Bitner testified that 70% of the loan files submitted by loan brokers had false information, including significantly inflated appraisals in half the cases. Patricia Lindsay, from New Century, testified that loan brokers routinely inflated the borrower's income (because they knew what ratios were required). Susan Mills (Citi, securitizations) testified that early payment defaults (EPDs) were a strong indicator of likely fraud and had nearly tripled in frequency among mortgages sold to Citi in 2006-2007.


32--America's Warlords in Afghanistan--To fight the Taliban, the United States created a new generation of abusive strongmen that are now running rampant., TAC


33---
Wages Haven't Been This Crucial to U.S. Economy in Half Century,



When it comes to U.S. economic growth, wages may never have been this important.
The link between earnings and consumer spending has been tighter in this expansion than in any other since records began in the 1960s, according to calculations by Tom Porcelli, chief U.S. economist at RBC Capital Markets LLC in New York.


34--Drills for me but not for thee: NATO launches war games near Russian border


35--The Latest Flashing Red Light: Global Earnings Plunge Most Since Lehman


36-- the recent Q4 release of the flow of funds report, which showed household net worth has now vaulted well above it levels during the previous two market peaks, is telling. As shown below, net worth is soaring and now stands at $83 trillion as of Q4 2014. That compares to $68 trillion at the pre-Lehman peak and only $45 billion at the time of the dotcom bubble.
eedless to say, these dramatic gains have occurred not because households are saving and investing more or because the US economy has become dramatically more productive and profitable. In fact, it represents a vast inflation of financial and real estate assets.
Even if the current $83 trillion household wealth figure is adjusted for the GDP deflator, it still means that there has been a 40% gain in aggregate real household net worth since the turn of the century. By contrast, real wage and salary income is only up by only 17% and median real household income is actually down from $57k to $52k or by nearly 10%.


37--New round of volatility could be on the way thanks to fed CNBC



Never before have the markets been so fixated on and influenced by central bank policy, and that's a formula for more volatile trading, Rieder said. "You have a world that's driven by excessive monetary policy. ... What happens is everything moves together based on where policy's next move is. When it moves one way or the other, everyone wants to follow it because it's so big. You have this phenomena of everything moving all one way at the same time," he said





















38--Stratfor Chairman Straight-Talking: US Policy Is Driven by Imperative to Stop Coalition between Germany and Russia


George Friedman, Founder and Chairman of Stratfor ("shadow CIA"), in a must watch video, openly declares that the primordial interest of the US over the centuries has been to to stop an alliance between Russia and Germany

39--

Why the New Cold War Is Here to Stay

, UNZ




In this case, Russo-EU economic integration would be fatal for US imperial ambitions, so Russia must be isolated behind a modern version of the Berlin Wall.

Here's Friedman again:



The United Sates has a fundamental interest. It controls all the oceans in the world. No power has even done that. Because of that, we get to invade people, but they don't get to invade us.. which is a very nice thing. Maintaining the control of the sea and space, is the foundation of our power. The best way to defeat an enemy fleet, is make sure it doesn't get built. The way the British managed to make sure that no European power could build a fleet, was to make sure the Europeans were at each others throats. The policy that I would recommend, is the one that Ronald Reagan adopted, towards Iran and Iraq. he funded both sides so they would fight each other and not fight us. This was cynical; it was certainly not moral, And, it worked.

This is the point: The US cannot occupy Eurasia. The moment the first boot sets to ground, the demographic differential is that we are totally outnumbered....We can support various contending powers so they concentrate in themselves some political support, some economic support, military support, advisors and, in extremis, do what we did in Japan, Iran, Vietnam and Afghanistan: Spoiling attacks. The spoiling attack is not intended to defeat the enemy. It' intended to throw them off balance. ...The US cannot be constantly intervening in Eurasia. It has to be selectively intervening, and very rarely. ...Britain didn't occupy India. it took various Indian states, and turned them against each other, and provided some British officers for an Indian army." (George Friedman at the Chicago Council on Foreign Affairs)


The question on the table for the Russians, is will they retain a buffer zone that's at least neutral or will the west penetrate so far into the Ukraine that they're 70 miles from Stalingrad and 300 miles from Moscow. For Russia, the status of Ukraine is an existential threat. And the Russians cannot let go. For the United States, in the event that Russia holds on to the Ukraine, where will it stop. Therefore, it's not an accident that General Hodges, who's been appointed to be blamed for all of this, is talking about prepositioning troops in Romania, Bulgaria, Poland and the Baltics. ...This is the "intermarium" from the Black sea to the Baltic. This is the solution for the United States.

The issue, to which we don't have the answer, is: What will Germany do? So the real wild card in Europe, is that, as the US builds this cordon sanitaire ..., we don't know the German position. ...The germans have a very complex relationship to the Russians. The Germans themselves don't know what to do. They must export. The Russians can't take up the exports. on the other hand, if they lose the free trade zone, they'll need to build something different. For the United States, the primordial fear is German capital and german technology, and Russian Manpower and Russian resources as the only combination that for centuries has scared the hell out of the United States.

So, how does this play out. Well, the US has already put its cards on the table: It is the line from the Baltics to the Black sea. For the Russians, their cards have always been on the table: They must have at least a neutral Ukraine, not a pro-West Ukraine. ...Now if anyone can tell me what the Germans are going to do, is going to tell me about the next 20 years of history. But, unfortunately, the germans have not made up their minds. This is the problem of Germany always; enormously economically powerful, geopolitically very fragile, and never quite knowing how to reconcile the two. Ever since 1871, this has been the German question, the question of Europe.



Think about the German question, because now it is coming up again. That's the next question we have to address, and we don't know how to address it. Because we don't know what they're going to do." (George Friedman at the Chicago Council on Foreign Affairs)

you are a Ukrianian, you want to reach out to essentially the only country that will help you, which is the United States. Last week, General Hodges, commander US Army in Europe, visited Ukraine. he announced that US trainers would now be "officially" be coming. He actually pinned metals on Ukrainian fighters, which by protocol of the military...foreigners don't get to pin on metals. But he did., showing that this was HIS army. He then left, and the Baltics announced that the US would be

prepositioning armor, artillery, and other equipment in the Baltics, Poland, Romania, and Bulgaria....And then yesterday, the US announced that it would be sending weapons. Tonight, of course, they denied it, but they are. Weapons will be sent.

In all of this, the US has acted outside the context of NATO. Because NATO has to have a 100% vote. One country can veto anything...The point is, the US is prepared to create a cordon sanitaire around Russia. Russia knows it, Russia believes that the United States intends to "break" the Russian Federation. I think--that as Peter Lorre put it: "We don't want to kill you, we just want to hurt you a little bit." Either way, we are back at the old game.

The United Sates has a fundamental interest. It controls all the oceans in the world. No power has even done that. Because of that, we get to invade people, but they don't get to invade us.. which is a very nice thing. Maintaining the control of the sea and space, is the foundation of our power. The best way to defeat an enemy fleet, is make sure it doesn't get built. The way the British managed to make sure that no European power could build a fleet, was to make sure the Europeans were at each others throats. The policy that I would recommend, is the one that Ronald Reagan adopted, towards Iran and Iraq. he funded both sides so they would fight each other and not fight us. This was cynical; it was certainly not moral, And, it worked.

This is the point: The US cannot occupy Eurasia. The moment the first boot sets to ground, the demographic differential is that we are totally outnumbered....We can support various contending powers so they concentrate in themselves some political support, some economic support, military support, advisors and, in extremis, do what we did in Japan, Iran, Vietnam and Afghanistan: Spoiling attacks. The spoiling attack is not intended to defeat the enemy. It' intended to throw them off balance. ...The US cannot be constantly intervening in Eurasia. It has to be selectively intervening, and very rarely. ...Britain didn't occupy India. it took various Indian states, and turned them against each other, and provided some British officers for an Indian army.

The question on the table for the Russians, is will they retain an buffer zone that's at least neutral or will the west penetrate so far into the Ukraine that they're 70 miles from Stalingrad and 300 miles from Moscow. For Russia, the status of Ukraine is an existential threat. And the Russians cannot let go. For the United States, in the event that Russia holds on to the Ukraine, where will it stop. Therefore, it's not an accident that General Hodges, who's been appointed to be blamed for all of this, is talking about prepositioning troops in Romania, Bulgaria, Poland and the Baltics. ...This is the "intermarium" from the Black sea to the Baltic. This is the solution for the United States. (ed: Basically another iron curtain separating Russia from Europe)

The issue, to which we don't have the answer, is: What will Germany do? So the real wild card in Europe, is that, as the US builds this cordon sanitaire ..., we don't know the German position. ...The germans have a very complex relationship to the Russians. The Germans themselves don't know what to do. They must export. The Russians can't take up the exports. on the other hand, if they lose the free trade zone, they'll need to build something different. For the United States, the primordial fear is German capital and german technology, and Russian Manpower and Russian resources as the only combination that for centuries has scared the hell out of the United States.

So, how does this play out. Well, the US has already put its cards on the table: It is the line from the Baltics to the Black sea. For the Russians, their cards have always been on the table: They must have at least a neutral Ukraine, not a pro-West Ukraine. ...Now if anyone can tell me what the Germans are going to do, is going to tell me about the next 20 years of history. But, unfortunately, the germans have not made up their minds. This is the problem of Germany always; enormously economically powerful, geopolitically very fragile, and never quite knowing how to reconcile the two. Ever since 1871, this has been the German question, the question of Europe.

Think about the German question, because now it is coming up again. That's the next question we have to address, and we don't know how to address it. Because we don't know what they're going to do. speech end



I tried to provide a strategic American perspective. The United States has spent the past century pursuing a single objective: avoiding the rise of any single hegemon that might be able to exploit Western European technology and capital and Russian resources and manpower. The United States intervened in World War I in 1917 to block German hegemony, and again in World War II. In the Cold War the goal was to prevent Russian hegemony. U.S. strategic policy has been consistent for a century.

The United States has been conditioned to be cautious of any rising hegemon. In this case the fear of a resurgent Russia is a recollection of the Cold War, but not an unreasonable one. As some pointed out to me, economic weakness has rarely meant military weakness or political disunity. I agreed with them on this and pointed out that this is precisely why the United States has a legitimate fear of Russia in Ukraine. If Russia manages to reassert its power in Ukraine, then what will come next? Russia has military and political power that could begin to impinge on Europe. Therefore, it is not irrational for the United States, and at least some European countries, to want to assert their power in Ukraine.

https://www.stratfor.com/weekly/viewing-russia-inside




https://www.youtube.com/watch?v=oaL5wCY99l8


40---Top Russia Public Intellectual: Western Financial System Is Driving It to War


Starikov believes the unsustainable nature of amoral finance capitalism is driving western countries to a catastrophic war, which he sees as an existential threat to peace for Russia and the rest of the world



What goals are the wars' organizers aiming for?



First and foremost is a breaking of established economic ties, a deepening everywhere of the economic slide, except for in agreed-upon "economic growth spots". In the First and Second World Wars this zone was the USA and once again they are trying to repeat this scenario. In addition, a goal of starting wars is the nullification or depreciation of "pre-war" debts and a restart of the world economy. An analysis of the upcoming conflict's probable zones of destruction and (or) thievery which will permit the world economy to be restarted while preserving the existing economic model and the currently-constituted "economic food chain" for the existing financial elites shows that the level of accumulated contradictions can only be resolved at the expense of Russia and her demolition. The situation in the disparate and ailing enclaves of Europe and Asia, surrounded by the raging chaos that will come from the destruction of our country, will allow the United States to retain for itself the role of regulator of the world's economy, island of stability, and the source point for new growth. Growth for itself, for Europe, and for Asia under the USAs security guarantees, paid for by the robbery of our country and our people.





How do the interests balance in the quadrilateral: USA, Europe, Russia, and China?

The USA and Russia in this are antagonists. Why? Because retaining the privileged role of the USA is only possible at the expense of Russia, and under the circumstances of a weakened China and Europe. That being the case, such aspirations make it very unlikely that there will be an "amicable" consensus between Russia and the USA without a change (or a solidifying via Russia's defeat) in the established order of things

..

In order to survive and preserve its leading role on international stage, US desperately needs to plunge Eurasia into chaos, to cut economic ties between Europe and APR (Asia-Pacific Region). The States need to turn the territory that lies between them (Russia, Central Asia, Middle East) into a zone with local armed conflicts, falling economies, deficient governments and general instability. Middle East is already very close to a state of total chaos, US-created ISIL is working to further complicate the situation in that region. Central Asia is a potentially very unstable region and it has been "farmed out" to the revived Taliban, but so far it has kept the appearance of stability. Russia is the only territory within this potential zone of instability that is capable of resistance. It is the only state that is ready to confront the Americans. Undermining Russia's political will for resistance, shifting its foreign policy – is a vitally important task for America. ...



As a result, we see the realization of the US plan: economic cooperation between Europe - Russia - TC - China, minimized or neutralized, and the existence between China and Europe of zone of global instability and local wars. Russia will have to exert all its strength to survive, which will eliminate its opportunities for political maneuver and peace-building and economic development. ...



we need to look objectively, without emotions at the root cause of the issue. Collectively, the West enslaved by its ineffective liberal, finance oriented economic model, will inevitably be forced to engage in local or planetary plunder to fulfil its own dynamic requirements for existence. ...

we must remember that the advantage in war is to those who choose their time and terrain. This is critical. Start a war when we see the result will not be to win these peripheral conflicts i.e. the Kievan 'Junta', the Islamic state or the Taliban, but rather to achieve victory over the "center of real political decision making" in Washington. A war should be fought for this goal and none other.



On the basis of the above, we can see that every victory of Assad in Syria, and every victory of the militia of the Donbass and Lugansk Republics saves lives of Russian soldiers and Russian territory from ruin. We see a unique situation, the first time in Russian history, when the forces of aggression against Russia are based on the distant outskirts of our country. Russia is obliged, according to her own interests, to furnish every assistance and support, to weaken the Western Coalition, thus expanding the cracks of various interests in the allegedly monolithic Euro-American unity.

.....

http://russia-insider.com/en/politics/2015/02/19/3646




CS21R reaffirms the US military's plans to "rebalance" 60 percent of its naval and air forces to the Indo-Pacific region by 2020--just five years from now. It states: "The Navy will maintain a Carrier Strike Group, Carrier Airwing and Amphibious Ready Group in Japan; add an attack submarine to those already in Guam and... [increase] to four the number of Littoral Combat Ships forward-stationed in Singapore... The Navy will also provide its most advanced warfighting platforms to the region, including multi-mission ballistic missile defence-capable ships; submarines; and intelligence surveillance, and reconnaissance aircraft."

http://www.wsws.org/en/articles/2015/03/14/pers-m14.html




Dispatching B-2 Stealth Bombers to Europe