1--
Ukraine Prepares for an Attack Against Russia
, Zuesse
Can this be trusted?
2--
Stocks skyrocket while economy languishes,
zero hedge
US stocks have soared by around 100% since early 2011. Corporate buybacks and debt issuances have surged too. US corporations are piling on new debt and buying back their shares. In 2014, S&P 500 companies are estimated to have spent 95% of profits on buy-backs and investor payouts.
4
As you can see, stock buybacks have been on the rise since the crisis.
These buybacks are in part fueled by historically low interest rates, allowing companies to borrow cheaply. Around $1.7 trillion in buybacks occurred from 2011 to 2014.5 New corporate debt has increased by around $1.4 trillion during that time – as you can see in the chart below.
6
Sustained low interest rates have also boosted the bond market and helped the housing market where the availability of financing for purchases is crucial.
US stocks, bonds, and other assets are getting a lift from low interest rates… We have even seen some jobs growth in the last year. This has fueled an optimistic 'recovery' story...
There is no recovery
3
---Q4 GDP Revised Down To 2.2% From 5.0%: Full Breakdown
, zero hedge
There was much hope that when Q3 GDP soared to 5%, primarily on the back of Obamacare spending recalendarization and a massive consumption/personal saving data revision, that the US economy would finally enter lift-off mode. Those hopes were reduced by about 60% when moments ago the BEA announced that Q4 GDP was revised from the original 2.64% print to only 2.18%, which while better than expected, was the lowest economic growth rate since the "polar vortex."
4--
Panic Must Be Stopped" Ukraine Central Bank Head Says, Boosts Capital Controls
, ZH
Good job, Obama!
And as we noted in the "Endgame" article, Ukraine now faces an even bigger problem: running out of cash.
The central bank needs to strengthen bank owners' responsibility as a prerequisite for the International Monetary Fund-led bailout, Gontareva said. The country can drop capital controls when hryvnia is "back to fundamentals," she said, adding hryvnia should trade around 20 per dollar.

Depositors have withdrawn 17.2 billion hryvnia from banks this year, Gontareva said. Ukraine's reserves stood at $6.4 billion as of Jan. 31, down from $20.4 billion at end-2013 before the country's pro-Russian insurgency began.

Ukraine has lost two percentage points of its gross domestic product from the annexation of Crimea and 15 percentage points due to losing control over rebel-held areas in eastern Ukraine, she said
5---
ECB Warns UK: Excluding Russia From SWIFT "Could Undermine Confidence In The Whole System",
ZH
6--
Maestro speaks
, ZH
When real interest rates start to move up, that's when the crisis could hit." The interview is somewhat stunning in its honesty (for a central banker) as he warns
global "effective demand is extraordinarily weak - tantamount to the late stages of the great depression."
Some other excerpts...
"Lower long-term rates is not a conundrum, its an indication of how weak global economic growth is."

"effective demand is extraordinarily weak - tantamount to the late stages of the great depression."

"Monetary policy is not responsible for economic weakness - it's a fiscal issue."

The Fed is responsible for the inflation of the stock market

"Almost all the problems are due to a lack of long-term capital investment" - reflecting perfectly on our detailed explanations of company's preference for shareholder enhancement through buybacks rather than investing in the corporate growth of the economy... "nobody wants to invest in the long-term because nobody knows what is going to happen."
7--
2 Years Of Abenomics Later: Joblessness Jumps As Retail & Household Spending Slump
, ZH
8--
US Aggression Against Venezuela, Golinger
, CP
9
--Tspiras accepts its chains
, Bloomberg
The chancellor explained to Greek Prime Minister Alexis Tsipras what an aide in her office called reality. There wasn't much time to reach the deal needed to keep Greece afloat and Germany wasn't going to budge, Merkel told him in a 50-minute phone conversation on Feb. 19. It was their first substantive exchange since he'd won election Jan. 25.
Tsipras tweeted that they forged an interest "in finding a mutually beneficial solution." The next day, finance ministers struck a provisional deal in Brussels to keep aid flowing.
In office for a month, Tsipras and his finance minister, Yanis Varoufakis, have largely shelved the promises that got them elected, irritated key euro-area collaborators and stoked doubt about their intentions. In return, they got a four-month bailout extension and the certainty they'll be back at the edge of the financial abyss before the first half of 2015 is over.
"They were amateurs, but they are adapting," said Theodore Pelagidis, a senior fellow at the Brookings Institution and a professor at the University of Piraeus in Athens. "The negotiation showed that Greece had no leverage."...
As talks deteriorated in the run-up to the 11th hour agreement, there were no figures and no commitments and people stopped listening, an official said.
After securing approval from euro peers for his plans to collect more tax, consolidate pension funds and maintain state-asset sales, Tsipras declared victory against austerity. He now must keep onside his party faithful.
For Varoufakis, the next watershed is already on the horizon. Greece has until April to hone the details of its measures. It can't access more bailout funds, including the next tranche of about 7 billion euros, unless it passes the review. It also needs to raise money before next month to repay the International Monetary Fund.
"I'm pretty confident we won't have a cash-flow problem, because we all struggled very hard through long hours of discussions with our partners, with institutions to come to this stage," Varoufakis said in a Feb. 25 interview in Athens
10
--"V" is for Varoufakis,
funny video
11--
Here Is What Americans Spent Their "Gas Savings" On
, ZH
chart.
Source: BEA
12--
Chicago's Abu Ghraib
, wsws
13--
USW blocks way forward for striking oil workers
, wsws
The USW has continuously operated behind the backs of workers, ignoring their demands for a national strike of all 30,000 refinery workers and seeking a sellout deal to end the strike and preserve the interests of the union apparatus. Top USW and AFL-CIO officials have maintained close communication with the Obama administration which, fresh from threatening to break a strike by West Coast dockworkers, wants the oil strike shut down before it becomes a catalyst for a much wider struggle by the working class...
Gerard paints a picture of intransigent employers who have stonewalled any proposals to improve safety, agreeing to "meet and discuss" these issues only to give "the impression that they are actually bargaining." The companies have "shut down discussion" about contracting out work and overtime and fatigue standards, he says while grueling schedules keep workers from their families and imperil their lives. Fires are an almost weekly occurrence and 27 oil workers have recently lost their lives, Gerard says, yet "equipment is old and in need of maintenance, but the company considers [it] too costly to take off line and fix properly because it might slow production."
The union's proposals for a minor reduction in huge out-of-pocket health care costs "is not even pennies on a dollar, but they insist they will not budge on this matter." The multi-billion dollar industry has also resisted any improvement in wages....
Instead, in the most slavish manner, Gerard begs the oil bosses to "recognize" that "we are an efficient and productive workforce." Leaving aside the fact that Gerard is not part of this workforce—instead he makes $217,000 plus perks from sitting on various corporate and government boards—the oil companies are well aware of how much profit they squeeze from workers—and they want even more!
Even as oil workers are facing the fight of their lives, the USW opposes any struggle that would upset relations with its corporate "partners" and the Obama administration. Instead it is looking to establish more "labor-management safety committees" and an agreement on a minimal number of USW workers the oil companies will employ. The latter is so the USW bureaucracy can tell its accountants how much dues money it can rely on to fund the bloated staff of 900 officials at its Pittsburgh headquarters.
14--Record global stock prices reflect growth of financial parasitism
, wsws
World equity markets are close to their highest levels in history, as measured by the FTSE All-World Index. The FTSE 100, Britain's index of leading shares, surpassed its previous high, achieved at the end of 1999 on the eve of the bursting of the dot.com share market bubble, to join Wall Street's Dow and the German DAX in record territory.
This is an extraordinary phenomenon given that large areas of the global economy, most notably Europe and Japan, are either stagnant or in recession; China and the so-called "emerging markets," which have been the main centre of global growth, are slowing down; and the much-vaunted US growth is still below historical trends.
All of the major reports on the state of the world economy in the recent period—from the World Bank, the International Monetary Fund, and the Organisation for Economic Cooperation and Development—have downgraded previous growth projections and warned that the economy is increasingly characterised by a vicious cycle.
Investment has fallen to historic lows because of the lack of demand and profit opportunities. The decline in investment is leading, in turn, to a further decline in demand and profit expectations.
Notwithstanding these powerful trends, the stock markets continue to power on, providing a graphic demonstration of the degree to which the accumulation of wealth by global financial elites has become divorced from the actual process of production
15--
Feudalism?
CP
One of the most graphic features of the HSBC saga is the description of one of its services to clients. Many of these clients are hiding money from their governments' tax departments, so avoiding a paper trail is critical. They can't just wire $50,000 to their client's bank account. So the bank would package used, small denomination bills in "bricks" which the client would pick up in person and then courier to their home address in the US, Britain, France — or Canada.
The amount of lost revenue stashed away in tax havens is truly staggering. The International Consortium of Investigative Journalists estimates that it amounts to $7.6 trillion, and a loss to governments around the world of some $200 billion in revenue every year.
HSBC's Swiss office accounts for $100 billion of the total deposits
Summing up the deal Thursday Bloomberg News wrote, "[G]reece has diluted at least five of its key electoral promises in the face of implacable German-led opposition to its stance. There's been no extension of the country's debt repayment timetable; Greece is still a ward of the troika, even if its guardians now go by a different name (they're now referred to as the 'institutions'); there's no rollback of the previous government's economic reforms; cash allocated to the domestic banking system won't be diverted to alleviating economic hardship; and the need to achieve a sensible budget surplus has been acknowledged."
16
--Complete and utter capitulation
, wsws
Finance Minister Wolfgang Schäuble told German radio, "The question now is whether one can believe the Greek government's assurances or not. There's a lot of doubt in Germany—that has to be understood." He said later, "Greece will not get a single penny until it complies with its obligations."
Syriza is committed to the immediate imposition of austerity, and a sharp confrontation with the working class, under conditions where billions of euros in foreign debts fall due in days. Some €1.6 billion is due to be paid to the International Monetary Fund in March. On Wednesday Varoufakis said Athens would be seeking emergency finance in the form of the €1.9 billion in profits from Greek bonds held by the European Central Bank and would look into issuing short-term debt in the form of Treasury bonds (T-bills). However, the Eurogroup agreement stipulated that the €1.9 billion in bond profits can only be disbursed at the end of the four months agreed by Athens and on condition that it implement agreed to austerity
17---
The Decline in Unionization and Inequality
http://economistsview.typepad.com/economistsview/2015/02/the-decline-in-unionization-and-inequality.html?utm_source=feedburner&utm_medium=feed&utm_campaign=Feed%3A+EconomistsView+%28Economist%27s+View%29
18--
Is the memorandum over? Interview Yanis Varoufakis
It's over. Allow me to explain what memorandum means to me. Borrowed funs and austerity are permanent darkness. The terms of the memorandum undermine the concept of reform in Greek society. We hit pensioners and hairdressers while reforms were mishandled.
Is it full of vagueness?
It is. We are very proud of the level of vaguenessness. I use the term creative vagueness. I want to be the first finance minister to never refer to the numbers unless I am sure I can achieve them. I told the EU partners that if I give you an amount for revenue or revenue from tax evasion then I would be lying.
Will VAT increase?
It won't increas on islands, tourism, pharmaceutical supplies, border regions, food and books. We will find a product and increase VAT there.
What did you achieve?
We put the humanitarian crisis on the agenda for the first time. I am here because there are kids starving out there.
How will you achieve this? You signed a deal that doesn't allow you to act unilaterally? You would need the approval of institutions…
The gang of technocrats won't be here. It won't be the same. We have said that there will be no unilateral actions of negative fiscal consequence. For such activities as overdue debts we don't need approval. We will also move in other directions as we don't want honest taxpayers to feel duped.
Do you have a plan?
We will finalize it over the weekend. With the agreement we reached, the memorandum ended and unacceptable behavior has ended. We are in a Europe that has undermined itself. I had said earlier that at the Eurogroup there is not even discussion. We are changing Europe. I was in Frankfurt with five secret policemen. I asked to go to the toilet and one of them had to come with me. "I want to thank you because Europe needs to change for us Germans too," he said.
Do you have secret police with you here too?
No. If I need it then it's time to resign.
19---
The sound of china crashing,
wolf street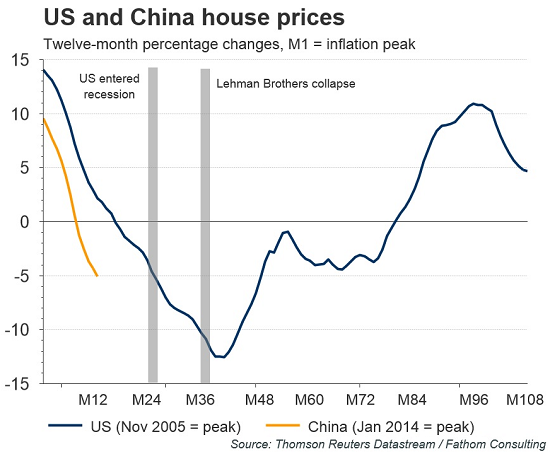 The hard-landing watchers are now wondering whether the Chinese stimulus machinery can actually accomplish anything at all, given that a tsunami of global stimulus – from negative interest rates to big bouts of QE – is already sloshing through the globalized system. And look what it is accomplishing: Stocks and bonds are soaring, commodities – a demand gauge – are crashing, and real economies are languishing.
20--
Perfect storm?
wolf street
Bond specialist Martin Fridson, Chief Investment Officer at Lehmann Livian Fridson Advisors, summarized it this way, via
S&P Capital IQ LCD
:
A perfect storm is hitting the high-yield market. Secondary issues are extremely overvalued, and covenant quality is at a record low.
Energy junk bonds have gotten slammed since last summer in concert with the plunging price of oil, and investors are still licking their wounds. But the rest of the junk bond pile? A beauty to behold.
Based on Fridson's econometric model, junk bonds have re-surged to an "extreme valuation," after the scare of last September faded away. The model determines a "fair value" of the BofA Merrill Lynch US High Yield Index, expressed in its option-adjusted spread (OAS) over the corresponding Treasury yield. This fair value currently is an option-adjusted spread of 616 basis points (6.16 percentage points).
21--
Equity markets can stay at lofty valuation levels for a very long time. ...Fifty-one months during the Tech bubble (that's over FOUR YEARS)
wolf street
High valuations lead to large stock market declines during recessions.
During secular bull markets, modest overvaluation does not produce large stock market declines.
During secular bear markets, modest overvaluation still produces large stock market declines....
Beginning with the market peak before the epic Crash of 1929, there have been fourteen recessions as defined by the National Bureau of Economic Research (
NBER
). The table above l ists the recessions, the recession lengths, the valuation (as documented in the chart illustration above), the peak-to-trough changes in market price and GDP. The market price is based on the S&P Composite, an academic splicing of the S&P 500, which dates from 1957 and the S&P 90 for the earlier years (more on that splice
here
).
I've included a row for our current valuation, through the end of January, to assist us in making an assessment of potential risk of a near-term recession. The valuation that preceded the Tech Bubble tops the list and was associated with a 49.1% decline in the S&P 500. The largest decline, of course, was associated with the 43-month recession that began in 1929.
Here's an interesting calculation not included in the table: Of the nine market declines associated with recessions that started with valuations above the mean, the average decline was -42.8%. Of the four declines that began with valuations below the mean, the average was -19.9% (and that doesn't factor in the 1945 outlier recession associated with a market gain).
22--
Ukraine Risks Losing IMF Support for Aid If War Escalates, Bloomberg
Ukraine risks losing support from IMF member countries for a proposed $17.5 billion bailout if the conflict in the former Soviet republic continues to escalate, according to two people familiar with the matter. ...
No Condition
Gerry Rice, an IMF spokesman, said last week that the proposed aid for Ukraine isn't conditioned on an end to the fighting. "The conflict is something that we are concerned about and monitor, but the new program makes very conservative assumptions in its baseline scenario for 2015 to buffer a further impact of the ongoing conflict in the east," he told reporters. ...
The Ukrainian economy ended up shrinking as much as 7.5 percent in 2014 as the conflict took a "significant toll on the industrial base and exports," undermining confidence and putting pressure on the financial system, the IMF said this month. The economy will probably contract 5.5 percent this year, Finance Minister Natalie Jaresko said Feb. 16. ...
The IMF-led program totals $40 billion when including bilateral deals with nations as well as about $15 billion in savings expected from negotiations the country is pursuing with bond investors. Achieving that level of savings from a bond restructuring is probably too optimistic, Schneider said.
23--
Russian President Vladimir Putin said Wednesday the decision of the Ukrainian authorities
to halt gas supplies to Donetsk amid the ongoing humanitarian catastrophe "bear hallmarks of genocide".
24--
Ukrainian President Petro Poroshenko has come back from the UAE, and is reported to have racked up nearly 20 contracts on the supply of weaponry to Ukraine.
25
---Greece to stop privatisations as Syriza faces backlash on deal
, AEP
26
--The US recovery story is a fraud: SocGen bear,
cnbc
"The downturn in U.S. profits is accelerating and it is not just an energy or
U.S. dollar
phenomenon – a broad swathe of U.S. economic data has disappointed in February," he said in a research note published Thursday.
U.S. indexes have continued to hit all-time highs this year and the
Nasdaq
is also looking to break through a level last seen at the peak of the tech bubble in 2000.
However, Edwards said that, rather than concentrating on these corporate earnings or dismal economic data points, market participants were too focused on the "pillow talk" about decent payroll data from the
U.S. Federal Reserve
.
Fed
27---
Dudley: Why Fed may need to get 'more aggressive'
, cnbc
"The fact that market participants have set forward rates so low has presumably led to a more accommodative set of financial market conditions, such as the level of bond yields and the equity market's valuation, that are more supportive to economic growth," he said, according tp prepared remarks.
"If such compression in expected forward short-term rates were to persist even after the FOMC begins to raise short-term interest rates, then, all else equal, it would be appropriate to choose a more aggressive path of monetary policy normalization as compared to a scenario in which forward short-term rates rose significantly, pushing bond yields significantly higher," he added.
28--
U.S. Pushes For Escalation, Arms Kiev By Laundering Weapons Through Abu Dhabi
, MoA
29--
Existing home sales hammered; 2015 housing hopes pounded
oc housing news
30--
The investor buying party in real estate: In last four years institutional investors have purchased over half a million homes. 2014 was a four year low in investor buying.
Dr Housing Bubble
There are two main driving forces pulling investors away. The first is cap rates are not looking all that attractive. Next, prices have been driven up to a point where yields are looking inflated. You can see that price gains are coming off their lofty 2013 pace: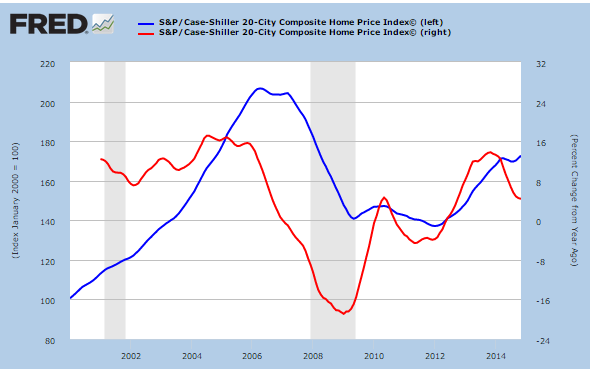 Nationwide home prices were going up 13 percent at some point in 2013. The latest point has them up by 4 percent. Investors are in it to make money. It should be telling that many pulled back dramatically in 2014.
One thing that is clear is that we are in a renting trend. 1 million fewer homeowner households and 10 million more renter households over the last ten years. That speaks volumes.
31--
FHA wants to allow banks to make more bad loans
, oc housing