"Our colleagues in the West … have lied to us many times, made decisions behind our backs, placed before us an accomplished fact. This happened with NATO's expansion to the east, as well as the deployment of military infrastructure at our borders. … It happened with the deployment of a missile defense system. …
"They are constantly trying to sweep us into a corner. … But there is a limit to everything. And with Ukraine, our Western partners have crossed the line. … If you compress the spring all the way to its limit, it will snap back hard. … Today, it is imperative to end this hysteria and refute the rhetoric of the cold war. … Russia has its own national interests that need to be taken into account and respected."
Vladimir Putin
1--
Germany unloads Greek debt on EU govs
, cnbc
If a new Greek government again demands that its German-led benefactors give it a break on its debts, though, the script will be very different this time around. During the 2012 standoff, the possibility of a Greek default threatened to inflict widespread collateral damage throughout the European financial system.
Since then, European bankers and investors have had time to unload Greek debt, almost 90 percent of which is now held by euro zone governments. And those governments now have a 500 billion euro ($596 billion) backstop, along with other measures enacted after the 2012 crisis, to help protect them from the financial fallout of a Greek default.
2--
Bond yields sink below 2% in flight-to-safety bid
, cnbc
Bill Blain, a senior fixed income strategist at Mint Partners, explained that the rally in bonds is a carryover of last year's flight to quality and will send yields even lower.
"Strip it down to essentials and the markets are reacting to second and third order oil crash effects, deflation, Europe and the euro, overlaid by the tsunami of geopolitical risk looking likely to wash up soon," he said in a morning note. "Get over it, and join the great game of spot the opportunities."
3--
U.S. stocks suffer largest loss in 3 months
, marketwatch
U.S. stocks were clobbered Monday in an indiscriminate sell-off triggered by a renewed plunge in crude oil prices and surging dollar, which left the Dow and the S&P with their worst losses since October.
The S&P 500
SPX,

-1.83%
closed off session lows but still suffered its largest one-day decline in three months. The index also suffered its longest losing streak in a 12-month period, falling for the fourth-straight session. The benchmark index lost 37.62 points, or 1.8%, to 2,020.58.
The Dow Jones Industrial Average
DJIA,

-1.86%
also had its worst down day since October, with 28 of its 30 components closing with losses. The blue-chip index dropped 331.34 points, or 1.9%, to 17,501.65.
4--Why the Dollar's Big Rebound Is a Mixed Blessing
, Fiscal Times
Emerging market economies have collectively borrowed nearly $6 billion according to
The Telegraph
's
well-informed Ambrose Evans-Pritchard
. That worked great when the Fed was committed to 0 percent interest rates and was printing $85 billion a month to buy up bonds and mortgage-backed securities. But with the first tightening cycle in nearly a decade set to begin in the next several months, it will become harder and more expensive to roll this debt over.
The more the dollar rises, the more emerging market and commodity exporting countries will feel deflationary pressures. The more that happens, the more compelled they will feel to let their currencies devalue to generate inflation and boost profitability. But that will only further encourage the dollar to strengthen.
5--
Oil's Fall Continues Into 2015, and Stock Markets Shudder
, NYT
Oil prices tumbled below $50 a barrel on Monday, spooking global financial markets and signaling that the remarkable 50 percent price drop since June was continuing this year and even quickening.
The new drop in American and global benchmarks of more than 5 percent was accompanied by reports of increased Middle Eastern
oil
exports, continuing increases in American production and renewed worries about the declining economic fortunes of Europe.
The plunge once again sent fear through global markets. The Dow Jones industrial average fell 331.34 points, or 1.86 percent, to 17,501.65. The Standard & Poor's 500-stock index, a broader benchmark, fell 37.62 points, or 1.83 percent, to 2,020.58. And the Vix, a measure of market volatility that is known as Wall Street's fear gauge, leaped about 12 percent....
Still, as the oil price decline has continued, investors have increasingly seen it as a bad omen for the global economy. The drop may point to lower demand for oil and lower economic activity. And the decline suggests that policy makers have not managed to deal with the threat of deflation, or falling prices....
West Texas Intermediate crude, for example, dipped below $50 a barrel for the first time in more than five years, and Brent crude, the global benchmark, fell more than 6 percent, to under $53 a barrel.
The drop in prices has led to a rising tide of oil company announcements in recent days of investment cuts for the coming months. Ensign Energy Services, a Canadian drilling contractor, reported that it would be laying off 700 workers, or roughly 10 percent of its work force, in California fields. Several Texas-based companies that have borrowed heavily in recent years to produce in new Texas and North Dakota shale fields are expected to announce steep investment and job cuts in the coming days....
Signs suggest that oil and oil product supplies will soon be increasing. The ramping up of several refineries in Saudi Arabia and the United Arab Emirates is likely to increase exports of products like gasoline and diesel by 500,000 barrels a day in the coming months. Even without the
Keystone XL pipeline
, other Canadian pipelines coming online will bring as much as 350,000 more barrels onto the market
It is alarming that military intervention in internal conflicts in foreign countries has become commonplace for the United States. Is it in America's long-term interest? I doubt it. Millions around the world increasingly see America not as a model of democracy but as relying solely on brute force, cobbling coalitions together under the slogan "you're either with us or against us."
But force has proved ineffective and pointless. Afghanistan is reeling, and no one can say what will happen after international forces withdraw. Libya is divided into tribes and clans. In Iraq the civil war continues, with dozens killed each day. In the United States, many draw an analogy between Iraq and Syria, and ask why their government would want to repeat recent mistakes. ...
And I would rather disagree with a case he made on American exceptionalism, stating that the United States' policy is "what makes America different. It's what makes us exceptional." It is extremely dangerous to encourage people to see themselves as exceptional, whatever the motivation. There are big countries and small countries, rich and poor, those with long democratic traditions and those still finding their way to democracy. Their policies differ, too. We are all different, but when we ask for the Lord's blessings, we must not forget that God created us equal.
On the Fed's motivation, Gundlach said: "They don't really need the rates to be higher, but they seem to want to reload the gun so they aren't stuck at zero without any tools." Here at Wall Street On Parade, we were thinking
along the same lines
back on October 14.
As for the dollar, Gundlach told Schifrin that if the Fed tightens in 2015, the dollar will strengthen further, causing commodity prices to also fall: "[we will] import deflation and you will see an episode of deflationary scare," Gundlach said.
Why does a rising U.S. dollar worsen the outlook on deflation inside the United States? Consumers in this country buy imported goods with their dollars. The imports are priced in currencies which are declining in value to the dollar, lowering the cost of what consumers pay for the imports. For example, the Euro traded as low as $1.1864 this morning, its weakest trading level to the dollar since March 2006.
Gundlach is also apparently looking at
some of the same charts we're perusing with consternation here at Wall Street On Parade
. This past weekend, Barron's Jonathan Laing published an interview with Gundlach which contained this nugget: "Look, commodity prices have fallen back to their lows of 2009, which of course was at the height of the financial crisis. Something is obviously very wrong these days in the global economy."
The Fed's persistent chatter about raising its Fed Funds rate in 2015, despite mushrooming global signs of a faltering global economy and
deflationary headwinds
blowing through much of Europe, has been the wind beneath the wings of the rising U.S. dollar. That has likewise contributed to the 10-year U.S. Treasury delivering a higher yield than its sovereign counterparts. Ten-year note yields or comparable maturities in Germany, Italy, Austria, Belgium, Finland, France and Ireland set all-time record lows in December. The U.S. 10-year Treasury is still trading 71 basis points above its all-time low yield of 1.38 percent, set in July 2012.
The Fed's credibility on its intention to hike rates this year is being strained further by the action on the 30-year U.S. Treasury bond. This morning, its yield has dropped to 2.66 percent, its lowest yield since September of 2012. If the U.S. economy was actually picking up enough steam to warrant a Fed rate hike, the long-term outlook on inflation as reflected in a 30-year instrument would not be declining so dramatically.
Another problem for Fed credibility on the need to hike rates is the flattening of the yield curve – something that typically happens prior to an outright inverted yield curve, when short rates on Treasuries outpace long rates in anticipation of a recession. This morning, the yield on the two-year note versus the 30-year bond stood at just 197 basis points, the lowest spread since early 2009 – at the height of the financial crisis.
9--Fed calls time on $5.7 trillion of emerging market dollar debt
, Pritchard
The stronger the US boom, the worse it will be for those countries on the wrong side of the dollar.
"Emerging market currencies could melt down. There have been way too many cumulative capital flows into these markets in the past decade. Nothing they can do will stop potential outflows, as long as the US economy recovers. Will this trend lead to a 1997-1998-like crisis? I am starting to think that this is extremely probable for 2015," he said.
This time the threat does not come from insolvent states. They have learned the lesson of the late 1990s. Few have dollar debts. But their companies and banks most certainly do, some 70pc of GDP in Russia, for example. This amounts to much the same thing in macro-economic terms.
Private debt morphs into state debt since governments cannot allow key pillars of their economies to collapse. Does anybody believe that the Kremlin can walk away from $50bn of external debt owed by its oil giant Rosneft? Or that the $170bn debt owed by Brazil's Petrobas is a purely private matter? Standard & Poor's says the only reason it has not yet slashed Petrobras to junk is because of implicit state support.
These countries have, of course, built $9 trillion of foreign reserves, often the side-effect of holding down their currencies to gain export share. This certainly provides a buffer. Yet the reserves cannot fruitfully be used in a recessionary crisis because sales of foreign bonds automatically entail monetary tightening. ....
The world's financial system is on a dollar standard, not a euro standard. Global loans are in dollars. The US Treasury bond is the benchmarks for global credit markets, not the German Bund. Contracts and derivatives are priced off dollar instruments.
Bank of America says the combined monetary stimulus from Europe and Japan can offset only 30pc of the lost stimulus from the US. If you think that the sheer force of the US recovery will lift the whole global economy regardless of fading monetary stimulus, none of this may matter.
My own view is that a world awash with excess capacity cannot withstand a fully-fledged dollar tightening shock. The effects will ricochet back into the US eventually, but that could be a long time hence, and this in a sense is the problem for asset markets.
10--
The Bernanke Lie File: He Knew He Was Wrong About QE, ZIRP, and Trickle
Down , Stockman
how has Bernanke's widely accepted but unproven assertion panned out over the past 4 years? Was Bernanke the economic savior he made himself out to be, and which so many in the establishment believe he was? How have the repeated bursts of money printing and the constant pegging of interest rates at zero worked to achieve higher profits and higher incomes for Americans?
The answer is in this graphic.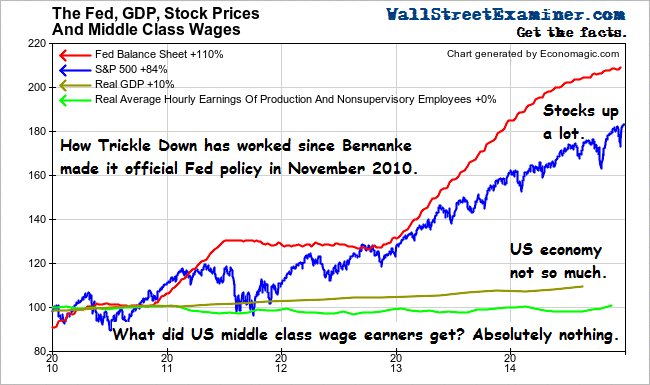 Bernanke was right. The Fed's asset purchases (Quantitative Easing or QE) did boost stock prices. But after QE was paused in 2010, the annual GDP growth rate in the third quarter of that year hit 3.1%. Once QE resumed and stock prices resumed their rise in Q4 2010, GDP growth actually slowed from 2.7% in Q4 2010, to 1.2% by Q3 of 2011. One could argue from that, that the Fed's asset purchases actually made the economy grow more slowly.
The Fed then paused QE again and lo and behold, GDP growth began to increase again! It rose to +2.7% by Q3 of 2012. But then the Fed reinstituted QE and yet again while stock prices continued to bubble higher, the economy slowed, dropping to a growth rate below 2% until Q3 of 2013. Growth subsequently rebounded, peaking at 3.1% in Q4 of that year, then settled back again to around 2%-2.7% through Q3 of 2014.
Overall, while stocks rose by approximately 75% between Q3 2010 before Bernanke made targeting stock prices official policy and Q3 of 2014, real GDP increased by a total of 9.2%. During that time, GDP growth was slowest when QE was in force, and fastest when QE was paused, evidence that QE was actually counterproductive in some way.
Overall, while stocks rose by approximately 75% between Q3 2010 before Bernanke made targeting stock prices official policy and Q3 of 2014, real GDP increased by a total of 9.2%. During that time, GDP growth was slowest when QE was in force, and fastest when QE was paused, evidence that QE was actually counterproductive in some way....
But on that 84% jump in stock prices, I think that we can all agree, on that Bernanke was right!
11--
The Real Winners Of The Recovery: The Superrich
, Firedog Lake
Much has been made of the yawning gap between the 1% and the 99% and that America is by and large a
plutocracy
. But inequality is also expanding within the commanding heights of the US economy as new research shows that the top .1% has broken away from their uber-wealthy peers and amassed more than 22% of the wealth . In other words, the
top one-thousandth of the country controls one-fifth of the wealth.
12--
Greek exit manageable?
Bloomberg
It's true that Greece poses a less naked financial risk to the rest of the euro region than it did in 2009, when revelations about the true size of its deficit triggered the ongoing crisis. Today, only about a fifth of Greek government debts are owed to the private sector, thanks to the country's bailout by the European Union, the European Central Bank and the International Monetary Fund. And borrowing by Greek private companies accounts for less than 1 percent of loans made by Europe's biggest banks, according to JPMorgan. (contagion risk)
13--
Biggest Oil-Rig Drop Since 2009 Spells Tough Year Ahead ,
Bloomberg
14---
Free Money in Bond Markets Shows Global Economy Still Struggling
, Bloomberg
The world's richest nations are borrowing for free.
Taken together, the average 10-year bond yield of the U.S., Japan and Germany has dropped below 1 percent for the first time ever, according to Steven Englander, global head of G-10 foreign-exchange strategy at Citigroup Inc.
That's not good news. The rock-bottom rates, which fall below zero when inflation is taken into account, show "that investors think we are going nowhere for a long time," Englander wrote in a report yesterday.
If the global economy was picking up, then bond yields would reflect expectations that inflation would accelerate and riskier assets would prove more attractive. Instead, inflation is on the slide. JPMorgan Chase & Co. forecasts a global rate as low as 1 percent if oil remains below $60 a barrel.
Even during the Great Depression, governments in the U.S. and abroad paid more than now to borrow for a decade, Englander says. At the end of the crisis-roiled 2008, the so-called Group of Three's rate was still above 2 percent.
15--
Greece vs Europe: who will blink first
?, Telegraph
The leaked minutes of an IMF board meeting in May 2010 admitted that what took place was not a "rescue": Greece should have been given debt relief, but was instead sacrificed to save the euro – and the banks. It is the failure of Brussels and Berlin to acknowledge this that makes Greeks so bitter, and this crisis so politically explosive.
Berlin still insists that Portugal, Spain and Italy are strong enough to withstand the shock of "Grexit" from the euro, and that the new banking union and new rescue tools stand ready to halt any contagion. But Peter Bofinger, one of Germany's five "wise men" economists, says this "would let a genie out of the bottle that would be hard to control".
Even as the US is booming, the eurozone is close to a triple dip recession. Output is still below its pre-Lehman peak. Italy's industrial production is back to levels reached in 1980. Europe's purported "reforms" have not raised its future growth rate, and therefore its ability to repay debt. Any gains have been overwhelmed by the malign effects of mass unemployment
16--
This Oil Thing Is The Real Deal
, automatic earth
This oil thing is the real deal. ...
Oil below $50 and falling is bigger than any other political or economic issue. Remember when they all said low oil prices would boost the economy through higher consumer spending? Heard anything much about that lately? ...
There's not an oil major or minor or a producing country left that makes a profit at these prices, and there's no sign anywhere to be seen that the drop will stop. If this keeps going, someday soon somebody's going to go to war. Maybe domestically, maybe across a border, but it'll happen.
There are dozens of regimes out there for whom oil prices have become a huge threat to their powers, their status, their lives, and there are dozens of others waiting in the wings, eager to take over. The move is just too big not to lead to bloodshed
...The oil price drop is a much bigger event than the US subprime housing crisis, it's bigger than everything put together that happened in 2008. And this time, central banks are lame sitting ducks. Omnipotence is a harsh mistress. She tends to backfire.
17---Sharp market falls over euro and oil price slump, wsws
Currency markets also exhibited instability. The US dollar hit a nine-year high against a basket of currencies, while the euro touched a nine-year low, amid concerns over whether the Greek election, to be held on January 25, would spark political instability if the opposition SYRIZA coalition were to win....
The falling oil price is indicative of the deflationary pressures in the world economy as a result of continuing stagnation in Europe and clear signs that the Chinese economy is slowing....
One of the factors that may have led German authorities to consider a Greek exit "bearable" is that Greece's debt has largely been transferred to public institutions. Consequently, German banks would not be as heavily impacted as they would have been three years ago.
It is estimated that more than 80 percent of Greece's debt is now held by official creditors, including the International Monetary Fund and the European Stability Mechanism, which functions as the euro zone's rescue fund.
While the prevailing view in financial circles, at least to this point, is that the euro zone would be able to "handle" a Greek exit, other powerful forces, in the form of deflation and the prospect of a third recession since the financial crisis, are stretching the monetary union.
18--
Beware the Ides of March, or the Ides of any month in 2015 for that matter. When the year is done, there will be minus signs in front of returns for many asset classes. The good times are over., Bill Gross
My investment template shares a lot in common with, and owes credit to, the similar templates of Martin Barnes of the Bank Credit Analyst and Ray Dalio of Bridgewater Associates. All three of us share a belief in a finance-driven economic cycle which over time moves to excess both on the upside and the downside...
Making money by borrowing at no cost for investment in the real economy sounds like a no-brainer. But, it comes with increasing risk in an environment of secular stagnation, demand uncertainty, and with the ROI closer to zero itself than an entrepreneur is willing to bear....
The secular fertilization of credit creation and the wonders of the debt supercycle may cease to work as intended at the zero bound....
Be cautious and content with low positive returns in 2015. The time for risk taking has passed.
18--
NYSE Margin Debt to GDP Continues to Signal Danger
, goldsqueeze
Remember, it's not the absolute value of debt that matters, it's debt as a percentage of GDP that matters as everything is relative. For the month of November, NYSE Margin Debt to GDP clocked in at 2.82%, the 9th consecutive month below its February highs. As you can see above, the prior peaks coincided precisely with peaks in the equity markets. While so far this time around the S&P has been defying history by staying near all-time highs (
why oh why could that be?
), don't expect it to last much longer.
Mexico: an Authoritarian System in Crisis