1--Russia to Shift Ukraine Gas Transit to Turkey as EU Cries Foul,
Bloomberg
2--
Turkish Intel Chief Exposes CIA Operations via Islamic Group in Central Asia
, Boiling Frogs
GIRALDI: You also have information on al-Qaeda, specifically al-Qaeda in Central Asia and Bosnia. You were privy to conversations that suggested the CIA was supporting al-Qaeda in central Asia and the Balkans, training people to get money, get weapons, and this contact continued until 9/11…
EDMONDS: I don't know if it was CIA. There were certain forces in the U.S. government who worked with the Turkish paramilitary groups, including Abdullah Çatli's group, Fethullah Gülen.
GIRALDI: Well, that could be either Joint Special Operations Command or CIA.
EDMONDS: Maybe in a lot of cases when they said State Department, they meant CIA?
GIRALDI: When they said State Department, they probably meant CIA.
EDMONDS: Okay. So these conversations, between 1997 and 2001, had to do with a Central Asia operation that involved bin Laden. Not once did anybody use the word "al-Qaeda." It was always "mujahideen," always "bin Laden" and, in fact, not "bin Laden" but "bin Ladens" plural. There were several bin Ladens who were going on private jets to Azerbaijan and Tajikistan. The Turkish ambassador in Azerbaijan worked with them.
There were bin Ladens, with the help of Pakistanis or Saudis, under our management. Marc Grossman was leading it, 100 percent, bringing people from East Turkestan into Kyrgyzstan, from Kyrgyzstan to Azerbaijan, from Azerbaijan some of them were being channeled to Chechnya, some of them were being channeled to Bosnia. From Turkey, they were putting all these bin Ladens on NATO planes. People and weapons went one way, drugs came back.
GIRALDI: Was the U.S. government aware of this circular deal?
EDMONDS: 100 percent. A lot of the drugs were going to Belgium on NATO planes. After that, they went to the UK, and a lot came to the U.S. via military planes to distribution centers in Chicago and Paterson, New Jersey. Turkish diplomats who would never be searched were coming with suitcases of heroin.
-3--The New Great Game Round-Up: January 12, 2015,
Boiling Frogs
Daily Sabah is known to overstate the case when it comes to the Gülen movement but given that Gülen's schools play a decisive part in the Islamization of Central Asia and the Caucasus region and that they have been used for various covert operations by the CIA, the Tajik authorities should consider referring to the schools' mission as "shadowy." Dushanbe has long lamented that young Tajiks, who are studying illegally at Islamic religious schools abroad, "can be easily radicalized and recruited into extremist or militant groups," while doing little to stop the indoctrination and terrorist recruitment at home. However, recent actions indicate that this could change in the near future
4
--

Don't bet on a stronger dollar as risks abound
, Gulf Times
If oil revenues fall further, they may be forced to sell those holdings, using the dollars to intervene in the foreign-exchange market and support their currencies or to bail out troubled banks, like Russia's Trust Bank, the mid-size institution that the government rescued in December.
Such developments would cause US debt yields to spike, disrupting growth. The dollar would become weaker, leaving investors wrong-footed. The dislocations could be severe.
5--
Gartman: Swiss made worst central bank decision
, cnbc
Swiss debt in Poland and Hungary are a concern.
6--
US takes first step to ending Cuba trade embargo,
cnbc
The United States eased decades of trade and financial restrictions on
Cuba
, opening up the country to U.S. telecommunications, construction and financial services in a slew of changes announced by the U.S. Departments of Commerce and Treasury.
The new rules, effective on Friday, are the first concrete step to implement U.S.
President Barack Obama's
move last month to restore diplomatic ties with Cuba and ease the long economic embargo on America's Cold War enemy after more than 50 years.
The amendments, meant to open up commerce and support Cuban citizens, will also allow Americans to travel to the country without asking for permission first, as long as they go for educational, religious or other approved reasons
7--
Gazprom warns EU to link to Turkey pipeline or lose Russian gas
, Hurriyet
Russian energy giant Gazprom has urged the
European Union
to link up to its planned energy pipeline to Turkey or lose the gas that now transits Ukraine.
"The Turkish Stream is the only route along which 63 billion cubic meters of
Russian
gas can be supplied, which at present transit Ukraine. There are no other options," Gazprom chief Alexei Miller said on Jan. 14, after a meeting with the new European Commissioner for Energy Union, Maros Sefcovic, in Moscow.
Russia now plans to build a new gas pipeline to Turkey, which it already supplies through an existing pipeline called Blue Stream, turning Turkey into a key transit center for
Russian
gas.
Turkey is the second-largest European importer of
Russian
gas after Germany.
"Our European partners have been informed of this and now their task is to create the necessary gas transport infrastructure from the
Greek
and Turkish border," said Miller, according to a Gazprom statement.
"They have a couple of years at most to do this. It's a very, very tight deadline. In order to meet the deadline, the work on building new trunk gas pipelines in
European Union
countries must start immediately today. Otherwise, these volumes of gas could end up in other markets," he warned.
8---
US launches asymmetrical "oil" war on Russia,
RT
...it is very important to understand that this is not about market supply and demand. This is much more about geopolitics. It is not the invisible hand of the market that has lowered the price of oil by 55 percent in 7-8 months. This is the invisible hand of the market which is always attached to a muscular arm and to a devilish brain. So I think more than watching the price of oil which is what the invisible hand decides, it is much more important that we understand what the muscular arm is doing with the invisible hand and much more important, what the devilish brain in the Western think-tanks are designing as part of this ongoing veritable war against Russia, against China, and its allies.
9--
Hundreds of thousands of US layoffs expected as oil boom unravels
, wsws
The precipitous drop in the price of oil has prompted oil companies to prepare mass layoffs in 2015 as sections of the industry become unprofitable. According to a variety of sources, hundreds of thousands of jobs in the US alone could disappear this year if oil prices remain low.
The boom led to the addition of some 150,000 jobs in the industry, according to Citi Research. The slowdown could wipe out even more as jobs are slashed in exploration, construction, refining and the tens of thousands of jobs that service the industry and its workers.
The job cuts, which are occurring worldwide, will be most pronounced in regions where "unconventional" oil production has recently developed. In Texas, for instance, where a large oil boom has occurred at the Eagle Ford shale formation, the Dallas Federal Reserve predicts that 128,000 jobs could be lost in the state by mid-2015 if West Texas Intermediate (WTI) crude oil remains around $55.00 a barrel. As of this writing, WTI crude is going for $48.52 a barrel....
Many states will be devastated by the decline in oil price. Alaska depends on oil taxes for 90 percent of its revenue and is expected to cut its expenditures by 50 percent to deal with the price decline. Louisiana is expecting a $1.4 billion funding shortfall for the 2015-2016 budget and has begun enacting cuts. Oklahoma, North Dakota, and Texas are the three other states whose budgets will be significantly hurt by the fall in oil prices.
Oil has plunged by more than 55 percent since its previous peak in July 2014. The last time the oil price dropped so starkly was in 2008 during the global financial crisis, when West Texas crude went from $145.29 in July 2008 to as low as $30.81 in December 2008, a 79 percent drop.
10--
World Bank lowers its growth forecast,
wsws
the US "engine" is far from functioning with a steady beat. Figures released by the Commerce Department yesterday showed that retail sales fell by 0.9 percent in December from the previous month, compared to a forecast decline of 0.1 percent. The figures were described as a "big surprise" by at least one analyst, as they included a 0.4 percent decline in core sales, including electronics, clothing and sporting goods, but excluding gasoline.
As if to underscore the World Bank's message of a weakening global economy, copper prices fell to their lowest levels in five-and-a-half years yesterday. The price of the metal, which is used extensively in the construction and electrical industries, dropped by as much as 6.6 percent on the London market.
Copper has joined other industrial commodities, most notably iron ore and oil, in falling to price levels not experienced since the immediate aftermath of the global financial crisis of 2008–2009. The Bloomberg Commodity Index is now down to levels last seen in 2002....
Financial turbulence could also be triggered by increased geopolitical tensions, sharp movements in commodity markets, or financial stress in emerging markets, because a rise in the value of the US dollar could increase the real debt burden of dollar-denominated loans...
"labour force participation has declined to levels not seen since the early 1980s."
The bank wrote that investment levels in the US would increase, but remain below the levels reached before the financial crisis. In addition, a strong dollar would dampen net exports, while low oil prices would "negatively affect capital expenditure in the energy sector."
Activity in the euro area had been weaker than expected, especially in France, Germany and Italy—the core economies of the region.
The report identified a potential source of financial turbulence in emerging markets, warning that after "several years of rapid credit growth and record debt issuance on international bond markets, corporations in many developing countries have accumulated significant liabilities and exposure to both global interest rates and exchange rate fluctuations."...
In Europe, the continuing fall in inflation could signify so-called "secular stagnation," with weak consumption, low investment and falling prices feeding off each other to produce a deflationary spiral
11--
The World Economy Post 2008
, naked capitalism
You are making the wrong assumption that EU officials are in the business of promoting shared prosperity. I wish that were true. No, they are in business for perpetuating their bureaucratic authority within an institution that was designed as a democracy-free zone and as a mediator between various powerful, oligopolistic vested interests for whom austerity is a golden opportunity to maximize their social power over the rest of society. And if gigantic unemployment and a humanitarian crisis is the result, so be it…
The recent US unemployment figures (December 2014) and third quarter 2014 GDP growth figure of 5% seems a little unbelievable, particularly given most statistical analysis that demonstrates all gains and more since the "supposed" US recovery have accumulated within the top 5% at the expense of the average Joe on Main Street?
If you look at the US labour market closely you find that the number of Americans wanting a full time job and not having it has remained more or less constant over the last few years. Employment growth has not kept up with labour supply which, in the United States, rises faster than in Europe. As for income growth, it is no great wonder that, courtesy of low investment and QE, asset price increases and share buybacks boost the top 1%'s income further while wages are languishing on a filthy floor. And so macrodata prosper while most people suffer.
12--
Market madness started with end of Fed's QE
, Jeff Cox
13--
Big Oil cuts back as analysts slash forecasts
, cnbc
14--
Increased U.S. Output Bolsters Oil Glut Fears
, Bloomberg
15--
U.S. Retail Sales Down Sharply, Likely Cuts to Growth Forecasts Ahead
, Bloomberg
16
--Yellen Signals She Won't Babysit Markets in Turmoil,
Bloomberg
Janet Yellen
is leaving the Greenspan "put" behind as she charts the first interest-rate increase since 2006 amid growing financial-market
volatility
. ...
"Let me be clear, there is no Fed equity market put,"
William C. Dudley
, president of the New York Fed, the central bank's watchdog on financial markets, said in a Dec. 1 speech in New York. "Because financial-market conditions affect economic activity only slowly over time, this suggests that we should look through short-term
volatility
..
Volatility Buffers
"Financial volatility occurs when you have highly leveraged institutions," Greenspan said. "But if you have institutions with significant capital buffers, volatility will be muted."
U.S. central bankers are counting on supervisory tools, such as their current stepped-up focus on lending standards in the high-yield loan market, and higher levels of bank capital and liquidity to help make the financial system more resilient to shocks.
17--
End of CB Power - SNB Folds
, zero hedge
I will stick my neck out and say that the failure to hold the minimum rate will result in a one time loss for the SNB of close to $100B. That's a huge amount of money. It comes to 20% of the Swiss GDP! If this type of loss were incurred by the US Fed it would result in a loss in excess of $2 Trillion!
In the coming days and weeks there will be more fallout from the SNB disaster. There will be reports of big losses and gains from today's events.
But that is a side show to the real story.
We have just witnesses the collapse of a promise by a major central bank.
The Fed, Bank of Japan, ECB, SNB and other Central Banks have repeatedly made the same promises over the past half decade:
Don't worry! We are here. We will do anything it takes to achieve the stability we desire. We are stronger than the markets. We can overwhelm all forces. We will never let go - just trust us!
I never believed in these promises, but the vast majority of those who are active in financial markets did. The entire world has signed onto the notion that Central Banks are all powerful. We now have evidence that they are not.
Anyone who continues to believes in the All Powerful CB after today is a fool. Those who believed in Jordan's promises now have red ink on their hands - lots of it!
The next central bank that will come into the market's cross hairs is the ECB. Mario Draghi has made promises that he would "Do anything - in any amount". Like I said, you would be a fool to continue to believe in that promise as of this morning.
We've just taken a huge leap into chaos. The linchpin of the capital markets has been the trust in the CBs. The market's anchors have now been tossed overboard.
18--
Dollar's Rise Is Good News For The U.S., For Now,
NPR
19--Oil Rebound
Treasuries pared gains as oil rebounded. Oil futures surged for a second day in New York, extending a rebound from a 5 1/2-year low. West Texas Intermediate advanced as much as 5.8 percent to $51.27 a barrel in New York.
"That should calm the deflationists out there," said
Stanley Sun
, a New York-based strategist at primary dealer Nomura Holdings Inc. "That should allow the market to stabilize a bit on the inflation front."
The 0.3 percent decrease in the producer price index was the biggest since October 2011 and followed a 0.2 percent drop the prior month, a Labor Department report showed. The
median
estimate in a Bloomberg survey called for a 0.4 percent fall.
A report tomorrow is forecast by economists to show the consumer price index declined 0.4 percent in December from the previous month, compared with a 0.3 percent drop in November. Retail sales fell in December, a government report yesterday showed
20
--A Swiss bombshell: Why the franc soared 30
%, cnbc
Here's what happened in
Switzerland
that shocked the world:
The central bank canceled its policy of pegging the Swiss franc at 1.20 to the euro, a policy that's been in place more than three years to keep the currency from getting too strong and hurting the economy.
The
Swiss National Bank
also cut interest rates deeper into negative territory to help cushion the blow and make the Swiss franc seem more unappealing since low rates are bearish for currencies.
But those low rates didn't deter traders from piling into the franc.
After the announcement, it surged almost 30 percent, flying to a record high.
"The attempt to hold the EUR/CHF 1.20 floor has resulted in a ballooning foreign reserves stockpile at the SNB," Societe Generale FX strategist Kit Juckes said in a note, referring to the Swiss National Bank.
"The reserves have climbed from CHF200bn in mid-2011 to almost CHF 500bn. These are now equivalent to 70% of Swiss GDP and have not been without controversy in Switzerland, as reflected in the referendum on the SNB's gold holdings on 30 November 2014."
The implication of Thursday's move: The Swiss authorities are worried about pressure on the euro against the franc ahead of the
European Central Bank's
policy meeting next Thursday, in which it is widely expect to announce a monetary stimulus..
ECB QE? Pros say, the timing of the move reflects Switzerland's expectation for dramatic easing action from the European Central Bank and raises market expectations that it will be announced soon.
Read More
ECB stimulus already priced into market: Pros
For world markets: In this postcrisis climbing of the wall of worry, currency volatility has just gone to the top of the worry list.
A stronger dollar, wild swings and crazy central bank surprises have the potential to destabilize markets and economies. It could be a trigger for risk aversion, or it could draw even more money into U.S. markets as a global safe haven.
21--
Oil prices steady below $49 as forecasters see more falls
, reuters
22--
Swiss surprise
, marc chandler
23---
The Fed's Hobson's Choice: End QE and Zero-Interest Rates or Destabilize the Dollar and the Treasury Market
, WA Blog
Keeping interest rates near zero has removed any financial incentive to buying Treasury bonds other than flight to safety. As Stephanie Pomboy observed in her excellent

Wine Country Conference 2014

presentation, (and I paraphrase here): "every day they continued QE, they chased away more and more of our foreign creditors."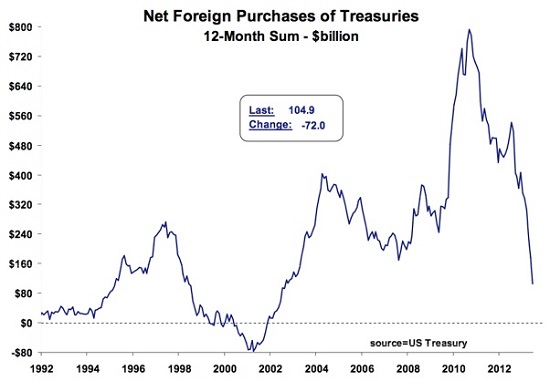 The Treasury must sell bonds to fund the Federal deficit, which is running about $500 billion a year. The Treasury must also sell new bonds to replace the immense amounts of T-Bills that are maturing.
The more T-bills the Fed buys to keep interest rates at zero, the more it drives foreign and domestic buyers out of the Treasury market.
This is also true of the U.S. dollar. This sets up the Fed's

Hobson's Choice

, which is the term for an illusory choice, i.e. a choice in which only one option is offered.
If the Fed continues QE, it destabilizes the Treasury market that funds U.S. government deficits, and the hegemony of the U.S. dollar. If it ceases QE, interest rates will rise as non-central bank buyers will demand an actual return on their capital.
...
The Fed believed that five years of free money and incentivizing risk would heal the economy. They were wrong. The real economy is more fragile and dysfunctional than ever due to the distortions created by Fed policies, while the top 1/10th of 1% have feasted on the asset bubbles inflated by these same policies.
Meanwhile, beneath the crony-capitalist celebration of new asset bubbles, the foundations of the nation's fiscal security–the Treasury market and the U.S. dollar–have been undermined and destabilized by these same Fed policies.
Those who focus solely on the Fed assume the ruling Elite is monolithic: unified in worldview, strategy and goals. I believe this is overly linear and overly simplistic: there are competing elites, and nations fall when their elites experience profound disunity.
Though the Fed is doing its best to mask its abject failure and lack of choices with public relations ("Pay no attention to what's behind the curtain!"), the reality is it has no choice to tapering and eventually ending its gargantuan spew of credit and its unprecedented and destabilizing purchases of assets