"
We have quite alarming information ... that [Ukrainian] forces are planning in the near future another attempt to solve the crisis by force,"
...
this would be a catastrophe."
Various numbers are reported. From 50,000 to over 200,000 people should be mobilized in the army and other security forces."
Malaysian plane that was shot down in eastern Ukraine in July, says
Russian Foreign Minister Sergey Lavrov
1
--Oil, Oil, Oil, automatic
earth
This whole idea of Americans running rampant in malls with the cash they saved from lower prices at the pump was always just something somebody smoked. And now we'll get swamped soon with desperate attempts to make US holiday sales look good, but if I were you, I'd take an idled oiltanker's worth of salt with all of those attempts.
Still, the Fed, in my view, is set to stick with its narrative of the US economy doing so well they just have to raise interest rates. It's for the Wall Street banks, don't you know. That narrative, in this case, is
"Ignore transitory volatility in energy prices."
The Fed expects for sufficient mayhem to happen in emerging markets to lift the US, and for enough dollars to 'come home' to justify a rate hike that will shake the world economy on its foundations but will leave the US elites relatively unscathed and even provide them with more riches. And if anyone wants to get richer, it's the rich. They simply think they have it figured out
Falling Oil Reveals The Truth About The Market
It seems like every day some pundit is on air arguing that falling oil is a net long-term positive for the U.S. economy. The cheaper energy gets, the more consumers have to spend elsewhere, serving as a tax cut for the average American. There is a lot of logic to that, assuming that oil's price movement is not indicative of a major breakdown in economic and growth expectations. What's not to love about cheap oil? The problem with this argument, of course, is that it assumes follow through to end users. If oil gets cheaper but is not fully reflected in the price of goods, the consumer does not benefit, or at least only partially does and less so than one might otherwise think. I believe this is a nuance not fully understood by those making the bull argument. Falling oil may actually be a precursor to higher volatility as investors begin to question speed's message....
oil is a signal of some kind of economic slowdown ahead. Regardless, oil is revealing the truth about the current state of markets, as junk debt falters, long-duration Treasurys counter Fed hope for reflation, and defensive sectors actually act as defense as opposed to offense starting 2015.
Our alternative inflation rotation and equity-beta rotation mutual funds and separate accounts are positioned in the near term in their respective defensive positions given our quantitative models. If oil's crash isn't enough to cause consumer stocks to skyrocket, one needs to indeed question the narrative against inter-market movement.
UK Oil Firms Warn Osborne: Without Big Tax Cuts We Are Doomed
North Sea oil and gas companies are to be offered tax concessions by the Chancellor in an effort to avoid production and investment cutbacks and an exodus of explorers. George Osborne has drawn up a set of tax reform plans, following warnings that the industry's future is at risk without substantial tax cuts. But the industry fears he will not go far enough. Oil & Gas UK, the industry body, is urging a tax cut of as much as 30% [..] "If we don't get an immediate 10% cut, then that will be the death knell for the industry [..] Companies operating fields discovered before 1992 can end up with handing over80% of their profits to the Chancellor; post-1992 discoveries carry a 60% profits hit.
As Oil Plummets, How Much Pain Still Looms For US Energy Firms?
A closer look at valuations and interviews with a dozen of smaller firms ahead of fourth quarter results from their bigger, listed rivals, shows there are reasons to be nervous. What small firms say is that the oil rout hit home faster and harder than most had expected. "Things have changed a lot quicker than I thought they would," says Greg Doramus, sales manager at Orion Drilling in Texas, a small firm which leases 16 drilling rigs. He talks about falling rates, last-minute order cancellations and customers breaking leases. The conventional wisdom is that hedging and long-term contracts would ensure that most energy firms would only start feeling the full force of the downdraft this year.
Oil's Plunge Wipes Out S&P 500 Earnings
While stock investors wait for the benefits of cheaper oil to seep into the economy, all they can see lately is downside. Forecasts for first-quarter profits in the Standard & Poor's 500 Index have fallen by 6.4 percentage points from three months ago, the biggest decrease since 2009, according to more than 6,000 analyst estimates compiled by Bloomberg. Reductions spread across nine of 10 industry groups and energy companies saw the biggest cut. Earnings pessimism is growing just as the best three-year rally since the technology boom pushed equity valuations to the highest level since 2010.
At the same time, volatility has surged in the American stock market as oil's 55% drop since June to below $49 a barrel raises speculation that companies will cancel investment and credit markets and banks will suffer from debt defaults. [..] American companies are facing the weakest back-to-back quarterly earnings expansions since 2009 as energy wipes out more than half the growth and the benefit to retailers and shippers fails to catch up.
Oil producers are rocked by a combination of faltering demand and booming supplies from North American shale fields, with crude sinking to $48.36 a barrel from an average $98.61 in the first three months of 2014. Except for utilities, every other industry has seen reductions in estimates. Profit from energy producers such as Exxon Mobil and Chevron will plunge 35% this quarter, analysts estimated
How Falling Gasoline Prices Are Hurting Retail Sales
Aren't declining gasoline prices supposed to be good news for the economy? They certainly are to households not employed in the energy industry, but it might not seem so from the one of the biggest economic indicators due for release this week. On Wednesday, the Commerce Department is set to report retail sales for December. It's the most important month of the year for retailers, but economists polled by MarketWatch are expecting a flat reading, and quite a few say a monthly decline wouldn't be a surprise. [..] After department stores saw a 1% monthly gain in November, the segment may reverse some of that advance in the final month of the year.
Why Falling Oil Prices Won't Delay Fed Rate Increases




On Wednesday, the newly released minutes of the Fed's latest meeting in December revealed that most members of the FOMC are ready to raise rates this summer even if inflation continues to fall, as long as there's a reasonable expectation that inflation will eventually drift back to 2%. Fed Chairman Ben Bernanke got a lot of flak in the spring of 2011 when oil prices were rising and annual inflation rates climbed to near 4%, double the Fed's target.
2---How Wall Street Drove the Oil & Gas Drilling Boom That's Turning into a Disaster
, wolf street
here are the top 10 banks, according to
DealBook
, that in 2014 extracted the most investment-banking revenues from the oil and gas sector, or rather from its investors. Bailed-out and still troubled Citi was the king of the hill, obtaining $492 million in IB revenues from the oil and gas sector, representing 11.8% of its total IB revenues. Together, the ten skimmed off $3.52 billion last year.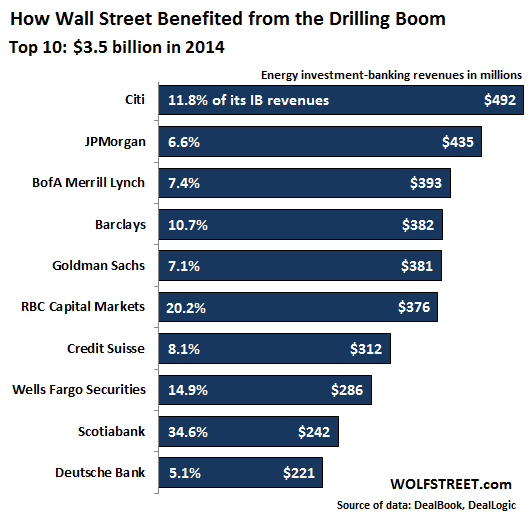 3--
Opinion:

Why falling oil prices won't delay Fed rate increases,
marketwatch
The plunge in oil prices will likely push the annual U.S. inflation rate below 1%, further from the Federal Reserve's target of 2%. ...
The fundamental economic forces are nudging prices closer to the Fed's target of a 2% annual increase. That's why economist
Tim Duy is skeptical
that the decline in oil prices is deflationary. "Rather than preventing inflation from returning to target, the oil price decline is likely to have the opposite impact and push inflation back to target," he wrote.
Janet Yellen and the majority of Fed officials seem to agree
4--He
re's why oil is such a problem for corporate earnings
, cnbc
5--State involvement in Charlie attacks...
--It is simply not credible that the three men were able to hatch and carry out an elaborate plan involving automatic weapons and explosives without the passive complicity, if not active involvement, of elements of the state apparatus
, wsws
The two brothers who attacked the
Charlie Hebdo
offices, Cherif and Said Kouachi, had been known to French authorities for more than a decade. They had also been tracked by the United States and Britain.
French Interior Minister Bernard Cazeneuve last week admitted that the two were "probably followed" prior to the shooting, but claimed that there had been no signs of an impending attack. Cherif was arrested in 2005 and convicted on charges of conspiracy to travel to Iraq to join an Islamic fundamentalist group. According to unnamed US officials, Said had travelled to Yemen in 2011 and received weapons training from Al Qaeda in the Arabian Peninsula.
Ahmed Coulibaly, who seized control of the kosher grocery, was convicted of armed robbery and was known to have joined extreme Islamist circles in Paris. In 2009, he was arrested and charged with conspiring to free convicted subway bomber Smain Ait Ali Belkacem, a member of the Algerian Armed Islamic Group. Cherif Kouachi was also questioned over the case, but not prosecuted. Coulibaly was released from prison only in March 2014.
Last week's shootings in Paris follow a recurring pattern in the "war on terror." Virtually all of those involved in or linked to terrorist attacks in major imperialist centres—from the 9/11 attacks and Boston Marathon bombings to the London subway and Madrid train station bombings and the café siege last month in Sydney—have had unexplained and suspicious relations with the security agencies in those countries.
A
Euronews
article entitled "Key questions around the
Charlie Hebdo
killings go unanswered" asks why French security did not keep closer tabs on the perpetrators. "That may be because," it suggests, "as often in the past, the French like to 'turn' terrorists to do their bidding. The Kouachis may have been candidates for such treatment, but no one in Paris is ever likely to admit that, even if it is a legitimate form of counter-espionage. Not now."
It is simply not credible that the three men were able to hatch and carry out an elaborate plan involving automatic weapons and explosives without the passive complicity, if not active involvement, of elements of the state apparatus. Even stranger is the apparent escape of Coulibaly's girlfriend, Hayat Boumeddiene, who is also wanted for questioning over the attacks. While the details remain unclear, she supposedly evaded all detection as she fled from France to Spain, where she caught a flight to Turkey, then crossed the border into Syria.
The open and covert collaboration of intelligence and security agencies with Islamic extremist organisations has a long history, most notoriously in the massive CIA operation in the 1980s to finance, arm and train jihadists, including Osama bin Laden and the precursors of Al Qaeda, against the Soviet-backed regime in Afghanistan. The circumstances in which known Al Qaeda operatives were able to enter, train and carry out the 9/11 attacks remain completely unexplained to this day
6--
China and Russia to launch new credit rating agency in 2015
, RT
7--
Oil plummet: Crude dives below $45 for first time since 2009
, RT
8--
West has forgotten MH17 Ukraine crash probe – Lavrov
, RT
"The West imposed sanctions [on Russia] under the pretext of the catastrophe of the Malaysian Boeing," said Lavrov, after a meeting with his Latvian counterpart Edgars Rinkevics.
And now our Western colleagues
"have completely forgotten this problem,"
the Russian foreign minister added.
"Russia alone is saying that it would be good to release at least preliminary results of the investigation and explain why this probe was conducted with flagrant violations of the norms, which are applied specifically for such cases within the International Civil Aviation Organization (ICAO)."
We have quite alarming information - we are trying to verify it right now - that [Ukrainian] forces are planning in the near future another attempt to solve the crisis by force,"
he said, stressing
"this would be a catastrophe."
Various numbers are reported. From 50,000 to over 200,000 people should be mobilized in the army and other security forces."
9---
The Road From Paris to Damascus–and Back Again
, cp
That's why it sounds so absurd when liberal commentators try to resuscitate "Clash of Civilisations" rhetoric after Paris. They claim superiority for allowing freedom of expression, for supporting journalism. But they were the ones cheering on as NATO bombed journalists at Serbian TV during the war on Yugoslavia in 1999. They were the ones cheering as NATO bombed journalists at Libyan TV in 2011. They are the ones who cheerlead wars that kill journalists and anyone else in their way.