1
--Oil and Gas Bloodbath Spreads to Junk Bonds, Leveraged Loans. Defaults Next ,
wolf street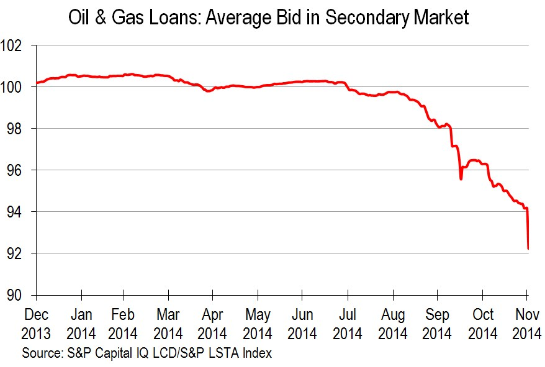 Companies in the sector are now facing a harsh reality: crashing revenues and earnings. Some of them are going to have liquidity problems. Unless a miracle happens that will goose the price of oil pronto, there will be defaults, and they will reverberate beyond the American oil patch
2---
Putin halts South Stream pipeline,
wsws
.
The energy agreement with Turkey is part of a broader strategic reorientation. Last summer, Russia signed a major deal to supply gas to China. Along with the supply of gas, Russia has also agreed to the building of Turkey's first nuclear power plant and a vast expansion of trade in both directions. Turkey will thus benefit directly due to the sanctions imposed by the EU and United States.
3---
With Q3 Buybacks Surging, These Are The Top 20 Repurchasers Of Their Own Stock,
zero hedge
Q3 earnings seasons confirms, what went down, promptly soared right back up, with
stock repurchases in Q3 surging by 30% following the 30% drop in Q2, and nearly offsetting all the lost "corporate wealth creation" in the second quarter
, with the total amount of stock repurchases by S&P 500 companies jumping from $112 billion to $145 billion, just shy of the Q1 record, and the second highest single quarter repurhcase tally going back to 2007, and before.
So who are the most glaring offenders of engaging in what James Montier calls the "
World's Dumbest Idea
", i.e., maximizing shareholder value almost entirely through buybacks?
4---EPS? zero hedge
"There is no doubt that corporate profitability has surged from the recessionary lows. However, if I am correct in my assessment, then the recent downturn in corporate profitability may be more than just due to an economic 'soft patch.' The problem with cost cutting, wage suppression, labor hoarding and stock buybacks, along with a myriad of accounting gimmicks, is that there is a finite limit to their effectiveness. While Goldman Sachs expects profits to surge in the coming years ahead - history suggests something different."...
In order for profitability to surge, despite rather weak revenue growth, corporations have resorted have resorted to using debt to accelerate share buybacks. The chart below shows the total number of outstanding shares as compared to the difference between operating earnings on a per/share basis before and after buybacks.
However, companies are not just borrowing to complete share buybacks but also to issue out dividends.
According to the most recent S&P 500 company filings, the level of cash dividends per share has now reached $10.02 which is the highest level on record. It is also the greatest deviation from the long-term trend of dividends per share since the financial crisis
(highlighted in blue.)...
The reality is that share buybacks create an illusion of profitability.
If a company earns $0.90 per share and has one million shares outstanding - reducing those shares to 900,000 will increase earnings per share to $1.00. No additional revenue was created; no more product was sold, it is simply accounting magic. Such activities do not spur economic growth or generate real wealth for shareholders. However, share buybacks and cash dividends provide the basis to keep Wall Street satisfied, and stock option compensated executives and large shareholders happy.
5--
Ilargi: Oil Shock – More Than A Quantum Of Fragility
, Illargi
6--Lingering debt from collapsed Ponzi schemes hinders economic growth
, oc housing
7--
The Rise of German Imperialism and the Phony "Russian Threat",
james petras