1--What, No "Yellen Put?" You Gotta be Kidding
… , wolf street
QE "seemed to succeed" in pushing down interest rates, goosing credit markets, and whipping stock markets into froth. "This came, of course, at the expense of savers," he said. "But this was a cost that the committee felt was exceeded by the expected wealth effect." Or more precisely:
For those with access to capital, it was a gift of free money to speculate with. (One wag – I believe it was me – quipped that there was, indeed, a "positive wealth effect… the wealthy were affected most positively.")
But the effectiveness of QE3 had waned even as "current and potential future costs were mounting." So he was "an enthusiastic supporter of killing" it. It hadn't been used for productive purposes but for financial engineering "primarily to finance stock buybacks, increase dividends, and fatten cash reserves, and recently, finance mergers by the most creditworthy companies."
The result is "an indiscriminate reach for yield, a revival of covenant-free lending, and an explosion of collateralized loan obligations (CLOs), pathologies that have proved harbingers of eventual financial turbulence." Junk bonds were trading at historic lows. Risks that have been "propagated by QE3." And then he added the ominous words:
"I do not believe it is the Fed's job to rescue reckless investors from the errors of their ways."
2---What Quantitative Easing Did Not Do: Three Revealing Charts
, dolan's econ blog
3---
Japan Creates World's Biggest Bond Bubble
, Bloomberg
In announcing that it will boost purchases of government bonds to a
record annual pace
of $709 billion, the central bank has just added further fuel to the most obvious bond bubble in modern history -- and helped create a fresh one on stocks. Once the laws of finance, and gravity, reassert themselves, Japan's debt market could crash in ways that make the 2008 collapse of Lehman Brothers look like a warm-up. Worse, because Japan's interest-rate environment is so warped, investors won't have the usual warning signs of market distress. Even before Friday's bond-buying move, Japan had lost its last honest tool of price discovery. When a nation that needs 16 digits in yen terms to express its national debt (it reached 1,000,000,000,000,000 yen in August 2013) sees benchmark yields falling, you've entered the financial Twilight Zone. Good luck fairly pricing corporate, asset-backed or mortgage-backed securities.
4---
Wolf Richter: Biggest Credit Bubble in History Flashes Warning – 'Seek Cover'
, naked capitalism
Covenant-lite loans, which eliminate many of the protections that lenders normally require, allow over-leveraged junk-rated companies to pile on even more debt when they would normally no longer be able to do so. A key benefit for the Private Equity firms that own them: PE firms make a big part of their profit by having their portfolio companies borrow money, but not for expansion purposes or other productive uses. Instead, PE firms suck that cash out the back door through special dividends, fees, and other devices. When the portfolio company pops, the PE firm conveniently has the cash, and the lenders eat the loss.


To protect themselves, lenders normally force borrowers into covenants that prevent these and other shenanigans. But not anymore. Lenders, driven to near insanity by the Fed's interest rate repression, are caught up in an all-out chase for yield and don't look at anything else, and to get that minuscule extra yield, they take on risks, any risks, no questions asked, and to heck with future losses, and they hold their noses and close their eyes and pick up the worst crap, and then find ways of stuffing those risks into your mutual fund ...


The IMF chart shows the prior bubble as expressed in covenant-lite loans (green line, right scale) and second-lien loans (red line, left scale) and where it all ended so spectacularly – namely in the financial crisis. It also shows the current bubble through 2013. Covenant-lite loans started setting new records last year, but second-lien loans, a particularly nasty contraption for banks, haven't quite caught up yet. Up to us to figure out where it ends: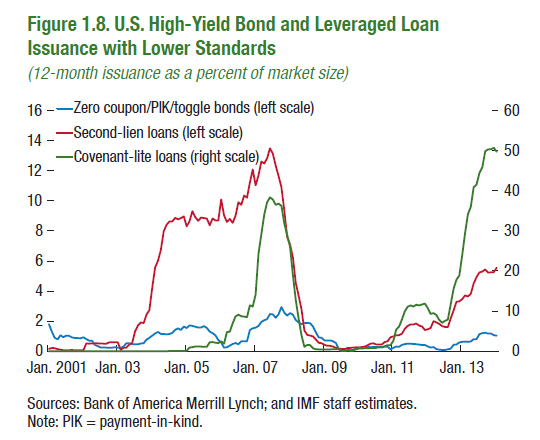 This Year, It's Even Worse
Through March, about $68 billion in covenant-lite loans have been issued, according to Thomson Reuters. Banks are making even more concessions and relax loan terms further, giving over-leveraged companies enormous flexibility in how they deal with their debt if they run into trouble and allow them to pile on yet more debt. These new loosey-goosey loans have lovingly been dubbed, "covenant-lite 2.0."...


Even the Fed, which never sees signs of a bubble, and denies the very existence of bubbles until long after they have imploded, is seeing the ballooning covenant-lite loans as a risk to the very banks it had so heroically bailed out during the financial crisis, and Fed heads have mentioned them as an item on their worry list, and as a reason for eliminating QE.


5--Jap stocks fly high after QE announcement, abc news






JAPAN'S STIMULUS: Investors continue to rejoice over the double-barreled barrage of stimulus unleashed on Friday. The Bank of Japan's decision to boost asset purchases will raise the amount of money being injected into the economy annually to about 80 trillion yen ($704 billion). Apart from that, the public pension fund is to pare its bond holdings and raise its investments in shares, to help improve the returns it is relying on to meet growing payout obligations.



Nikkei 2.7% higher Japanese shares pared gains in afternoon trade after breaching the 17,000 level earlier in the day. Still, the index extended gains into a fourth session, following Monday's holiday. Investors continued cheering the Bank of Japan's surprise easing measures on Friday as well as the Government Pension Investment Fund's (GPIF) portfolio re-balancing. Read More Nikkei's monster gains: Real deal or fool's rally? The yen's (Exchange:JPYUSD=) plunge underpinned gains, with the currency weakening to 114 per dollar in early trade, a level not seen since June 2007


6---Yen gets hammered following BoJ stimulus announcement, Reuters


The dollar topped 114 yen on Monday, its strongest point in nearly seven years, extending gains spurred by last week's Bank of Japan surprise decision to boost its already massive bond-buying stimulus in an effort to lift a moribund economy....


The dollar surged to 114.20 yen, its highest since December 2007, before slipping back to 113.75, up 1.27 percent on the day.


7---The BOJ and ECB sit-com, reuters


8--​Time for a 'new world order?' No, it's already here, RT
The world economy in the 1990s and today:
World's Largest Economies by GDP, adjusted for purchasing power parity (PPP), Source: World Bank

| | |
| --- | --- |
| 1995 (in USD billions) | 2015 (IMF Forecast) |
| United States 7,664 | China 19,230 |
| Japan 2,880 | United States 18,287 |
| China 1,838 | India 7,883 |
| Germany 1,804 | Japan 4,917 |
| France 1,236 | Germany 3,742 |
| Italy 1,178 | Russia 3,643 |
| United Kingdom 1,161 | Brazil 3,173 |
| India 1,105 | Indonesia 2,744 |
| Brazil 1,031 | France 2,659 |
| Russia 955 | United Kingdom 2,547 |
US setting sun
9---
Housing Market Headwinds
, FRBSF
Conclusion
In this
Economic Letter
we have described how constrained access to credit has been a lingering obstacle to the housing recovery. The signs of progress remain uneven. On one hand, banks appear more willing to hold a larger share of jumbo mortgages on their balance sheets than they were following the housing bust. However, we find little evidence that credit access has improved much for borrowers with lower credit scores. This uneven access to credit appears even in markets where economic conditions are relatively favorable to increased housing activity.
10--
Black Knight: 3,711,000 loans delinquent or in foreclosure in September
, cal risk
• 1,760,000 properties that are 30 or more days, and less than 90 days past due, but not in foreclosure.
• 1,118,000 properties that are 90 or more days delinquent, but not in foreclosure.
• 893,000 loans in foreclosure process.

For a total of ​​3,711,000 loans delinquent or in foreclosure in September. This is down from 4,593,000 in September 2013
Countries that took emergency measures to reduce public borrowing have mostly suffered weaker growth, as in the case of Britain from 2010 to 2012, Japan this year and the United States after the 2013 "sequester" and fiscal cliff deal. In more extreme cases, such as Italy and Spain, fiscal tightening has plunged them back into deep recession and aggravated financial crises. Meanwhile countries that ignored their deficit problems, as in the United States for most of the post-crisis period, or where governments decided to downplay their fiscal tightening plans, as in Britain this year or Japan in 2013, have generally done better, both in terms of economics and finance. The one major exception has been Germany, where budgetary consolidation has managed to coexist with decent growth, largely because of a boom in machinery exports to Russia and China that is now over, pushing Germany back into the recession its stringent fiscal policy suggested all along.
Thus the six years since 2008 have provided strong empirical support for the supposedly outmoded Keynesian view that government borrowing is more powerful than monetary policy in stimulating severely depressed economies and pulling them out of recession. In a sense, it is odd that the power of fiscal policy has come as a surprise – or that it continues to be categorically denied by the German government and the U.S. Tea Party. The underlying reason why fiscal policy is so important in recessions, and has now come to dominate over monetary policy, is a matter of simple arithmetic that should not be open to debate.
Recessions generally occur when private business and households decide to spend less than their incomes in order to reduce their debts or increase their savings. If this process of "deleveraging" is happening in the private sector, which it clearly has been, then simple arithmetic shows that economic balance can only be restored if some other sector of the economy spends more than its income – and such excess spending is only possible if that "other sector" is willing to increase its debts. Disregarding the role of exports and imports, which must sum to zero for the world as a whole, the government is the only possible candidate to play the crucial balancing role as the "other sector." It is therefore a mathematical certainty that governments must increase their borrowing whenever businesses and households decide to boost their savings by spending less than they earn.
12--
The political issues posed by the US midterm elections
, wsws
After six years of the Obama administration, which promised "change" only to continue and deepen the reactionary policies of its Republican predecessor, fewer and fewer working people believe that their votes will change anything. More and more recognize that the system is controlled by the wealthy. It is expected that Election Day will see record low turnout.
At a rally in Detroit Sunday, President Barack Obama summarized the issues in the election as follows: Democrats favor a minor increase in the minimum wage, which would still leave tens of millions in poverty; Democrats support equal pay for women, a claim that was not backed up by any concrete proposals; Democrats support slightly easier credit terms for students taking out loans to pay for college. These are differences in the second and third decimal point, the small change of capitalist politics.
Meanwhile, the parties are in agreement on the big issues: expanding imperialist war in the Middle East and elsewhere; intensifying government spying on the American people; imposing further cuts in social services and deeper attacks on the jobs, wages and benefits of working people; dispensing more tax giveaways to corporate America and the rich.....
Agreements in these areas could include an across-the-board cut in corporate income taxes, expanded authority for the White House to negotiate pro-corporate trade deals, direct subsidies to construction and engineering companies (infrastructure), and a one-time windfall tax break for corporations that bring offshore profits back to the US (worth an estimated $400 billion to corporate America).
Other areas of possible agreement, according to the
Times
, are cyber security and surveillance—measures to expand the powers of the national security apparatus to spy on the American people and to wage electronic warfare against foreign rivals.
On Monday the
Washington Post
raised the same issue with a lead editorial declaring that talk of "gridlock" in official Washington "has gotten a bit overdone." The
Post
continued: "Beneath the conflictual surface, there are a surprising number of policy areas in which bipartisan agreement is not only imaginable but incipient, and where the two parties could produce results in the next Congress."
While here have been hints about the direction of domestic policy after the election, the media and politicians have remained silent on the major actions in foreign policy that are in the pipeline. Foremost among these is a planned congressional vote authorizing expanded US military action in Iraq and Syria
13---Washington-backed "rebels" surrender US arms to Al Qaeda in Syria
, wsws