1--
Maduro: Suadis drive down price of oil "To hurt Russia
", Reuters
Masoud Mirkazemi, an Iranian lawmaker and former oil minister, said Riyadh was helping the G20 group of major economies. "
Saudi Arabia
, which intends to manage OPEC, serves the interests of the G20 group," he said.
"GLOBAL OIL WAR"?
In Russia, the idea of a Saudi-U.S. plot against Moscow has become common currency as the
economy
struggles under the effects of low oil prices and Western sanctions imposed over its annexation of Crimea and support for rebels in eastern
Ukraine
.
Leonid Fedun, a co-owner of private oil firm Lukoil, cited President
Barack Obama's
visit to Riyadh in March. "Obama travelled to meet the king of Saudi Arabia just after the Crimea events to push him to these actions (to lower the oil price)," Fedun, whose firm has large U.S. assets, said last month.
Russia and Iran routinely allege U.S. plots against their economies, but the conspiracy theories are spreading.
"Is it just my imagination or is there a global oil war underway pitting the United States and Saudi Arabia on one side against Russia and Iran on the other?" New York Times columnist Thomas Friedman, wrote last month.
When Naimi finally spoke on Nov. 12, he said Riyadh's desire for stable markets had not changed. "Saudi oil policy... have been subject a great deal of wild and inaccurate conjecture in recent weeks. We do not seek to politicise oil ... For us it's a question of supply and demand, it's purely business," he said.
According to four market and diplomatic sources, who asked not to be named, Saudi officials briefed OPEC watchers privately in New York and Riyadh in September and October.
Nasser al-Dossary, Saudi Arabia's national representative to OPEC, Naimi's deputy Prince Abdulaziz bin Salman and the kingdom's OPEC governor Mohammed Al-Madhi attended at least one of these meeting to give the message that, with its large currency reserves, the kingdom was prepared to withstand oil prices as low as $70-$80 per barrel for up to a year.
Benchmark
Brent crude
oil slipped to $79 on Tuesday.
Most members of the cartel apart from
Saudi Arabia
need much higher prices to balance their budgets but ironically are unable or unwilling to reduce their output to counter a global glut caused by slowing economic growth in China and Europe, just as U.S. oil production booms.
SEEING OFF SHALE OIL
Should the Saudis tell fellow OPEC members, badly suffering from the oil price collapse, that they will not cut output, debate will intensify on what prompted the policy shift.
One possibility is Riyadh wants to see off U.S. shale oil, which is believed to need much higher prices than conventional production to remain competitive. "They are after U.S. shale," said one participant in the meetings with Saudi officials.
However, the source added that the Saudis might also regard low prices as an opportunity to put even more pressure on Iran and Russia for supporting Syrian President Bashar al-Assad, an arch-enemy of Riyadh, in the country's civil war.
Several Saudi oil sources have denied over the past month that geopolitics are now driving the policy, but they have failed to stifle theories that Riyadh and Washington are working together to hold down prices.
"What is the reason for the United States and some U.S. allies wanting to drive down the price of oil? To harm Russia," Nicolas Maduro, president of fellow OPEC member
2---
China's Central Bank Makes Even the Heroic Fed Look Like a Bunch of Amateurs ,
wolf street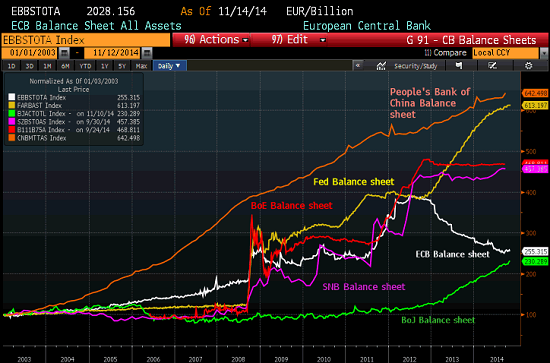 No central bank – not even the Fed with its heroic efforts at the printing press – is a match for the PBOC. Its balance sheet has maintained that number one position in terms of growth since 2003. Its expansion continues unabated and with renewed vigor. It makes the heroic Fed look like a bunch of amateurs.
These balance sheets are additive, forming a multi-trillion-dollar pile of newly created money, the largest monetary experiment ever that created the greatest asset bubbles ever, to which any form of non-catastrophic exit remains elusive. But hey, no problem. Full speed ahead.
3---
It's Official: Party Now, Apocalypse Later ,
wolf street
4---
Why Quantitative Easing (QE) May Lead to Deflation
, Washington's blog
...the third round of quantitative easing ("QE3″) in the U.S.
failed to raise inflation expectations
.
And QE hasn't worked in Japan, either...
japan has since gone "all in" on
staggering levels of quantitative easing
… and yet is
still mired in deflation
.
The
UK engaged in substantial QE
. But inflation rates are
falling
there
as well.
And China engaged in
massive amounts
of QE. But it's also
falling
into
deflation
.
Indeed, despite massive QE by the U.S., Japan and China, there is now a
worldwide risk of deflation
.
...
Economists also note that QE
helps the rich … but hurts the little guy
. QE is one of the main causes of
inequality
(and see
this
and
this
). And economists
now admit
that runaway inequality cripples the economy. So QE indirectly hurts the economy by fueling runaway inequality.
A high-level Federal Reserve official says QE is
"the greatest backdoor Wall Street bailout of all time"
. And the "Godfather" of Japan's monetary policy admits that it
"is a Ponzi game"
.
5---
Stay Away From Kiev,
antiwar (springtime for Hitler)
https://www.youtube.com/watch?v=kHmYIo7bcUw
Vadim Troyan, has been appointed the city of Kiev's chief of police. Troyan is a member of the "
Patriot[s] of Ukraine
," a paramilitary group associated with the
Social-National Assembly
– an umbrella group, founded in 2008, uniting a number of ultra-rightist and openly neo-Nazi Ukrainian organizations. The appointment was made by Interior Minister Arsen Avakov, a member of the "moderate" People's Front party of Ukrainian Prime Minister Arseniy Yatsenyuk.
While both Troyan and the Ukrainian government deny any association with neo-Nazis, the Human Rights Group of Kharkiv
says
he "ran for Ukraine's parliament this year as a member of the People's Front.
He is described
on their site as being a member of 'Patriot of Ukraine.'" Before Troyan's elevation to the top law enforcement position in the country's capital, he and his fellow neo-Nazis were quite well-known to the police in Kharkiv, where they regularly
beat up
their political opponents as well as foreign students, migrants, and homosexuals.
So if you're going to Kiev, perhaps to do a little sight-seeing, or maybe to
attend a conference
, and you're a foreign student, or a homosexual – or even if you just look a little out of place – be forewarned: it's not safe.
And if you're a reporter covering the conflict in Ukraine, and you have any interaction with the Ukrainian government – specifically the Ukrainian intelligence service known as the SBU – be advised that you will be dealing with
Yuri Michalchyshyn
, formerly the chief ideologist of the neo-fascist Svoboda party, who has been appointed head of the SBU's "Department of Propaganda."
6---Richest 1% of people own nearly half of global wealth, says report , Guardian
The richest 1% of the world's population are getting wealthier, owning more than 48% of global wealth, according to a report published on Tuesday which warned growing inequality could be a trigger for recession.


According to the

Credit Suisse global wealth report

(pdf), a person needs just $3,650 – including the value of equity in their home – to be among the wealthiest half of world citizens. However, more than $77,000 is required to be a member of the top 10% of global wealth holders, and $798,000 to belong to the top 1%.


"Taken together, the bottom half of the global population own less than 1% of total wealth. In sharp contrast, the richest decile hold 87% of the world's wealth, and the top percentile alone account for 48.2% of global assets," said the annual report, now in its fifth year.
7--
Bank Of Japan Warns Abe Over "Fiscal Responsibility" While Monetizing All Its Debt,
zero hedge
Kuroda is
making it crystal clear the government has to tackle the debt problem and if fiscal trust is lost that's not going to be on the BOJ,"
said Shirakawa, a former BOJ official. "This is true, but he used to highlight that the BOJ and the government were working together.
Abe might have created an enemy by postponing the sales-tax hike."
8---
Why is Anyone Surprised that Abenomics Failed?
, NC
(from comments: " Thirty-five percent plus decline in the value of the nation's currency over two years )
By announcing the rise in the sales tax from five to eight percent in advance the government spurred a sharp increase in consumption of durable goods prior to the increase. By moving government funds from safer investments to stock purchases the government spurred a rise in the stock market.
Japan did not fall "unexpectedly" into recession from the perspective of financially literate economists. It fell into a recession that it was warned was a grave risk given its adoption of austerity through a sharp increase in the
sales tax
(with a further increase scheduled for next October that will likely now be suspended). Contrary to what Alderman's column implies, Japan has not even reached its inflation target of two percent. Austerity was madness in these circumstances. We certainly never expected it to work in Japan.
"'The numbers are absolutely awful, beyond-description awful,' said Peter Tasker, a longtime analyst of Japan's economy and a supporter of Abe's policies. 'It's clear that the tax hikers and the fiscal hawks have tanked the economy.'"..
So understand full well why austerity gets such favorable treatment. In its current version, where central banks use QE and super-low interest rates to offset its bad effects, the result is rip-roaring asset prices and a continued shift of income and wealth to the rich
9---
US policy - number one driver of terrorism in the Mideast, around the world'
, Eric Draitser
10--
Mano e mano: Leader of Lugansk People's Republic challenges Poroshenko to a fight
, RT
(It takes two to tango)
The leader of the self-proclaimed Lugansk People's Republic (LPR) Igor Plotnitsky has thrown down the gauntlet to the Ukrainian President Petro Poroshenko, pledging that "the one who wins, will set his terms" for ending the bloody conflict in the region.
"I suggest you consider just one, but a very good scenario,"
Plotnitsky wrote in an open letter to Poroshenko. "
Let's (following the example of the ancient Slavic leaders and glorious Cossack chieftains) get together in a fight: whoever wins will dictate terms to the opposite side
11--Warmongering Merkel threatens Russia following G20 summit;
Merkel's "Hun Speech" against Russia
, wsws
"We also know from history that one cannot afford to be too peaceable, that one has to take seriously what is said and listen carefully," Merkel continued.
When a German head of government says history teaches that Germany must not be "too peaceable" towards Russia, one's blood runs cold. Seventy-five years ago, Germany carried out a war of annihilation against the Soviet Union, committing the most heinous crimes in the history of mankind, including the Holocaust, the murder of 27 million Soviet citizens, and the devastation of large parts of Eastern Europe.
Merkel said the conflict over Ukraine "cannot be solved militarily," but then added threateningly, "On the other hand, one can't say: Because we cannot solve the crisis militarily, we can't solve it at all."
The German ruling elite is very aware of its historic crimes. In Sydney, Merkel recalled "the beginning of World War II 75 years ago and the collapse of civilization embodied in the Shoah, and even more importantly, the beginning of the First World War 100 years ago."
But all her talk of "diplomatic" and "not military" solutions, supposedly based on the experiences of the wars of the last century, is crude propaganda. It is aimed at cloaking the return of Germany to militarism and great power politics, and, as under Kaiser Wilhelm, portraying an aggressive war policy as the "politics of peace."
With reference to the "primal catastrophe of the 20th century," Merkel asked, "Ladies and gentlemen, how could things go so far between peoples and nations one hundred years ago?"
Merkel should know. Today, just as then, the ruthless and aggressive imperialist policies of the great powers threaten to cast humanity into the abyss. The Western-orchestrated putsch in Ukraine, the military encirclement of Russia and China, and the renewed war in the Middle East have turned the world into a powder keg that could explode at any time. As in the first half of the last century, Germany is now playing an especially aggressive role.
12---
Abenomics; Stocks up, wages down under Abe. New anti-worker reforms expected soon
, wsws
On the economic front, Abe has made clear that he intends to press ahead with his "third arrow" of so-called structural reform. Such "reform" is the watchword of governments internationally for a deepening assault on the working class. The LDP has foreshadowed a list of such measures, which include:
* Establishing six special strategic zones where government regulations, including labour laws, will not apply and other concessions will be made to investors. The zones, in which "burdensome rules" will be lifted for business, will test out policies that will be applied throughout the country.
* A "debate" on further dismantling the lifelong employment guarantee for workers. Already the proportion of employees in low-paid, part-time and temporary work has risen dramatically, from 26 percent in 2000 to 38 percent of the workforce.
* Slashing corporate tax from an effective rate of about 35 percent to the "twenties"—a huge concession to big business that will be paid for by making further inroads into social spending.
Abenomics has already widened the gulf between rich and poor. While the wealthy elite has profited as quantitative easing has driven up share values by 65 percent since Abe assumed office, wages have continued to slump. Between 1997 and August 2014, real wages fell by 9 percent, including 2 percent under the Abe government....
The political crisis in Japan, the world's third largest economy, is an expression of the impact of the global economic breakdown on social and political relations around the world. The deepening assault on the working class is paralleled by sharply rising geo-political tensions as the major powers seek to offload the crisis onto their rivals.
These tensions are particularly acute in East Asia, where the Abe government has consciously sought to remilitarise Japan, revive the reactionary traditions of Japanese militarism and confront China, in league with the US and its aggressive "pivot to Asia."
13--
QE: The basics
What exactly is quantitative easing?
Tim Mullaney, USA TODAY, September 18, 2013
[Quantitative Easing (QE) is] the technical term for the Federal Reserve's policy of buying bonds and other assets in order to pump money into the economy.
The most recent strategy, called QE3, had the Fed buying $85 billion of bonds every month.
Does bond buying really pump money into the economy?
Imagine your neighbor owns a Treasury bond. You
buy
it from him. Have you pumped money into the economy?
When your neighbor bought that T-bond, two of his accounts changed:
His bank checking account
was
debited
and
his T-bond account
, at the Federal Reserve Bank (FRB), was
credited
.
A T-bond account is very much like a bank savings account.
In essence, when your neighbor bought that T-bond, all he did was transfer dollars from his checking account to his savings account. Did the amount of money in the economy change?
Clearly, not.
14--
US Defense Department organizing covert operations against "the general public
, wsws
Large numbers of informers and FBI agents infiltrated the Occupy Wall Street protests in 2011.....
the report amounts to an acknowledgment by the leading media organ of the US ruling class that the American government is deploying a vast, forward-deployed counter-insurgency machine to target the US population at large.
Coming directly from the horse's mouth, the
Times
report makes clear that espionage, deception, and covert operations are now primary instruments of the US government's domestic policy and are actively deployed by the military and security agencies against the civilian population. In preparation for a massive upsurge in the class struggle, the US ruling class is mobilizing the entire federal bureaucracy to carry out systematic and targeted political repression against the working class in the US and around the world.
In addition to the DOD, at least 39 other federal security and civilian agencies, including the Drug Enforcement Agency (DEA), the Department of Homeland Security (DHS), the Department of Education and the Internal Revenue Service (IRS), have developed increasingly ambitious forms of covert operations involving the use of undercover agents, which now inhabit "virtually every corner of the federal government," according to unnamed government officials and documents cited by the
New York Times....
This sprawling apparatus of spying, disruption and manipulation implicates the state in a mind-boggling range of criminal and destructive activities....
The ATF was notorious for its operations in the 1980s where it used agents provocateurs to frame up and jail militant workers involved in industrial strikes. In one infamous case in Milburn, West Virginia an ATF informer was exposed after he tried unsuccessfully to convince striking coal miners to blow up an abandoned processing facility....
15--
Domestic spying in the US police state
, NYT
The federal government has significantly expanded undercover operations in recent years, with officers from at least 40 agencies posing as business people, welfare recipients, political protesters and even doctors or ministers to ferret out wrongdoing, records and interviews show.