1---
TBTF Bond Funds pose risk to financial system; Who decides their capital requirements to accommodate redemptions
, NYT
global regulators are warning that the positions being taken on by the big asset management firms pose a broad danger to the financial system."
PIMCO has now *officially* joined the exclusive "Too Big To Fail" financial services country club. What's next, a new "chief surveillance officer" (ala Point72) with ties to the CIA(comments)
The term of art for this scenario is a liquidity mismatch, with some going so far as to call it a systemic liquidity mismatch. If, for example, there is a sustained emerging-market crisis and a fund wants to liquidate these bonds to meet redemption demands, the manager will be required to provide cash immediately even though it may take several days to sell the securities in question.
Traders calculate that less than 1 percent of corporate bonds trade more than $5 million a day.
"People are worried about massive liquidations in a market that is not as liquid as it used to be," said Amy Koch, a senior trader at Standish, a Boston-based bond manager.
...
That asset management companies have emerged as the main providers of riskier types of credit to companies around the world is a little-appreciated consequence of increased regulation of banks following the financial crisis.
With banks shying away from these types of loans, bond-oriented mutual funds — which have benefited from an asset boom in the last five years — have stepped up.
For the first time ever, according to I.M.F. data, mutual funds have surpassed banks as the largest holders of corporate and foreign bonds, holding 13 percent of these securities
.......
The latest to sound the alarm was the
International Monetary Fund
, which recently released a
report
warning about large bond investors like Pimco that have built up dominating stakes in high-risk, hard-to-sell bonds all over the world.
"Credit-focused
mutual funds
have seen massive inflows and have become the largest holders of corporate and foreign bonds," José Viñals, the head of the I.M.F.'s financial-markets division, said at a news conference in Washington last week. "These inflows have created a liquidity illusion, which can amplify shocks and lead to sharper falls in the market."
In its paper, the I.M.F. highlighted high-yield bonds issued by Ally Financial, SLM and the insurance giant
American International Group
. Pimco owns at least 25 percent of the outstanding debt of each of those three companies.
Outside the United States, the numbers were even starker: Pimco owned close to 50 percent of a number of foreign bonds. And it controlled over 40 percent of the debt issued by the Bank of China, just under 40 percent of the State Bank of India and close to 30 percent of the Spanish bank BBVA....
over the last 10 months, investors have pulled $65 billion out of Pimco — $42.8 billion from Total Return and the rest from other bond funds, according to
Morningstar
.
If redemptions persist and bond trading conditions worsen, Pimco would be forced to unload some of its larger positions. But selling more than 40 percent of the outstanding bonds in Qatar National Bank or over 20 percent of the debt of the Hong Kong gambling company Melco Crown Entertainment could be a difficult proposition, given how little these bonds trade.
(Comments from company prospectus: You can't exit) Redemptions of all Classes of Fund shares may be made on any day the New York Stock Exchange ("NYSE") is open, but may be suspended when trading on the NYSE is restricted or during an emergency which makes it impracticable for the Funds to dispose of their securities or to determine fairly the value of their net assets, or during any other period as permitted by the SEC for the protection of investors. Under these and other unusual
circumstances, the Trust may suspend redemptions or postpone payment for more than seven days, as permitted by law.

If they want they can redeem your shares in kind not cash. You are over your head here.
Misconception Number 1: Export prices do not fluctuate as much as forex
Misconception Number 2: The key determinant of export volumes is global demand not prices
EU decision-making was always shaped by Washington's global interests: "many years ago, we offered to negotiate and adopt a treaty on European security, which would codify proclaimed at the political level principle of indivisibility of security, when no state has the right to ensure its security at the expense of others. This treaty was rejected. It turns out to be that the NATO countries, which refused to even discuss [the treaty], are a collective "Mister No" Lavrov said in a show on Russia's NTV channel.
"I am convinced that if the agreement on European security was at that time agreed and a single economic and humanitarian space from Lisbon to Vladivostok began to form, there would not have been the problems that we are having now which led to a profound crisis of statehood in Ukraine," he said.
The minister recalled that Russian President Vladimir Putin proposed to start a serious discussion with the European Union on the formation of a common economic and humanitarian space from the Atlantic to the Pacific. "A few years ago, we were said: let's wait - it meant "no." Now, after several years the leadership of the EU says that it is needed to think and begin to talk about it in practical terms," Lavrov added
Washington "goes out of its way to teach all countries how to set their record straight, establish the rule of law and respect democratic principles." "But they lose enthusiasm as soon as these very principles – respecting international laws and democratic decision-making – are applied to international relations," the Russian foreign minister emphasised.
Lavrov believes that "the recipe for success is to combine responsibility for making the world a fairer place with a non-confrontational but persistent promotion of our interests, and also readiness to make reasonable compromises based on the balance of interests, rather than on one-way concessions."
4---
Goldilocks Economy? What Are They Smoking at the Wall Street Journal?
, WSOP
5---
The International Monetary Fund (IMF) finally realized what should have been obvious years ago: Zero percent borrowing costs has encouraged speculation rather than investment.
Now, the IMF warns that ultra-low interest rates pose a new financial crisis threat.
Then why did the IMF and all its central banking buddies promote these zero percent interest rates in the first place?,
McClure's
6---
Deadlock around South Stream needs to be resolved to avoid cold winter – Putin
, RT
7--
US dusted off old USSR-break-up strategy for use in Ukraine - former FSB chief
, RT
8--
Andrew Huszar: Confessions of a Quantitative Easer
, wsj
9--
Another Wall Street Inside Job?: Stock Buybacks Carried Out in Dark Pools
, WSOP
10--
Credit nation? HELOCs up 20.6% year-over-year
, HW
Highest level of home equity loans since June 2009
11--
Hedge Funds Get Pummeled: Shades of Long-Term Capital Management L.P.
, WSOP
12---
Not all lenders think HELOCs are the next bubble,
HW
Rates set to reset, HELOC demand on the rise
13
--Peak Buybacks
?, Mish
14--
Bubble Bubble Toil & Trouble
, MA
also --http://www.marketanthropology.com/2014/03/goldilocks-three-bears.html
http://www.marketanthropology.com/2014/03/the-46-parallel_5.html
Another major parallel, which dovetails into our third point is the fact that the only other period in which the Fed actively intervened and bought the Treasury market in support of the broader system was in the 1940's. Similar with the current lackluster fundamental backdrop that has diverged over recent years from the stoic strength of the equity markets, the massive bond buying program in the 1940's had a much stronger correlation to the capital markets it directly affected than the macro climate that most economists appraise....
In an effort to keep interest rates low during and directly following WWII and avoid another chapter of the near-view Great Depression, the Fed purchased all available short-term US Treasuries and virtually all long-term US Treasuries from the market starting in April of 1942. When all was said and done, the US had a debt to GDP ratio that was almost 20% larger than where it currently resides today.
In Milton Friedman and Anna Schwartz's A Monetary History of the United States 1867-1960, the market climate in the 40's is described as being so sensitive and suspect of the Fed and Treasury's very visible hand, that the entire equity market rally (150+%) from the April 1942 low through the cyclical high in 1946 was viewed with great skepticism and likely to end with another pronounced economic contraction. The fresh scars of the Great Depression provided abundant fear for market participants of a possible revival of kindred economic instabilities, despite the countervailing strength of the equity markets that continued to rally more than 20% even through the recession in 1945.
What happened in 1946 when the Fed and Treasury stepped away from their extraordinary support of the Treasury markets? Similar to the air pockets experienced with the Fed pauses in QE I and QE II, the equity markets swiftly revalued expectations. From our perspective a similar fate awaits the current equity market rally, which in turn should continue to support the Treasury market - despite rising inflation expectations and the calls by many that the Fed will begin raising rates as early as next year.
15--
Why I Am Leaving Goldman Sachs,
NYT
These days, the most common question I get from junior analysts about derivatives is, "How much money did we make off the client?" It bothers me every time I hear it, because it is a clear reflection of what they are observing from their leaders about the way they should behave. Now project 10 years into the future: You don't have to be a rocket scientist to figure out that the junior analyst sitting quietly in the corner of the room hearing about "muppets," "ripping eyeballs out" and "getting paid" doesn't exactly turn into a model citizen.
16--
Loan modifications destroyed the move-up market for a generation
,
, oc housing
17---Why Half Of America Thinks We're Still In A Recession, gongloff
18---Subprime Lending Drives Spending, House of Debt
A concern that we highlighted in yesterday's post is that the only way the U.S. economy can generate significant consumer spending is through aggressive lending to borrowers with low credit scores. Here is more evidence supporting that view.
In the chart below, we plot retail spending on appliances, furniture, and home improvement, or "home-related spending" (blue line) and spending on new autos (red line) from 1998 through 2014. We have highlighted the two major subprime lending booms we've seen in that period — the subprime mortgage lending boom from 2003 to 2006, and the subprime auto loan boom from 2010 to 2014. In order to be able to include 2014, we focus only on the first four months of each year.



When subprime mortgage lending was booming from 2003 to 2006, so were purchases of home-related goods. As soon as the subprime mortgage lending market crashed, so did home-related spending. In fact, in 2014, home-related spending is still below its 2006 level in nominal terms. It's a pretty incredible boom and bust.
For auto spending, growth was positive prior to the Great Recession, but unspectacular. But as soon as subprime auto lending heated up in 2011 and afterward, so did purchases of new auto vehicles. The growth in new auto sales from 2011 to 2014 has been really impressive. So once again, spending in a particular market is strongest when subprime lending in that market is strongest.
It appears that the key to boosting spending in the U.S. economy is subprime lending. The financial system was lending against homes before the Great Recession, and now it has moved to lending against cars. But the basic message is the same.
19---
America's Lost Decade: Typical Household Wealth Has Plunged 36% Since 2003
, zero hedge
20---
Junk-Bond Turmoil just Preliminary, "The Real Panic Will Come With
…", wolf street
21---
---In a Subprime Bubble for Used Cars, Borrowers Pay Sky-High Rates
, Dealbook


22---
GM unit gets subpoena over subprime auto loans
, reuters


23
---Focusing on G.M. Unit, U.S. Starts Civil Inquiry of Subprime Car Lending,
Dealbook
24--Inequality? You decide, zero hedge
Chart: @ptcherneva
25--
Vicious circle: 'Economy not growing as companies sit on billions and don't invest
', RT
26--18 Sobering Facts About The Unprecedented Student Loan Debt Crisis In The US,
zero hedge
27--
Washington Wields the Oil Weapon
, SC
28--
Top LBO Fund Investors Pile on Leverage to Boost Returns
, Bloomberg
29--
STILL 1.4 Million Fewer Full-Time Jobs Than in 2008
, NC
30--
Why You Have Every Right To Demand A Raise, In 1 Chart
, Gongloff
31- The collapse of household income in the US
, wsws
32--Consumers decide to hoard money
http://finance.yahoo.com/news/fed-us-consumers-decided-hoard-191919676.html
, yahoo
33--Subprime Blows up on Retailer, CEO Warns on ALL Subprime, Hits Auto Sales
, wolf street
34--
Used Car Loans at All-Time High, Average Monthly Payment Now $355
, NBC
35--This is why it feels like the recession never ended
, WA Post
36--
QE and the Investor Class,
jack rasmus, cp
Central Bankers in a Deep Hole
37--
On the Precipice of Another Global Recession
?, cp
38---
What Bubble? Record $924 Billion In 65 Million Auto Loans: 31% Of All New Loans Are Subprime,
zero hedge
39--
Labor Participation Rate Drops To 36 Year Low; Record 92.6 Million Americans Not In Labor Force,
zero hedge
40---
Smart Money' Unloads, Sits on Cash, Waits for Stocks to Swoon
, wolf street
This year, public-to-private LBO volume plunged to $3 billion, the lowest level since crisis year 2009, when deal volume dropped to zero.
Last year, there were still $80 billion in public-to-private LBOs, including four deals of over $5 billion each: H.J. Heinz, Dell, BMC Software, and Neiman Marcus. Between 2004 and 2013, the average was $75 billion in these deals per year. The record? LBO bubble year 2007, just before the house of cards came crashing down: $275 billion in deals.
41--
The Buyback Party Is Indeed Over: Stock Repurchases Tumble In The Second Quarter
, zero hedge
42--
JPMorgan Seems Less And Less Interested In Lending Money
, HP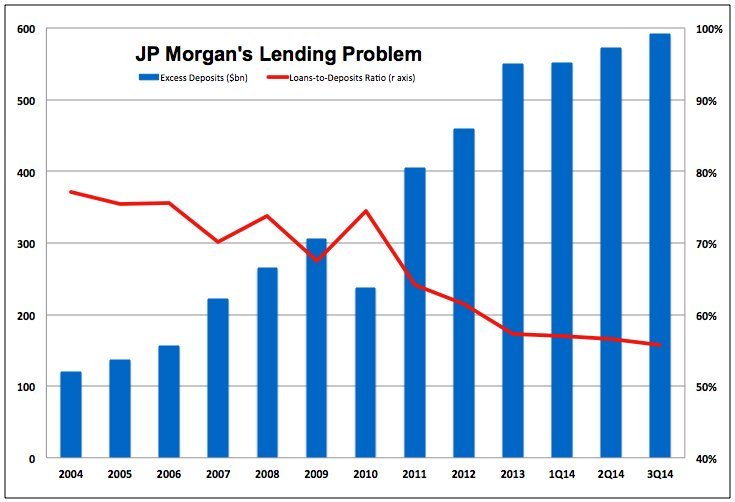 43---
Food Stamp Recipients Top 46 Million for 35th Straight Month,
CBS
44---
Thirty-Five Largest U.S. Cities Saw Increase in Child Poverty Rate Between 2005 and 2013
45--
30 Facts That Prove The American Middle-Class Is Being Destroyed,
zero hedge
According to a study recently discussed in the New York Times, the "typical American household" is now worth

36 percent less

than it was worth a decade ago.
...

One out of every seven Americans

rely on food banks at this point.
... One out of every three adults in the United States has an unpaid debt that is "

in collections

".

... Only

48 percent

of all Americans can immediately come up with $400 in emergency cash without borrowing it or selling something.
The overall homeownership rate has fallen to the lowest level

since 1995

.
46--
Dows biggest gains and losses
47-Return to Subprime: -Mortgage Giants Set to Loosen Lending, wsj
Fannie, Freddie Near Deal to Lift Limits; Concerns Persist




Fannie Mae

, Freddie Mac and mortgage lenders are nearing an agreement that could lower barriers and restrictions on borrowers with weak credit, a move that would expand access to home loans amid the sluggish housing recovery.
The move by the mortgage-finance giants and their regulator, the Federal Housing Finance Agency, would help lenders protect themselves from claims of making bad loans, according to people familiar with the matter.


Fannie and Freddie are also considering programs that would make it easier for lenders to offer mortgages with down payments of as little as 3% for some borrowers, the people said. That would be a reversal for the loan giants. The moves could be announced as soon as this coming week.
Regulators and White House officials have struggled to expand access to mortgages, which have been hard for some borrowers to get since the financial crisis despite a sharp rise in home prices. But the likely moves by Fannie and Freddie could provide kindling for critics who worry about repeating some of the mistakes that led to the housing boom and bust....


The latest moves underscore just how much the government is relying on Fannie and Freddie to help increase the supply of credit. Steps to reduce down-payment standards would further signal a turn away from previous efforts to shrink the influence of the two mortgage giants.


48---New Dodd-Frank fix runs risk of Lehman-esque meltdown, The Hill


The situation has gotten completely out of hand. According to PitchBook, which compiles data on private equity, median debt in LBOs by private equity funds was 8.2 times earnings (EBITDA) in the first half of 2014, up from 6.9 times in 2013 and the 5.7 times earnings that prevailed at the last peak in 2007 and 2008. This is far above the six times earnings suggested as the limit for debt in the guidelines on leverage issued by bank regulators.


The danger that highly leveraged loans may not perform well is very real, as creditors who loaned money in the last boom to such prominent private equity-owned companies as Hilton Hotels & Resorts, Caesars Entertainment, and Texas utility company Energy Futures Holdings (EFH) learned. According to FitchRatings, there were 10 LBO-related bond defaults in the first half of 2014, more than double the nine that occurred in all of 2013. While the default rate is relatively low, this can change quickly if the economy falters.


Regulators are worried. They remember what happened in 2008 when complex securitized debt instruments like mortgage-backed securities imploded. In its semiannual report reviewing 2013 trends, the Office of the Comptroller of the Currency (OCC), one of the banks' regulatory agencies, expressed its concerns about the high issuance of CLOs: "The combination of higher leverage, lower yields, tighter credit spreads, and weaker covenant protections (for lenders) provides ample evidence of increasing credit risk in the leverage loan market."


49---Auto Loans: A Subprime Market Grows in the Shadows, Bussinessweek


50---Idiot Monetary Fund finally notices "too much risk taking": IMF warns period of ultra-low interest rates poses fresh financial crisis threat, Guardian




Almost zero borrowing costs has encouraged speculation rather than hoped-for pick up in investment, says Fund

"Accommodative policies aimed at supporting the recovery and promoting economic risk taking have facilitated greater financial risk taking," the IMF said. As evidence it pointed to rising asset prices, smaller premiums on riskier investments and the lack of volatility in financial markets. In many cases, the IMF said the behaviour of investors was at odds with the state of the global economy.

"What is unusual about these developments is their synchronicity: they have occurred simultaneously across broad asset classes and across countries in a way that is unprecedented."

The IMF said there was a trade-off between the upside economic benefits of low interest rates and the money creation process known as quantitative easing and the downside financial stability risks. While its report found that in some countries, including the UK and the US, economic benefits were becoming more evident, it warned that "market and liquidity risks have increased to levels that could compromise financial stability if left unaddressed

51--

Shadow banking system a growing risk to financial stability – IMF

, Guardian

Fund report says tightening of bank regulations may be driving shift to lending by hedge funds and private equity