1--World leaders play war games as the next financial crisis looms, Larry Elliot, Guardian
Six years after the global banking system had its near-death experience, interest rates are still at emergency levels. Even attaining the mediocre levels of activity expected by the IMF in the developed countries requires central banks to continue providing large amounts of stimulus. The hope has been that copious amounts of dirt-cheap money will find its way into productive uses, with private investment leading to stronger and better balanced growth.


It hasn't happened like that. Instead, as the IMF rightly pointed out, the money has not gone into economic risk-taking but into financial risk-taking. Animal spirits of entrepreneurs have remained weak but asset prices have been strong. Tighter controls on banks have been accompanied by the emergence of a powerful and largely unchecked shadow banking system. Investors have been piling into all sorts of dodgy-looking schemes, just as they did pre-2007. Recovery, such as it is, is once again reliant on rising debt levels. Central bankers know this but also know that jacking up interest rates to would push their economies back into recession. They cross their fingers and hope for the best.
.....
Lagarde talks a good game, but the advice her organisation dispenses to individual countries has not really changed. There were four things that ensured shared prosperity in the 1950s and 1960s: strong trade unions; redistribution through the tax system; higher public spending; and curbs on the financial system. Apart from suggesting that some countries, such as Germany, might care to spend a bit more on infrastructure, the Fund is not really in favour of any of them. The message, therefore, is clear enough. Lagarde et al are worried about inequality. But they are not yet worried enough to do much about it
2---The Never ending crisis, Guardian
What concerns the IMF is that the slowdown – particularly in the advanced countries of the west – may be permanent. The phrase being bandied around in Washington was "secular stagnation", the notion that there has been a structural decline in potential growth rates. Blanchard said it was entirely possible that developed countries would never return to their pre-crisis growth levels, and that even achieving the lower rates of expansion now expected would require interest rates to be maintained at historically low levels....
José Viñals, the IMF's financial counsellor, said: "Policymakers are facing a new global imbalance: not enough economic risk-taking in support of growth, but increasing excesses in financial risk-taking posing stability challenges."
This is not what the central banks intended when they cut the cost of borrowing and cranked up the electronic-money printing presses in the process known as quantitative easing. They expected cheap and plentiful money to rouse the animal spirits of entrepreneurs, encouraging them to invest. Instead, they have provided the casino chips for speculators....


risk is shifting from traditional banks to what is known as the shadow banking system – institutions such as hedge funds, investment banks and money market funds that do not take deposits directly from the public, but have grown in size and importance over the past decade. The fund thinks the next crisis could well stem from the shadow banks.



INFRASTRUCTURE
One of the architects of the IMF at Bretton Woods was Britain's John Maynard Keynes, and there was a Keynesian tone to much of the IMF's analysis. Keynes argued that when monetary policy – interest rates and QE – were exhausted, the state should step in and boost activity, through either tax cuts or public works. The IMF has taken up this idea with relish, and says its member governments should be looking seriously at the option of increasing spending on infrastructure projects.


3--JPMorgan Seems Less And Less Interested In Lending Money, HP


JPMorgan Chase has a problem: It's taking in money faster than it can lend it out.
Here's an updated version of the chart: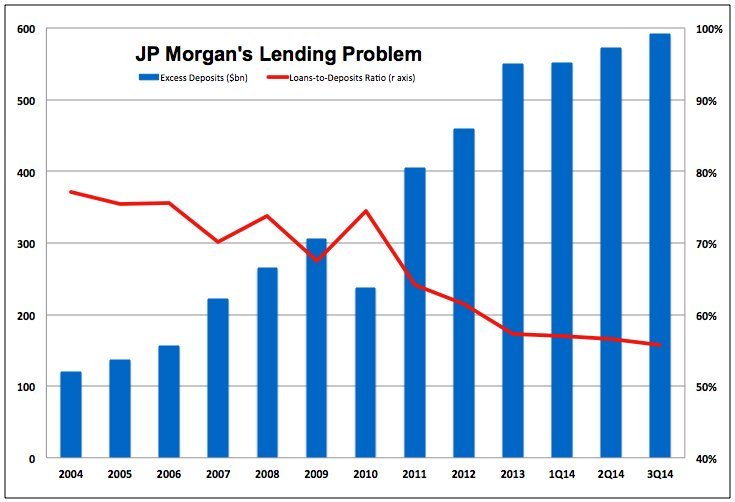 This is a chart showing a bank acting less and less like a bank. Banks take in deposits, lend a large portion of those deposits and buy things like bonds with the money that's left over.


4---Dow Has Its Worst Day In Years Amid Global Market Freakout, Mark Gongloff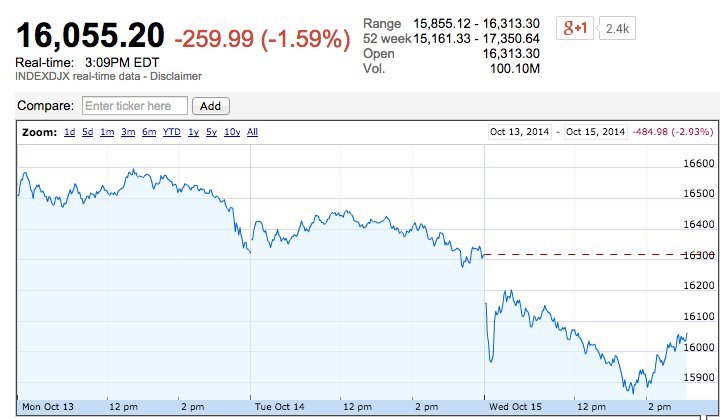 The Dow had its worst day in years.

October
4--
12 Charts That Show The Permanent Damage That Has Been Done To The US Economy
, zero hedge
5---
Treasuries Gain as Oil Drops Below $80 While Stocks Slide
, Bloomberg
6---
Saudi Arabia Beheaded 59 People So Far This Year
, Burning Platform
7--
Risk of deflation feeds global fears
, WSJ
8---
Hundreds have been killed in eastern Ukraine since a ceasefire was declared on Sept 5, and other news,
Roger Annis
9--
As secret Saudi deal increases harm to Russia, China intervenes
10--
How to blow up OPEC in 3 easy steps
, automatic earth
I've hinted before at the long-standing cooperation between the US and Saudi Arabia, and there's little doubt in my mind that the two are up to something. Washington has it in for Putin, first and foremost. The 'Ukraine project' has not brought what was intended.
Russia also still stands behind its only Middle East sphere of influence, Syria, something the Saudis like as little as America (but which Moscow won't give up and and end up with zero say in the region) . And there's always Venezuela, OPEC member and very vulnerable to power oil prices. Then there are a dozen other possible 'targets' among oil producers that the Saudi/US partnership may want to weaken. Who likes Iran, for one thing?
We've known for a while that the Saudis were lowering their prices. Which is something other OPEC members will be plenty upset about. But now we find out they're also increasing production, and trying to catch EUropean and Asian customers before other fellow members can. That adds a whole extra dimension to the story:...
The 3 easy steps to blow up OPEC are easy indeed. The question may be why now, and why the way it happens. But that it's happening is clear.
Step 1: raise output
Step 2: lower prices
Step 3: watch member nations' governments go down like cats in a sack, trying to keep control of their societies.
Step 3a: yank up the US dollar
This is not a purely economic issue, it's political. The US has a large voice in it in the director's role, and the House of Saud plays the part of the protagonist. This is a major development in world politics, it's not just some financial market-driven move
11--
BIS warns on 'violent' reversal of global markets,
telegraph
The BIS warned earlier this summer that the world economy is in many respects more vulnerable to a financial crisis than it was in 2007. Debt ratios are now far higher, and emerging markets have also been drawn into the fire over the last five years. The world as whole has never been more leveraged.
Debt ratios in the developed economies have risen by 20 percentage points to 275pc of GDP since the Lehman Brothers crash.
12--
Turmoil rips through global financial markets
, wsws
Global financial markets experienced a day of violent gyrations on Wednesday amid growing signs that the financial house of cards created by the provision of ultra-cheap money by the world's major central banks may be collapsing.
European stocks experienced their biggest decline in three years as investors tried to cut their exposure to more risky assets. Concerns are mounting that the European economy is sliding into its third recession since the 2008 financial crisis and that global growth is slowing.
The FTSE Eurofirst index of the top 300 European shares ended the day more than 3 percent lower, its biggest one-day slide since late 2011. The key index is down 11 percent since the start of September.
A key European volatility index, sometimes referred to as the "fear gauge," reached its highest level since mid-2012 when concerns over the sovereign debt of a number of countries threatened to spark a crisis. All major European indexes are in negative territory for the year, with the key German Dax index down more than 10 percent.
As the European sell-off proceeded, it was joined by Wall Street in a day of wild trading in both the equity and bond markets, reflecting extreme nervousness, if not panic.
At one point in the day, the Dow Jones index was down by as much as 460 points, as money flooded into US Treasury bonds in search of a safe haven. Such was the movement of cash that at one stage the yield on treasuries fell by 35 basis points in a few minutes. The price of bonds, which move in an inverse relationship to the yield, was lifted by a surge in demand...
Compounding the fears generated by falling world growth is the disarray in financial markets. In the US, there is growing uncertainty about where the US Federal Reserve is heading. It is nominally on track to begin lifting interest rates once its asset purchasing program ends this month.
However, the rise in the US dollar over recent months is impacting American export markets, giving rise to the belief that the Fed may postpone any return to higher interest rates......
The quantitative easing policy of the Fed, initiated in response to the 2008 financial crisis, has seen more than $3 trillion pumped into the coffers of the banks and finance houses. Nothing like it has taken place in the history of global capitalism, and no one can predict with any confidence what might be the consequences of even small rises in official interest rates. Some indication was provided in the gyrations in world markets last year as the Fed indicated it would begin to "taper" its asset purchasing program.
13---
Is housing headed for another stimulus hangover
, oc housing
The headline for much of this year has been that home price gains are easing. Prices are still higher compared to last year, but not nearly as much as they had been.
Now, suddenly, it looks as if home values could actually go negative on a national level
.
"
That will be the first time collectively, as a nation, we've seen prices drop since the low point or the trough of the housing crisis,
" said Alex Villacorta, vice president of research and analytics at data firm Clear Capital.
14--
QE4?,
Reuters
San Francisco Federal Reserve President John Williams told Reuters on Tuesday that he would be open to another round of asset buying if the outlook for the economy worsened significantly. But he stressed it was a distant possibility and his main scenario was that the U.S. economy would weather global headwinds and the Fed could start lifting rates in mid-2015.
The ECB and the BOJ, meanwhile, are still in the thick of unconventional policies that are achieving only mixed results. They may be hard pressed to do more, even though ECB President Mario Draghi recently suggested it was European nations turn now to do their part saying that European governments with the capacity to borrow, such as
Germany
, should ramp up spending.
The Fed's policy setting committee meets Oct. 28-29 and plans to end its bond-buying program then. Its language will be watched particularly closely for evidence of how deeply recent world events have affected its thinking.
15
---A nation of renters
, Dr H Bubble
Since the crisis hit, we have added 7 million renter households. Not a coincidence that we have witnessed
7 million foreclosures over this time as well
. Then, you will find that the home ownership rate has gone stagnant over this period: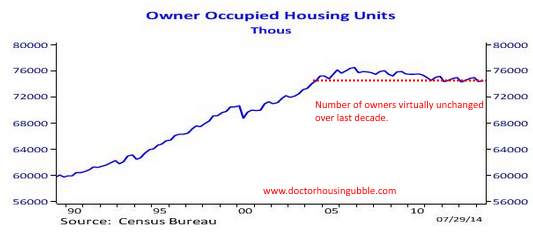 Most Americans derive their
net worth from their equity in their home
.
16--
Mortgage apps hit 14 year low
, Dr H Bubble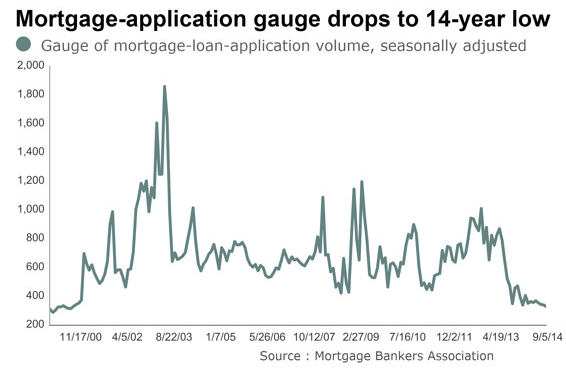 Mortgage
17--Younger Americans not buying "any second hand American dream
", Dr H Bubble
Yet people still lust for homes and if we look at the homeownership rate for those 35 and younger, it looks like we hit a peak in 2004: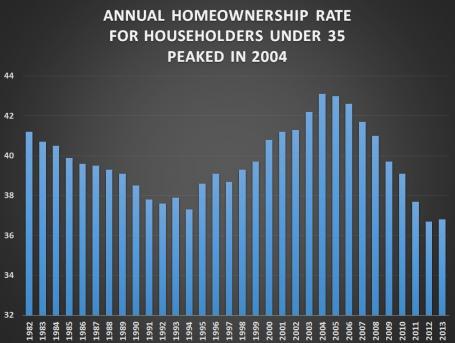 18---Here is a brilliant, and brilliantly researched and documented, 37-minute video on the history of how this control of the public's perceptions of public events and of politics in our 'democracy' evolved, or came about. You can even see speaking there some of the people who developed it, and who carried it out for the oligarchs -- the controlling aristocrats -- and who thereby played key behind-the-scenes roles in shaping 20th-Century history. This video comes from the same genius, Aaron Hawkins, who researched and produced the best videos on the Ukrainian coup, and on the resulting Ukrainian civil war, and on the MH-17 shoot-down in Ukraine. Each one of these videos presents the visual and audio evidence, and places it into historical context so that it can be understood truthfully, and it coordinates that evidence with all of the written and other documentary evidence, so as to provide, in each one of these brief videos, authentic history, not myth, regarding its subject-matter
http://smirkingchimp.com/thread/eric-zuesse/58993/pervasive-lying-in-u-s-and-uk-news-media-why-are-these-questions-being-asked-on-russian-tv-but-not-on-u
19--The Continuing Struggles of Abenomics, wsj
Despite robust profits, a booming stock market and low unemployment, too many Japanese have not benefited from the recovery