"The illusion of freedom will continue as long as it's profitable to continue the illusion. At the point wher the illusion becomes too expensive to maintain, they will just take down the scenery, they will pull back the curtains, they will move the tables and chairs out of the way and you will see the brick wall at the back of the theater"
Frank Zappa
1
---14 Reasons Why The U.S. Economy's Bubble Of False Prosperity May Be About To Burst
, zero hedge
2---
WOW! 10-year Treasury yield marks fresh 14-month low---'A+' auction boost U.S. government debt, flattens yield curve
, marketwatch
3---
Arab Gas Pipeline (AGP), Jordan, Syria, Lebanon, Egypt,
HT
Arab Gas Pipeline (AGP) is a trans-regional gas export pipeline built to carry natural gas from Egypt to Jordan, Syria and Lebanon. The 1,200km-long pipeline was built at a cost of approximately $1.2bn and represents a unique model for future strategic Arab co-operation projects.
The pipeline is currently (as of March 2012) out of order because of attacks on a feeder pipeline to el-Arish. More than ten attacks have occurred since the beginning of the 2011 Egyptian protests.
The major stakeholders of the AGP include the Egyptian Natural Gas Holding Company (EGAS), Engineering for the Petroleum and Process Industries (ENPPI), The Petroleum Projects and Technical Consultations Company (PETROJET), the Egyptian Natural Gas Company (GASCO) and the Syrian Petroleum Company (SPC).
Minority stakeholders include subsidiaries and companies based in the US, the UK, Germany, Canada and Russia.
4--Syria's Pipelineistan war , pepe escobar
Deep beneath "Damascus volcano" and "the battle of Aleppo", the tectonic plates of the global energy chessboard keep on rumbling. Beyond the tragedy and grief of civil war, Syria is also a Pipelineistan power play.
More than a year ago, a $10 billion Pipelineistan deal was clinched between Iran, Iraq and Syria for a natural gas pipeline to be built by 2016 from Iran's giant South Pars field, traversing Iraq and Syria, with a possible extension to Lebanon. Key export target market: Europe.
During the past 12 months, with Syria plunged into civil war, there was no pipeline talk. Up until now. The European Union's supreme paranoia is to become a hostage of Russia's Gazprom. The Iran-Iraq-Syria gas pipeline would be essential to diversify Europe's energy supplies away from Russia.


It gets more complicated. Turkey happens to be Gazprom's second-largest customer. The whole Turkish energy security architecture depends on gas from Russia - and Iran. Turkey dreams of becoming the new China, configuring Anatolia as the ultimate Pipelineistan strategic crossroads for the export of Russian, Caspian-Central Asian, Iraqi and Iranian oil and gas to Europe.
Try to bypass Ankara in this game, and you're in trouble. Until virtually yesterday, Ankara was advising Damascus to reform - and fast. Turkey did not want chaos in Syria. Now Turkey is feeding chaos in Syria. Let's examine one of the key possible reasons.


5---Abenomics Goes to Heck, in one Chart , wolf street
It's not a pretty picture: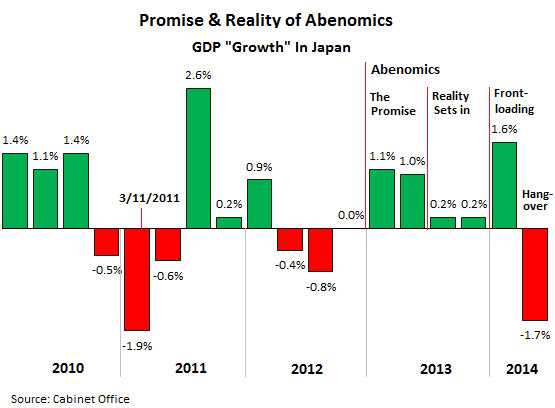 Note the sudden impact of the stimulus after the earthquake in 2011, followed by its big fade that lasted four quarters. That's how stimulus works.

6--Producer Prices Spike in Japan , wolf street


7---Financial meltdown threatened by bankruptcy of any Wall Street bank, wsws


8---Guardian Lays Out Details of How Petraeus Organized Death Squads in Iraq, empty wheel


9--The fascist atrocities in east Ukraine and the fraud of "humanitarian" war, wsws


10--More Evidence Supporting the House of Debt, House of Debt
Here is total consumption, indexed to 2006, for the biggest decline and smallest decline states:

The pattern is striking. The collapse in total consumption was much larger in states that were hit hardest by the decline in house prices, something we show in our book. It wasn't just the fact that house prices collapsed. It was also because these states had the highest debt levels when house prices crashed. It was the combination of the two that decimated household spending in these states. Even in 2012, there continues to be a very large difference in the level of consumption. The very large gap between the blue and red lines shows how long-lasting the effects of the housing crash have been.



11---Stocks, Flows, and Abenomics, Dean Baker


12---Tepid wage growth and rising house costs prices out low-income households











Calls for an increase in public works spending may thus grow, the sources said.

According to preliminary government data released Wednesday, Japan's seasonally adjusted GDP in the first quarter of fiscal 2014 shrank a real 6.8 percent from the previous quarter on an annualized basis, as demand plunged following a last-minute buying binge prompted by the consumption tax hike to 8 percent on April 1.

15---

Japan GDP Plunges 6.8%, Consumption Down 19.2%, Private Investment Down 9.7%

mish