1
---Newly installed President Poroshenko pledges to militarise Ukraine and crush rebellion in the east,
wsws
Poroshenko began by paying homage to the fascistic forces that spearheaded his installation, via a US- and European Union-backed putsch in February followed by an election held May 25 amid a reign of terror and military violence in eastern Ukraine. He enthused over the "victorious revolution" by "Ukrainian patriots" and "warriors."
While the Western media portrayed it as a powerful performance, the speech only underscored the fact that Poroshenko is nothing but a front man for German and particularly American imperialism, and is entirely dependent on them. Adopting a provocative stance toward Russia, he declared he would never accept Moscow's annexation of Crimea and vowed to repudiate the Budapest Agreement that restricts the deployment of Western military forces within former Soviet states.
"Russia occupied Crimea, which was, is and will be Ukrainian soil," Poroshenko insisted. Referring to a brief meeting with Russian President Vladimir Putin during the D-Day commemoration in France, he said: "Yesterday, in the course of the meeting in Normandy, I told this to President Putin: Crimea is Ukraine soil. Period. There can be no compromise on the issues of Crimea, European choice and state structure."...
The unelected interim government installed in February has already begun to implement the austerity measures demanded by the EU and IMF, including scrapping domestic energy subsidies and allowing the currency, the hryvnia, to depreciate about 30 percent against the US dollar. Average gas prices for Ukrainian households began rising by more than 50 percent in May, and heating prices are expected to climb by about 40 percent, starting in July.
Far harsher measures are still to come, including a freeze on public-sector wages, mass redundancies of government workers, the cancellation of scheduled pension increases and a range of social spending cuts.
The
Wall Street Journal
reported concerns about Poroshenko's capacity to deliver. "It looks like people are ready to accept this decline in living standards," Vitaliy Vavryshchuk, head of research at Kiev-based investment house SP Advisors, told the newspaper, but Ukrainians expected economic improvement. "Patience is not unlimited," he warned.
2--
5k troops, 800 vehicles: 10 NATO countries start full-scale war games in Baltic
, RT
3---
US deploys stealth B-2 bombers in Europe
, RT
4--
Bulgaria halts Russia's South Stream gas pipeline project,
RT
5--
Obama, Cameron give Putin a month to meet Ukraine conditions, or face further sanctions
, Haaretz
U.S., U.K. lay down new markers after Group of Seven world leader summit that was rearranged to exclude Vladimir Putin after his aggressive moves in Ukraine
6--
Ukraine: A Prize Neither Russia Nor the West Can Afford to Win
, Brookings
7--
Federal Reserve "Shouldn't Be Intervening All The Time" In Markets, Fed President Admits
, zero hedge
8---
What's The Source Of Soaring Corporate Profits? Stagnant Wages,
of two minds
Here's a chart that appears to show at least a chunk of where they came from. Wages & Salaries/GDP dropped from about 47% of GDP in 2001 down to 42.7% of GDP today. At the same time, (non-financial) corporate profits rose from about 2% to 6% of GDP. So wage earners lost 4.3%, while non-financial companies gained 4%.
There was a very steep climb in corporate profitability from 2001-2008, during the height of the housing bubble, and a brisk drop off in the chunk of the economy provided to wage earners. Perhaps - globalization? Jobs lost to China? That's the period where China started to really become a powerhouse. Yet after a brief drop during the recession, it's now back up to its peak levels.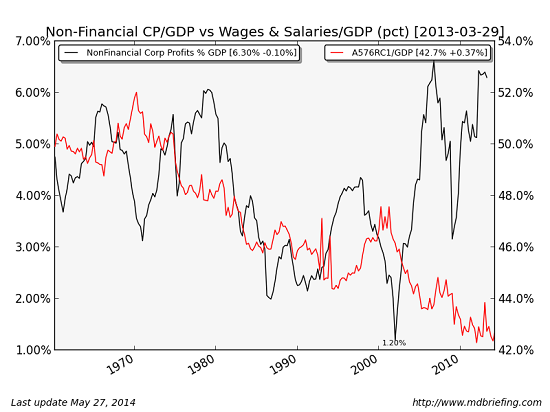 What if all the low-hanging fruit of outsourcing jobs and financialization have already been plucked by Corporate America?
2. What happens when wage-earners can no longer substitute debt for earned income to sustain their consumption?
If these two conditions are running out steam, then the endgame of corporate profit growth is closer than we might imagine
9
--More signs of bullish excess,
zero hedge
The simple fact is that virtually ever single market and sector is grossly extended as exuberance over the current bullish trend has taken root. This exuberance is most clearly seen by the near record low levels of
"fear"
in the market as shown below.
---
Stocks have not "reached a permanently high plateau" nor will "this time be different."
As with all late cycle bull markets, irrationality by investors in the financial markets is not new nor will it end any differently than it has in the past. However, it is also important to realize that these late cycle stages of bull markets can last longer, and become even more irrational, than logic would dictate.
10--
90% Of Gazprom Clients Have "De-Dollarized", Will Transact In Euro & Renminbi
, zero hedge
11--
Abenomics Fail
, zero hedge
Japan's GDP grew an annualized 6.7% in the first quarter, faster than a preliminary 5.9% and the median forecast of 5.6% by economists in a Bloomberg News survey. The nation's current-account surplus narrowed in April from a year earlier, separate data showed...
While Japan's Trade balance missed expectations once again (bigger deficit than hoped or expected), the flashing red headlines of the night belong to Japan's 1.6% QoQ GDP print (better than expected) - the 'best growth' since Q3 2011. The initial reaction was JPY weaker, which meant Nikkei higher (and oddly JGBs rallied too). But... and it's a big but...
Japanese consumer spending shot up by 2.2% in Q1 - the biggest on record... matched only by Q1 1997, the quarter before Japan's last tax-hike decision
. What happened the quarter after that? Take a look...
Now what kind of damage will that do to Q2 GDP? Let's take a look at what happened to Japanee stocks after the same surge in "growth" in 1997....
So are we going to get the bounce of euphoria followed by the 40% plunge of reality?
And in case you think we are over-worrying... Goldman's even more worried...
We expect 2Q 2014 GDP to contract on dropout of pre-tax-hike demand:

We estimate that real GDP will contract by over 4% in Q2 2014 as rush demand to beat the consumption tax hike drops out. Real wages have fallen markedly amid sluggish nominal wages, the higher tax burden on households, and rising consumer prices.

This could dampen consumer sentiment and negatively affect domestic demand over FY14 as a whole.
12---
Last Time this happened, The Financial Crisis Broke Out
, Testosterone Pit
The Fed has a measure for it: the Financial Stress Index
13--Money for Nothing, al Jazeera
14--Immigrant children held at Arizona detention center in deplorable conditions, wsws
15---John McCain: Prisoners swapped for Bergdahl 'are responsible for 9/11', This Week
16---
Normandy and Stalingrad
Stalingrad was

viewed by all sides

as the turning point in the European war.
The battle 'tore the guts out of the Nazi war machine," said Winston Churchill. That summer, the Soviet's finally seized the offensive after blunting the German offensive in the

Battle of Kursk

. By the end of 1944, German military deaths on the Eastern front were 2.7 million by one estimate, compared to 340,000 in the Western Front,
A great deal of work by many hands has gone into straightening out the narrative of the war, none more energetic than

Antony Beevor

's. But no book can overcome the memory of the US home front narrative. Americans continue to give short shrift to developments on the war's Eastern Front....
But there is no disguising the fact that US treatment of its former adversary since 1992 has been cavalier. Few Russians now defend the pell-mell privatization of their country's vast natural resources and productive apparatus which occurred under Boris Yeltsin, operating with US advice. Seeking to expand the NATO alliance to Ukraine and Georgia on Russia's southern flank has sparked still greater resentment.


The result has been nationalism and rising truculence on both sides. The demonization of Putin by the Western mainstream press has reached worrisome levels in the US. The current unrest in Ukraine, troublesome though it is, is no reason for The Wall Street Journal to start writing the USSR out of the history of World War II.


17--Bulgaria Bows To EU, Halts Work On South Stream, oil price


18--Not even a bull market can interest people in stock,. Opinion: Equity ownership falls to the lowest level in over half a century
, marketwatch
19--
The Job Market's Five-Year Recovery in 10 Charts
, 538
20--
America's credit card addicts just relapsed
, quartz
21
--One Of The Biggest Signs Yet That Abenomics Is Working In Japan
, BI
22
---Bad inflation' shadows Japan
, JT
Kuroda the moron says problems are 'contained'
Two months after Japan's first consumption tax hike in 17 years, some data indicate the economy is stalling as prices climb and a weaker yen makes imports more expensive.
The yen's depreciation from the Bank of Japan's aggressive monetary easing will continue to drive up the cost of imports — especially energy and food — at a time when wages overall are falling. This means the BOJ's inflation target is likely to trigger "bad inflation" — a toxic combination of declining demand and rising prices, analysts warn.
Prime Minister Shinzo Abe's attempt to revive Japan's deflation-mired economy may end in failure if the inflation the BOJ is stoking isn't accompanied by improvement in corporate earnings and wages. If wages don't keep up, both companies and consumers will be reluctant to spend, dampening domestic demand further, they warn.
At a May 21 news conference, BOJ Gov. Haruhiko Kuroda said that since the consumption tax rose to 8 percent from 5 percent on April 1, the economic downturn has been "within expectations" and consumption "remains on a firm footing
Data for April released late last month by the Ministry of Economy, Trade and Industry said that retail sales dipped 4.4 percent from a year earlier and that industrial production fell a seasonally adjusted 2.5 percent from March.
In the meantime, the diffusion index of coincident economic indicators — a key gauge of current economic activity — said the economy is sliding at its quickest pace since March 2011, when the natural and nuclear disasters ravaged Tohoku, the Cabinet Office said Friday....
According to the Finance Ministry, the yen sank by about 20.8 percent year on year against the dollar in fiscal 2013, leaving the exchange rate at about ¥100.16 on average. As of Friday, the dollar was trading above ¥102.
With the yen falling, the core consumer price index, which excludes prices of food but not energy, surged 3.2 percent in April from a year ago — the fastest since February 1991 and up for the 11th month in a row, the internal affairs ministry said May 30.
As the BOJ estimates the tax hike will account for 1.7 points of overall inflation for April, the rise in the CPI will be 1.5 points, higher than the market expects. This excludes the effects of the tax hike