1--
Regulators cave in to bankers who want to make bad loans with impunity
, oc housing
The standard, expected to be made final in the coming months, is much looser than what was first floated in 2011, when policy makers said borrowers would have to put 20% down to get a loan or lenders would have to retain 5% of a loan's risk once it was packaged and sold to investors.


Under the revised approach, regulators wouldn't require a down payment and would include a broad exemption for banks and other issuers of mortgage-backed securities from having to retain a portion of the credit risk on their books....
The SEC is right to be concerned about underwriting loans with no-money down. Historically, no-money down loans don't perform very well.

That position put the SEC at odds with other regulators, who shared the housing industry's concerns that any down-payment requirement could crimp access to credit and impede the fragile housing recovery.




2--Unemployment Is Stifling the Housing Market, ds news


The unemployment rate was unchanged in May, staying put at 6.3 percent with 9.8 million Americans unemployed. Unemployment is the lowest it has been since September 2008. However, RealtyTrac's Octavio Nuiry makes the case that there is more to unemployment than percentages, and that a hidden actor is depressing housing market growth—and could cause more problems in the future.


Nuiry cites figures from the Bureau of Labor Statistics (BLS) that reported 92 million Americans remain out of the labor force. "A whopping 920,090 people dropped out of the labor force in May, according to the data. What's alarming about these numbers is that each month, nearly 1 million Americans had given up on even looking for a job, wiping out January and February gains and a bit of March's job growth too," Nuiry writes....


"When President Obama took office in January 2009, the labor force participation rate—the share of the population that is working or looking for work—was 66 percent. In May 2014, that number hit a record low 62.8 percent—the lowest since 1978," Nuiry writes.
With fewer people working, economic ramifications ripple across the economy, especially in the housing market. The U.S. currently has 92 million men and women over the age of 16 who are not working—an all-time high. This is a sizable population who won't be purchasing a home any time soon.
Nuiry warns, "This is an employment crisis we have not seen in 30 years. With total employment at 145.8 million, for every three Americans over the age 16 earning a paycheck there are two who aren't even looking for a job … And adding 200,000 jobs a month while 1 million workers leave the job market is not a formula for healthy housing market."

3---Study: Road to Housing Recovery will be 'Longer and Bumpier', ds news


The Wells Fargo Economics Group released its Housing Chartbook for May 2014. The group found that most markets are finding themselves "wildly out of balance" from inflated home prices driven by investor purchases, as well as exceptionally tight inventories that are well ahead of any improvement in demand.
The group said that the "lack of a rebound in home sales this spring has reinforced our view that there was more than harsh winter weather behind the recent slide in home sales and mortgage applications." The group notes that the road to housing recovery will be longer—and much bumpier—than expected.


Housing demand is still reeling from last spring's spike in mortgage rates. The Wells Fargo Economics Group commented that a 70-basis point rise in mortgage rates coupled with a 6.2 percent rise in prices resulted in a 17.1 percent jump in monthly principal and interest payments. Payments on an existing home, irrespective of a slight dip in home prices, have risen 11.9 percent. Consumer confidence in purchasing a new home within six months fell in May to 4.9 percent, below the 12-month moving average of 5.7 percent.


Overall economic growth will also hamper housing growth, according to the group from Wells Fargo. Real GDP is expected to rise just 2.0 percent in 2014, with new home sales and single-family housing starts expected to rise much more slowly. The group forecasts that new home sales will climb 8.4 percent to 465,000 units, while single-family housing starts will climb 10.9 percent. New home prices will moderate, rising just 2.6 percent to $276,000 in 2014.
Refinancing activity is also expected to slow down....


Existing home sales rallied slightly in April, up 1.3 percent after three consecutive months of decline. Distressed sales accounted for 15 percent of activity and all-cash transactions edged slightly higher to 18 percent. First-time home buyers have risen from recent lows, but remain well short of long-term trends. Easing of credit conditions and inventory remain the key factors for near-term sales, but the group doesn't believe that credit conditions will ease up in the coming months.

4--Miami Accuses JPMorgan Of Predatory Tactics In Minority Neighborhoods, Reuters


5--Central Banks goose stock markets, naked capitalism


(From comments:
The situation discussed above suggests that things are irreversible and that the market clearing mechanism is kaput. My question is this: If asset prices are going to be perennially inflated, then the gains from those artificial prices will go increasingly to the class of people who benefit from the purchase of those assets. Correct?
So the 1 percenters will take the money they've acquired from these gains, recycle it into stocks and bonds and thereby increase their rents on the real economy assuring more economic stagnation, greater inequality, and less social cohesion.)


An interesting report to be published this week by the OMFIF claims that because of record low interest rates, central banks have "lost" around $200-250 billion in foregone revenue in interest income on their reserves, with the shortfall being made up by directly investing into the world's stock markets – from the FT:

The report, seen by the Financial Times, identifies $29.1tn in market investments, including gold, held by 400 public sector institutions in 162 countries.


China's State Administration of Foreign Exchange has become "the world's largest public sector holder of equities", according to officials quoted by Omfif. "In a new development, it appears that PBoC itself has been directly buying minority equity stakes in important European companies," Omfif adds.
In Europe, the Swiss and Danish central banks are among those investing in equities. The Swiss National Bank has an equity quota of about 15 per cent. Omfif quotes Thomas Jordan, SNB's chairman, as saying: "We are now invested in large, mid- and small-cap stocks in developed markets worldwide." The Danish central bank's equity portfolio was worth about $500m at the end of last year.
Overall, the Omfif report says "global public investors" have increased investments in publicly quoted equities "by at least $1tn in recent years" – without saying from what level, or how the figure is split between central banks and other public sector investors such as sovereign wealth funds and pension funds.
The Bank of Japan (BOJ) has publicly led the way with its announcement in April this year, jumping straight into buying 60-70 trillion yen of stocks and ETFs each year, trying to incite inflation and a general recovery:....
Of course, there are well founded fears that such intervention, including massive growth in reserves, has led to such a benign period of volatility and the expectation of continued price appreciation is cooking "the goose" that laid the golden egg.
In Europe, two years of stimulus from the ECB has pushed the various bourses to record valuations, as measured by the price-to-earnings ratio, which is also pushing the boundaries of delusion when it comes to chasing yield. From
Bloomberg
:
Gains have pushed the Stoxx Europe 600 Index to 17.5 times annual earnings, the highest since 2002, data compiled by Bloomberg show....
Of course, one can't keep one's own stimulus down as this liquidity has spilled over into record bids for European bonds – yields now below that of US Treasuries – and indirectly into US shares:
Draghi's policies have encouraged investors to bid up European assets from bonds to stocks and avoid cash. They've added $43 billion to European mutual and exchange-traded funds traded in the U.S. this year, according to EPFR Global data tracked by Bank of America Corp. Meanwhile, they poured $3.3 billion into American equities funds.
And the US is guilty as charged when it comes to the general goose and turkey feasts for stock traders, where "good" forecasts are seen as bad for stock prices, and a "dovish" economy good for stock prices, all because of the perception of less or more intervention from the Fed that follows such views, respectively...
From
CNBC
:
The Federal Reserve is widely expected to announce another $10 billion monthly reduction in quantitative easing in Wednesday's FOMC statement. But the focus will be on the Fed's economic assessment, which could end up dramatically realigning investor expectations about when the Fed will hike rates.
The economic outlook certainly seems to have improved since …. The last two employment reports showed monthly nonfarm payrolls growth of 282,000 and 217,000. And after a severely weak first quarter, several economists are looking forward to Q2 GDP growth around 4 percent.
… the Fed acknowledges that the American economy may be entering into a period of above-trend growth, that could distort expectations about the future target of the federal funds rate, the highly influential rate at which banks lend to each other.
This is a time to be cautious. If central banks start pulling the rug out in the form of stopping, or even slowing down stimulus – heaven forfend they raise rates – it could be a rocky ride for the rest of the year for stocks
6
--Fukushima's Children are Dying
, ecowatch
7---
U.S. Is Exploring Talks With Iran on Crisis in Iraq,
NYT (more misleading BS from two of the war's biggest proponents)
A State Department official said the purpose of the "engagements" with Iran and other neighbors of Iraq would be to discuss the threat posed by Sunni militants and "the need to support inclusivity in Iraq and refrain from pressing a sectarian agenda." (The US cultivated sectarianism to divert attacks on US troops)
American officials, while prepared to work with Mr. Maliki, are also prepared to see him replaced by another Shiite politician who might be more inclusive. But it is widely accepted in Iraqi politics that any plausible candidate for the post of prime minister must also be acceptable to Iran.
Complicating the picture are the parallel talks between Iran and world powers on its nuclear program.
Another conspiracy "theory" becomes conspiracy "fact"
as
The FT reports
"
a cluster of central banking investors has become major players on world equity markets
." The report, to be published this week by the
Official Monetary and Financial Institutions Forum (OMFIF)
, confirms
$29.1tn in market investments
, held by 400 public sector institutions in 162 countries, which "could potentially contribute to overheated asset prices." China's State Administration of Foreign Exchange has become "the world's largest public sector holder of equities", according to officials, and we suspect the Fed is close behind (courtesy of more levered positions at Citadel), as the world's banks try to diversify themselves and "
counters the monopoly power of the dollar
."
Which leaves us wondering where are the central bank 13Fs?
While most have assumed that this is likely, the recent exuberance in stocks has largely been laid at the foot of another irrational un-economic actor - the corporate buyback machine. However,
as The FT reports
, what we have speculated as fact for many years now (given the
death cross of irrationality
, plunging volumes, lack of engagement, and of course dwindling credibility of central planners)... is now fact...
Central banks around the world, including China's, have shifted decisively into investing in equities as low interest rates have hit their revenues, according to a global study of 400 public sector institutions.
"A cluster of central banking investors has become major players on world equity markets," says a report to be published this week by the Official Monetary and Financial Institutions Forum (Omfif), a central bank research and advisory group. The trend "could potentially contribute to overheated asset prices", it warns.

...The report, seen by the Financial Times, identifies $29.1tn in market investments, including gold, held by 400 public sector institutions in 162 countries.

...China's State Administration of Foreign Exchange has become "the world's largest public sector holder of equities", as the report argues is "partly strategic" because it "counters the monopoly power of the dollar" and reflects Beijing's global financial ambitions.

...In Europe, the Swiss and Danish central banks are among those investing in equities. The Swiss National Bank has an equity quota of about 15 per cent. Omfif quotes Thomas Jordan, SNB's chairman, as saying: "We are now invested in large, mid- and small-cap stocks in developed markets worldwide." The Danish central bank's equity portfolio was worth about $500m at the end of last year
9--
Measuring Recovery? Count the Employed, Not the Unemployed
, NYT
The employment rate counts everyone with a job, while the unemployment rate counts only people actively seeking work. It excludes most people who are unemployed.
After most recessions, the numbers have moved in sync as the share of the population neither working nor looking has remained fairly constant. But after this recession, the middle ground has ballooned as fewer people try to find jobs.
It shows that the economy is improving. Employment rates have climbed above the post-recession nadir in every state, although the improvements are often quite small
At Nuremberg, it bears recalling, standing in the dock—and ultimately on the gallows—with the surviving leaders of the Third Reich was Julius Streicher, the editor of the vile, anti-Semitic weekly
Der Stürmer
and later the daily
Fränkische Tageszeitung
. While the tribunal found that Streicher had no direct part in formulating war policy, he nonetheless played a vital role in poisoning the consciousness of the German people. Without Streicher's propaganda efforts, the prosecution argued, the German generals "would have had no one to follow orders."
In any genuine accounting for the crimes of the Iraq War, Cohen, Friedman, Keller and those like them, who enthusiastically served the Pentagon's propaganda machine, would have to similarly be tried for their criminal promotion of aggressive war.....
....
Manning examines the US reaction to the 2010 election of Prime Minister Nouri al-Maliki, who had been installed by the US occupation four years earlier. The American press, the imprisoned soldier recalls, "was flooded with stories declaring the elections a success," aimed at creating the image of the US war having "succeeded in creating a stable and democratic Iraq."
During this same period, he writes, he and other military analysts in Baghdad were receiving continuous reports of "a brutal crackdown of political dissidents by Iraq's Ministry of the Interior and federal police," acting on behalf of Maliki. Opponents of the US-backed prime minister "were often tortured, or even killed," he notes.
Manning exposes the direct complicity of the US military in these crimes, reporting that he informed the US officer in command of eastern Baghdad that 15 individuals arrested for publishing a critique of Maliki's government "had absolutely no ties to terrorism." The commander responded that "he didn't need this information; instead, I should assist the federal police in locating more 'anti-Iraqi' print shops."
"I was shocked by our military's complicity in the corruption of that election. Yet these deeply troubling details flew under the American media's radar," he writes.
This account gives the lie to the US media chorus that the present debacle in Iraq is "all Maliki's fault...
People like
Times
publisher Arthur Ochs Sulzberger, Jr. and then-editor Bill Keller lent themselves and their newspapers unreservedly to a massive campaign to pressure the American public to support a war of aggression against Iraq. They decided to parrot the government's lies about Iraqi "weapons of mass destruction" and ties between Baghdad and Al Qaeda—both non-existent—and to eschew any critical investigation of the Bush administration's war propaganda. On the contrary, through the sinister efforts of the
Times
and its correspondent Judith Miller, they embellished upon this propaganda, piling on their own lies......
The US intervention was anything but "hapless," employing all of the firepower at the Pentagon's command in a campaign that saw some 1,700 bombing sorties—including 504 using cruise missiles—in the space of three days.
One might just as well describe 1939 Europe as "ripe for dismemberment" and Hitler's blitzkrieg as "hapless," or dismiss the Nuremberg tribunals as a futile exercise in "the blame game."
12---"
A proxy war of the regional powers (is) breaking out on Iraqi soil
", wsws
German Foreign Minister Frank-Walter Steinmeier, in the
Welt am Sonntag
, ruled out military involvement and called on Turkey, the Gulf States and Iran to help stabilise Iraq. "We have to prevent a proxy war of the regional powers breaking out on Iraqi soil," he said.....
ISIS, a Sunni jihadist force nurtured and armed by Washington and its Sunni Gulf allies (Saudi Arabia, Qatar) as a proxy force to overthrow President Bashar al-Assad in Syria, is threatening to topple Washington's Shia sectarian puppet regime, headed by Prime Minister Nouri al-Maliki, in Iraq. In the face of a debacle without precedent since the defeat of US forces in Vietnam 34 years ago, the US is turning to yesterday's "Axis of Evil" bogeyman, Shia-led Iran.
Any US accommodation with Iran for the purpose of defending US interests in Iraq can be no more than a temporary arrangement that will not preclude further American threats and attacks on Iran in the future....
. It was in the immediate aftermath of the fall of the Turkmen-majority town of Tal Afar to ISIS, which already controls Mosul, the second largest city in Iraq, as well as Fallujah, Ramadi, Tikrit and other cities, that the Obama administration said it was evacuating a part of its 5,000 embassy staff.
The Mesa Verde joins three other US naval ships, including the USS George H.W. Bush aircraft carrier, named after the architect of the 1991 war against Iraq. It is equipped with Patriot missiles that can reach any part of Iraq. The administration has also broached the use of drone strikes, probably mounted from Turkey.
13---
Housing Hit the Wall of Wall Street in May
, Testosterone Pit
It always starts with a toxic mix. Last fall when sales that had been predicted to continue their miraculous ascent were suddenly swooning, soothsayers dealt with it by developing a whole plethora of excuses. At each new disappointment, they dragged out new excuses. But in May, the toxic mix came to a boil, and now there are no more excuses: sales plunged
and
inventories jumped. The housing market is buckling under its own inflated weight....
In some of the hottest markets of 2012 and 2013, sales are falling off a cliff: down 11.6% in Las Vegas, 12.2% in Chicago, 12.3% in Seattle, Orange County, and Los Angeles, down 12.5% in Washington, DC, 13.1% in Long Island, 13.5% in San Francisco, 14.6% in Sacramento, 20% in Phoenix, and down 20.8% in San Diego. These are ugly numbers.
But, but, but... the median sales price
still
rose 8.2% in May from a year ago, though that's down from the 14.5% increase in May 2013, and from the 20% at the peak of 2012. Redfin reported that its agents had observed "the shift away from a sellers' market, with buyers having more power and less competition." But apparently, "many sellers still haven't read the memo."
14---
The Myth Of Wage Inflation Comes Crashing Down: Real Hourly Earnings Slide To Lehman Bankruptcy Levels
, zero hedge
In other words, while the S&P has nearly tripled since its lows real American wages are.... unchanged.
15--
Housing: Sales down, inventory up
, Dr Housing Bubble
Inventory across the region is picking up: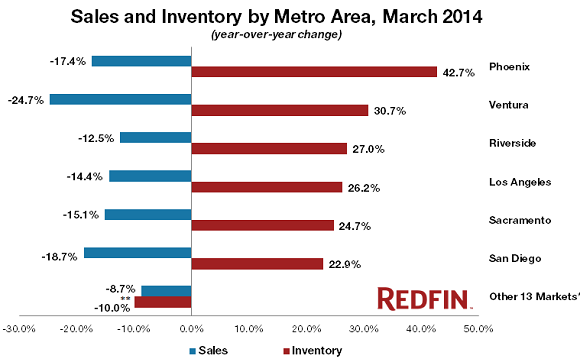 Outside of California, take a look at what is happening in Arizona. As investors pullback, inventory is piling up. The previous charts should highlight that prices usually peak while sales start the move lower. We would have to see robust economic growth or investor demand surge again to keep this momentum going.
16---
Comments line:
Moon of Alabama
This is a regime change operation, as b said last week. The U.S., because its domestic public is still operating under the assumption that AQ and like groups are the enemy, must appear as if it is doing something -- mulling over attack options, talking with Iran about strategy -- to help Iraq. But the target here is Maliki and the Iraqi government. I think something like Lebanon is the desired outcome -- a quota system that leads to permanent paralysis, effectively removing Iraq from the chessboard; and barring that, a caliphate.
The unanimity of the Western pundit class in blaming Maliki for everything that has gone wrong with ISIS brings to mind similar treatment of Putin and Assad. And when one detects such univocal demonization there is certainly a rat in the house....
My pessimistic vision
from last week
, after the fall of Mosul and on the eve of the impending Russian march into Ukraine.
There will be no Cold War 2.0 – The war we are in today will be a Global Class War. Nation states will be destroyed, everything will be turned into Tribalistan. The Empire will build fortress around key natural resources. They will be guarded by a hierarchy of mercenaries with US contractors on the top, European Nazis in the middle and local slaves on the bottom.
The people will be divided into violent tribes at constant war with each other. There will be international movements for decolonization and national liberation, but as the European Left has lost its soul and purpose it has nothing to give to the struggle. With Marxism and Leninism dead and buried there can no longer be any anti-fascist resistance. The leading anti-imperials force will be al-Qaeda.