1-
17 Facts To Show To Anyone That Still Believes That The U.S. Economy Is Just Fine
, zero hedge
2---
NYT Caught Creating Fake War Propaganda in Ukraine Just Like Iraq
, Kurt Nimmo
3---
Housing risk rising as more loans don't meet QM on DTI
, HW
An early look at report shows loan climate getting riskier,
This month's NMRI update shows about 24% of all purchase loans have a debt-to-income ratio greater than the QM limit of 43%
How can the talking heads blame the cold winter for the terrible GDP when consumer spending accounts for 71% of GDP and it surged due to the cold weather? Hmm.
So we have an "economic recovery" driven by people forced to spend more for healthcare, energy and food while receiving 0% return on their savings, seeing their real wages decline, and being taxed more by local, state and federal governments. At least there are still those gigantic potholes on every road in my state.
This report was an absolute disaster and PROVES we are in recession. Wall Street will be ecstatic and will levitate to new highs. If Obama can just get World War III started in the 2nd quarter, GDP will soar and economic recovery will have arrived.
6--Death knell for QE, zero hedge
This is the death knell of QE. We now know for a fact that the Fed and other Central Banks are aware that QE doesn't create jobs nor does it improve the broader economy.
All that leaves is stocks… which have benefitted enormously from QE, with the S&P 500 rising to new record highs boosted by the Fed's money printing.
However, ultimately stocks react to profits. And as Sony has proven, QE
hurts
rather than helps profits. Indeed, Sony's stock is
down
over 1.5% on the earnings outlook drop. And it's essentially breakeven since the Bank of Japan announced its massive QE program.
7--
IMF Warns Ukraine: Fight For The East Or No Money,
zh
IMF approved the $17bn tranched loan to Ukraine last night,
Except there's one thing:
IF UKRAINE GOVERNMENT LOSES EFFECTIVE CONTROL OVER EAST OF COUNTRY, $17 BLN IMF BAILOUT WOULD NEED TO BE REDESIGNED
Which,
roughly translated
, appears to mean
go to war with pro-Russian forces (and thus Russia itself if Putin sees his apparent countrymen in trouble) or you don't get your money
!
8--
Recession Alert
, zero hedge
This morning's construction spending numbers were weaker than those assumed by the Commerce Department in yesterday's initial estimate of Q1 GDP growth.
We reduced our past-quarter tracking estimate by two-tenths to -0.1%
9--
Obamacare Just Saved The U.S. Economy From Contraction
, HP
Headlines:
US Savings Rate Plummets To Second Lowest Since 2008 To Pay For March Spending Spree
US PMI Job Creation Slowest Since January, Says "Growth Rate Of The Economy Has Weakened Since Late Last Year"
Construction Spending Growth Misses By Most In A Year
10--
Who's really 'presenting lies as facts'? How State Dept. exposes itself to propaganda
, RT
11--
Heroin production hits record levels in Afghanistan - study
, RT-
12--
US doesn't care about Ukraine, wants to prove it's still in charge – Lavrov
, RT
we cannot decide for the self-defense forces
," he added. "
Those people live under a constant threat coming from Kiev that the military and armored vehicles will be used against them; under constant threat from the extremists."
13--
Housing Implosion 2.0
, naked capitalism
So the rate of homeownership in the first quarter, after ticking up last year and triggering bouts of false hope, fell to 64.8%. The lowest level since 1995! It had peaked in Q2 2004 at 69.2%, a sign that even as the prior housing bubble was gaining steam, regular folks were
already
priced out of the market. This ugly trajectory is the face of the "housing recovery" sans Wall Street: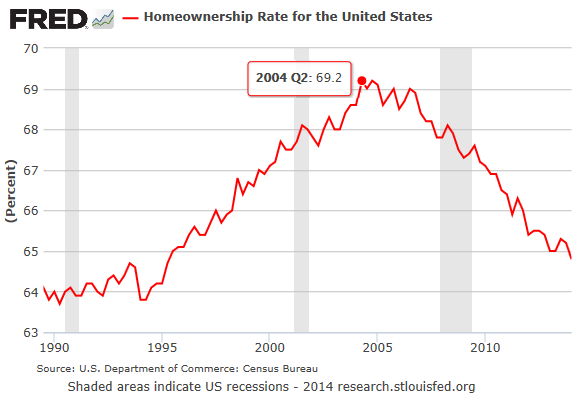 And now history has become a Fed-induced rerun
And what happened to the Wall Street investors who whipped the market into frenzy by deploying the Fed's free money? Soaring prices are "eroding investor profit potential," Redfin points out, and many have pulled back. As of year-end 2013, the percentage of investor purchases in these six markets dropped to 10.6% from 15.6% a year earlier. And since then, they've dropped even more. Easy come, easy go.
"Housing
affordability
is really taking a bite out of the market," is how the chief economist for the California Association of Realtors explained the March home sales fiasco. "We haven't seen this issue since 2007."
14
---Worst recovery ever,
House of debt
The steeper the line for the particular recession, the stronger the recovery.
the Fed was "exactly on the right track."