1---
IBM End to Buyback Splurge Pressures CEO to Boost Revenue ,
Bloomberg
International Business Machines Corp. (IBM)
is reducing stock buybacks after an $8.2 billion first-quarter splurge, putting more pressure on Chief Executive Officer Ginni Rometty to reignite sales growth or cut costs to hit her profit targets.
IBM said last week it won't sustain its rate of share repurchases in the first quarter, when buybacks more than tripled from a year earlier to the most since 2007. The company plans to spend less than $5.8 billion total in the final nine months of this year.
Even so, IBM reported first-quarter adjusted earnings per share in line with analysts' projections, suggesting it would have missed their profit estimates if it hadn't been so aggressive in stock repurchases.
IBM's
sales
have fallen from a year earlier for eight straight quarters
...Declining sales and rising buybacks have squeezed IBM's free cash flow...
The repurchases, meanwhile, have taken a toll on IBM's balance sheet.
Total debt climbed to $44 billion in the first quarter, up from $33.4 billion a year ago. IBM had a cash balance of $9.7 billion at the end of the period, down $1.4 billion from December.
During the first quarter, IBM issued $4.5 billion of new bonds, clearly used to fund buybacks, Black said. The sale included $2 billion in 3.625 percent, 10-year bonds, which paid 95 basis points more than similar-maturity Treasuries at the time, a wider spread than the extra 83 basis points of yield IBM garnered six months prior. ...
"The company tapped the bond market five different times last year, then you have a pretty sizable February issuance," Black said in the interview. "I feel like there is investor fatigue on the name."
2---
Consumption Inequality,
House of Debt
The state of the art study using the Consumer Expenditure Survey is by
Attanasio, Hurst, and Pistaferri (2012)
. They make progress in reducing bias in the survey data by relying on a diary survey, which asks households to record their purchases meticulously for two weeks. They argue that the diary measures spending much more accurately.
When using this data source, they find evidence that there was a substantial rise in consumption inequality from 1980 to 2010. As they write: "In summary, our analysis of a variety of different data sources suggests that the well documented rise in income inequality during the last thirty years was accompanied by an increase in consumption inequality of nearly the same magnitude." So rising income inequality is associated consumption inequality
3---
WSJ/NBC News Poll; 57% believe the U.S. is still in a recession
, wsj
Unease over the economy continues to drive these concerns. Sixty-five percent of those polled said the country is on the wrong track, compared with the 26% who said it was on the right one, a wider spread than in the midterm-election years of 2006 and 2010. Roughly one-quarter of the respondents think the economy will improve over the next year, while 57% believe the U.S. is still in a recession, despite years of modest economic growth and robust stock-market gains.
Recessionary Sentiment Lingers
According to Nielsen's survey, more than half (57%) of global respondents believed their country was in an economic recession in Q4 2013, a one-point decrease from the previous quarter and a two-point decrease from the same period last year (Q4 2012).
"The U.S. junk-loan market has never fueled so much dealmaking.
A total of $85 billion of loans have been raised this year to finance acquisitions, topping 2007's record pace, data compiled by Bloomberg show. Issuance is set to accelerate as Avago Technologies Ltd. locks in the year's second-biggest loan for its takeover of chipmaker LSI Corp. as soon as today and Men's Wearhouse Inc. borrows $1.1 billion to fund its deal for Jos. A. Bank Clothiers Inc.
Leveraged loans are booming as the value of takeovers in the U.S. reaches levels last seen in 2008

. While regulators have warned excesses may be emerging in riskier parts of the market as the Federal Reserve's zero-interest rate policy extends into a sixth year, the loan surge underscores renewed confidence in the ability of the least-creditworthy companies to expand as the world's largest economy strengthens.
"There's a lot of money waiting to be put to work," Judith Fishlow Minter, co-head of U.S. loan capital markets at Royal Bank of Canada, said in a telephone interview from New York. "The market is exceptionally strong."" - source Bloomberg.
Risk: Net free credit at -$178b – exceeds extreme negative level from Feb 2000
Net free credit is free credit balances in cash and margin accounts net of the debit balance in margin accounts.

At -$178b (from -$159b in January), this measure of cash to meet margin calls is at an extreme low or negative reading that has exceeded the February 2000 low of $-129b. The risk is if the market drops and triggers margin calls, investors do not have cash and would be forced to sell stocks or get cash from other sources to meet the margin calls. This would exacerbate an equity market sell-off.

"
- source Bank of America Merrill Lynch
Many investors hope that the central banks magician spell "Hocus Bogus" will last long enough for them to exit in both credit and equities in an orderly manner, they once again suffer from "optimism bias" we think.
"Four of the nation's largest banks, led by JPMorgan Chase & Co., are driving a surge in borrowing from the Federal Home Loan Bank system as they raise funds to buy assets that meet new liquidity requirements.
Lending at the 12 regional Home Loan Banks rose 30 percent to $492 billion between March of 2013 and December 2013, largely the result of advances made to JPMorgan, Bank of America Corp., Wells Fargo & Co. and Citigroup Inc., according to a report released today by the Federal Housing Finance Agency Office of the Inspector General.
The concentration of Home Loan Bank lending in four large institutions could present safety and soundness risks, the report said. In addition,
auditors questioned whether lenders created to support housing finance should be providing funds so banks can meet standards set under the international Basel III accord.
"The increasing use of advances by members to meet Basel III's liquidity requirements could raise public concerns about the system's commitment to its housing obligations,"

the report said.
The Federal Home Loan Banks, established by the government in 1932 to support mortgage credit, have an implicit government guarantee, meaning that investors expect they won't be allowed to fail. They make advances to their 7,500 member financial institutions that can be used to originate home loans or for other purposes.
Citigroup, JPMorgan, Bank of America and Wells Fargo accounted for 27 percent of total advances from the Home Loan Banks at the end of 2013, up from 14 percent the year before, the report said. Lending to JPMorgan increased the most, to $61.8 billion in December 2013 from $13.3 billion in March 2012." - source Bloomberg.
U.S. mortgage lending is contracting to levels not seen since 1997 -- the year
Tiger Woods
won his first of four Masters championships -- as rising interest rates and home prices drive away borrowers.
Wells Fargo (WFC)
& Co. and JPMorgan Chase & Co., the two largest U.S. mortgage lenders, reported a first-quarter plunge in loan volumes that's part of an industry-wide drop off. Lenders made $226 billion of mortgages in the period, the smallest quarterly amount since 1997 and less than one-third of the 2006 average, according to the
Mortgage Bankers Association
in
Washington
.
Lending has been tumbling since mid-2013 when
mortgage rates
jumped about a percentage point after the
Federal Reserve
said it might taper stimulus spending. A surge in all-cash purchases to more than 40 percent has kept housing prices rising, squeezing more Americans out of the market. That will help push lending down further this year, according to the association.
"Banks large and small are going to have to adapt to a new reality because mortgage origination volumes going forward aren't going to support the big businesses they've had in place for the last few years," said
Stephen Stanley
, chief economist at Pierpont Securities LLC in
Stamford
,
Connecticut
. "They're going to have smaller, leaner operations, and we're seeing them make that shift."
At Wells Fargo, home-loan originations exceeded $100 billion for seven straight quarters, ending in June 2013. The figure plunged to $36 billion in the three months through March, the San Francisco-based bank said April 11.
8--
The US pays 75 percent of NATO's defense
, wsws
Deutsche Welle added: "According to insiders, the US has complained that it foots 75 percent of NATO's defense budget; in recognition of that, the US expects that its European partners—in particular, Germany—will help finance Ukraine as its rebuilds its economy."....
Lavrov further warned: "Those who are deliberately pursuing a civil war, in a possible attempt to start a big, serious bloody conflict, are pursuing a criminal policy. And we will not only condemn this policy, but will also stop it."...
"Before giving us ultimatums, demanding that we fulfill demands within two or three days with the threat of sanctions, we would urgently call on our American partners to fully accept responsibility for those whom they brought to power," Lavrov said at his press conference. He said all attempts to isolate Russia would fail, because Russia is "a big, independent power that knows what it wants."
This bravado notwithstanding, the truth is that the government of President Vladimir Putin, which represents the interests of the corrupt and grasping oligarchy that seized control of former state property in the wake of the Soviet Union's dissolution, is desperately seeking some means of accommodation with US and German imperialism that would still allow it to preserve Russia's most elemental security interests.
Putin's problem is that Washington has no interest in such an accommodation. Rather, it is determined to escalate economic and military pressure with the ultimate aim of eliminating Russia as an impediment to US global hegemony and reducing its territories to a group of dismembered semi-colonies.
9---
Amateur Hour In Ukraine
, eric Margolis
Speaking of history, it's also worth recalling past efforts to weaken Russia by detaching Ukraine, its most important center of agriculture and coal. In 1917, after the collapse of the Romanov dynasty, Russia sued for peace. The result was the rapacious Treaty of Brest-Litowsk in which the Germany and Austria stripped away Ukraine, parts of today's Romania, and the Baltic states from Russian control.
Ukraine was briefly independent during the 1920's Russian civil war. Stalin crushed Ukraine's independent farmers, murdering 6-7 million in a 1930's holocaust. To no surprise, invading German troops were greeted as liberators by many Ukrainians. But Hitler decided to turn Ukraine into Germany's granary and its people into serfs.
The US and NATO are now trying to impose a second Brest-Litowsk on Russia. Without Ukraine, Russia can not return to being a world power. Stalin undid Brest-Litowsk. Vlad Putin is determined that the punitive eastern version of the "Versailles Treaty" will not be again imposed on Mother Russia. Pity the poor Ukrainians caught between the crushing millstones of East and West.
10--
More War Lies Sold By the Same Lying Liars
, Big Picture
Just like the "aluminum tube" story that justified killing so many Iraqis and the "vector analysis" that almost unleashed a devastating U.S. bombing campaign on Syria, the Times' "green men" piece may be the prelude to a bloodbath in eastern Ukraine.
The powers-that-be are
desperate for a war to distract the population
.
11--Foreclosures: 7 million and counting,
Dr Housing Bubble
If a foreclosure happens in the wilderness, does it make a sound? It seems like people have conveniently forgotten that since the housing crisis hit we have
witnessed more than 7,000,000+ foreclosures
. Do you think these people believe the Fed is almighty and can stop a speeding train or turn water into wine? Apparently some people forget that the Fed failed to prevent the tech bust or the housing bust in the first place. Now, the Fed is somehow the cult leader and the leader will not let housing values fall. The nation still has 9.1 million seriously underwater homeowners on top of the more than 7 million that have gone through foreclosure. It is abundantly clear that the mindless drivel of "buying is always a good decision" is just that.
Investors are starting to pull
back in expensive states because value is harder to find. I see the lemmings at open houses and you can see the drool at the side of their mouths hoping for a morsel of real estate. The Fed, for better or worse, has turned us all into speculators. Simply putting your money in a bank is a losing battle because inflation is eroding your buying power. Yet wages are not keeping up. What you have is people competing with investors, foreign money, and a market with low inventory and trying to guess the next move from the Fed. Yet the tech bust and housing crash (keep in mind these happened only since 2000) were major events not prevented by the Fed....
It helps to understand that many foreclosures are happening because people are spread thin. People are still maxed out. Unlike big banks with sophisticated deals and systems in place, most households are living paycheck to paycheck even those with higher incomes. First, take a look at some foreclosure history: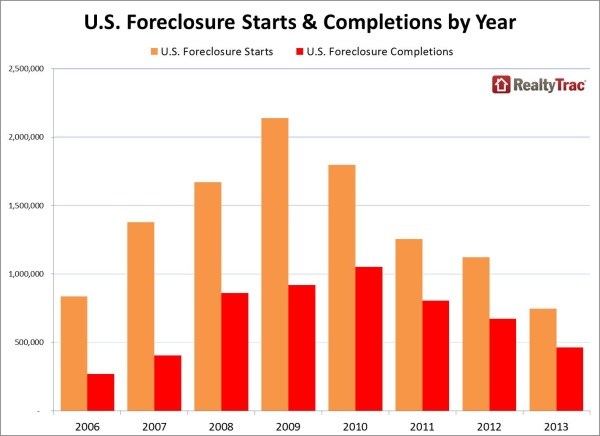 Print this chart out and just remember that housing is a big freaking purchase
If the trend is so obvious and clear, why do we see low volume in housing sales?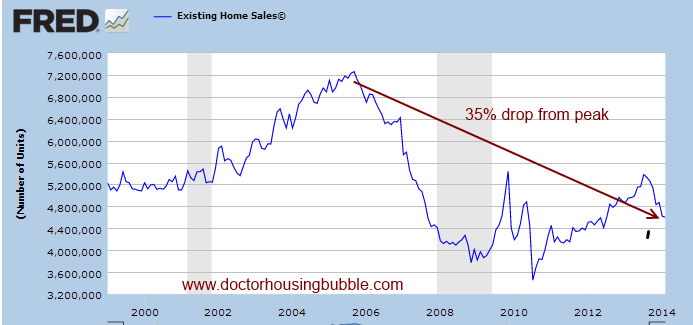 Existing home sales are down more than 35 percent from their peak reached in 2006. Our population is growing and prices are going up. Yet the push for higher prices has come from Wall Street, low rates, and normal buyers competing with the investor group. A big question that many are wondering is what will happen when big money starts to flow out of real estate. We are starting to find out slowly. Rates are also likely to go up – so for those that believe the almighty Fed can do anything they should listen to their leader that is utterly telling the market rates will go in one direction....
What we don't have to guess on is that this recent trend has made it tougher for first time buyers: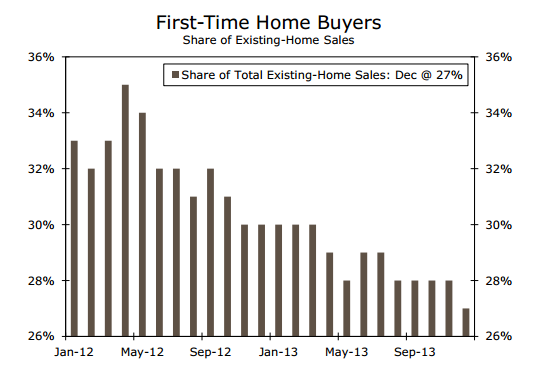 First-time home buyers are a small portion of the market today
because of investors crowding them out
. We also have a large number of young ones living in the basement of their parent's
granite countertop sarcophagus
....
7 million foreclosures and currently 9.1 million seriously underwater home owners. It should be apparent that when it comes to buying a house, you really need to run the numbers. Investors have and they are
pulling back from certain markets
.