1---
China's Credit Pipeline Slams Shut: Companies Scramble For The Last Drops Of Liquidity
, zero hedge
(Onset of credit crunch) "
Interest rates are going up 10 percent for the entire industry
," said Wang Lei, a finance department manager at PKU HealthCare Corp. "
Obtaining loans is getting difficult and expensive
."...
Some gauges of China's corporate debt are already flashing red. Non-financial firms' debt jumped to 134 percent of China's GDP in 2012 from 103 percent in 2007, according to Standard & Poor's.
It predicted China's corporate debt will reach "stratospheric levels" and become the world's largest, overtaking the United States this year or next.
Fearing a wave of defaults as China's economy cools after decades of rapid growth, regulators in the past two years told banks to cut off financing to sectors plagued by excess capacity such as steel and cement.
Experts say banks were at first slow to respond, but in the past few months, banks have started turning down credit taps
.
2---
German Industry Goes To See Uncle Putin
, Testosterone Pit
President Barak Obama went to Belgium – a trip planned long ago but repurposed since the Crimean debacle – to meet with European leaders, commemorate the 100th anniversary of World War I, draw iffy parallels between then and now, and
announce
that more sanctions against Russia were being concocted and would soon be forthcoming,
even
if Russia made no additional moves on the Ukraine. The EU and the US must not sit on their hands as Russia pursues "the old way of doing things," he said. "That message would be heard not just in Europe but in Asia and the Americas, in Africa and the Middle East."...
We have built relations with Russia on the basis of long-term prospects and trust," Kaeser said, according to Russian news agency,
Itar-Tass
. When questioned about the possible consequences for Siemens due to its cooperation with Russia, given the sanctions, he said, "Siemens and I personally do not feel any pressure from the federal authorities," which had known about the visit. "And certainly there has been no pressure when the chief executive of Germany's leading company, cooperating with Russia for 160 years, comes to meet the Russian president."
Kaeser also met with Gazprom CEO Alexei Miller, the Siemens spokesman confirmed. Despite any sanctions, both sides favored continuing with the strategic partnership agreement they'd inked in 2011. Gazprom is currently threatening to turn off the natural gas tap for the Ukraine. Unless the Ukraine pays up, it could
run out of gas
in two or three months.
3
---New Home Sales Turn Negative Year-Over-Year, First Time Since 2011
, MND
After rising by a revised 3.2 percent January,
New Home Sales
fell 3.3 percent in February according to data released today by The Census Bureau and the Department of Housing and Urban Development. The annualized sales pace of 440k homes is the
lowest since September 2013
.
Perhaps more telling from a momentum standpoint, year-over-year sales (Feb 2014 vs Feb 2013 in this case) were negative for the first time since September 2011. At that time, annual momentum was in the process of improving, and the only other post-crisis move into negative territory came after the homebuyer tax credit expiration in 2010. That means today's data is the first move from an established positive trend into negative territory
since 2006
....
While average prices continued higher thanks to high-end homes,
median prices
fell to $261.8k from $265.1 in Feb 2013. That's the first move into negative territory since mid 2012 and further evidence of the sideways grind. Other home price metrics out today spoke to January's data, but told a distinctly different story. The average year-over-year gain was 13.2 percent according to Case Shiller and 7.4 percent according to FHFA, Fannie and Freddie's regulator.
4---
Spain Banks With $55 Billion of Property Seek Deals: Mortgages,
Bloomberg
Investors Arrive
Investment in Spain by funds, private-equity firms and other financial-services companies totaled 13.9 billion euros in 2013, according to Irea, more than double the amount invested in 2012. About 37 percent went to real estate assets and the proportion is expected to increase this year, Echavarren said.
Firms including the
Blackstone Group LP
and
Goldman Sachs Group Inc.
have been buying real estate in Spain after home prices fell more than 45 percent from their 2007 peak and prime office rents fell more than 40 percent since 2008. Paulson & Co. said this month they will invest in property company Hispania Activos Inmobiliarios and Pacific Investment Management Co. is the anchor investor in the initial public offering of Lar Espana Real Estate Socimi SA.
Investment in European property debt is set to rise to 40 billion euros this year as funds such as Apollo Global Management LLC and Cerberus Capital Management LP buy loans cheaply and financing for purchases becomes more readily available, Cushman & Wakefield said.
5---
Obama Says Putin's Challenging the World Order in Ukraine
, Bloomberg
President
Barack Obama
said indifference to Russia's attempt to unilaterally redraw the boundaries of Ukraine would ignore the lessons that are written in the cemeteries for the dead in two world wars.
The U.S. and Europe are at "a moment of testing," as Russia challenges the ideals of democracy, free markets and international law that have spread peace and prosperity, Obama said in a speech at Palais des Beaux-Arts in Brussels.
"Once again, we are confronted with the belief that bigger nations can bully smaller ones to get their way, that recycled maxim that might makes right," he said."So I come here today to insist that we must never take for granted the progress that has been won here in Europe
6---
China's credit crunch: No Lehman catastrophe,
Simon Johnson, NYT
China is not going to experience a Lehman sort of crisis, at least not now. The most serious problem in China is that nonbank "shadow" banking, especially trust securities and various types of bonds, grew rapidly with insufficient oversight. For the most part, this represented an attempt to circumvent the interest-rate controls that made bank deposits unattractive.
Savers moved funds from banks to buy these instruments. Now, just as was the case with subprime loans in the United States, some of these high-risk borrowers are failing to repay.
Savers will lose some money on those investments, so now savers will be returning to banks, not fleeing from them...
the Chinese government is making it clear that the nonbank financing instruments will not be bailed out, while the big banks
are still obviously supported
by the government. Just as in America and Europe, China's biggest banks will live for another day, but the shadow banking sector is set to shrink.
So instead of facing a Lehman crisis, China's financial system is facing a more standard credit bust, driven by the drying-up of the nonbank markets and some losses on bank loans. The eventual solutions to such problems are well understood.
Again to make a comparison, the Chinese strategy for dealing with the lurking problems of banks will be very similar to what we just saw in Europe and the United States: Let the banks slowly recognize their losses, and support the banks with credit from the central bank as needed. ...
So if China avoids a Lehman crisis but does face a serious growth slowdown, how worried should Europe and the United States be for their own economic growth? The answer is, not much at all.
China is still only a small fraction of the world economy. World G.D.P.,
calculated by the International Monetary Fund
, was $73.5 trillion at the end of 2013, while China's G.D.P. was about $9 trillion, or 12 percent of the total. The United States at $16.7 trillion and the European Union at $17 trillion are each nearly double the size of China (using market prices and actual exchange rates).
China's main link with the rest of the world is through trade. According to the latest available data from the World Trade Organization,
for 2012
, China's merchandise imports accounted for nearly 10 percent of the world's imports. Exports to China in 2013
were $1.95 trillion
.
9
---The S and P Bubble
, macrobusiness
A cursory look at the performance of the US stock market would indicate that the Federal Reserve's efforts to right the US economy have been a storming success. The rally in US equities through the Operation Twist and QE3 episodes has been dramatic, with the S&P500 gaining over 60% since October 2011 to reach new highs.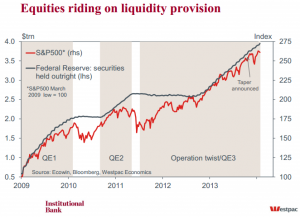 While is it certainly true that the FOMC's actions over the past two and a bit years has facilitated this recovery by instilling confidence and providing liquidity, it is important to recognise that there has also been a clear 'fundamentals' narrative
....
We will leave the obvious benefits for households' wealth for a subsequent discussion. What we instead focus on for the remainder of this article is the consequence for business investment. Being able to meet, and indeed exceed, investor expectations through management of the bottom line has negated the need to invest in their own productive capacity. This has resulted in a deteriorating underlying trend for business investment, further impacted by the various bouts of fiscal uncertainty.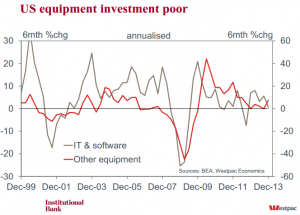 Needless to say, this is not a viable long-term strategy. One has to argue that there is an inevitable limit to the earnings benefits achieved through cost and capital management, with top-line trends the inevitable determinant of long-term success and stock performance.
All else equal, the absence of persistent investment in productive capacity and efficiency creates a tension between the market's expectations and firms' ability to perform. This tension has been magnified by the degree of liquidity provision offered by the Federal Reserve.
The apparent disconnect between financial market performance and real economic activity should concern investors. If the FOMC's economic forecasts fail to be achieved again in 2014 and, at the same time, liquidity continues to be removed, the sharp improvement seen in household financial wealth may be jeopardised. Stay tuned for more on this topic in coming weeks.
10--
Obama's speech on Ukraine: Propaganda and lies
, wsws
the words rang rather hollow coming from a president who has claimed absolute and unreviewable power to order the drone-missile assassination of anyone he chooses, anywhere in the world, and whose government asserts the right to collect and store the e-mails, text messages and telephone calls of the entire human race....
He rejected any comparison between Crimea and Kosovo, denying that Kosovo was an example "of the West interfering in the affairs of a smaller country." Obama asserted, "NATO only intervened after the people of Kosovo were systematically brutalized and killed for years," ignoring the responsibility of the United States and the European powers, particularly Germany, for fomenting the breakup of Yugoslavia along ethnic lines. In Kosovo, the US sponsored the gangsters of the Kosovo Liberation Army, who carried out tit-for-tat atrocities against the Serb population, and now, in power, persecute the Roma and other minorities.
"Russia has pointed to America's decision to go into Iraq as an example of Western hypocrisy," Obama continued. "Now, it is true that the Iraq war was a subject of vigorous debate, not just around the world but in the United States, as well."
There was no significant debate or democratic discussion in the lead-up to the US invasion of Iraq. The war was the outcome of a political conspiracy. The Bush administration went to war on the basis of brazen lies about Iraq's supposed possession of weapons of mass destruction and its nonexistent alliance with Al Qaeda. The mass demonstrations that showed the opposition of millions of Americans, and a majority of the world's population, were simply ignored.
After claiming he had opposed the Iraq war, Obama sought to justify its conduct and outcome, claiming, "even in Iraq, America sought to work within the international system. We did not claim or annex Iraq's territory. We did not grab its resources for our own gain. Instead, we ended our war and left Iraq to its people in a fully sovereign Iraqi state that can make decisions about its own future