Today's quote: "History proves that wherever the U.S. meddles; chaos and misery are soon to follow." kalithea
1---
Chinese Market Gets Demolished
, BI
Uh oh
2
---Hard Landing Time in China,
macrobusiness
Some "zombie" companies in China that have cash shortages will fail as authorities end an overly loose monetary policy, Xia Bin, an adviser to the State Council and former central bank board member, said on Feb. 10. Chaori may become China's "Bear Stearns moment," prompting investors to reassess credit risks as they did after the U.S. securities firm was rescued in 2008, according to Bank of America Corp.
"After the first one, there may be more defaults," said Zhang Yingjie, Beijing-based deputy general manager in the research department of China Chengxin International Credit Rating Co., Moody's Investors Service's joint venture in China. "The domestic economy is slowing, liquidity is tightening globally and more bonds are maturing this year with greater refinancing pressure, so there may be more defaults."
…Four companies pulled domestic bond sales on the Chaori news. Suining Chuanzhong Economic Technology Development Co. will delay a 1 billion yuan offering due to "serious fluctuations in the bond market," it said on ChinaBond's website March 5. Taizhou Kouan Shipbuilding Co., Xining Special Steel Group and Qunsheng Group Co. scrapped offerings for similar reasons.
"In the long term, investors will be more cautious and see that returns also reflect risks, which will benefit the development of the rates and bond market," said China Chengxin International's Zhang. "The past distorted relationship between returns and risks can then be corrected."
Correct and that means slower growth as ponzi lending dries up. Could this blossom into a full-bore credit crunch?..
And another interesting development is that after last week's inter-bank tightening on PBOC currency intervention, the rates charged by banks to each other have collapsed; both SHIBOR and repo markets are suddenly at the cheapest in well over a year: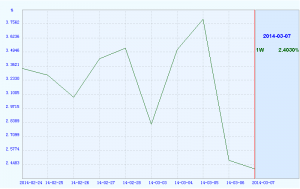 Either banks are suddenly not lending so much and don't need dough from one another or the PBOC is happy to flood the market with liquidity to prevent a seizure, or both.
There is obviously a risk that this gets out of hand. But my base case remains that China's authorities are using these oscillations between credit tightening and loosening, fiscal expansion and contraction to nudge forward productivity over credit-driven growth.
3---Ukraine crisis is about Great Power oil, gas pipeline rivalry
, Guardian
Summary: Ukraine signed
a $10 billion shale gas deal
with US energy giant Chevron "that the ex-Soviet nation hopes could end its energy dependence on Russia by 2020." (Then)
Yanukovych's decision to
abandon
the EU agreement in favour of Putin's sudden offer of a 30% cheaper gas bill and a $15 billion aid package provoked the protests.
To be sure, the violent rioting was triggered by frustration with Yanukovych's rejection of the EU deal, along with
rocketing energy, food and other consumer bills
, linked to Ukraine's domestic gas woes and abject dependence on Russia.
Police brutality
to suppress what began as peaceful demonstrations was the last straw.....
Resource scarcity, competition to dominate Eurasian energy corridors, are behind Russian militarism and US interference...
Professor R. Craig Nation, Director of Russian and Eurasian Studies at the US Army War College's Strategic Studies Institute, in
a NATO publication
:
"Ukraine is increasingly perceived to be critically situated in the emerging battle to dominate energy transport corridors linking the oil and natural gas reserves of the Caspian basin to European markets... Considerable competition has already emerged over the construction of pipelines. Whether Ukraine will provide alternative routes helping to diversify access, as the West would prefer, or 'find itself forced to play the role of a Russian subsidiary,' remains to be seen."
A more recent US State Department-sponsored
report
notes that "Ukraine's strategic location between the main energy producers (Russia and the Caspian Sea area) and consumers in the Eurasian region, its large transit network, and its available underground gas storage capacities", make the country "a potentially crucial player in European energy transit" - a position that will "grow as Western European demands for Russian and Caspian gas and oil continue to increase."
Ukraine's overwhelming dependence on Russian energy imports, however, has had "negative implications for US strategy in the region," in particular the strategy of:

"... supporting multiple pipeline routes on the East–West axis as a way of helping promote a more pluralistic system in the region as an alternative to continued Russian hegemony."...
Yanukovych's decision to
abandon
the EU agreement in favour of Putin's sudden offer of a 30% cheaper gas bill and a $15 billion aid package provoked the protests.
To be sure, the violent rioting was triggered by frustration with Yanukovych's rejection of the EU deal, along with
rocketing energy, food and other consumer bills
, linked to Ukraine's domestic gas woes and abject dependence on Russia.
Police brutality
to suppress what began as peaceful demonstrations was the last straw.
But while Russia's imperial aggression is clearly a central factor, the US effort to rollback Russia's sphere of influence in Ukraine by other means in pursuit of its own geopolitical and strategic interests raises awkward questions. As the
pipeline map
demonstrates, US oil and gas majors like Chevron and Exxon are increasingly encroaching on Gazprom's regional monopoly, undermining Russia's energy hegemony over Europe.
Ukraine is caught hapless in the midst of this accelerating struggle to dominate Eurasia's energy corridors in the
last decades
of the age of
fossil fuels
.
For those who are pondering whether we face the prospect of a New Cold War, a better question might be - did the Cold War ever really end? ...
Ukraine signed
a $10 billion shale gas deal
with US energy giant Chevron "that the ex-Soviet nation hopes could end its energy dependence on Russia by 2020." The agreement would allow "Chevron to explore the Olesky deposit in western Ukraine that Kiev estimates can hold 2.98 trillion cubic meters of gas." Similar deals had been struck already with Shell and ExxonMobil.
4---
Companies Profiting the Most From War
, 247 wall st
5---
Japan fourth-quarter growth, external balance suffer blow in test for Abenomics
, Reuters
(When you're in a hole, stop digging)
The fact that growth slowed sharply marks a failure of Abenomics that depends on the weak yen and the BOJ easing. But (the policies) have neither raised Japan's growth trend nor improved its current account," said Hiromichi Shirakawa, chief economist at Credit Suisse in Tokyo.
"The BOJ may have no choice but to ease policy further by increasing risk asset purchases as early as in April, depending on market moves. It could justify such a move by reasoning that this fiscal year's GDP is likely to undershoot its projection."....
More worryingly, and giving credence to the argument that a weak yen alone is not a panacea for Japanese exports, shipments volume fell 0.2 percent in the year to January, according to the finance ministry's trade data.
GDP grew 0.2 percent in the October-December period before annualizing the rate, down from a preliminary 0.3 percent, the Cabinet Office data showed.
Capital spending rose 0.8 percent, less than the initial reading of 1.3 percent. Private consumption rose 0.4 percent, slower than the preliminary 0.5 percent.
....
Japan's economic recovery suffered a blow at the end of last year and the current account deficit ballooned to a record in January, raising fears of a stumble in the world's third-largest economy as activity wilts ahead of a sales tax increase in April.
In the fourth quarter of last year, Japan's economy grew at an annual rate of just 0.7 percent, revised figures show, slower than the initial estimate of 1.0 percent on weaker business investment and consumption. The slowdown from a revised 0.9 percent pace in the previous three months bolsters expectations that the Bank of Japan may ease monetary policy further in coming months to safeguard a fragile recovery.
In a further negative sign for the export-reliant economy, the current account deficit widened to a record 1.589 trillion yen ($15.38 billion), easily exceeding a median estimate for a 1.4 trillion yen deficit as shipments failed to substantially pick up despite a weaker yen.
The disappointing data join a recent run of soft indicators that have raised doubts about Prime Minister Shinzo Abe's strategy to spark sustainable growth through massive monetary and fiscal stimulus, as well as structural reforms.
"Abenomics" helped the economy grow above an annual clip of 4 percent in the first half of last year - the best among advanced economies - but growth slowed to below 1 percent in the second half as exports, capital spending and private consumption lagged.
6---
Ukraine shock waves jeopardize global economy
, Nikkei
Ukraine's crisis threatens global stability.....
The European Union imports 30% of natural gas for its consumption through pipelines from Russia, and 60% of the procurement is via Ukraine. If Russia cuts off its supply, Europe may turn to crude oil as an alternative, pushing up prices for the resource...
Geopolitical risk may increase the yen's value and cause the Nikkei Stock Average to fall by some 500 points," said Soichiro Monji, chief strategist at Daiwa SB Investments.
7---
Debt Exceeds $100 Trillion as Governments Binge
, Bloomberg
The amount of debt globally has soared more than 40 percent to $100 trillion since the first signs of the financial crisis as governments borrowed to pull their economies out of recession and companies took advantage of record low interest rates.
The $30 trillion increase from $70 trillion between mid-2007 and mid-2013 compares with a $3.86 trillion decline in the value of
equities
to $53.8 trillion, according to the Bank for International Settlements and data compiled by Bloomberg. The jump in debt as measured by the Basel,
Switzerland-based BIS
in its quarterly review is almost twice the U.S.
economy
.
Borrowing has soared as central banks suppress benchmark interest rates to spur growth after the U.S. subprime mortgage market collapsed and Lehman Brothers Holdings Inc.'s bankruptcy sent the world into its worst financial crisis since the Great Depression. Yields on all types of bonds, from governments to corporates and mortgages, average about 2 percent, down from more than 4.8 percent in 2007, according to the Bank of America Merrill Lynch Global Broad Market Index.
"Given the significant expansion in government spending in recent years, governments (including central, state and local governments) have been the largest debt issuers," said Branimir Gruic, an analyst, and Andreas Schrimpf, an economist at the BIS. The organization is owned by central banks and hosts the Basel Committee on Banking Supervision, which sets global capital standards. ...
Total debt levels, the sum of household, government and corporate debt, haven't declined at all in recent years," said Ben Bennett, a credit strategist in
London
at Legal & General Investment Management, which oversees the equivalent of about $120 billion of corporate bonds. "Each time there's a wobble, the central banks turn on the taps. Either that works by creating growth with asset prices eventually coming into line with fundamentals, or it doesn't and we're in for a massive fall
8---
From Now On, No Compromises Are Possible For Russia
, Testosterone Pit
From the economic point of view, everyone should get ready for tough actions from Moscow. Sergei Glazyev, the most hardline of Putin's advisors, sketched the retaliation strategy: Drop the dollar, sell US Treasuries, encourage Russian companies to default on their dollar-denominated debts, and create an alternative currency system (reference currency) with the BRICS and hydrocarbon producers like Venezuela and Iran...
The Western media ignore another key supporter of hardline economic measures, Putin's ally and trusted friend, Rosneft president Igor Sechin. At last October's World Energy Congress in Daegu, South Korea, Sechin suggested that it was "advisable to create an international stock-exchange for the participating countries, where transactions could be registered with the use of regional currencies."
Until February 21st, Moscow was content with the slow expansion of its economic sphere of influence. Now, the hard-liners have the possibility to go all in and pursue their radical projects and strategies.
....
Washington has defaulted on
all
of its key agreements made with USSR/Russia during the last 30 years. Gorbachev was promised that Eastern Europe would not be taken into NATO. Country by country, it became part of NATO, and Yugoslavia was dismantled despite Russia's objections. The US acted as the winner of the Cold War and guided its policies by the famous principle of "
Vae victis!
" Woe to the vanquished!
The "hawks" in Washington think they can push Russia around indefinitely, that Russia, in order to become an "accepted partner" in the West, would still try to negotiate, be diplomatic and peaceful.
Washington's defaulting on an explicit agreement regarding Ukraine's future and the prospect of NATO troops on the ground in Ukraine finally convinced Vladimir Putin and a big part of the Russian elite that there is no point in negotiating with the US. It means that from now on, no compromises are possible.
For America, the situation in Ukraine is a geopolitical game, another opportunity to hurt Russia's interests. For Russia, it's not a geopolitical game. It's a matter of national identity, it's an ethnic matter. Almost every Russian I know has relatives in Ukraine. Roughly a third of Russian senators and members of the government were born in Ukraine.
9---
More Americans Than Ever Think US 'Should Mind Its Own Business'
, PEW
10--
35 Countries Where the U.S. Has Supported Fascists, Drug Lords and Terrorists
, alternet
11--
Foreclosures tip 7 million
HW
Seven million. Seven and six zeroes. That's how
many homeowners have experienced foreclosure since the housing market peaked in 2006.
Dr. HousingBubble ran the numbers
and has some worrisome thoughts on the impact, and what's happened since with the flood of investors snapping up these distressed and delinquent properties.
"In total, 7 million Americans have been served with the bitter taste of foreclosure. On the flipside, since we know that roughly 30% of all purchases have gone to
investors and Wall Street
, we can say that probably over this same period 2,000,000 homes are now in the hands of some sort of investors (i.e., big money, small money, foreign money, and second homes). You also have to wonder how many of these people that lost their homes in foreclosure are itching to get back on the horse and buy again. Credit standards are fairly tough for getting a loan today even though rates are low. And those with the credit and income are battling it out in
flippervilles
where "all cash" is dominating the scene
The Washington Post had a
piece
explaining the seeming anomaly that cash-out refinancing is still well below bubble levels even though house prices have recovered much of their ground. The piece explains this gap by the fact that homeowners are a wealthier group on average than they were in the bubble years and therefore less likely to tap equity for spending.
While this is in part true, the more obvious explanation that is that inflation adjusted house prices are still almost 30 percent below the peak of the bubble, which is a good thing. It is also likely that homeowners do not expect continually rising house prices as they did in the bubble years which would make them less likely to withdraw equity from their homes.
13--
In the Real World the Trade Deficit Is More Important Than the Budget Deficit
, dean baker
14--
The New Ukraine: -Even the pretense of democracy has been abandoned,
wsws
In Ukraine, the newly-installed regime is relying on various oligarchs to rule the country in alliance with far-right and fascist groups. In recent days, several oligarchs have been appointed to top government jobs, including leadership of regional administrations in the east that have been the scene of pro- and anti-government demonstrations and conflicts.
Ihor Kolomoyskyi was named head of Dnepropetrovsk Regional Administration, while Sergey Taruta, the country's 16th richest man, was appointed as the new regional governor of Donetsk. Kolomoisky, a metals, banking and media tycoon worth $2.4 billion, told the Associated Press that his task would be to quell any unrest in his region, which was, he claimed, being fomented by agents from Russia.
Rinat Akhmetov, Ukraine's richest man, worth an estimated $15.4 billion and until recently a major backer of Yanukvoych's Party of Regions, has also been lined up to demand national unity.
The former US ambassador to Ukraine, John Edward Herbst, was unapologetic, telling the AP: "The oligarchs taking on this responsibility is a demonstration of their commitment to an independent, sovereign and territorially integrated Ukraine."
15
---Venezuela claims USA is main inspirer of violence in the world
, pravda
Caracas called the United States the main inspirer of violence in the world. The Venezuelan authorities condemned U.S. Vice President Joe Biden's statement on the situation in Venezuela.
In an official message, the Cabinet Venezuela, in particular, notes that States "is expert on invasions, economic blockades and wars that start on the base of economic interests under the pretext of imaginary dangers." Therefore, "the creator of lethal weapons of mass destruction, who is responsible for the deaths of millions of civilians around the world, has no moral right to talk about the disrespect of human rights in Venezuela."