1---
Hussman Warns S&P 500 Over-Valuation Now Higher Than Housing In 2006
, zero hedge
Based on valuation metrics that have demonstrated a near-90% correlation with subsequent 10-year S&P 500 total returns, not only historically but also in recent decades, we estimate that
U.S. equities are more than 100% above the level that would be associated with historically normal future returns
. We presently estimate 10-year nominal total returns for the S&P 500 averaging just 2.2% annually over the coming decade, with
zero or negative nominal total returns on every horizon of less than 7 years
. Regardless of very short-term market direction, it is urgent for investors to understand where the equity markets are positioned in the context of the full cycle....
It is the series of extreme instances over the past year that give investors the hope and delusion that historically reckless market conditions will lead only to further gains and greater highs.
This is a mistake born of complacency in the face of a nearly uninterrupted, Fed-enabled 5-year market advance, and is the same mistake that was made in 2000 and again in 2007.
By the time the present market cycle is completed, we expect the S&P 500 to be at least 40% lower than present levels.
Only the reliance on historically unreliable valuation metrics, and what Galbraith called the
"extreme brevity of financial memory"
makes that assertion seem the least bit controversial...
It is incorrect to believe that the 2008-2009 market plunge and financial crisis were caused by the housing bubble.
The housing bubble was merely the expression of a very specific underlying dynamic. The true cause of that episode can be found earlier, in Federal Reserve policies that suppressed short-term interest rates following the 2000-2002 recession, and provoked a multi-year speculative "reach for yield" into mortgage securities. Wall Street was quite happy to supply the desired "product" to investors who – observing that the housing market had never experienced major losses – misinvested trillions of dollars of savings, chasing mortgage securities and financing a speculative bubble. Of course, the only way to generate enough "product" was to make mortgage loans of progressively lower quality to anyone with a pulse.
To believe that the housing bubble caused the crash was is to ignore its origin in Federal Reserve policies that forced investors to reach for yield.
2---
China Loan Creation Tumbles, Lowest Credit Growth In 20 Months,
zero hedge
...
which dragged total credit growth down to a 20-month low of 17.1% yoy from 17.5% yoy, according to our estimate
.
Breaking down the loan creation by various components, va SocGen:
Yuan loans increased notably less than expected by CNY 645bn (Cons. 730bn, SG 750bn). Although it was still 25bn more yoy, growth of outstanding loans inched down to 14.2% yoy from 14.3% yoy. However, once again,
non-bank credit saw a much bigger slowdown...
Finally, the French bank's conclusion is hardly welcome for China bulls:
China's total credit growth slowed further in February, again driven by shadow banking deceleration. Lower interbank rates have not really helped ease credit conditions. It seems that the rising default risk has started to erode Chinese investors' confidence. Together with continued regulatory tightening on banks' off-balance-sheet activity, we are certain that this slowing credit trend has further to go and will inflict real pain on the economy. The season of weak Chinese data has just begun.
3---
Why China's economy is in trouble in one chart
, marketwatch
So when China said its
exports fell 18.1%
year-on-year in February–economists had been expecting growth of 5%–it sparked waves of sales in equities and commodities that reverberated from New York to Frankfurt.

While it may be too soon to know whether the sharp drop in exports will be an ongoing narrative, one thing worth noting is that China's exports have not fallen this dramatically since mid-2009 when the international financial markets were still reeling from the U.S. financial crisis
4---
Fed Chair Bernanke Held 84 Secret Meetings in the Lead Up to the Wall Street Collapse
, Wall Street on Parade
...After a 5-year delay, the Federal Reserve has released the full transcripts of its meetings in 2007 and 2008 – the two key years of the crisis. But for unexplained reasons, the Fed Chairman, Ben Bernanke continues to redact 84 meetings from his appointment calendar that occurred between January 1, 2007 and the pivotal collapse of Bear Stearns on the weekend of March 15-16, 2008.
At first blush, one might think that Bernanke is attempting to protect the image of the Chairman of the Federal Reserve Board of Governors as independent of any political influence or business lobbying. But the mystery of these redactions is deepened by the fact that Bernanke has no problem listing meetings with President Obama, specific members of Congress, representatives of the Bank of England, every major CEO of a Wall Street firm, titans of industry like the heads of Ford Motor, IBM, and British Petroleum, quasi lobbyists like the U.S. Chamber of Commerce. Even the Reverend Jesse Jackson of RainbowPUSH Coalition is listed as meeting with Bernanke.
So just who is left whose identify needs to be secreted away for more than five years? One meeting on Tuesday, September 25, 2007 is so secret that both the meeting participant(s) and the location are redacted.
A careful study of where the most heavy concentration of redactions occur suggests two things: (1) Bernanke does not want the public to know that the Fed knew that Citigroup was in severe crisis months before the public became aware and (2) the Fed Chair's participation in efforts to save Bear Stearns from a bankruptcy filing was more involved than presently known.
5---
Panic at the Federal Reserve 2007: Robert Rubin Calls at 5 P.M.
, WSOP
6--- Housing Graveyard:
7 million foreclosures
, dr housing bubble
You wouldn't know it but since the peak in 2006 we have witnessed 7 million foreclosures: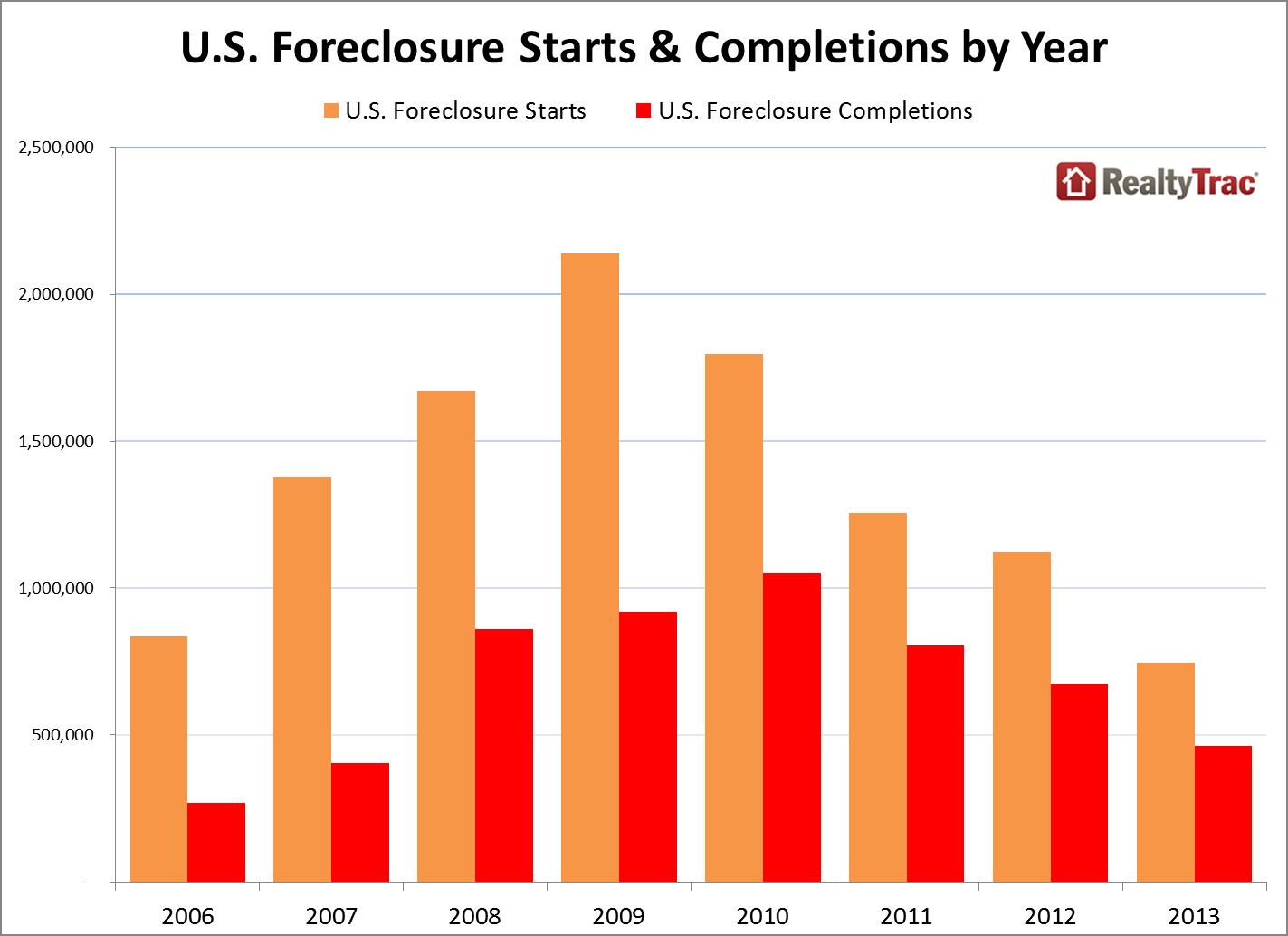 Even
The assumption is that the market is being driven up organically by regular households and that is not the case: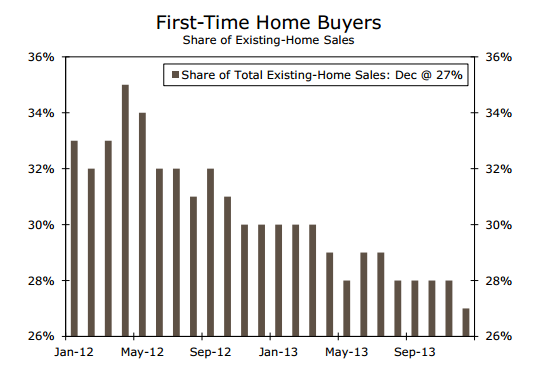 Source: Wells Fargo
The number of first time buyers is pathetic because household formation is weak and many young Americans are living at
home with mom and dad
. Forget about buying, they are having a tough time
paying higher rents to the new feudal landlords
. You would expect with the rapid rise in prices that existing home sales are off the charts but they are not. For most people in the perpetual serf demographic, a mortgage is necessary to buy but look at requests for mortgages via applications: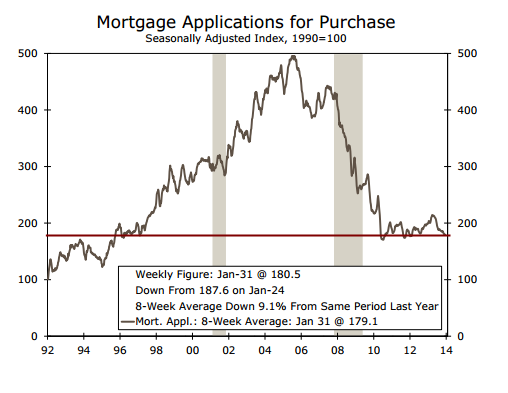 We are back to levels last seen nearly 20 years ago!
Ironically Wall Street owning
rental property
is going to put them face to face with the proletariat and will soon come to realize that you can only raise rents based on local area incomes. Try cash-flowing a property in Santa Monica or Pasadena at these rates. Even flippers are starting to enter pricing purgatory one bad flip at a time. At least someone will get a new granite countertop sarcophagus home built in the 1800s with hardwoods floors!
7---
Stock caution urged as margin debt levels hit new highs,
marketwatch
P/E valuations, record highs flash warnings; stock pickers look for quality, value
Margin debt, which tends to spike alongside stock rallies and pullbacks, has been
rattling investors for months
. "As that debt goes up, the market's foundation gets shakier and shakier," said Brad McMillan, chief investment officer for Commonwealth Financial. "The correction could be deeper."
Also of concern is the bull market's fifth birthday on Monday. The average bull market only lasts about 4.5 years, putting the current one in rarefied territory. Of the 12 bull markets since World War II, only half have lasted five years, and
only three have made it to their sixth birthday
.
Speculation about bubbles returned last week. Technical analysts pointed to a
possible bubble formation in biotech stocks
. Dallas Federal Reserve President Richard Fisher raised concern about
"eye-popping levels"
of some stock metrics like margin debt.
Valuations, or the prices of stocks compared to the companies' underlying earnings, have passed levels last reached in 2007, or the top of the last bull market. Bull markets tend to expire when trailing 12-month P/E ratios get into 17x or 18x territory, says LPL Financial's Jeff Kleintop. They're approaching 18x now.
8---
Coastal California housing market: Prices hover on low volume,
oc housing
The housing market remains flat on low volume during the he fall and winter of 2013/2014. Housing bulls expect a brisk spring rally with increasing sales; housing bears expect flat pricing on low volume....
February 12, 2014
La Jolla, CA—Southern California logged its lowest January home sales in three years as buyers continued to wrestle with a tight inventory of homes for sale, a fussy mortgage market and the highest prices in years. The median price paid for a home dipped from December ….
A total of 14,471 new and resale houses and condos sold in Los Angeles, Riverside, San Diego, Ventura, San Bernardino and Orange counties last month. That was down 21.4 percent from 18,415 in December, and down 9.9 percent from 16,058 sales in January 2013, according to San Diego-based DataQuick.
…
Last month's Southland sales were 17.3 percent below the average number of sales – 17,493 – in the month of January since 1988. Sales haven't been above average for any particular month in more than seven years. January sales have ranged from a low of 9,983 in January 2008 to a high of 26,083 in January 2004.
9---
Las Vegas housing bubble,
you tube