1
---U.S. Markets Tumble as Fear Spreads,
WSJ
Stocks Post Worst Loss in Seven Months as Investors World-Wide Confront Pullback in Stimulus, Growth Worries
U.S. stocks tumbled Friday to their biggest loss in more than seven months, extending a global selloff that investors fear signals turmoil to come as financial markets adjust to a pullback in central-bank stimulus.
The declines extend a dark beginning of the year for equity investors world-wide, a jarring drop for markets that climbed imperviously through 2013.
The Dow Jones Industrial Average fell 318.24 points, or 2%, to 15879.11. The Stoxx Europe 600 lost 2.39%, and Germany's DAX, down 2.48%, had its sharpest fall in months. The Nikkei also fell 1.94%.
While those drops were dramatic, much of the pain of investors' readjustment is landing on developing economies, from Brazil and India to Thailand and South Africa.
In recent years they were buoyed by the high tide of cash from the U.S. Federal Reserve's stimulus and by China's voracious growth.
Now, those forces are receding, with the Fed expected to reduce monthly bond purchases again on Wednesday.
Investors are pulling back with them....
a shifting Federal Reserve policy could alter the tides of capital flowing through the world economy. As the Fed has pumped dollars into the U.S. financial system to boost growth at home, waves of investment money have flooded into markets overseas in search of returns that beat exceptionally low U.S. interest rates, pushing up prices there.
Now, as the Fed steps back, the prospect of higher returns in the U.S. promises to pull that money back in. Investors in emerging markets are struggling to figure out how much compensation to demand for their risks, especially in economies that appear weak....
Friday's swoon was notable for its breadth—nearly all major equity markets were in the red. In foreign-exchange markets, the selloff began with currencies such as the South African rand and Turkish lira that have been viewed as vulnerable because of sluggish domestic growth. But it soon spread to currencies of countries with relatively solid fundamentals, such as Mexico's peso and South Korea's won. Currencies also slid in Eastern Europe....
Several big emerging-market countries, Turkey among them, are running large deficits with the rest of the world—on a broad measure they import more than they export. That makes them dependent on financing from abroad to make up the difference.
As investors become less likely to provide it, the countries get squeezed. One way to right the balance is to increase exports, but China's deceleration makes that tough for its competitors and trading partners. A weaker currency is another option—it both potentially sparks exports, making them cheaper on world markets, and discourages imports, which get more expensive at home—but it comes at the cost of boosting payments on foreign debt.
Emerging-Market Rout Sparks
The Dow industrials took their biggest daily tumble in more than seven months Friday, caught up in a two-day selloff in emerging-market stocks and currencies....The Dow Jones Industrial Average slid 318.24 points, or 2%, to 15879.11, a five-week low. For the week, the benchmark fell 3.5%. ....
The S&P 500 index dropped 38.17 points, or 2.1%, to 1790.29. The Nasdaq Composite Index shed 90.70 points, or 2.2%, to 4128.17. ...
Concerns about China's economy, global central-bank stimulus and U.S. corporate earnings led to selling in risky assets this past week. The degree of volatility in global stocks, bonds and currencies caught some investors wrong-footed, said Ian Winer, director of equity trading at Los Angeles brokerage Wedbush Securities.
"We're seeing funds thinking, 'there's clearly some macro risk I hadn't considered,'" Mr. Winer said. "You'll sell stocks to bring down your overall exposure, so you'll protect yourself to play another day. We're seeing funds do that." .....
Assets seen as havens continued to benefit. Gold futures gained 0.2% to settle at $1,264.50 an ounce, a two-month high. Buying in bonds pushed the 10-year Treasury note's yield down to 2.737%, below its seven-week low of 2.774% on Thursday. Treasury yields fall as prices rise.
The Chicago Board Options Exchange Volatility Index, a measure of options traders' expectations for big stock-market swings, jumped 29%, its biggest one-day increase since April.
Stock-market volatility spent much of last year at historically levels, as the market rose in nearly uninterrupted fashion.
Panel on non-traditional mortgage investments takes a look
HOPE NOW records 44K mods, down from 50K
Since 2007, HOPE NOW has completed 6.8 million loan modifications. About 5.5 million are proprietary mods, while roughly 1.3 million received mods through the government's Home Affordable Modification Program.
The number of loan delinquencies more than 60 days past due came in at 2.02 million in November, down 1% from 2.04 million in October.
5---
Corporations Hoard Cash While Americans Go Without A Job,
economic populist
The amount of cash multinational corporations are stashing is at an all time high and economists are wondering why. A recent Federal Reserve
research paper
examined some of the reasons. A big one is multinationals pay no taxes on profits if they park them offshore. A stash of cash is building and the miser pile is now a mountain.
Federal Reserve economists Sánchez & Yurdagul tell us corporations were sitting on over
$5 trillion
in cash and short term investments during 2011. The last
flow of funds
report also shows corporate cash, otherwise known as liquid assets, at an all time high, $1.925 trillion in the 3rd quarter of 2013.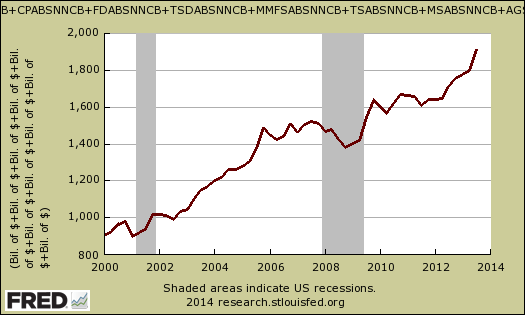 ...
A large study released early last year showed
corporate taxes are at a 60 year low
. Multinationals park huge amounts of cash offshore, all to avoid paying taxes on these vast sums if brought to the United States, at least that's the claim. The official corporate nominal tax rate is 35%, but multinational corporations never pay that and they would not pay 35% if they repatriated those offshore held hoards of cash back into the United States...
Offshoring jobs)
The below graph shows 2011 isn't an anomaly. U.S. multinational corporations have been moving jobs offshore and creating jobs offshore for quite some time......
The thing so astounding is America to this day has an employment crisis. Yet giving U.S. multinationals a tax holiday for using money parked offshore to hire U.S. citizens just never seems to come up as a common sense policy. Imagine the economic boost trillions of dollars would give to the real economy if these funds were tied directly to U.S. citizen employment. If one could create not just zero taxes on funds repatriated for this purpose, but a
tax rebate
for retaining and training U.S. citizens long term, it would set the U.S. economy on fire. Yet doing something for America's middle class and highly educated work force never seems to come up as a solution. Even mentioning the fact corporations have a responsibility to provide meaningful employment to the citizens of the nation they reside is somehow
taboo
. Isn't that odd with such damning statistics U.S. multinationals are economically hollowing out the nation? Why would any political persuasion object to tax breaks, rebates and cash repatriation in order to bring this nation back to full employment and a humming economy pronto? It is almost as if our own government and powers be hate Americans, for at all costs they will not give us a common sense and practical break.
6---
US stocks slammed; Dow falls 300-plus points in worst week since 2011
, cnbc
7---
Emerging market rout turns serious, punctures exuberance in Davos
, Pritchard, Telegraph
IMF's deputy-director says the Fund is watching the violent gyrations around the world "very carefully"...
An internal study by the IMF concluded that the effects of quantitative easing by the Fed had led to a $470bn flow of funds into emerging markets that would not have occurred otherwise. Officials say privately that a sudden reversal as the Fed tapers is a major risk, and could be hard to control.
Nouriel Roubini, from Roubini Economics, said the latest turbulence is a "perfect mini-storm", calling on the raw material producers to bite the bullet on deep reforms rather than relying on a revival of dying commodity supercycles to rescue them.
It was another wild day for those emerging market states with large trade deficits or high levels of short-term foreign debt that has to be rolled over. ....
Nariman Behravesh, chief economist at IHS Global Insight, said Fed tapering was the "straw that broke the camel's back" for the BRICS and the emerging market darlings of the last cycle.
"They benefited hugely from the credit boom, a commodities super-cycle propelled in large part by China's double-digit growth rates and "hyper-globalization" as multinational corporations expanded global supply chains. But all three effects are now falling away."
"They squandered their opportunity. Productivity has plummeted and they face daunting structural challenges. Without major microeconomic reforms, a return to the BRICS party of the 2000s is unlikely. Turn out the lights," Mr Behravesh concluded.
8---
Is austerity working in Greece
?, CEPR
Four years later, Greece is down about a quarter of its pre-recession national income – one of the worst outcomes of a financial crisis in the past century, comparable to the worst downturn of the United States' Great Depression. Unemployment
has passed
[PDF] 27 percent and more than 58 percent for youth (under 25). There are fewer Greeks
employed
than there have been at any time in the past 33 years. And real public health care spending
has been cut
[PDF] by more than 40 percent, at a time when people have needed the public health system more than ever.
The IMF is the subordinate partner in the "troika" (including the European Central Bank and the European Commission) that has been calling the shots for the Greek economy these past four years, but it is the one in charge of putting numbers on the page. It repeatedly projected economic recoveries for 2011, 2012, and 2013 that did not materialize...
Last month the Greek parliament approved a stimulus program involving highway construction that is quite large. According to the Ministry of Infrastructure, Transport, and Networks, total spending on this project will be 7.5 billion euros over the next year and a half. This amounts to about 2.7 percent of GDP during this period. For comparison, the U.S. federal stimulus that helped us out of our 2008-09 Great Recession (after subtracting the state governments' budget tightening) was less than 1 percent of GDP.
This stimulus will likely make the difference between growth and another year of recession. Most of the financing comes from European Union grants, so it does not add to Greece's debt.
In other words, the Greek economy is going to grow next year because of a significant policy reversal. The austerity, or fiscal tightening, is basically coming to an end.
Why is this so important? Because the people who designed or supported the policy of the last four years will, when the Greek economy begins to recover, claim that the "austerity worked." ...
The human tragedy of the past five years in Europe, as well as the repeated financial crises and damage to the world economy
caused
by
bad policy
there could have been avoided – as many economists have argued.
9--Why are US corporate profits so high? Because wages are so low
, Reuters
Not in the slightest, according to Jan Hatzius, chief U.S. economist at Goldman Sachs:
"The strength (in profits) is directly related to the weakness in hourly wages, which are still growing at just a 2% nominal pace. The weakness of wages and the resulting strength of profits are telling signs that the US labor market is still far from full employment.
So, corporate profits are their highest ever and wage growth is near its lowest in half a century. But don't expect the transfer of that cash from businesses to workers to start any time soon, says Hatzius:
"The bottom line is that the favorable environment for corporate profits should persist for some time yet, and the case for an acceleration in the near term is strong. Hourly labor costs would need to grow more than 4% to eat into margins on a systematic basis. Such a strong acceleration still seems to be at least a couple of years off
10--
The risk-on trade sends emerging markets currencies to new lows
, sober look
11--
Taper Quandary: Who's going to buy all those Treasuries?,
sober look
The Fed's taper, combined with weaker foreign purchases of treasuries, will leave private domestic investors to take on an increasingly larger portion of treasury purchases. The only way to attract more domestic buyers is with higher yields - which will ultimately result in rising rates across the curve.
12---
Obama poses as opponent of inequality ahead of State of the Union address
, wsws
After presiding over the slashing of food stamp benefits, the ending of emergency jobless pay and the imposition of sequester budget cuts in the past year, President Barack Obama plans to make the question of economic inequality the centerpiece of his State of the Union address Tuesday...
Even if they were passed, these measures would do virtually nothing to alter the historically unprecedented levels of inequality in the United States. For the past five years, the Obama administration has handed trillions of dollars to the banks, leading to a record rise in the stock market as well as corporate profits and the wealth of the top one percent. Meanwhile, wages have steadily declined and nothing has been done to address the greatest social crisis since the Great Depression.
The main purpose of the administration's talk of inequality is to provide political cover for its liberal and pseudo-left apologists, who are using the populist rhetoric to try to bolster flagging support for the Democrats. This was exemplified by
New York Times
columnist Paul Krugman, who wrote Thursday: "If, as has been widely reported, President Obama devotes much of his State of the Union address to inequality, everyone should be cheering him on."...
In addition to the 1.3 million people who lost their unemployment benefits on December 28 as a result of the lapse in federal benefits, 3.6 million more unemployed people will exhaust their cash benefits in the course of 2014...
According to a recent survey by the Food Bank for New York City, 85 percent of the city's food pantries experienced increased demand for food assistances as a result of the cut, and 23 percent of emergency food assistance providers have had to reduce the number of meals they provide. Over half of the city's food banks reported that need increased by 26 percent or more.
The number of people receiving food assistance from food pantries and soup kitchens has gone up by fifty percent, according to Feeding America.
Last year's cut to food stamps is only the beginning. According to newspaper reports, congressional Democrats have already agreed to slash an additional $9 billion in food stamp spending on top of the $5 billion cut implemented last year.
Behind the Obama administration's empty rhetoric about inequality, the reality is an unprecedented attack on the social conditions of working people.
13---
Global stock sell-off highlights financial parasitism,
wsws
...Such is the historically unprecedented scale of parasitism at the very heart of the world capitalist system.
Stock markets around the world plunged Friday as emerging market currencies hit record lows. The rout on financial markets began Thursday and intensified Friday, triggered by a report showing a slowdown in the growth of Chinese factory output and anxiety over the impact of a further cutback in the US Federal Reserve's multi-billion-dollar bond-buying program.
Stock prices plummeted from North America to Europe, Asia and South America. In the US, the Dow Jones Industrial Average fell 318 points (-1.96 percent) to close at 15,879, ending below 16,000 for the first time since December 17. On Thursday, the Dow fell 176 points. For the week, the blue chip index dropped 579 points, its worst point drop since September of 2011.
The broader Standard & Poor's 500 stock index fell 38 points (-2.09 percent), ending below 1,800 for the first time since December 17. The tech-heavy Nasdaq composite index declined 90 points (-2.25 percent).....
The decision of the Fed to begin cutting back its money-printing, bond-buying program, combined with slowing growth in China and fears of deflation in Europe, has destabilized economies around the world that experienced rapid growth on the basis of massive inflows of speculative, "hot" money from banks and hedge funds in the US, Europe and Asia.
$10 trillion
A recent report by Goldman Sachs entitled "Emerging Markets: As the Tide Goes Out" warned that economic problems in China, Brazil, Russia, Turkey and other countries are not just cyclical, but call for "a significant reassessment of emerging market countries." The report predicted "underperformance and heightened volatility over the next five to ten years" in these economies.
A Reuters article published Friday under the headline "Rout in emerging markets may only be in Phase One" stated: "The flight of investors from the once-booming emerging markets they previously favored with $7 trillion worth of inflows may have only just begun."
These developments highlight the degree to which the world economy is dominated by the most parasitical and quasi-criminal forms of financial speculation. While the real economy continues to stagnate or decline, the capitalist system is kept afloat by massive infusions of virtually free cash into the financial markets. Central banks have pumped an estimated $10 trillion into the markets since the Wall Street crash of September 2008.....
This has been paid for through the destruction of jobs, wages and social welfare programs upon which hundreds of millions of working people depend.
The banks and corporations have not used the handouts from governments and central banks for productive investment—to rebuild crumbling infrastructures or expand the productive forces. The
Financial Times
reported Friday that US capital spending is expected to grow this year at its slowest pace in four years. And it is estimated that American non-financial companies are currently sitting on a cash hoard of $1.5 trillion.
Instead, the massive subsidies have been used to drive up the stock market and underwrite a speculative frenzy that has increased the wealth of the richest 1 percent at the expense of the overwhelming majority of the world's people. The S&P 500 index has risen by 170 percent from a twelve-year low in March of 2009, soaring 30 percent in 2013 alone.
The result is a staggering growth of personal wealth among a miniscule layer of society. This week, as the world's bankers and CEOs gathered at the annual World Economic Forum in the Swiss Alpine resort of Davos, the charity Oxfam released a report showing that the richest 85 individuals have more wealth than the bottom 50 percent of the world's population—3.5 billion people.