1
---The rise of real estate feudalism,
Dr Housing Bubble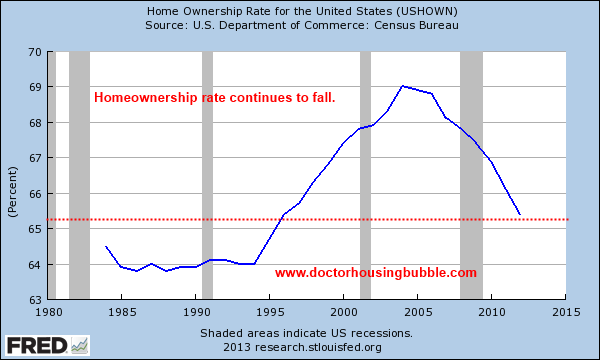 How
higher: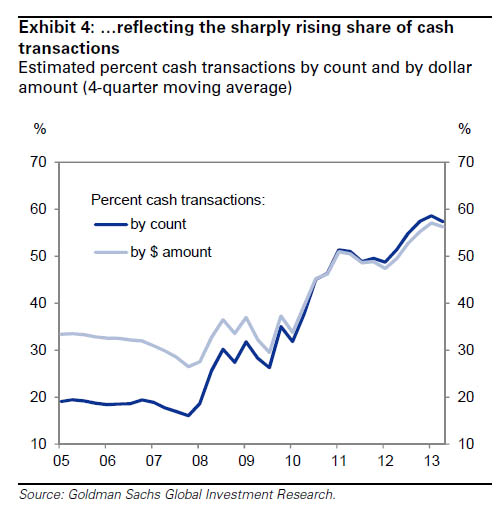 Low inventory is a symptom of market manipulation. Too many odd incentives and banking shenanigans have created a distorted market. The Fed now owns 12 percent of the mortgage market and is essentially the only buyer of mortgage backed securities. Look at all the above data. Who do you think is really winning here? Rents are higher. Home prices are higher. Yet the menu of good employment opportunities is limited. Incomes are hardly increasing. The
younger generation is massively in student debt
and they are having a tough time finding good work.
2---
Forget jobs: Here's why the Fed isn't tapering yet
, Housingwire
Jobs numbers alone simply aren't strong enough
The
Federal Reserve Bank of New York
released the fourth and final results
of its consumer expectations survey and the results predict anything but an improving economy. For most Americans, the economic world is still flat.
And by measuring expectation of credit availability the Fed analysts reveal that the nation exhibits a certain apathy toward the capital markets.
"While 42% of households reported somewhat or much harder credit access (relative to a year ago) in June, the corresponding proportion was roughly 50% in September and in October," they report. "Similarly, the proportion of households reporting somewhat or much easier credit access declined from 21% in June to 16% in October."
More importantly, the analysts appear to make the argument that these economic indicators, taken together, should do more to impact Fed monetary policy going forward. It is entirely possible that jobs numbers simply aren't a strong enough indicator to make a taper bet as early as December.
"By monitoring expectations for future outcomes, such as income and credit access, the Survey of Consumer Expectation will provide important insight to policymakers to formulate effective policy," they say. "Furthermore, the ability to track expectations and outcomes for specific demographic groups will help them design more precisely targeted policies."
3---
This is a startling reversal. Student debt is now the most delinquent debt class. 11.8 percent of all student debt is now 90+ days past due
. , Dr Housing Bubble
Student debt
Only a decade ago student debt was the smallest non-mortgage related debt in the country. In 2004 $260 billion in student debt was outstanding. Today? Student debt is now up to $1.03 trillion:
...
Today, you make this mistake and you enter debt servitude. It is clear that many are unable to pay their student debt: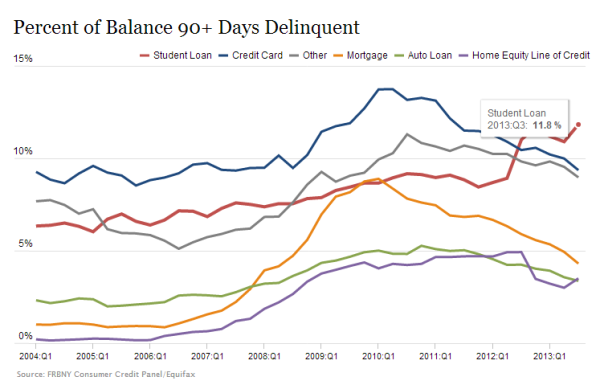 This is a startling reversal. Student debt is now the most delinquent debt class
Percent living at home
Many young people are living at home given the current economic conditions at hand: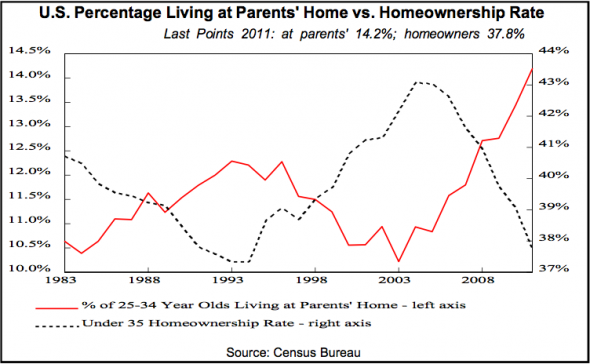 This is a major shift. Yet we are seeing a repeat of history. ...
the young have a hard time saving given their heavy debts and lower incomes so lenders are just dropping the amount needed to buy. In SoCal
FHA insured loans
with a 3.5 percent down payment are still 20 percent of the market. So you have the
large investors buying with all-cash
and then you have regular households stretching their budgets to get in. It is no surprise then that
affordability has fallen dramatically
even in the last year. The answer to this as it was during the last bubble is simply to increase the amount of debt shouldered by households. This continues to work so long as prices keep going up.
4---
Mandela was only removed from the U.S. "terrorist" list in 2008
., Washington's Blog
But the New York Times
reported
in 1990:
The Central Intelligence Agency played an important role in the arrest in 1962 of Nelson Mandela, the African National Congress leader who was jailed for nearly 28 years before his release four months ago, a news report says.
The intelligence service, using an agent inside the African National Congress, provided South African security officials with precise information about Mr. Mandela's activities that enabled the police to arrest him, said the account by the Cox News Service.
retired South African intelligence official, Gerard Ludi, was quoted in the report as saying that at the time of Mr. Mandela's capture, the C.I.A. had put an undercover agent into the inner circle of the African National Congress group in Durban.
Newsweek
confirmed
this story yesterday.
The Daily Beast
notes
:
In the 1980s, Ronald Reagan placed Mandela's African National Congress on America's official list of "terrorist" groups. In 1985, then-Congressman Dick Cheney voted against a resolution urging that he be released from jail. In 2004, after Mandela criticized the Iraq War, an article in National Review said his "vicious anti-Americanism and support for Saddam Hussein should come as no surprise, given his longstanding dedication to communism and praise for terrorists." As late as 2008, the ANC remained on America's terrorism watch list, thus requiring the 89-year-old Mandela to receive a special waiver from the secretary of State to visit the U.S.
…In South Africa, for decades, American presidents backed apartheid in the name of anti-communism. Indeed, the language of the Cold War proved so morally corrupting that in 1981, Reagan, without irony, called South Africa's monstrous regime "essential to the free world."
Indeed, Nelson Mandela was only removed from the U.S. "terrorist" list in
2008
.
Mandela was
highly critical
of U.S. foreign policy. And
anyone
– even U.S. citizens – critical of U.S. policy
may be labelled a bad guy
.
5---
Why The Jobs Report Is Worse Than You Think, In 2 Charts
, Mark Gongloff
6---
Soaring new home sales: Not what they seem
, cnbc
Both household income growth and spending expectations are basically flat-lined in the report. Sure, some say they think it will go up and some say down, but the takeaway is that there is no expectation of things getting any better or any worse.
It was the sharpest jump in more than three decades, but housing watchers are already poking holes in the new home sales numbers. After delays due to the government shutdown, data for both September and October were released together, in addition to a large downward revision for August. Follow the numbers, and the gains are not quite what the headline seems.
Contracts signed to buy newly built homes jumped 25.4 percent in October month to month, after falling 6.6 percent in September from August. The seasonally adjusted annual rate went from an originally reported 421,000 units in August, which was revised down to 379,000 units, and to 354,000 units in September. The number for September was a 10 percent drop from September of 2012. It then rose to 444,000 units in October. There is a nearly 20 percent margin of error on all these numbers.
The October 'preliminary' report released this morning, along with the terrible August and September data, is the outlier and will be revised lower next month in line with the new trend lower that began in July," noted
housing analyst Mark Hanson
.
August sales estimates were revised down by 15 percent on an unadjusted basis and September sales dropped from there.
7---
The Output Gap: Cumulative Losses, 2013Q3
, econbrowser
Today, I gave a presentation in the
Wisconsin Alumni Association's Global Hot Spot series
, entitled
America's Macroeconomic Policies and the Global Economy
. One figure from the presentation bears highlighting.
8---
Emerging bubble in corporate bonds,
sober look
Of course as corporate spreads come in, there is increasingly less cushion to compensate investors for the losses due to rising yields. And yields are likely to rise in 2014. There is no question that at least within corporate credit we are moving into "bubble" territory.
9---
Consumer expectations and household finances
, NY Fed
From Comments section economists view
anne said:

The bond market reflects the decisions of thousands and thousands of careful knowing investors, and is a proper reflection of the relative strength or weakness of the economy. The bond market is reflecting a relatively weak economy as has been the case since the beginning of 2008.