1
---Vegas Down!,
HW
(Investors vamoose?)
The Las Vegas market turned into the comeback kid after investors flooded the city in the wake of the real estate bust.
While investor activity drove up prices and helped restore one of the hardest hit housing markets in recent years, it appears their influence is starting to wane.
New research from
DataQuick
shows that last month, home sales in Vegas fell to their lowest level for any November recorded in the past five years. Waning home affordability, constrained supply and a decline in investor activity took most of the blame for interrupting investors' reign.
Inquiring investors found the median sale price dipping a bit from October to November, but the median price still hovered 26% above year ago levels, leaving buyers with less attractive pricing when compared to the deep discounts available after the housing downturn.
Overall, 3,539 new and resale homes and condos closed in escrow last month in the Las Vegas-Paradise metro area – down 15.4% from a month earlier and a 14.6% decline from last year, San Diego-based DataQuick said.
This is also the lowest number of November sales recorded since 2008 when 3,325 homes sold. Coincidentally, that was also at the beginning of the housing meltdown.
2---
Bond Worries: U.S. Treasury Bond Yield Climbs Past 3% for the First Time in More Than Two Years
, WSJ
Investors have sold Treasury bonds en masse this year to seek higher returns in stocks and riskier fixed-income assets. Through November, U.S. bond funds targeting Treasury debt suffered a net outflow of $40.2 billion in 2013, according to data provider Morningstar Inc.
In contrast, funds that invest in low-rated "junk bonds" issued by U.S. companies have attracted $2.6 billion from investors.
Treasury bonds are on track to suffer their biggest annual loss since 2009, according to Barclays PLC.
As of Friday, the Dow Jones Industrial Average was up 26% so far this year, on pace to finish with the benchmark index's strongest annual gain since 1996. The Dow slipped 1.47 points Friday to 16478.41, snapping the longest winning streak since a 10-session run that ended in March. For the week, the index rose 1.6%.
Stocks have remained strong despite the Federal Reserve's announcement this month that it will start scaling back its $85 billion-a-month bond buying in January.
That is the central bank's first major step to wind down its monetary stimulus five years after the financial crisis hit.
Some investors see no end in sight to the move into stocks from Treasury bonds. A continued exodus would push bond prices even lower and the 10-year yield higher.
"If we carry the economic momentum into next year and break above 3%, then one has to look for larger moves with an eye toward the 2011 yield highs at 3.75%," said Jason Evans, co-founder of hedge fund NineAlpha Capital LP in New York.
Rick Rieder, co-head of Americas fixed income at asset-management giant BlackRock Inc., said he doesn't expect interest rates to rise sharply. The reason: Fed officials have pledged to keep rates low through at least early 2015.
As a result, "risky assets will be in good shape for a while," said Mr. Rieder.
What the average worker wage would be in 2014 if it kept up with productivity: $71,697.
What it actually will be (according to projections): $55,644.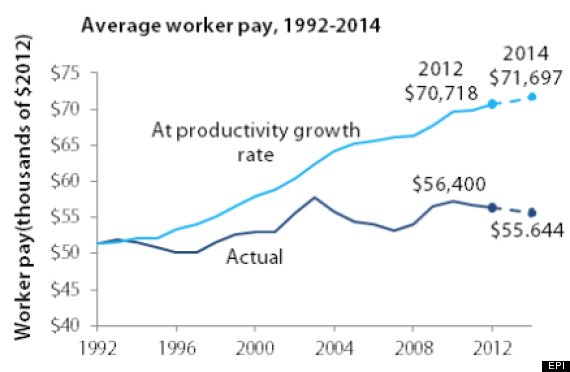 A decline in unionization may be in part to blame for the abysmally slow growth in workers' wages. After all,
drops in union membership typically correspond
to periods of high income inequality, according to EPI
4---
A cruel Christmas gift: Jobless benefits cut off for 1.3 million Americans
, wsws
The ruthless assault on the working class and the funneling of public funds to the banks and corporations are two sides of the same ruling class strategy, whose aim is an even more massive redistribution of wealth from the bottom to the top. Nothing is off limits in the rapacious drive of the capitalist class to grab every bit of social wealth it can. Every social gain of the past century is in its crosshairs: public education, medical care for seniors and the poor, pensions, restraints on child labor, health and safety rules, environmental regulations, workers' compensation, public museums and libraries.
What is unfolding is nothing short of a social counterrevolution.
The one "reform" touted by the Obama White House—the Affordable Care Act—is already being exposed as a scheme to reduce and ration medical services for the vast majority of Americans, while boosting the profits of the insurance companies and corporations
Extended unemployment benefits will end today for 1.3 million Americans, just three days after Christmas. The cruel cutoff of income for the long-term jobless and their families exemplifies the contempt of the Obama administration and the entire political establishment for the working class. The move threatens millions of unemployed workers and their families with poverty.
Never before in the post-war history of the United States has the government cut off extended unemployment benefits while jobless levels remained as high as they presently stand.
In the course of 2014, another 3.6 million workers will exhaust their state unemployment benefits and be left with nothing. Taking into account family members who rely on these benefits as their sole source of cash income, some 5 percent of the US population will face destitution as a result of the cutoff of these funds.
A renewal of the extended benefits was left out of the budget deal reached in Congress earlier this month, with the approval of the White House and congressional Democrats. The total cost of extended unemployment benefits would be $25 billion in 2014, less than 1 percent of overall federal spending...
More than four years after the official end of the recession, the United States is a nation plagued by growing poverty and widening social inequality. But for the financial oligarchy, things have never been better.
The
Wall Street Journal
on Tuesday carried a front-page article with the celebratory headline "Big Rally Pumps Up Wall Street Bonuses." With the Dow Jones Industrial Average up 24 percent this year, the newspaper explained, annual compensation for investment bankers is expected to rise 6 percent and stock traders are projected to earn 12 percent more this year than last.
For the vast majority of Americans, conditions continue to deteriorate. A recent study by the US Conference of Mayors found that 83 percent of the 25 cities it surveyed reported an increase in emergency food requests, while 64 percent saw an increase in the number of homeless families. The answer of the ruling elite to these conditions has been to slice even more deeply into what little remains of the social safety net in the US.
On November 1, the federal government began implementing $11 billion in cuts over three years to the Supplemental Nutrition Assistance Program (SNAP), commonly known as food stamps. These cuts, the first in the program's history, reduced benefits to less than $1.40 per person per meal and eliminated the equivalent of two days of food every month for 47.7 million people. Democrats and Republicans in Congress are currently negotiating the terms of further cuts in the food stamp program.
The budget deal reached this month keeps in place the vast majority of the "sequester" cuts, slashing hundreds of billions of dollars across a wide range of government departments and social programs, affecting tens of millions of working people and their families. It also increases the proportion of their salaries new federal employees will pay into their pension fund, setting the stage for deeper attacks modeled on the looting of Detroit workers' pensions in that city's bankruptcy.
The growth of poverty alongside ever more obscene levels of wealth for a tiny financial elite is not simply the result of impersonal economic tendencies. It is the intended outcome of policies carried out by the Obama administration and the Federal Reserve Board in behalf of the American corporate-financial aristocracy.
5---
Is the Labor Force Participation Rate about to Fall Again?,
macblog
What will those 1.3 million Americans do when their benefits run dry? According to
a recent study
by Princeton University's Henry Farber and the San Francisco Fed's Robert Valletta—also presented at
a conference hosted here at the Atlanta Fed in October
—on balance, the affected individuals are likely to leave the labor force:
We examined the impact of the unprecedented extensions of UI [unemployment insurance] benefits in the United States over the past few years on unemployment dynamics and duration and compared their effects with the extension of UI benefits in the milder recession of the early 2000s. We found small but statistically significant reductions in unemployment exits and small increases in unemployment durations arising from both sets of UI extensions. The magnitude of these overall effects is similar across the two episodes...
We find that the effect on exit from unemployment occurs primarily through a reduction in labor force exits rather than through exit to employment (job finding). This is important because it implies that extended benefits do not delay the time to re-employment substantially and so do not have first-order efficiency effects. The major effect of extended benefits is redistributive, providing income to job losers who would have exited the labor force otherwise (consistent with Card et al. 2007). [link mine]
In other words, if a significant decline in unemployment benefits comes to pass, we may well see another bump downward in the labor force participation rate
6---
Too scared to quit
? Krugman, NYT
And how..., at this point, after-tax profits are more than 60 percent higher than they were in 2007, before the recession began. We don't know how much of this profit surge can be explained by ... the ability to squeeze workers who know that they have no place to go. But it must be at least part of the explanation. ...
What's more, I don't think it's too much of a stretch to suggest that this reality helps explain why our political system has turned its backs on the unemployed..., the economy may be lousy for workers, but corporate America is doing just fine. ...
Too many Americans currently live in a climate of economic fear. There are many steps that we can take to end that state of affairs, but the most important is to put jobs back on the agenda
7
---Turkey first of Fed Taper victims as political crisis scares investors
, Telegraph
8---Mortgage Rate Swings May Mean "Bumpy" 2014 Housing Market, WSJ
Climbing mortgage rates in 2013 corresponded with declines in home buying, a trend that could to some extent continue in coming months as interest rates adjust to shifts in the Federal Reserve's monetary stimulus effort.
The average of 30-year fixed-rate mortgage interest rates so far this year compared against new-home sales illustrates that inversely proportional relationship: When interest rates go up, demand from would-be homeowners drops
When rates as measured by Freddie Mac started rising in May and averaged 3.54% for the month, the seasonally adjusted annual rate of new home sales dropped by 4% from the prior month, according to the most recent housing data from the Commerce Department. Meanwhile, in October, mortgage rates dropped by three-tenths of a percentage point just as new home sales surged 18%.
The trend could continue in 2014, experts said, especially if rates change significantly.
"Particularly if we see a pretty quick rise – maybe a half a percentage point to percentage point rise — it'll make for some bumpy demand in 2014," said Ellen Haberle, an economist at Redfin, an online real-estate firm.
Mortgage rates first spiked in May after the Fed signaled it was considering pulling back its bond-buying program meant to keep a lid on long-term interest rates. The housing market initially stumbled, but started to recover once the central bank decided against any changes to the stimulus effort throughout the summer and into the fall.
Mortgage rates are still at historical lows, but they are already starting to creep upward once again. Freddie Mac said Thursday the average 30-year fixed rate mortgage was at 4.48%, its highest level since mid-September.
The interest rate on U.S. Treasurys is also going up. On Thursday, the yield on 10-year notes hit 3%, its highest level since September and the second time this year it has reached that mark. That threshold could signal higher interest rates ahead because it is used as a reference point for the cost of borrowed money for U.S. consumers and businesses. A higher yield can push up mortgage rates.
...Nobel Prize–winning economist
Joseph Stiglitz
put it succinctly in "The Price of Inequality": "America likes to think of itself as a land of opportunity." But today the "numbers show that the American dream is a myth … the gap's widening ... the clear trend is one of concentration of income and wealth at the top, the hollowing out of the middle, and increasing poverty at the bottom." ...
Yes, inequality is the No. 1 bubble certain to pop in America's new Lost Decade, before 2024. As former Labor Secretary Robert Reich recently put it on CNN: "The 400 richest people in the United States have more wealth than the bottom 150 million put together."....
record after adjusting for inflation." Now "investors finally could put behind them ... the sometimes-terrifying events of the past 14 years ... the Internet bubble, Sept. 11, 2001, terrorist attacks, accounting scandals such as Enron Corp., the housing bubble, collapse of Lehman Brothers Holdings Inc. and other costly stumbles."

Get it? Finally, after 14 years in negative territory, Wall Street was breaking even on an inflation-adjusted basis, after suffering "two deadening crises" and "terrifying events" that wasted trillions for 95 million Main Street investors. Big deal? Stocks broke even after 14 years?
Zero-sum economics: Wall Street 'treaded water' for 14 long years
Then Browning's gut punch: "It would mean that the 'lost decade' during which stocks never surpassed their values of the 1990s finally is over, at least for the Dow. Of course, a new inflation-adjusted high also would be a reminder that stocks have done no better than tread water since 2000."
"Drowning" would be more accurate.

So we start 2014 asking why Wall Street's stock market did "no better than tread water since 2000." And why did Wall Street lose trillions in retirement savings for America's Main Street investors?
Why? Because in today's zero-sum real world, "aggressive" government stimulus policies, plus Bernanke's "determination to keep interest rates low" were rewarding Wall Street with cheap money, while killing Main Street's retirement stocks and downgrading the American economy. That's how zero-sum works: Wall Street wins, Main Street loses.

In fact, since the conservative political revolution a generation ago, the rich became the Super-Rich. And the income of America's other 99% flat lined for three decades.
10 bubbles that will pop in a new Lost Decade

10--Payday Loans, NPR

11---Work Until You Die? More Middle Class Americans Say They Can Never Retire, Forbes

An alarming 37% of middle class Americans believe they'll work until they're too sick or until they die.
Another 34% believes retirement will come at the ripe age of 80. Just two years ago only 25% of respondents felt the same way.

It's a grim look at the state of retirement which seems to be getting worse for middle class Americans.
Wells Fargo

WFC

-0.09%

interviewed 1,000 Americans between age 25 and 75 and with household income ranging between $25,000 and $99,000.
More than half (59%) said their top day-to-day financial concern is paying the monthly bills; that's up from 52% who said the same last year.

"We do this survey every year and for the past three years, the struggle to pay bills is a growing concern and the prospect of saving for retirement looks dim, particularly for those in their prime saving years," Laurie Nordquist, head of Wells Fargo Institutional Retirement and Trust, says in the report.
And here's something for leaders in Washington DC to consider: One third of those surveyed said their primary source of retirement income will come from social security.

That figure gets even bigger for those who make less than $50,000–48% of those earners say social security is going to be their primary retirement income.
One of the reasons for that? Almost half of those surveyed said they don't have a written retirement plan.
Only 24% said they are confident in the stock market as a place to invest their money. A whopping 45% say the stock market wouldn't benefit them.

Those between age 25 and 29 are the most apprehensive about stocks with 58% of them saying they'd rather put $5,000 in a savings account or CD than in the stock market.
"There is a striking amount of fear about the stock market among all investors. The middle class just isn't making the link between being invested and the potential growth of their savings, but on top of this fear is apathy – there is no interest in learning more about investing," Nordquist says.