1---
One Bank to Rule them All: Who's Borrowing in the Fed Funds Market?
, NY Fed
Why Are Foreign Banks Borrowing More than Domestic Banks?
Differences in institutional structures, as well as in regulation and requirements, may help explain why foreign banks have been more active borrowers than domestic banks in recent years. As we discuss in our previous post, trading dynamics in the fed funds market have changed following the expansion of the Federal Reserve's balance sheet and the payment of interest on excess reserves (IOER).
The increased level of excess reserves in the banking system has reduced the structural need of many institutions to borrow fed funds for cash management or funding purposes. The decline in domestic bank fed funds borrowing relative to that of foreign banks may reflect their differential access to dollar liquidity, as domestic banks typically have more access to retail deposits as well as to other sources of stable funding, such as advances from Federal Home Loan Banks.
2---
Rethinking the Idea of a Basic Income for All
, NYT
...economists F.A. Hayek and Milton Friedman, who favored the idea of a basic universal income....
the economist F.A. Hayek endorsed a universal basic income in Volume 3 of his book, "
Law, Legislation and Liberty
":
The assurance of a certain minimum income for everyone, or a sort of floor below which nobody need fall even when he is unable to provide for himself, appears not only to be a wholly legitimate protection against a risk common to all, but a necessary part of the Great Society in which the individual no longer has specific claims on the members of the particular small group into which he was born. ...
In Paine's 1797 pamphlet, "
Agrarian Justice
," he advocated a social insurance system for young and old, financed by a 10 percent tax on inherited property. Paine would have given everyone 15 pounds at age 21 and 10 pounds per year to everyone at least age 50 for life....
it is worth remembering that we already have considerable experience with the basic income payment in Alaska. Since 1976, it has had a
permanent fund
to collect revenues from oil production and invest them, paying out an annual dividend to all state residents.
3--
Great Recession income declines offset by transfer payments
, NBER
With data from the March CPS and using shift-share analysis, we analyze the factors that account for changes in post-tax post-transfer income during each of the past four recessions. What distinguishes the Great Recession is that drops in employment rather than wage earnings drove income declines. In addition, taxes and transfers played a much greater role in offsetting market income losses —a result largely missed in analyses that do not account for taxes and transfers. This is particularly so among the bottom quintile of the distribution where lower and increased transfers offset more than one-half of the market income declines.
4---
Compensation, Productivity and Labor Share,
econobrowser
What's the explanation for this precipitous decline in the labor share? I'm going to appeal to a recent (Fall 2013)
BPEA article by Elsby, Hobijn and Sahin
:
Over the past quarter century, labor's share of income in the United States has trended downwards, reaching its lowest level in the postwar period after the Great Recession. Detailed examination of the magnitude, determinants and implications of this decline delivers five conclusions. First, around one third of the decline in the published labor share is an artifact of a progressive understatement of the labor income of the self-employed underlying the headline measure. Second, movements in labor's share are not a feature solely of recent U.S. history: The relative stability of the aggregate labor share prior to the 1980s in fact veiled substantial, though offsetting, movements in labor shares within industries. By contrast, the recent decline has been dominated by trade and manufacturing sectors. Third, U.S. data provide limited support for neoclassical explanations based on the substitution of capital for (unskilled) labor to exploit technical change embodied in new capital goods. Fourth, institutional explanations based on the decline in unionization also receive weak support. Finally, we provide evidence that highlights the offshoring of the labor-intensive component of the U.S. supply chain as a leading potential explanation of the decline in the U.S. labor share over the past 25 years.
So Figure 2 suggests the decline in labor's share is partly a statistical artifact. However, capital substitution and import competition do seem to be important drivers of the actual decline. As does the lack of unionization
From Comments:
Offshoring and labor arbitrage.
Soaring debt to wages and GDP.
Financialization of the economy.
The US imported "labor productivity" from Mexico and China-Asia in the form of cheaper goods, replacing wage gains for the bottom 90% of US workers with debt to wages to purchase cheaper imports.
The incremental gains from financialized speculative rentier activities went primarily, and eventually solely, to the top 0.1-1% to 10% who own 40% to 85% of US financial wealth.
5---
Saving the Fed From Itself
, martin Feldstein, NYT
(Feldstein says GOP should blackmail Dems with fiscal stimulus tied to cuts to SS)
The latest estimate, that the economy grew at an annualized rate of 3.6 percent in the third quarter, overstates the strength of demand because half of that increase was just because of inventory accumulation.) Weak growth has also meant weak employment gains. The decline in unemployment, to 7 percent, as announced on Friday, has largely reflected the decreasing number of people looking for work. Total private-sector employment is actually less than it was six years ago.
While doing little to stimulate the economy, the Fed's policy of low long-term interest rates has caused individuals and institutions to take excessive risks that could destabilize the economy just as it did before the 2007-9 recession. It has pushed up the values of everything from Iowa farmland to emerging-market bonds. Banks are lending to lower-quality commercial borrowers. Households are seeking higher returns by investing in real estate trusts and other high-risk products. ...
To get the economy back on track, President Obama should propose, and Congress should enact, a five-year fiscal package that would move the growth of gross domestic product to above 3 percent a year and focus on direct government spending on infrastructure....
The total price tag over five years would have to exceed $1 trillion to achieve the needed rise in the economic growth rate. The lack of "shovel-ready" projects is not an excuse for not pursuing this strategy or for diverting the funds into income transfers and other low-impact spending of the kind that made the 2009 stimulus so ineffective. It would be better to spend a year or two preparing for the right kind of spending. ...
Slowing the growth of Social Security and Medicare and raising revenue by limiting the subsidies that are built into the tax code could shrink future deficits to less than 2 percent of gross domestic product, enough to put the debt-to-G.D.P. ratio on a path back to the 40 percent level that we had before the recession
"Bullard noted that inflation has surprised to the downside. "There is no widely accepted reason why inflation is running as low as it is in the face of extraordinarily accommodative policy from the Fed," he said.
They don't know why inflation is falling, only that it is."
7-
--Reverse rotation
. The 3Q Federal Reserve flow of funds data confirms – what we knew anecdotally – that US pension funds did a "reverse rotation" out of equities (sold $135bn annualized), into bonds (bought $117bn annualized). This happened as the combination of higher interest rates and higher stocks created incentives in some cases to lock in much improved levels of pension fund funded-ness.
8---
Fannie Mae: Americans worried economy is on wrong track
, housingwire
Nearly two thirds of American's believe the economy is on "the wrong track," as concerns over personal finances and the state of the economy heighten, the latest
Fannie Mae
November Housing Survey revealed.
However, this is still low compared to a year earlier.
Meanwhile, the share of people expecting their personal finances to worsen during the next year has increased during the past few months to 22%.
The survey polled 1,002 Americans to assess their attitude towards owning and renting a home.
"We continue to see caution as the defining feature of Americans' attitudes toward the economy and their personal financial situation. In this environment, the housing recovery is likely to improve, but only at a gradual pace," said Doug Duncan, senior vice president and chief economist at Fannie Mae.
9---
Mountains of cash,
Bloomberg
•
American Express
found in 2012 that affluent Americans (at least $100,000 in disposable income) had at least
$6 trillion in cash savings
; they estimate this number "could balloon to $12 trillion by 2014."
• U.S. Trust: Annual "
Insights on Wealth and Worth
" survey (respondents have assets of $3 million or more, with 33 percent worth more than $10 million). Of this group, 56 percent said they have "substantial amounts of funds in cash accounts." Even more millennials (69 percent) do than baby boomers (52 percent).
• BlackRock found 56 percent of affluent investors have "substantial" amounts of cash, with 35 percent of their assets in cash or savings accounts. Perhaps more surprising is that 32 percent of affluent investors globally expect to
increase cash positions
and savings account deposits over the next 12 months, versus 17 percent who expect to reduce cash. ...
Note that it is not just the wealthy who are hoarding cash. Those with an annual income of less than $45,000 are sitting in approximately 60 percent cash, according to this
BlackRock survey
. To be accurate, this group has been under considerable economic pressure the past few years. A
recent poll
found American households use "49 percent of their take-home pay to cover bills, debt and living expenses," far above the global average of 40 percent. One would have to assume debt is part of the reason they do not have substantial non-cash investments.
10---
U.S. set to adopt Volcker rule to curb bank trading gambles
, Reuters
11---
Shifty Shinzo's ratings plunge
, zero hedge
Japan's PM Shinzo Abe has seen his approval ratings collapse for the first time since his 'devalue-to-glory' strategy was unveiled a year ago. Kyodo News reported,
support for Mr. Abe fell 10.3ppt to 47.6%, while Japan News Network reported a 13.9-point fall to 54.6%
as
WSJ reports
, public concern over the
controversial secrecy bill (designed by Kafka, inspired by Hitler)
and its nationalist overtones merely
exacerbated Japanese people's concerns about their pocketbooks (as incomes stagnate and costs rise)
. As Abe plays lip service to economic issues (with a very Maduro-like speech recently on profit margins and wage increases), there is little but public outrage to hinder his plans as his ruling Liberal Democratic Party has big majorities in both houses of parliament, with no election scheduled until 2016. So much for Abenomics...
12---
37 Reasons Why "The Economic Recovery Of 2013" Is A Giant Lie
, zero hedge
13---
Fed's Fisher Blasts "Flaccid" Monetary Policy, Says More CapEx Needed,
zero hedge
Without fiscal policy that incentivizes rather than discourages U.S. capex (capital expenditure), this accommodative monetary policy aimed at reducing unemployment (especially structural unemployment) or improving the quality of jobs is rendered flaccid and less than optimally effective
... I would feel more comfortable were we to remove ourselves as soon as possible from interfering with the normal price-setting functioning of financial markets."...
Against that background, I believe that the current program of purchasing $85 billion per month in U.S. Treasuries and mortgage-backed securities comes at a cost that far exceeds its purported benefits.
Presently, there is no private or public company that I know of, including many CCC-rated credits, that does not now have access to sufficient, cheap capital. There is no private or public company I know of that considers monetary policy to be deficient. Instead, to a company, every CEO I talk to feels that uncertainty derived from fiscal policy and regulatory interference is the key government-induced deterrent to more robust economic growth and profitability...
given that we have a surfeit of excess liquidity sloshing about in the system, the idea of ramping up inflation expectations from their current tame levels strikes me as short-sighted and even reckless.
We already have enough kindling for potential long-term inflation, which will sorely test our capacity to manage policy going forward. I do not wish to add further wood to that pile.
It Is Time to Taper
In my view, we at the Fed should begin tapering back our bond purchases at the earliest opportunity....
.
We need to break away from trying to manipulate term premia and stop prolonging the distortions that accrue from our massive long-term bond purchases and the risks we incur in building an ever-expanding balance sheet that is now approaching $4 trillion.
14---Big banks to start booking losses on second liens, naked capitalism
15--The Central Bank's Central Bank: The all-powerful NY Fed, Wall Street on Parade
Today, even Benjamin Strong would be shocked at the power concentrated at the New York Fed. The New York Fed is the only one of the 12 regional Federal Reserve Banks
to have a Wall Street-syle trading floor
with Bloomberg terminals and speed dials to the biggest firms on Wall Street. Since 1935, all open market operations of the entire Federal Reserve system have been carried out by the New York Fed.
On its web site, the New York Fed explains its unique role as the central bank's central bank: It is the sole manager of the System Open Market Account (SOMA) and sole regional bank engaged in open market operations; it is "responsible for intervening in foreign exchange markets to achieve dollar exchange rate policy objectives." It stores "monetary gold for foreign central banks, government and international agencies." Despite being the regulator in charge of the largest Wall Street banks at the time that obscene levels of leverage and corruption collapsed the financial system of the United States in 2008,
even while top Wall Street CEOs sat on its Board of Directors
, the New York Fed continues to be in charge of placing examiners in these banks and functioning as their regulator.
The New York Fed also "acts as fiscal agent to the U.S. Treasury by providing settlement services in support of government securities auctions."
16---
Housing bubble 2.0 can only end badly
, N Roubini, Guardian
The global economy's new housing bubbles may not be about to burst just yet, because the forces feeding them – especially easy money and the need to hedge against inflation – are still fully operative
The fact that the New York Fed needs the goodwill of the major Wall Street banks to carry out its open market operations and to facilitate the orderly functioning of U.S. Treasury auctions, makes it a highly inappropriate regulator of the same firms, in the opinion of many observers.
17---For-profit prison:
US prison population jumps 27% in a decade over harsh drug sentencing
, RT
18---'
Mass rallies in Ukraine follow a script'
, RT
Pre-planned is perhaps a misnomer. There've been reports that one of the people organizing Mr Klitschko's party (Udar) is actually a Serbian activist who helped to organize the 2000 revolution (in Serbia), which was coordinated by the NAD (National Endowment for Democracy) and the CIA (Central Intelligence Agency).
They are working out of a playbook. There is a manual for regime change through popular revolutions and it is being followed to the letter. The sort of people, who are on the payroll of the western organizations and governments, and they are just doing their jobs.
I have reports today of western celebrities getting involved and endorsing the (Ukrainian) opposition. Again, this is a proof that all this is about posturing. What does George Clooney know about economics of Ukraine? Nothing. But he is George Clooney and that is what the opposition is running with.
19--
The triumph of austerity:
RT
Over 25 per cent of Greeks can't afford health care, putting children and pregnant women in danger, Doctors of the World medical aid group said.
"We are very worried by the number of people who have lost access to social insurance,"
Anna Maili, the head of the organization, told journalists.
Among the risks, the group names the lack of vaccination: the cost of immunization over a child's first six years is between 1,400 and 1,800 euros.
"Over the last nine months we examined 10,633 children of whom 6,580 had to be vaccinated,"
Maili said.
"Every day we see 2 or 3 year-olds who haven't been vaccinated,"
she added.
The cuts to health spending were implemented in 2010 in return for the joint EU-IMF bailout, and results were quick to follow.
Between 2008 and 2011, the number of stillborn babies increased by 21 per cent, Doctors of the World said. ,
20---
Obamacare plans include high deductibles, large out-of-pocket drug costs
, wsws
People shopping for insurance coverage on the exchanges set up under the Affordable Care Act (ACA) are discovering that the plans with lower premiums come with high deductibles, large out-of pocket costs for prescription drugs, and other cost-sharing. These costs will undoubtedly mean a reduction in medical services for the insured, who will be discouraged from seeking treatment for themselves and their dependents because they cannot afford the upfront payments.
21---
EU to move dictatorial grip eastward
, wsws
The conservative German paper
Frankfurter Allgemein
e Zeitung
(FAZ), which has its own reporters in Kiev, cited plans of "opposition forces" should the Asarov government resign.
They intend to install a "technocratic government" that would immediately sign the association agreement with the EU. A possible leader of such a government is the MP and billionaire oligarch Petro Poroshenko, whose holdings include a television station that has continuously reported from the demonstrations.
The opposition forces quoted by the FAZ also expressed their hope that such a government would restart negotiations with the IMF on a $15 billion loan that Ukraine needs to avoid bankruptcy in the coming months. The IMF has tied such a loan to the abolition of subsidies for gas for private households, which would increase the price of heating by at least 40 percent.
Opposition forces speaking to the
FAZ
said it would be easier for a technocratic government led by an entrepreneur and supported by both the forces of the current regime and the opposition to impose these conditions on the Ukrainian population.
Such considerations, while it is far from sure that they will materialize, indicate the shabby deals and maneuvers taking place behind a right-wing movement has tried to wrap itself in the mantle of "democracy" and the "rule of law".
A major role is being played behind the scenes by the German government and the Christian Democratic Union of Chancellor Angela Merkel, which has built up Klitschko's UDAR party and is also supporting Timoshenko's Fatherland Party.
22
---Cut in GDP estimate is blow to Abenomics,
economic times
Faith in the power of "Abenomics" as the saviour of Japan's economy suffered a setback yesterday when the Government revealed a drop in capital spending and revised down its estimates for third quarter GDP.
Where previously Japan had said its economy grew at an annualised pace of 1.9 per cent in the third quarter, the Government said yesterday that the rate had in fact been 1.1 per cent.
23---
Japanese GDP plunges to 1.1% GDP
, Businessweek
More take-home pay would help Japanese consumers do their part, but with
wages falling
, people aren't confident enough to spend. "Japan's growth really outperformed in 2013, but a large part of that was the government spending more money," Orlik says. "For Abenomics to work, you need much higher spending by households and [business]. With the fiscal contraction coming, that has to start happening now."
24---
Public confidence in abenomics drops,
city am
consumer confidence is lower than when Prime Minister Shinzo Abe came to power.
In the face of tax hikes and rising inflation expectations, Japanese households are losing faith in Abenomics, according to Capital Economics. Consumer confidence has only partially recovered from the sharp decline suffered in October. Capital Economics attributed the drop to the government's confirmation planned consumption tax hike. The headline index increased from 41.2 to 42.5.
However, consumer confidence is lower than when Prime Minister Shinzo Abe came to power. The government has also suffered a dip in its popularity. Surveys of consumer confidence for November showed "willingness to buy durable goods" has dropped. This component has previously served as a key indicator for retail sales. As of yet there has been no rush to spend before the tax hike comes in. Households are also increasingly fearful of the prospect of higher inflation. Japan economist, Marcel Thieliant commented: The share of persons who expect prices to rise over the coming year remains near a record high at 89.2%. The combination of high inflation and subdued income expectations is likely a key reason for the weakening in confidence. -
25---
Corp Profits Bask in 'Abenomics' Glow,
Japan WSJ
26---
Home buyer demand drops in November
, housingwire
27---
Despite Rising Prices, Investors Expected to Remain Most Active Buyers
, DS News
28
---Housing prices soar in southwest
, Dr Housing Bubble
The collapse in mortgage applications
Mortgage applications have collapsed in spite of a record year-over-year increase in prices:...
state:
Source: Census
To highlight the case that more people have fallen off of the middle class bandwagon I also highlight the growth in food stamp usage. The recession officially ended in the summer of 2009, right? Well take a look at this:

Source: SNAP
Food stamp usage is up 55 percent since the recession ended (with over 4.1 million Californians on food stamps). Did these people magically appear from nowhere? Of course not. Many were probably on the edge of being middle class but have now been pushed into the lower rungs of income. The point being is this: non-middle class Californians are growing in large numbers while the top is getting even wealthier (yet this is a smaller group).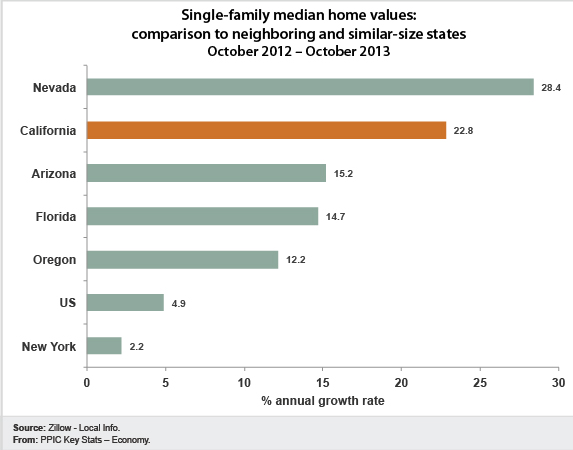 According to Zillow, California home prices went up 22 percent
29---
Skyrocketing rents hit 'crisis' levels
, cnbc
Since the housing crisis began in 2008, approximately 4.6 million homes were lost to foreclosure, according to
CoreLogic
. The vast majority of those homeowners became renters. Even as housing recovered, credit tightened, pushing even more potential buyers out of homeownership and into rentals, both apartments and single-family rental homes.
There are now 43 million renter households, or 35 percent of all U.S. households, the highest rate in over a decade for all age groups, according to
Harvard's Joint Center for Housing Studies
; 4 million more renters today than there were in 2007. For those aged 25 to 54, rental rates are the highest since the center began record keeping in the early 1970s.
As a result, rental vacancies have fallen dramatically, and rents have skyrocketed.
We are in the midst of the worst rental affordability crisis that this country has known," said Shaun Donovan, U.S. Secretary of
Housing and Urban Development.
Half of all U.S. renters today pay more than 30 percent of their incomes on rent. That's up from 18 percent a decade ago, according to the Harvard center. For those in the lowest income brackets, the jump is even worse.