1---
Biggest US Foreign Creditors Show Concern on Default Risk
, Bloomberg
China and
Japan
, which together hold more than $2.4 trillion in U.S. Treasuries, raised pressure on the U.S. to resolve a political impasse on its debt ceiling that threatens to destabilize global financial markets. ....
Any failure by the U.S. to honor its debt obligations would damage the dollar's status as the world's reserve currency. A shift in
asset allocation
by China, Japan or other major holders of Treasuries could push up U.S. interest rates and cause swings in global
currency markets
.
"If a default on
U.S. debt
occurs, there will be a huge impact on markets," said
Yuichi Kodama
, chief economist at Meiji Yasuda Life Insurance Co. in Tokyo. "In the long run, some nations could review the allocation of their foreign reserves and shift to a better-balanced portfolio." ..
China
, the largest foreign owner of U.S. Treasuries, had $1.28 trillion worth at the end of July, followed by Japan, which held $1.14 trillion, according to the U.S. Treasury Department. China overtook Japan as the largest foreign owner of Treasuries in September 2008, with the value of its holdings surging 107 percent since then. Japan's rose 84 percent over the same period.
Bond Yields
"Japan must be aware that the absolute value of those debt holdings would decline" should the U.S. default, Aso said at a press conference. Nations such Japan and China that have a large proportion of dollar-denominated reserves need to think about this, he said.
"If the debt ceiling problem worsens, it would affect the world economy," Aso said, adding "we hope this problem will be resolved without delay."
2----
U.S. Consumers Falling Behind on Bills after Years of Improvement
, WSJ
"Consumers may find it difficult to further improve their financial positions," ABA Chief Economist
Jim Chessen
said. "Stagnant incomes and a weak job market aren't going to help change that trend...
A
Federal Reserve
report Monday showed consumers' credit-card balances declined for the third consecutive month in August but total debt increased thanks to increased auto lending and student loans.
The ABA report showed delinquency rates on auto loans were mixed. Rates on loans arranged directly with banks fell but rates on loans arranged by dealerships or another third-party increased.
3---
IMF fears 'asset spirals' in emerging markets on Fed tapering,
Telegraph
(For those who thought there were no costs to QE)
The International Monetary Fund has called on Western central banks to move with extreme care as they wind down emergency stimulus, warning that a botched exits risk setting off an asset crash in emerging markets and worldwide contagion...
A repricing of risk could induce a run by investors holding speculative positions, especially if these are highly leveraged using short-term funding," said the Fund in a study of global fall-out from the radical policies of the US Federal Reserve, the Bank of England, and the European central bank.
The report said a witches' brew of sliding currencies and excess credit could spin out of control. "Thin markets could amplify price movements and kick off sale spirals. Contagion effects could both amplify and broaden asset price movements and capital outflows as investors flock out of emerging market economies," it said.

Exit must be "very carefully managed", said Karl Habermeier, the IMF's head of capital markets, advising countries at most risk of capital flight to beef up their defences before it is too late....
The IMF said Indonesia had suffered the greatest credit shock after the Fed turned hawkish in May, with a 430 basis point spike in yields. Yields jumped 220 points in Turkey, and 120 in Brazil. Even the richer countries were hit by the shock. Australia recorded the biggest capital outflows in relative terms, a potential warning since the country has a very high net external liabilities of 60pc of GDP
4---
We don't need a functioning government to tell us that the job market is lousy
, mark gongloff
We don't need a functioning government to tell us that the job market is lousy. But we do need one to help make the job market better....
.
With sagging consumer confidence and hiring surveys, September may even have been worse than August, which was itself
not a great month for jobs
.
And October could be worse still, given the political chaos in Washington, which Republicans are threatening to turn into a full-blown financial crisis. That is starting to worry financial markets and could already be affecting hiring.
Which is one reason wages have lagged far behind the stock market and corporate profits: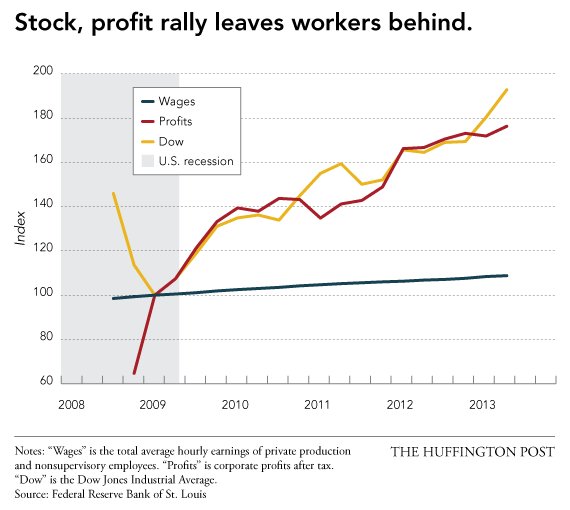 Despite what amounts to an employment crisis, Congress and the White House have spent most of the past couple of years locked in nonstop pointless battles over the federal budget. The austerity that has resulted has
kept the recovery slow and painful
5--
Censored: Book by whistleblower at center of 'Fast and Furious' blocked by the ATF
, RT
(Don't say bad things about the gov)
6---
A Lonely Housing Bear Predicts a Big Tumble
, Bloomberg
The Menlo Park, California, real estate analyst, blogger and founder of consultancy Hanson Advisers predicts a decline of 20 percent in housing prices in the next 12 months. Half the gains since the latest housing bottom in 2011 could be erased in the hot areas -- Florida, California, Nevada, Arizona and Georgia -- by rising interest rates and a thinner herd of speculative private-equity buyers, he says.....
Digging into the data does, however, reveal one reason why Hanson is so leery of housing now. Some 58 percent of existing-home sales in 2013 have been made by all-cash investors purchasing large swaths of distressed properties to lease to renters. Hanson says private-equity firms caused about 50 percent of the price appreciation in cities like Phoenix and Las Vegas, and generally overpaid by 10 percent to 20 percent, according to his calculations.
With gains of more than 35 percent since the crash for properties in Las Vegas, Phoenix and other of the hardest-hit regions, these vultures will begin to lose interest, he figures. With property prices and interest rates both higher, they may find better opportunities in Treasury and high-yield bonds than in houses. That's because as house prices rise the yield you can get from renting the house declines. The loss of some of these buyers will remove what Hanson sees as an artificial support for prices.
A lack of buyers for new homes is also part of Hanson's downbeat outlook. He points to new-home sales as a better indicator of the health of the housing market than existing-home sales. They're more current, reported as soon as sales contracts are signed, and 85 percent of sales are to traditional buyers with mortgages.
Such buyers have already begun to feel the sting of higher rates. "New-home sales fell 27.4 percent in July," says Hanson. "The only other time they've ever fallen that much was when the home-buyer tax credit expired in May of 2010." The adjusted Census Bureau numbers he tracks show new-home sales flat from July to August, but the number of new homes being sold is so low to begin with, he says, at 35,000, that they are "recession-level" sales numbers....
Hanson's track record as a forecaster is mixed. He's made numerous good calls, including predicting the 2007 housing crash. Where he says he went wrong in recent years was in 2012, when he turned from bull to bear, not realizing the extent of the private-equity and all-cash buying that he says is propping up the market.
Bears often aren't popular with their peers, and Hanson is no exception. "I give him zero credibility," says John Burns of John Burns Real Estate Consulting. "For there to be a 20 percent decline we'd have to have a massive U.S. recession." Absolutely not, says Hanson: "You're going to have a cooling on the investor side and the buy-to-rent crowd, and that will be the catalyst for the downturn."
7---
Fears of Asian economic slowdown, US debt default hit APEC summit
, wsws
China, the third-largest holder of US government debt, issued the strongest statement. Zhu Guangyao, Chinese vice-finance minister issued a statement warning that "the clock is ticking" on the deadline to lift the US debt ceiling. He bluntly told Washington to "ensure the safety of Chinese investments… As the world's largest economy and an issuer of the world's major reserve currency, it is important that the US take credible steps to address its dispute over the debt ceiling in a timely fashion and avoid a default."....
A sense of economic crisis and geopolitical tension pervades the proceedings of the summit. A dismal World Bank report released on Monday highlighted the region's economic slowdown. Moreover, the current standoff over the US government shutdown threatens to escalate into a US government default on its debt, if the impasse is not resolved prior to the October 17 deadline for lifting the US debt ceiling....
The World Bank (WB) reduced its 2013 growth forecast for every country in East and Southeast Asia, except the Philippines. The WB report cut the expected growth rate for "emerging economies" in the region to 6 percent, down from the projected 6.5 percent growth rate in April.
China's predicted growth rate was slashed from 8.3 percent in April to 7.5 percent. The decline in expected regional growth was driven by the slowdown in the Chinese economy. Despite its economic slowing, the World Bank noted, that Asia is still "leading global growth," giving an indication of the crisis besetting the world economy.
This found expression in all of the public statements at the summit. Indonesian President Susilo Bambang Yudhoyono stated that APEC's 21 member economies continued to "feel the pain" of the global economic crisis. Chinese President Xi Jinping said the "world economy has entered a period of deep readjustment."
The deepest concern expressed at the APEC summit was that Washington might default on its debt. Mexican President Enrique Peña Nieto stated that a default would affect "the entire planet, and not just those countries with a strong geographical and economic linkage to the US."
Russian President Vladimir Putin told the summit: "The dollar of the United States is still the biggest reserve currency in the world, so it is of utmost importance to all of us."
The pervasive pessimism and concern in Bali found expression in a leaked draft of the final summit declaration, which is scheduled to be released today. It concluded that "global growth is too weak, risks remain tilted to the downside, and the economic outlook suggests growth is likely to be slower and less balanced than desired."
8
---The US abduction of Al Qaeda operative al-Liby like John le Carre thriller
, wsws
In the biography of al-Liby, the real character of the so-called war on terror emerges more clearly. It is the byproduct of multiple filthy operations mounted by US intelligence, using elements like Al Qaeda, betraying them and then dealing with the consequences in the form of terrorist operations, which are then turned into the pretext for wars abroad and state repression at home....
For all of the blather from these experts, however, on one thing they are totally silent: the extraordinary history of al-Liby, the target of the US raid. A review of his career points to not some implacable struggle between mortal enemies, but rather a falling out between intimate partners. It is no exaggeration to suggest that Mr. al-Liby knows some of those who planned his capture on a first-name basis. His biography provides a glimpse into the bizarre and frightening world of the CIA and its secret wars, dirty tricks and global murders.
Al-Liby joined Al Qaeda when it was fighting in Afghanistan in the 1980s, providing the foot soldiers for a covert CIA-organized war for regime change against the Soviet-backed government in Kabul. At the time, then-US President Ronald Reagan hailed al-Liby and his fellow right-wing Islamist fighters as the "moral equivalents of America's founding fathers," while the US government poured some $10 billion into financing the war.
This relationship was not merely Reagan's innovation. For decades before, US imperialism had promoted reactionary Islamist organizations to further US interests and combat socialist and left-nationalist influence in the Middle East and beyond. These layers provided the shock troops for CIA-orchestrated coups in Iran, Indonesia and elsewhere.
...
In 2002, it was revealed that six years earlier al-Liby had been a key figure in a Libyan Islamic Fighting Group cell that was paid large sums of money by the British intelligence service, MI6, for an abortive plot to assassinate Gaddafi.
For nearly two years after the African embassy bombings, al-Liby was able to continue living in the UK, fleeing only in May of 2000 around the time he and 20 other Al Qaeda operatives were indicted in a Manhattan federal court as co-defendants of Osama in the African terrorist attacks. He was placed on the FBI's "most wanted" list.
After a decade as a wanted terrorist, al-Liby returned to Libya in 2011 and once again was transformed into a US-backed "freedom fighter," joining one of the Islamist brigades that served as proxy troops for the US-NATO war for regime change.
Why, two years after the toppling and assassination of Gaddafi, al-Liby has been snatched off the streets of Tripoli is by no means clear. His presence there was known to Washington from even before the war began. It is, however, part of a pattern alternating between close collaboration and falling out between the US intelligence apparatus and Al Qaeda. This is a pattern that goes a long way to explaining how the 9/11 terror attacks could take place—i.e., how Al Qaeda operatives known to the CIA could freely enter the US, take flying courses, and prepare the mayhem of September 11, 2001.
This same phenomenon was seen in the September 11, 2012 Al Qaeda assault on US diplomatic and CIA facilities in the eastern Libyan port city of Benghazi, in which the US ambassador, Christopher Stevens, and three other Americans lost their lives. Stevens had played the instrumental role in coordinating US military action with operations of Islamists like al-Liby.
In the aftermath of the war, the CIA established a major secret station in Benghazi for the purpose of shipping arms stockpiles to similar elements being employed in the war for regime change in Syria. Something caused the relationship to sour, likely involving resentments among the Islamist militias that they had not been adequately compensated by their American patrons in terms of money or power.
The kidnapping of al-Liby by Delta Force commandos—ostensibly with no notification to the Libya's nearly powerless interim government—only underscores the real results of a war promoted by the Obama administration as a crusade for human rights, democracy and freedom. Having claimed thousands of lives and destroyed much of the country's infrastructure, the war has left Libya in a complete shambles, dominated by Islamist militias and petty warlords, rife with assassinations, kidnappings and torture and its oil production and other core economic activity at a virtual standstill.
10
---Scalia on Satan
, LA Times
Scalia's interview
drew the most attention,
On his belief in Satan: "You're looking at me as though I'm weird. My God! Are you so out of touch with most of America, most of which believes in the devil? I mean, Jesus Christ believed in the devil! It's in the Gospels! You travel in circles that are so,
so
removed from mainstream America that you are appalled that anybody would believe in the devil! Most of mankind has believed in the devil, for all of history. Many more intelligent people than you or me have believed in the devil."
11---
Karzai Rejects US Security Pact, Says NATO Causing 'Great Suffering'
, antiwar
On the security front the entire NATO exercise was one that caused Afghanistan
a lot of suffering, a lot of loss of life
, and no gains," Karzai noted, elaborating on comments from his
spokesman
yesterday.
Karzai went on to say that NATO and the US had repeatedly launched operations in express opposition to his government's wishes, notably night raids, and was clearly willing to violate Afghan sovereignty whenever it suits them