1--
Payback!: S&P: The Government Sued Us As 'Retaliation' For Downgrade
, Bloomberg
Standard & Poor's says the U.S. government sued the rating agency as "retaliation" for its downgrade of the country's credit rating.
The Department of Justice filed civil charges against the rating agency in February, claiming that S&P refused to warn investors that the housing market was collapsing because it would be bad for business. It also says S&P knowingly inflated ratings of risky mortgage investments that helped trigger an economic crisis. And that S&P gave high marks to the investments because it wanted to earn more business from the banks that issued them.
The government is seeking $5 billion in penalties.
2--Send in the clones:
The New York Times is Wowed that Obama's Six Rubinites Support Larry Summers
, naked capitalism
"[T]he president's top economic advisers uniformly support the selection of Mr. Summers. They regard him as a creative thinker and an experienced crisis manager, qualities they value in particular because they expect the Fed may confront difficult choices as it begins to retreat from its six-year-old stimulus campaign."
The obvious question, except to the
NYT
, is who the "president's top economic advisers" are who "uniformly support the selection of Mr. Summers"? There are six such advisers:
1. Gene Sperling (Director, National Economic Counsel)
2. Jason Furman (Chairman, CEA)
3. James
Stock
(Member, CEA)
4. Jacob Lew (Treasury)
5. Penny Pritzker (Commerce)
6. Sylvia Mathews Burwell (OMB)
Each of Obama's top economic advisers is a Rubinite. Sperling is one of Rubin and Summers' closest allies. Furman's prior job was running the Hamilton Project – created by Rubin to propagate his ideas. Stock is a Rubinite, a colleague of Summers, and the co-author of the article that infamously coined the term "The Great Moderation" (Ben Bernanke popularized, but did not invent, their phrase.) Some "moderation" – to state the case gently he missed the most important economic developments in modern history. Jacob Lew and Furman share the characteristic of being Rubinites and leading architects and proponents of the "Grand Betrayal" (the effort to inflict austerity and cuts in the safety net). Pritzker is a
national disgrace
. She connected then Senator Obama with Rubin. Her appointment prompted
extremely pointed criticisms
.
Office of Management and Budget Director
Sylvia Mathews Burwell
is a Rubin protégé who most recently worked for Walmart's foundation.
3---
For workers and the economy, autumn could be scary, WA Post
Unfortunately, we seem to be entering another of those periods of elevated risk," economists at Bank of America Merrill Lynch wrote last week. Researchers at RBC Capital Markets sounded even more bleak. "Just when you thought the U.S. economy was ready to break out of its lackluster 2 percent growth pace that has dominated the recovery," they wrote, "reality hits."
More economic turbulence would be particularly tough for poor and middle-class American workers, who are still struggling amid the historically weak growth following the recession. The typical worker's income has fallen since the recession ended more than four years ago, and the economy, still far from full employment, is creating far more low-paying jobs than good-paying ones. Polls show that workers remain discouraged by the economic picture, with more than half believing the United States is still in recession. ....
The new wave of pessimism set in last week. A run of disappointing economic data led forecasters across Wall Street to lower their expectations for fall growth. The Commerce Department reported that personal income fell in July; so did orders for durable goods. Although the housing market continues to improve from its recessionary depths, several key indicators — including new home starts, new home sales and pending sales — have flashed signs of weakness....
One of economists' biggest concerns is that U.S. consumers could be pulling back. The Reuters/University of Michigan Consumer Sentiment Index fell last month. IHS Global Insight predicts that annual growth in back-to-school retail sales will slow this year compared with last year.
Rising gas prices would compound the problem by diverting buying power to the pump and away from other sectors. The price of West Texas crude rose to nearly $110 a barrel at the end of last week, its highest level in more than a year. Analysts attribute much of the increase to striking oil production workers in Libya, and they warn that an escalating war in Syria could bring higher prices still.
4---
Collapse of Oil Production in Libya: the Fundamental Feeding the Fear
, Testosterone Pit
Oil prices are at a six-month high and no one knows exactly what is going to happen in Syria nor how it will ultimately affect oil prices in the coming weeks. However, in addition to fear, the recent spike in oil prices also reflects more fundamental supply factors: Libya, a major regional producer, has seen its production completely collapse over the past month.
Libya's crude oil is of extremely high quality and is a favourite feedstock for European refineries. The loss in Libyan production has put increased strain on an already tight global oil market—OPEC's spare capacity
stands
at a low 2.31 million barrels per day, or a mere 2.5% of global consumption—which serves to increase the fear that any mistake in Syria could cause an oil shortage
5---
How the Bank Lobby Loosened U.S. Reins on Derivatives
, Bloomberg
The fate of one of Gensler's central goals shows why the U.S. attempt to rein in the world's most secretive and profitable financial products falls short of the vision he promoted four years ago. While he won regulators the power to reach deep into a $633 trillion market, Wall Street preserved its dominance in derivatives trading with one of the largest sustained lobbying attacks on a single Washington agency.
In the end, the full force of the rules that the CFTC is writing under the authority of the 2010 Dodd-Frank financial regulatory law will apply to only a small share of the global market -- possibly less than 20 percent, according to data compiled by Bloomberg.
Whole segments of the business have been carved out of the rules. Derivatives based on foreign-exchange rates are largely exempt. Some firms are modifying their products to escape new oversight. And after Gensler's compromise with Europe, American banks will be able to sell derivatives overseas without direct U.S. scrutiny.
AIG Bailout
Derivatives were famously labeled "financial weapons of mass destruction" by investor
Warren Buffett
before they became accelerants in the 2008 meltdown and led to the $182 billion U.S bailout of AIG. The insurer couldn't cover credit-default swaps it sold to banks when the global squeeze began. The derivative rules now taking shape are a core element of Dodd-Frank, the government's biggest foray into regulating the financial industry since the SEC was created during the Great Depression.
'Next AIG'
To Gensler and his supporters, there was no sense clamping down on swap trading if the agency couldn't see what U.S. firms did overseas. Didn't AIG, which sold swaps out of a London subsidiary and held a French banking license, prove the danger?
"If you develop a set of rules that are designed to prevent the next AIG and it wouldn't prevent the next AIG, that's a problem," said Barr, the former Treasury official.
While other countries were developing their own rules, some U.S. officials said they might not be as comprehensive or transparent.
Gensler's education on the issue began much earlier than AIG. Working for Goldman Sachs in the early 1990s, he helped oversee the firm's swaps book in Asia, which he said was recorded on one "massive Lotus spreadsheet."
As a Treasury assistant secretary in 1998, Gensler was sent on an emergency mission to Greenwich, Connecticut, one Sunday to see if the government could stop the implosion of hedge fund giant Long-Term Capital Management.
Cayman Islands
After investigating the situation, Gensler rushed back to Washington for the Jewish holiday of Rosh Hashanah, calling Treasury Secretary
Robert Rubin
from the airport with his conclusion: Nobody had any idea what would happen to the firm's $1 trillion swaps portfolio because it was handled out of a legal entity in the Cayman Islands. Gensler knew well how the industry used such business structures overseas. He had helped set them up at Goldman Sachs.
"I will never forget it," said Gensler. "This was not a good phone call to make to the secretary of Treasury."
6---
Emerging Nations Save $2.9 Trillion Reserves in Rout
, Bloomberg
Developing nations from Brazil to
India
are preserving a record $2.9 trillion of foreign reserves and opting instead to raise interest rates and restrict imports to stem the worst rout in their currencies in five years.
Foreign
reserves
of the 12 biggest emerging markets, excluding
China
and countries with pegged currencies, fell 1.6 percent this year compared with an 11 percent slump after the collapse of Lehman Brothers Holdings Inc. in 2008, data compiled by Bloomberg show. The 20 most-traded emerging-market currencies have
weakened
8 percent in 2013 as the Federal Reserve's potential paring of stimulus lures away capital.
7---
The Austerian Mask Slips
, NYT
8---
GDP average just 2.2 percent since end of recession
, Bloomberg
The U.S. is weathering
federal budget
cuts and higher payroll taxes, growth is picking up and some economists predict the expansion, now in its fifth year, may last longer than most. ...
After months of political wrangling, Congress worked out a deal with President
Barack Obama
on Jan. 1 that let the payroll tax revert to 6.2 percent from 4.2 percent while avoiding broad-based income-tax increases. Across-the-board cutbacks in federal spending began in March.
Even with these restraints, GDP kept growing, and as their effects fade, the expansion will accelerate in the second half of 2013, according to a Bloomberg survey.
"Given how well the economy's done in the last year, in spite of everything that's happened in
Washington
, that's a pretty good sign" of its underlying strength, said New York-based Harris, who projects a 2.7 percent growth rate next year after an estimated 1.5 percent this year and a step up to 3 percent in 2015.
Zandi's more optimistic forecast shows the pace almost doubling to 3.3 percent in 2014 after 1.7 percent this year and reaching 4.1 percent in 2015. A growth rate of 3 percent or more would be the best since 2005, and exceed the 2.2 percent average since the recovery began.
9---
Are we ready for the next meltdown?,
CNN Money
But when Lehman went under, two horrible, unanticipated things happened. One was that a big money-market fund, the Reserve Fund, had to take losses because it owned Lehman paper. Reserve's "breaking the buck" ignited a run on all money funds, forcing the government to guarantee all accounts in order to quell the panic.
MORE: Five years after the fall
Second, some hedge funds that used Lehman's London office as their "prime broker" found their assets frozen as a result of its bankruptcy. That triggered a mad scramble in the U.S. as hedgies pulled their accounts out of
Goldman Sachs
(GS, Fortune 500)
and
Morgan Stanley
(MS, Fortune 500)
, neither of which had full access to the array of Fed lending programs that commercial banks did. Both firms would have gone under -- inflicting catastrophic pain on the financial system by setting off a worldwide cascade of failures -- had the Fed not made Goldman and Morgan Stanley bank holding companies and given them access to unlimited cash to meet customer withdrawals. The run promptly stopped.
These two Lehman side effects, which too many people have forgotten, typify the problems of dealing with financial crises. You don't know where the problem will come from, so you need to have all sorts of resources available.
10--
Bank Leverage Is the Defining Debate of Our Time
, Bloomberg
11---
Exit Keynes, the Friedmanite, Enter Minsky's Keynes
, John Hopkins
Perhaps the most indictable offense that mainstream economists committed, from 1988 through 2008, was to retrace, step by step, Keynes's path of discovery from 1924 through 1936. Wholesale deregulation of finance and categorical confidence in a reductionist role for central banks came into being as the conventional wisdom embraced the 1924 view that free markets and stable prices alone gave us the best chance for economic stability. To add insult to injury, the conventional wisdom before the crisis was embedded in models called "new Keynesian" which were gutted of the insights of Keynes. This conventional wisdom gave license to a succession of asset market boom/bust cycles that defied the inflation/deflation model but were, nonetheless, ignored by central bankers and regulators alike.
Quite predictably, in the aftermath of the grand asset market boom/bust cycle of 2008-2009, we are jettisoning Keynes, circa 1924, for the Keynes of 1936. In effect, we study business cycles, but seem incapable of extricating the Economics Profession from reciting its assigned lines as the play unfolds. In Act I we are students of market mayhem, in the aftermath of a big crash. In Act II we become more comfortable with the power of stabilizing policies as the crash recedes from view. Act III involves the creation of a storyline that defines the asset market bust in unique disaster terms.
And in the final Act? We are champions of minimalist intervention strategies, aimed at moderating real economy pulses and stripped of concerns about the veil of finance. Thus we seem perpetually doomed to avoid the sins of our fathers, and perpetuate the follies of our grandfathers. Hardly a description of progress.
12---
After the Great Recession, there's no Great Recovery
, msn money
A UCLA report says growth just isn't strong enough to 'for the national economy to truly recover.'
In its second quarterly report for the year, the
Anderson Forecast says
despite "improvement in both GDP and key economic sectors, the overall growth falls short of the rates required for the national economy to truly recover from the most recent recession."
Anderson Forecast director Edward Leamer's essay "Great Recovery: Wherefore Are Thou" says the current economy is caught in a paradox: Yes, jobs are being created, he says. But not rapidly enough, and the jobs available can't ensure a worker's financial security.
At the same time, the lukewarm GDP growth isn't helping America's fundamental economic challenges. Plus, factors like the sequester's mandatory cuts in federal spending are going too far too fast, says
IMF head Christine Lagarde
, and creating "self-inflicted fiscal wounds."
U.S. real GDP is now 15.4% below the normal 3% trend," Leamer writes. "To get back to that 3% trend, we would need 4% growth for 15 years, or 5% growth for eight years, or 6% growth for five years, not the disappointing twos and threes we have been racking up recently, which are moving us farther from trend, not closer to it."
In short, he says: "It's not a recovery. It's not even normal growth. It's bad."
Even though household net worth has fallen a record $11 trillion, or 18%
, during the course of this recession, the broader economy can weather such a shock.
Significant policy changes since the 1930s will also cushion the blow.
Unemployment insurance, Social Security payments and larger government at the federal, state and local levels keep money flowing into the economy even as consumers and businesses pull back on their own spending
13
---5 years after Lehman,
Huff Post
On July 31, 2009 the Bureau of Economic Analysis
BEA
revised all
GDP
statistics from 1929. It has revised the most recent three years each year since then. The most recent stats (July 29, 2011) are given below, with the original stats in parentheses.
2008-2009 Recession
The worst recession since
the Depression
. The economy shrank in five quarters, including four quarters in a row. Two quarters shrank more than 5%, and
Q2 2008
shrank a whopping 8.9%, more than any other recession since the Great Depression. The recession ended in Q3 2009, when GDP turned positive,
thanks to economic stimulus spending
. The recession was also the longest since the Depression, lasting 18 months.
2008
Q1 -1.8%(-.7%)
Q2 1.3% (1.5%)
Q3 -3.7% (-2.7%)
Q4 -8.9% (-5.4%)
2009
Q1 -6.7% (-6.4%)
Q2 -.7% (-.7%)
14---
GDP Revisions Make Recovery Look Better, Recession Not as Bad
, WSJ
The U.S. economy expanded at a stronger pace in 2012 than previously measured and the great recession was less severe, new data from the
Commerce Department
shows.

The country's gross domestic product, the broadest measure of goods and services produced across the economy, expanded at a 2.8% pace last year versus a previous estimate of 2.2%, due to periodic revisions released Wednesday by the agency's
Bureau of Economic Analysis
.
The figures also show the 2007 to 2009 recession was less severe than previously thought, with the economy shrinking at an average annual 2.9% pace, compared with the previously reported 3.2% contraction. The recession stretched, officially, from December 2007 through June 2009, according to the
National Bureau of Economic Research
, which determines the widely accepted benchmarks for U.S. business cycles.
The current recovery, which followed that recession, was revised to show stronger growth than previously thought, though it is still the weakest recovery since World War II. The economy expanded at an average annual rate of 2.3% between the second quarter of 2009 and the fourth quarter of 2012, compared with a previously published 2.1% pace.
The revisions come as part of a comprehensive overhaul of gross domestic product data dating from 1929 through the end of 2012. The government revised the figures to include new measures and data it says better captures the U.S. economy
15---
Collapsing investment and the Great Recession
, Truthout
Rising Profits, Falling Investment:
The share of national income going to investment (net of depreciation of existing plant and machinery) has been declining since the beginning of the "neoliberal" era, around 1980. Since the start of the Great Recession, net investment as a share of GDP has plummeted to its lowest level since the 1930s. This sharp drop in investment comes despite sharply rising profits.
Monetary Policy Isn't Working:
The Federal Reserve has helped to shorten past recessions by driving down interest rates to lower the cost of borrowing and so spur investment. During the current crisis, the Fed has conducted an aggressive monetary policy, raising the money supply to lower interest rates. But it has had little effect on investment. While lower interest rates have had only a weak effect on investment in the past, monetary policy has had
no discernible effect
in the last few years, as investment rates are dramatically lower than would have been expected given the level of interest rates. Substantial excess capacity, weak expectations of future sales, and corporate strategies to shift production outside the United States all may be contributing to the lack of investment demand...
The Broken Link between Profit and Investment:
In the past, higher corporate profits were associated with higher rates of investment, as businesses have rushed to take advantage of profitable opportunities. In the current crisis, however, the link between profit and investment has been broken and investment rates have been very low despite high rates of profitability (especially in 2010 and 2011). Businesses are holding back on investing, either because they anticipate continued low levels of demand (perhaps due to high unemployment and low wages) or because they plan to shift more production outside the United States.
16---
Putin on Syria: "Prove it!",
RT
We believe that at the very least we should wait for the results of the UN inspection commission in Syria,"
Putin said, adding that so far there is no information about what chemical agent exactly was used in the attack in Damascus' suburbs and who did it.
"I've already said I find it absolutely ridiculous that [Syrian] government's armed forces, which today are actually on an offense mission and in some regions have already encircled the so-called rebels and are finishing them off, that the Syrian army has used prohibited chemical weapons,"
Putin said.
"They know all too well that this could become a cause for sanctions and even for a military operation against them. That's stupid and illogical."
"We proceed from the assumption that if anyone has information that chemical weapons were used by the Syrian regular army, then such proof must be presented to the UN Security Council and the UN inspectors,"
Putin said, stressing that the proof must be
"convincing"
and not based on
"rumors"
or any sort of
"eavesdropped intelligence data,"
conversations etc.
"Even in the US there are experts who question the reliability of the facts presented by the administration. These experts do not exclude the possibility that the Syrian opposition has conducted a pre-planned provocation in order to give their sponsors a reason for military intervention,"
he acknowledged
17---
Seventy-five years of the Fourth Internation
al, wsws
The main task facing the delegates attending the founding conference was the adoption of a document that had been drafted by Leon Trotsky. It was entitled "The Death Agony of Capitalism and the Tasks of the Fourth International." Its opening sentence, among the most significant and profound in the annals of political literature, stated: "The world political situation as a whole is chiefly characterized by a historical crisis of the leadership of the proletariat."...
In our epoch, which is the epoch of imperialism, i.e., of
world
economy and
world
politics under the hegemony of finance capital, not a single communist party can establish its program by proceeding solely or mainly from conditions and tendencies of development in its own country....
The words of Trotsky, written 75 years ago, retain an extraordinary immediacy:
All talk to the effect that historical conditions have not yet "ripened" for socialism is the product of ignorance or conscious deception. The objective prerequisites for the proletarian revolution have not only "ripened"; they have begun to get somewhat rotten. Without a socialist revolution, in the next historical period at that, a catastrophe threatens the whole culture of mankind. It is now the turn of the proletariat, i.e., chiefly of its revolutionary vanguard. The historical crisis of mankind is reduced to the crisis of the revolutionary leadership
18---Obama seeks green light for total war---
The draft of the Authorization of the Use of Military Force submitted by the White House to Congress is crafted accordingly
, wsws
Not accidentally, among the more penetrating analyses of the Obama administration's proposed AUMF is one by Jack Goldsmith, the Harvard University law professor who resigned from his post in the Bush Justice Department's Office of Legal Counsel over the so-called torture memos.
Writing on the web site
Lawfare
, Goldsmith warns, "There is
much
more here than at first meets the eye. The proposed AUMF focuses on Syrian WMD but is otherwise very broad. It authorizes the President to use any element of the US Armed Forces and any method of force. It does not contain specific limits on targets—either in terms of the identity of the targets (e.g., the Syrian government, Syrian rebels, Hezbollah, Iran) or the geography of the targets."
The resolution authorizes the use of force "in connection with the use of chemical weapons," to prevent the use or proliferation "within, to or from Syria" of not only such weapons, but any "components of or materials used in such weapons." In addition, force can be used to "protect the United States and its allies and partners against the threat posed by such weapons."
Such language would allow Obama to order an attack on either Iran or Russia on the grounds that their material support for the Syrian regime was "connected" to its ability to use chemical weapons. It allows US military action in response to supposed threats to Israel, Turkey or Jordan. In short, it clears the deck for a region-wide and even global war.
19
---No, real wages are not falling
, Bondad blog
Here's the longer term graph of real compensation per hour for the last half century: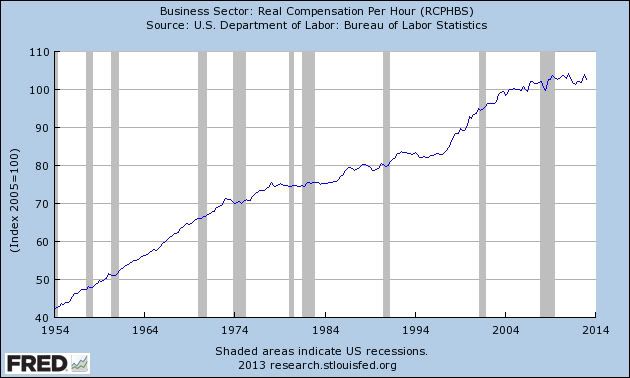 The best case to make is that real wages in this series have stagnated for over 5 years. They peaked in Q1 2011, declined almost 3% over the next 3 quarters, and have increased roughly 1% since then....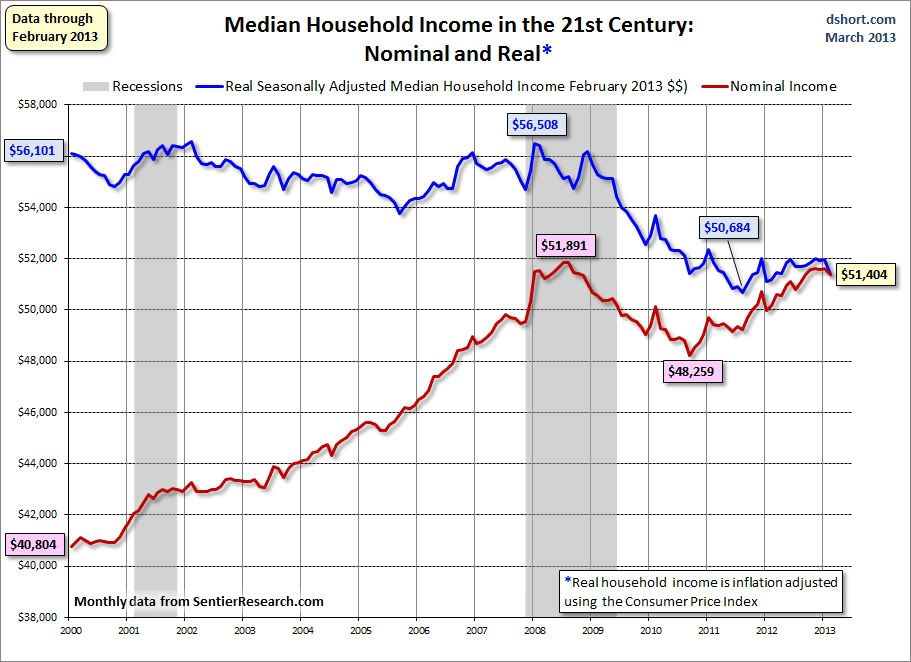 Notice that median household income declined about 10% into 2011, and since then has slowly risen, although it is still about 7% under its 2007 pre-recession peak.
The data Johnston uses is similar to that tracked by Doug Short. Ultimately it comes from
a study by Saez and Piketty
on worsening income inequality. They make the case - and I have no reason to doubt that it is absolutely true - that income inequality has worsened since the onset of the great recession. Just like the "median household income" tracked by Doug Short, Saez and Piketty find a large drop in "average pretax income" from 2007 through 2011.
But the index isn't measuring wages. It is measuring income, which includes in that mix households with wage-earners, households where one or more adults is unemployed, and households where one or more adults is retired....
What we really want to know is what is happening with the median wage, and something about the spread in wages. And as it happens, there is a statistic that comes out every quarter that tell us what the median wage is. It's called the Employment Cost Index, and here it what it shows as to wages: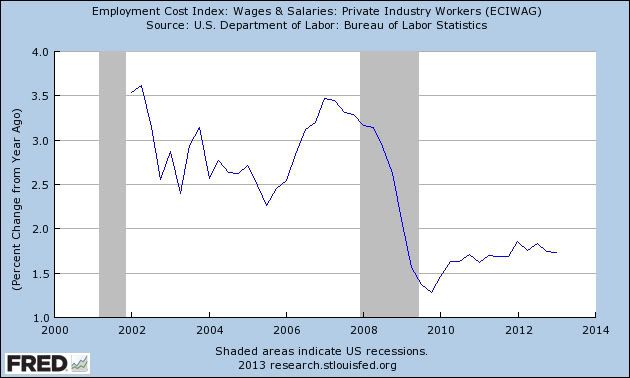 With median wages rising only about 1.5% YoY or so, even a 2% YoY inflation rate causes most Americans to lose ground.
Don't get me wrong. As I've hopefully made clear many times on this blog, I consider real wage stagnation to be one of the biggest problems we face. Creating more jobs and increasing real wages ought to be Washington's highest priority