1---
Home prices push past rising rates, says report
, Realty Check (baloney)
Home prices are now within 18 percent of their peak levels reached in the spring of 2006, according to CoreLogic, which predicts prices will be up a slightly lower 12.3 percent annually in August. ...
Despite rising interest rates, home prices continue to surge higher. The latest read shows values, including distressed properties, up 12.4 percent in July, year over year, according to a monthly CoreLogic report. That's higher than both May and June's annual increases.
This is the 17th consecutive month of annual gains for home values nationally. Prices were up 1.8 percent month over month, according to the report. ...
Mortgage rates are about a full percentage point higher today than they were at the beginning of March. The average rate on the 30-year fixed hit 4.80 percent by the middle of last week, according to the Mortgage Bankers Association. That is the highest since April 2011.
2--
-QE produces stagnant wages, low-paying jobs and poor distribution
, Bloomberg
Since the beginning of 2013, total personal income has increased by about $323.3 billion, while total employee compensation has increased by just $112.5 billion. People who get their income from renting out real estate, from dividends on stocks and from interest payments on bonds got an additional $186.7 billion. (The rest of the growth came from Social Security, Medicare, Medicaid, and veterans' benefits.) Put another way, workers only got about a third of the economic growth generated so far this year. That's significantly less than their average share of income growth since the beginning of 2010, which was closer to about half.
This might not be so bad if the higher returns on assets encouraged new business investment, which in turn would create more jobs and lead to a broader recovery. So far, this hasn't happened. Instead, we have seen disproportionate employment growth in low-paying services industries, even though most of the jobs that were lost in the recession paid wages closer to the median income. Since current government policies aren't working very well, maybe it's time to try something new.
3---
Abenomics Fail: Wages drop in Japan,
Bloomberg
Japan salaries extended the longest slide since 2010 in July, raising the stakes for Prime Minister Shinzo Abe's decision on whether to increase a sales tax.
Regular wages excluding overtime and bonuses dropped 0.4 percent from a year earlier, marking a 14th straight month of decline, according to data released today by the Ministry of Health, Labour and Welfare. Bonus payments rose 2.1 percent, helping to lift total cash earnings 0.4 percent.
Boosting workers' incomes is key to the success of Abe's efforts to resuscitate the economy after doses of fiscal and monetary stimulus helped weaken the yen and start a recovery, boosting corporate profits. With salaries sliding and consumer prices rising in July at the fastest pace since 2008 on higher energy costs, a sales-tax increase could squeeze households, threatening the success of the policies dubbed Abenomics.
"Companies aren't confident enough on the sustainability of the economic recovery," said Yoshimasa Maruyama, chief economist at Itochu Corp. (8001) in Tokyo. "If wages don't improve much, it may pose a political risk" to Abe's administration, he said.
Abe is set to decide by early next month on the sales tax, which under current legislation is set to rise to 8 percent in April and 10 percent in October 2015 from 5 percent now.
4---
U.S. Workers Still Haven't Shaken the Job Worries of 2009, Gallup
Worry about being laid off has increased most for the low-income
5---
Market turmoil signifies a new global financial crisis in the making
, wsws
The US Fed has virtually washed its hands of any responsibility for the international situation, with officials insisting they are only concerned with the domestic impact of their policies. This recalls the infamous phrase of treasury secretary John Connally when confronted with European concerns about a fall in the dollar in 1973 that "it's our currency but it's your problem." Now the aggressive economic policy of 40 years ago has been raised to new heights and is being combined with increasing militarism in pursuit of US interests around the world.
No international solution is being discussed or even in sight. South
African finance minister Pravin Gordhan has spoken of the "inability to find coherent and cohesive responses across the globe to ensure that we reduce the volatility in currencies." Speaking at the Jackson Hole, Wyoming, conclave of central bankers last month, Agustin Carstens, Mexico's central bank governor, noted the "volatility of [capital] flows has been very pernicious."
The underlying causes of this volatility were highlighted in a recent report by the management consultant firm Bain and Company. It pointed out that the relationship between the financial economy and the underlying real economy had reached "a decisive turning point." While real output was slowing, the volume of financial assets had expanded at a rapid pace and was now ten times the value of the global output of goods and services.
In other words, the world economy increasingly resembles an inverted pyramid in which an expanding volume of financial assets—the growth of which is being fuelled by the policies of the Fed and other central banks—sits on top of a base that is declining in relative size.
It was this situation, the report drew out, which has meant that asset bubbles, created by the speculative inflows of capital searching for profits, "have moved from being relatively isolated events to system-shaking crisis claiming trillions of dollars of losses."
6---
Slow Wage Growth Holds Back Income in July
, DS News
Income growth was held back largely due to wages and salaries, which were down almost $22 billion in July from June, after increasing $34.0 billion in June. Farm income, which had fallen for three straight months reflecting struggles with weather, improved a modest $6.2 billion in July, about 8 percent of the aggregate $73.8 billion drop in April, May, and June.
The weak increase in total personal spending followed a 0.56 percent gain in June.
Personal savings remained at 4.4 percent of disposable (after-tax) income.
By the numbers, income grew $14.1 billion, while spending was up $16.3 billion. In June, income grew $38.2 billion, while spending spiked $64.0 billion, the largest month-over-month increase since February, when spending rose $75.7 billion...
The personal income report measures all sources of income except capital gains. Wages and salaries generally account for just over 50 percent of total personal income.
Government transfer payments—Social Security, Medicare, Medicare, unemployment insurance, and veterans benefits—account for about 17 percent of personal income. In the aggregate, the payments rose about $4.3 billion, or 0.18 percent, in July from June.
Most of the spending increase in July was for goods, up $19.9 billion, while spending for services fell $3.2 billion. Spending on durable goods—typically big ticket items paid with borrowed funds—fell $2.5 billion, while spending on non-durable goods rose $22.4 billion. Spending on durable goods often serve as an indicator of consumer confidence.
Consumer spending is about 70 percent of the nation's economy, so this report for the first month of the quarter offers the first glimpse into third quarter gross domestic product.
BEA
Thursday reported
GDP
for the second quarter improved at a seasonally adjusted annual rate of 2.5 percent.
BEA
also reported the personal consumption price index—which tracks spending not price as the consumer price index does—increased less than 0.1 percent in July, compared with an increase of 0.2 percent in June. Year-over-year, the index is up 1.4 percent. Excluding food and energy, the index rose 0.1 percent in July, compared with 0.2 percent in June, and is up 1.2 percent in the last year.
The
PCE
price index is often considered the Federal Open Market Committee's favored inflation measure since it reflects prices paid and not just posted.
Then Fed has set a target of 2.0 percent for inflation as a trigger—along with a 6.5 percent unemployment rate—for phasing out its monetary policy designed to stimulate the economy.
7---
QE has actually pushed rates higher,
Wall Street Examiner
From mid November 2012 just before the Fed began to settle its QE3 MBS purchases to the date of the current statement, SOMA has grown by more than $800 billion.
Meanwhile the yield on the 10 year Treasury rose in a sawtooth pattern from a low of 1.59 in May 2012 to a high of 2.90 on August 19, 2013. Has QE pushed long term rates down? Apparently not.
The evidence strongly suggests that QE was not effective in suppressing long term interest rates. I saw and reported at the time US long term interest rates were falling, that Euro capital flight was the driver. Each time the European crisis flared up, money flowed out of Europe into the Treasury market, simultaneously causing US bank deposits to soar while European banks saw outflows.
Exacerbating those flows was the fact that the flare-ups of the crisis triggered massive ECB lending to the banks, which only increased the flows into Treasuries as the banks took that money out of Europe and bought Treasuries.
Then in January of this year the ECB opened the window for allowing repayment of the emergency LTRO funding program of late 2011 early 2012. The money flows into Treasuries reversed when the Treasury carry trades that that cash had funded began to be unwound. The chart below illustrates both the impact of the ECB funding on the trend of Treasury prices, and the lack of impact of the Fed's QE, which apparently was mostly funneled into US equities. The trends of the ECB's balance sheet and Treasury prices correlated closely. The Fed's balance sheet trends and Treasury prices did not correlate at all.
Deleveraging in conjunction with banks unwinding the Treasury carry trade using the ECB's LTRO funding seems to have been at least the catalyst, if not a driving force, behind the selloff in Treasuries and the rise in yields
8---
Investors drive Calif real estate prices higher,
Dr Housing Bubble
This kind of evidence suggests that this upcoming generation will have it financially tougher than that of baby boomers that witnessed one of the hottest stock and real estate markets ever. It is also no surprise that many younger Americans are living at home in spite of what we are told about the economy:
"(Salon) America's young people have been hit so hard by the crappy economy that they can't even get out the door. A fresh study from Pew Research reveals that 36 percent of Millennials —young adults ages 18 to 31 — are still living under their parents' roofs (this includes college students who come home for breaks). Not since the 1960s have so many young people resorted to couch surfing with mom and dad, a record 21.6 million young adults last year.
This is a gigantic sign that something is going horribly wrong in our economy—something that will cost everybody."
This is important to grasp since there seems to be an implication that younger Americans and Millennials are flush with cash and ready to buy homes in droves. In reality, many are going to have a tough time renting. Many are already saddled with massive debt and given the sky high prices of California real estate, is this group really primed to buy up all the future housing that will come online? Hard to say since the market
is currently dominated by investors
. If we think of middle class life as including homeownership, many Millennials are going to face an uphill battle here.
Poverty rate
First, it is important to define "middle class" since people put out nonsense that middle class means $250,000 of income a year. By definition, middle class is the median household income. In the US, this means about $52,000 and in California this means $57,000. This is simply data from the US Census. In fact, only 6 percent of California households make more than $200,000 (26 percent make more than $100,000). Since rising prices across many items eat into stagnant incomes, it is no surprise that the poverty rate in the state has increased even during this recovery: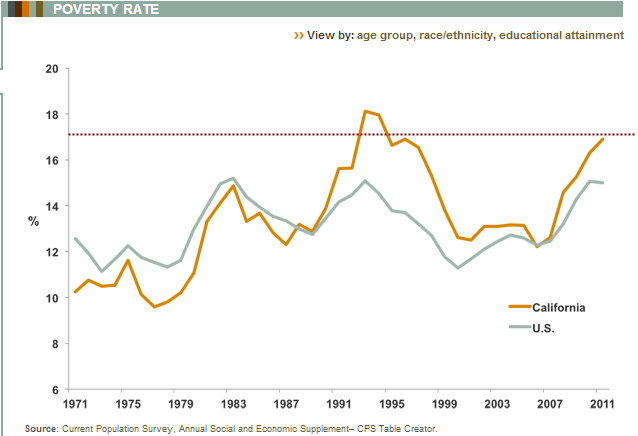 The poverty rate continues to increase where we now have 3 million Californians on food stamps. Many of these people have fallen off the middle class ladder and are now struggling to get by. Rising real estate values and a rising stock market don't necessarily trickle down to most
middle class families
.
9---
4 economic indicators signal that US growth is off to a weak start for the quarter
, sober look
Those hoping for the US economy to accelerate in the second half - and many economists made that call early in the year - will be disappointed. While employment metrics seem to show steady improvements, putting the Fed on the "taper path", the economy is facing some increasing headwinds. Here are four indicators signaling a tough road ahead.
1. The rate of improvement in the housing sector is slowing. Weak new home sales number was the first indication that not all is well with US housing (
discussed here
), but now home price increases (HPI) have leveled off. This trend may actually take MBS off the table for the Fed's taper, leaving the central bank to focus on cutting back only the treasury purchases.
Source: TD Economics
TD Economics: - To make matters worse, the rapid recovery in the housing market seems to have hit a snag. Rapidly rising mortgage rates resulting from taper-talk may already be showing up. Both new and pending home sales have declined in July. Moreover, measures of home price growth failed to accelerate in June, although it remains unclear whether due to higher rates or increasing inventory of properties for sale.
2. Personal income growth remains weak.
NY Times

: - After rising 0.3 percent in June, income was held back in part by steep government spending cuts that reduced federal workers' salaries. Overall wages and salaries tumbled $21.8 billion from June, with a third of the decline coming from forced furloughs of federal workers.
3. Growth in consumer spending (which represents over 70% of the GDP) has slowed as well.
WSJ

: - A paltry increase in consumer spending in July showed the U.S. economy starting the second half of the year on a bumpy path, creating another risk to growth along with overseas turmoil and Washington budget battles.

U.S. personal spending on everything from cars to clothing rose a mild 0.1% in July from a month earlier, the weakest since April, the Commerce Department said Friday. Overall incomes improved slightly, but wages and salaries fell 0.3%, pushed down by federal spending cuts that spurred furloughs across the government.

Americans' willingness to open their wallets has been a key driver of the recovery for years, despite still-high unemployment and stagnant wages. Better-than-expected growth in the second quarter—the economy expanded at a 2.5% annualized pace—was largely due to strong consumer spending, which represents more than two-thirds of demand in the U.S. economy.

But the latest data showed that consumers entered the third quarter with a thud.
4. As discussed earlier (
see post
), consumer confidence has peaked in the second quarter and has been declining steadily since
10--
QE; Serious misdiagnosis of problem,
Stephen Roach, project syndicate
Blindsided by the crisis of 2007-2008, the Fed has compounded its original misdiagnosis of the problem by repeatedly doubling down on tactical responses, with two rounds of QE preceding the current, open-ended iteration. The FOMC, drawing a false sense of comfort from the success of QE1 – a massive liquidity injection in the depths of a horrific crisis – mistakenly came to believe that it had found the right template for subsequent policy actions.
approach might have worked had the US economy been afflicted by a cyclical disease – a temporary shortfall of aggregate demand. In that case, countercyclical policies – both fiscal and monetary – could eventually be expected to plug the demand hole and get the economy going again, just as Keynesians argue.
But the US is not suffering from a temporary, cyclical malady. It is afflicted by a very different disease: a protracted balance-sheet recession that continues to hobble American households, whose consumption accounts for roughly 70% of GDP. Two bubbles – property and credit – against which American families borrowed freely, have long since burst. But the aftershocks linger: Household-debt loads were still at 113% of disposable personal income in 2012 (versus 75% in the final three decades of the twentieth century), and the
personal-saving rate
averaged just 3.9% last year (compared to 7.9% from 1970 to 1999).
fixated on balance-sheet repair, US consumers have not taken the bait from their monetary and fiscal authorities. Instead, they have cut back on spending. Gains in
inflation-adjusted personal-consumption expenditure
have averaged a mere 0.8% over the past five years – the most severe and protracted slowdown in consumer demand growth in the post-World War II era.
brute force of massive monetary and fiscal stimulus
rings hollow
as a cyclical remedy to this problem. Another approach is needed.
focus, instead, should be on accelerating the process of balance-sheet repair, while at the same time returning monetary and fiscal policy levers to more normal settings
11--(
archive) Macro Malpractice,
Stephen Roach, project syndicate
Moreover, the Fed's approach is severely compromised by the so-called zero bound on interest rates. Having run out of basis points to cut from interest rates, the Fed has turned to the quantity dimension of the credit cycle – injecting massive doses of liquidity into the collapsed veins of zombie consumers.
To rationalize the efficacy of this approach, the Fed has rewritten the script on the transmission mechanism of discretionary monetary policy. Unlike the days of yore, when cutting the price of credit could boost borrowing, "quantitative easing" purportedly works by stimulating asset and credit markets. The wealth effects generated by frothy financial markets are then presumed to rejuvenate long-dormant "animal spirits" and get consumers spending again, irrespective of lingering balance-sheet strains.
There is more: Once the demand problem is cured, according to this argument, companies will start hiring again. And then, presto – an unconventional fix magically satisfies the Fed's long-neglected mandate to fight unemployment.
h
But the Fed's policy gambit has taken the US down the wrong road. Indeed, the Fed has doubled down on an approach aimed at recreating the madness of an asset- and credit-dependent consumption model – precisely the mistake that pushed the US economy toward the abyss in 2003-2006.
as two previous rounds of quantitative easing failed to accelerate US households' balance-sheet repair, there is little reason to believe that "QE3" will do the trick. Quantitative easing is a blunt instrument, at best, and operates through highly circuitous – and thus dubious – channels. Significantly, it does next to nothing to alleviate the twin problems of excess leverage and inadequate saving. Policies aimed directly at debt forgiveness and enhanced saving incentives – contentious, to be sure – would at least address zombie consumers' balance-sheet problems.
, the side effects of quantitative easing are significant. Many worry about an upsurge in inflation, though, given the outsize slack in the global economy – and the likelihood that it will persist for years to come – that is not high on my watch list.
more disconcerting is the willingness of major central banks – not just the Fed, but also the European Central Bank, the Bank of England, and the Bank of Japan – to inject massive amounts of excess liquidity into asset markets – excesses that cannot be absorbed by sluggish real economies. That puts central banks in the destabilizing position of abdicating control over financial markets. For a world beset by seemingly endemic financial instability, this could prove to be the most destructive development of all.
The developing world is up in arms over the major central banks' reckless tactics. Emerging economies' leaders fear spillover effects in commodity markets and distortions of exchange rates and capital flows that may compromise their own focus on financial stability. While it is difficult to track the cross-border flows fueled by quantitative easing in the so-called advanced world, these fears are far from groundless. Liquidity injections into a zero-interest-rate developed world send return-starved investors scrambling for growth opportunities elsewhere.
As the global economy has gone from crisis to crisis in recent years, the cure has become part of the disease. In an era of zero interest rates and quantitative easing, macroeconomic policy has become unhinged from a tough post-crisis reality. Untested medicine is being used to treat the wrong ailment – and the chronically ill patient continues to be neglected
13---Sinking US consumer; No rebound from recession---http://www.project-syndicate.org/commentary/america-s-over-hyped-consumer-recovery-by-stephen-s--roach