1---
More on Japan's QE insanity,
Testosterone Pit
BOJ's Koji Ishida: inflation without compensation bad for economy
. The Bank of Japan board member and former commercial bank executive confirmed the obvious, given data from the last few months, that there would be a "high possibility" inflation would hit the magic 2% between October 2014 and March 2016 (though it's even more likely that inflation will exceed that target sooner). But "economic growth will be temporary and not sustainable,"
he warned
, if wages don't go up with inflation. Wages haven't done that yet, and they might not do it, or not fully, the curse that wage earners in the US have lived with for years (see above). "Households' real purchasing power would decrease, causing consumer spending to decline and the whole economy to deteriorate." Duh. Ah yes, and stronger exports would also be needed, he said. Neither can be obtained by printing money. A conundrum for a central banker. But he is a bit of a rebel. Last December, his proposal that the BOJ stop paying interest on excess reserves that big banks park there was voted out of existence 8-1, a defeat that hammered back down this nail that had dared to stick out.
2-
-Subprime auto loans; The next shoe to drop
?, Testosterone Pit
Americans are indeed buying cars from automakers—but on borrowed money.
Here's what you really need to know other than just focusing on the sales by automakers:
Since the Federal Reserve introduced its easy monetary policies, there has been a significant increase in auto loans to the subprime borrowers—those with a low credit score of less than 620—compared to the prime borrowers—those with a credit score of 760 and above. (Reminds me of the housing crisis we saw in the U.S. economy not too long ago.)
In the second quarter of 2009, there was $10.8 billion of outstanding auto loans to the subprime borrowers in the U.S. economy. Fast-forwarding to the second quarter of 2013, this number stood at $21.2 billion—an increase of more than 96% in just a matter of a few years. In the same period, the amount of auto loans to prime borrowers only increased 38%! (Source: Federal Reserve Bank of New York web site, last accessed September 10, 2013.)
Unfortunately, the problem doesn't end there. Auto loans continue to increase in the U.S. economy. In the second quarter of this year, auto loans as a whole increased to $92.0 billion—the highest level since the third quarter of 2007. (Source: "Household Debt and Credit Developments in 2013 Q2," Federal Reserve Bank of New York, August 2013.)
Now this will really alarm you…
Auto loans delinquent for 90 days or more in the U.S. economy now sit at 3.6% of all loans. With interest rates already rising, I can only see this number growing.
Are auto loans going to be the next big bubble to burst in the U.S. economy?
The Mortgage Bankers Association's refinance index fell by 28% over the past week, as the refi gravy train came to a screeching halt. The Google Trends search frequency for "mortgage refinance" remains a good indicator of refi activity and is now at the lowest level in years.
In response banks are loosening lending standards and laying off employees. Volumes are falling sharply.
Charlotte Business Journa

l: - Wells Fargo's booming home loan business is slamming the brakes this quarter. Chief Financial Officer Tim Sloan says the San Francisco-based bank expects a 30% drop in mortgage volume in the third quarter. Wells estimates originations this period will dip to about $80 billion from $112 billion in the second quarter.
Wells announced that it is cutting 2,300 jobs, Citi 2,200, BofA 2,100, and Chase as many as 19,000 through 2014. There will be more to come.
"We should have no confidence that the system is safe," said Richard Carnell, associate professor of law at Fordham University Law School and a former assistant Treasury Secretary for Financial Institutions under President Bill Clinton......
According to Paulson's definition, shadow banking is non-bank short-term funding, which is used to
finance
longer-term obligations by financial institutions and industrial companies. Therefore, funds that use long-term investor money to make long-term loans are less of a concern than money-market funds or repurchase agreements, which provide short-term cash to corporations and financial firms.....
five years after the collapse of Lehman Brothers turned a mortgage crisis into a full-blown financial panic, banks are pulling back their balance sheets from the fringes of the credit
markets
, with more and more risk being driven to unregulated lenders that comprise the $60 trillion "shadow-banking" sector.
Fragmented and opaque, shadow banking comes in many forms - from payday loans and "crowdfunding" websites on Main Street, to securitized products, money-market funds and repurchase agreements on Wall Street.
Banking regulators traditionally paid little attention to it, but when Lehman went under, shadow banking intensified the tumult: money
markets
and repurchase markets seized up, and investment banks and major corporations suddenly had trouble funding themselves. The financial sector, which had spent years trying to avoid regulation, began begging for government rescues.
Rulemakers acknowledge they need to fix the shadow banking sector as they reform the financial system. But their progress on that front has been halting, while regulation for the conventional banking sector has ramped up quickly and severely. In interviews, regulators, bank executives and academics said the increasing regulation of the big banks may be spurring growth in shadow banking, which in turn could be sowing the seeds for the next financial crisis.
5---
Japan agrees deal on national sales tax rise
, FT
Opponents of the tax rise note that the last time Japan increased the levy, from 3 per cent to 5 per cent in 1997, a deep recession followed. Government revenues fell even with the higher tax rate, and the debt problem worsened.
Japan's economy grew an annualised rate of 3.8 per cent in the quarter to June, according to an upgraded estimate released by the cabinet office on Monday. The office calculated in August that if the tax increase went ahead with no offsetting stimulus,
growth would slow to 1 per cent
in the following year. Some private economists say there could be another recession.
A survey of 273 builders by John Burns Real Estate Consulting in Irvine, Calif., found that the respondents' sales of new homes declined by 4% in August from a month earlier. In past years, August typically has yielded a 2% gain from the July figure. Burns estimates that its survey, conducted Aug. 29 to Sept. 3, spans roughly 16% of new-home sales in the U.S.
Perhaps more telling: far fewer of Burns's survey respondents reported raising their prices in August than had in previous months. Of the respondents in August, 47% reported raising prices, 48% held prices steady and 5% lowered prices—the largest percentage of reductions since March 2012.
Those figures show substantial change from the results of Burns's July survey in which 64% of builders reported raising prices, 36% held them study and one builder—statistically 0%—said it cut prices.
…"The fact that we saw a 4% decline (in sales volume) does suggest there is more to it than just normal seasonality," said Jody Kahn, a senior vice president at Burns.
…On Tuesday, Credit Suisse analyst Daniel Oppenheim, who tracks home-builder stocks…respond[ed] to Mr. Oppenheim's survey rated buyer traffic in August at 45.2, down from 52.9 in July. A rating of 50 indicates that buyer traffic met agents' expectations. Any number less than that means traffic failed to meet expectations, and any number greater than 50 means it exceeded them.
"We saw August trends worsening from what we'd been seeing earlier (due to) higher prices and higher rates impacting the buyer," Mr. Oppenheim.
7---
Bill Black: SEC Flacks Paint Lehman's Looters as the Victims of a "Political" SEC
, naked capitalism
Ben Bernanke and Tim Geithner and I have repeatedly said we did everything we could to prevent the failure of Lehman and there was no legal means of doing so, we continually get that question.
Frankly, today, thanks to Dodd-Frank, regulators have the authorities to wind down any large failing financial institution. And I wish we had those authorities, but we didn't. And the other thing I remind people all the time is Lehman was not the cause of the crisis. Lehman was a symptom.
...what we did wasn't for the bankers. What we did was to protect the lives and the livelihood of the American people...
SIEGEL: You actually had to urge some of the foreign countries that hold U.S. debt not to bail on us. As we all look ahead to another debt ceiling crisis, how do you regard the threat of a possible default? How dangerous could that be?
JR.: Well, as a former Treasury secretary, I take the view that it is unthinkable that Congress wouldn't live up to our commitment to make good on past spending commitments and obligations.
Hank Paulson Reflects On Economic Crisis, Five Years Later
http://www.npr.org/templates/story/story.php?storyId=219762726
8---
Yuan on the rise, (new international currency?),
econbrowser
9---
Soft Landings and Other Collective Delusions,
chris whalen
By Q4 2013, when the deceleration of volumes in the housing sector, falling credit balances at banks and increasing unemployment start to weigh on the financial markets, we will reach an epiphany, an inflection point where the delusion of Newspeak will be pushed aside and the reality of unemployment and deflation comes roaring back into our collective unconsciousness. The convenient delusion that the FOMC is actually in control of the US economy evaporate, bonds and stocks will backup in perfect correlation. And nothing that the FOMC does from that point on will have any effect on the outcome.
10--- One in five Americans reported in August that they did not have enough money to buy the food, gallup

One in five Americans reported in August that they did not have enough money to buy the food that they or their family needed in the past year, more than said so earlier this year and near highs seen since 2008. Similarly, Americans' overall access to basic necessities has not recovered to the levels seen before the economic crisis. These findings suggest that the economic recovery may be disproportionately benefitting upper-income Americans rather than those who are struggling to fulfill their basic needs.

Stagnant wages are one possible reason why Americans' ability to afford food and other basic needs has not improved since the recession. According to an August 2013 Wall Street Journal analysis of Labor Department data, "the average hourly pay for a nongovernment, non-supervisory worker, adjusted for price increases, declined to $8.77 [in July 2013] from $8.85 at the end of the recession in June 2009." Depressed wages are likely negatively affecting the economic recovery by reducing consumer spending, but another serious and costly implication may be that fewer Americans are able to consistently afford food and meet other basic needs.

Increasing wages alone, however, is not enough to significantly increase the percentage of Americans who have the ability to afford food. Federal government programs also play a role in addressing this issue. As food stamp (SNAP) enrollment increases, Republicans in Congress are proposing substantial cuts and reforms to the program, while Democrats are resisting such reductions. Regardless, food stamp benefits are set to be reduced in November after a provision of the 2009 fiscal stimulus program expires. Therefore, it is possible that even more Americans may struggle to afford food in the immediate future.

11---Lehman, USA Today

12---The Minimum Wage Would be Almost $18 an Hour If It Had Kept Pace With Productivity Growth, CEPR

13---Consumption-tax fears risk stalling Abe's 'three arrows' , VOX
(shifting costs of stimulus onto working people)

The second arrow, released as the supplementary budget of the last fiscal year, increased government spending (mostly on infrastructure). Targeting the second quarter of this year, it is intended to be a short-term stimulus.

Japan's debt-to-GDP ratio, exceeding 200% (OECD, 2013), is the worst one among the OECD countries, with annual fiscal deficits of about 8% over the last three years. So, the short-term stimulus has to be followed by a medium-term fiscal consolidation. Fortunately, a plan is in place, with the major parties having agreed to and passed legislation (in August 2012) raising the consumption tax rate from 5 to 8% in April 2014, and then to 10% in October 2015 (IMF, 2013).
Thanks to the first and second arrows, the economy is firmly on the recovery path and ready for the third arrow – growth strategies....


It is unlikely that the tax hike will derail the economy from the expansionary path, barring an unexpected shock.
Opponents argue that a tax rate hike necessarily causes a drop in consumption and broader aggregate demand, but this will be temporary. One aspect that is often ignored is that consumption drop post-rate hike follows a rush-to-buy demand pre-rate hike. If the three-percentage-point hike is implemented as scheduled in April 2014, surge and decline between first- and second-quarter GDP can be smoothed by shifting outlays of government expenditure and/or the use of pinpoint subsidies for housing investment for the second quarter

14---The leverage-based economy, Dr Housing Bubble

Make no mistake though, the bulk of buying is going to investors looking for rentals or flips and this market is frothy like a rabid squirrel. For example, last month in SoCal 29.4 percent of all sales went to cash buyers. Of those, 27.4 percent were "absentee" meaning these people were not slated to live in the property. That is a large portion of the market. Cash buyers paid a median $328,000 so they are definitely chasing lower priced properties to flip or rent out...

What is interesting is that in the last bubble, leverage was offered out to anyone with a pulse. Today, it is only a select few that can leverage this playing field and they are doing it. This is how we get massive investor money flowing into real estate.
What impact has this had on California home ownership?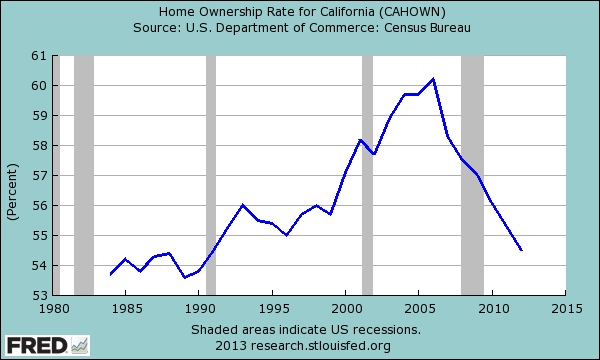 There is little need to guess what is happening here. Just follow the money. This is more evidence that the middle class is being constrained in the US, especially in high cost areas of California.

15---US income inequality soars to highest levels on record, wsws

16---Paulson admits plan to sacrifice Lehman to blackmail congress, Bloomberg

Right after stabilizing Fannie and Freddie, on Sept. 7, it became clear that Lehman was going to be under real pressure from investors. Most of the market participants were watching nervously, but expecting Uncle Ben and Uncle Hank would pull a rabbit out of the hat.

We needed something dramatic to focus people's attention on the seriousness of the problem. Ben, Tim, and I decided to bring the heads of the major Wall Street firms into the New York Fed on a Friday to let them know the Fed had no authority to guarantee debt or put in capital, and that the government wasn't going to be there because a loan to a disintegrating investment bank in the midst of a run wouldn't be successful. We needed a buyer, and we needed these banks to assist the buyer if necessary. Frankly, I thought we were going to need two buyers that weekend, because I had a very strong view that whether Lehman failed or was bought, the market was going to turn immediately to Merrill Lynch....


Changing Lives
I remember waking up very early the morning of Sept. 15 in New York and looking out the window at all the people on the street walking to work. Some I'm sure worked at Lehman. Some worked at other banks. Others didn't work at any bank. But their lives were about to change in very profound ways.
Lehman intensified the crisis -- it was a symptom, not the cause. I don't subscribe to the "domino theory" when it comes to Lehman. My former colleague, Ed Lazear, had a line that's more apt: The crisis was like a giant popcorn popper, and it had been heating these kernels for a year as the crisis went on. Lehman might have been the first to pop, but we knew that weekend that Merrill Lynch and AIG were going to pop next, and many others in the U.S. and Europe were not far behind.

Multiple Problems
That week was like no other week I've ever had. We were dealing with multiple problems -- the need to prevent the failure of AIG, the likely impending failure of other financial institutions, the need to prevent the implosion of money-market funds, and the need to go to Congress to request emergency authorities.
We had been working all week on how to request what we needed from Congress. At the heart of it was the ability to buy illiquid assets from financial institutions. We were talking in terms of hundreds of billions of dollars.
It was Thursday evening, Sept. 18, when Ben Bernanke and I met with the congressional leaders. So far many of them had not seen the financial crisis. It hadn't rippled through to their constituents. Ben and I painted a picture of a financial system which was frozen. Banks weren't lending to each other. Credit wasn't flowing normally. I could see 25 percent unemployment, which is what we had after the Great Depression. There was going to be a disaster if we didn't act immediately....


Tallest Midget
Every bank wanted to be the tallest midget: No one wanted to admit they had a problem because they didn't want to stigmatize themselves. So we designed a program that didn't separate the healthy banks from the banks under duress, and we moved quickly to inject capital into hundreds of banks to recapitalize our financial system and restore confidence.
The only way we knew to do this was to put forward a program that would be attractive to the financial institutions, so they all would be encouraged to take capital for the good of the country. This was a program unlike any other in history.
All of the banks agreed, and for a short period of time, I breathed a sigh of relief.
The way I read the polls, TARP was more unpopular than torture. We don't like bailouts in this country. If you take a risk and make money? That's good. But if you take a risk and the government has to come in and save you? Well, I understood the anger.
I was never able to convince the American people that what we did with TARP was not for the banks. It was for them. It was to save Main Street. It was to save our economy from a catastrophe.

Public Anger
I knew Americans were angry when they thought the banks were hoarding and not lending as much as they would have liked. But how does the government make the banks lend? Even if you nationalize the banks, which we didn't, do you want the government making lending decisions for the banks? That's a recipe for disaster.
The other criticism of TARP, just the man-on-the-street feeling about it, was that in addition to not lending, huge bonuses were being paid to some bank executives. That infuriated me -- the sheer cheekiness of it. Forget whether they were legally entitled to their bonuses, it was such a graceless lack of self-awareness and a total lack of understanding about how the rest of the world and the rest of America looked at them. .

17---Rise In Mortgage Rates Affects Housing Market, Lenders, WBUR (audio) very important