1---
Stagnant Wages Are Crimping Economic Growth
, WSJ
Employers Seem Wary to Raise Pay
Four years into the economic recovery, U.S. workers' pay still isn't even keeping up with inflation. The average hourly pay for a nongovernment, non-supervisory worker, adjusted for price increases, declined to $8.77 last month from $8.85 at the end of the recession in June 2009, Labor Department data show.
Stagnant wages erode the spending power of consumers. That means it is harder for them to make purchases ranging from refrigerators to restaurant meals that account for most of the nation's economic growth....
Consumers remain the biggest driver of the U.S. economy, but without more money coming in, it will be difficult for them to spur robust growth.
2
---Commentary: Déjà Vu All Over Again,
DS News
Uh, oh.
3---
Speculators overestimated profits in foreclosure to rental scam,
Dr Housing Bubble
It is no secret that
Wall Street
has been a big player in this current real estate run. The two biggest single-family landlords in this game are Blackstone Group LP's Invitation Homes followed by California based American Homes 4 Rent (AH4R). The interesting thing about AH4R is that they own about 20,000 properties throughout the country where investors have been diving in head first. AH4R recently announced a $14 million loss and was also reported to be laying off people because of the recent loss. This is an interesting case study coming from the second largest single-family landlord in the country. It is also interesting to dig through the financials since it shows us that some are
overplaying the rental game
. Property management is an intensive business. Any investor with time in the business realizes that having one or two bad tenants can set you years back in regards to profits. The gross rents must look extremely appealing to those new to the game. Some are quickly going to realize that they may have overestimated their potential profits.
Single-family landlords have struggled to turn a profit while acquiring homes faster than they can fill them with tenants. Hedge funds, private-equity firms and real estate investment trusts have raised more than $18 billion to purchase more than 100,000 rental houses in the past two years. American Homes 4 Rent, founded by B. Wayne Hughes, is the largest single-family landlord after Blackstone Group LP's Invitation Homes, which has spent more than $5 billion on 32,000 homes."...
Multi
-year trends in both vacancies and rents are unsustainable
. I expect more multi-family units will mean lower rents. That aside, the market simply looks and feels like it's approaching a melting point. For evidence, look no further than bidding wars for homes that hit the market."...
More and more rental housing will be hitting the market and people can only stretch their household income so much. What we are now seeing is investors selling into momentum; things are going up because they are going up. They are fully disconnected from
underlying fundamentals
.
And if you don't think that rates have an impact on the real economy, Wells Fargo recently announced layoffs for 2,300 workers because of the jump in interest rates:
"(WSJ) Wells Fargo & Co. said Wednesday it is cutting 2,300 mortgage-related jobs across the country, a sign that a refinancing boom that helped boost the U.S. home-loan market and bank earnings continues to fade."...
The fact that some of these big single-family landlords are producing losses at a time when real estate prices are booming should really tell you something.
4---
Reinhart Says Emerging Markets Could Get 'Ugly' as Outflows Grow
, Bloomberg
Carmen Reinhart
, a Harvard University economist and co-author of a history of debt crises, said emerging markets are deteriorating as the U.S. recovers and may worsen as global
interest rates
begin to increase.
"It could get very ugly," Reinhart said today in a Bloomberg Television interview with Sara Eisen from the Federal Reserve's annual conference in
Jackson Hole
, Wyoming. "Emerging markets had a capital flow bonanza lasting several years, the golden boom years, and the probability of a banking crisis, the probability of a currency crash, the probability of a default, all increase afterward."
5---
We're All Still Hostages to the Big Banks
, NYT
NEARLY five years after the bankruptcy of Lehman Brothers touched off a global financial crisis, we are no safer. Huge, complex and opaque banks continue to take enormous risks that endanger the economy. From
Washington
to
Berlin
, banking lobbyists have blocked essential reforms at every turn. Their efforts at obfuscation and influence-buying are no surprise. What's shameful is how easily our leaders have caved in, and how quickly the lessons of the crisis have been forgotten. ...
When we deposit money in a bank, we are making a loan. JPMorgan Chase, America's largest bank, had $2.4 trillion in assets as of June 30, and debts of $2.2 trillion: $1.2 trillion in deposits and $1 trillion in other debt (owed to money market funds, other banks, bondholders and the like). It was notable for surviving the crisis, but no bank that is so heavily indebted can be considered truly safe.
The six largest American banks — the others are Bank of America, Citigroup, Wells Fargo, Goldman Sachs and Morgan Stanley — collectively owe about $8.7 trillion. Only a fraction of this is used to make loans. JPMorgan Chase used some excess deposits to trade complex derivatives in London — losing more than $6 billion last year in a
notoriously bad bet
.
Risk, taken properly, is essential for innovation and growth. But outside of banking, healthy corporations rarely carry debts totaling more than 70 percent of their assets. Many thriving corporations borrow very little.
Banks, by contrast, routinely have liabilities in excess of 90 percent of their assets. JPMorgan Chase's $2.2 trillion in debt represented some 91 percent of its $2.4 trillion in assets. (Under accounting conventions used in Europe, the figure would be around 94 percent.)...
If equity (the bank's own money) is only 5 percent of assets, even a tiny loss of 2 percent of its assets could prompt, in essence, a run on the bank. Creditors may refuse to renew their loans, causing the bank to stop lending or to sell assets in a hurry. If too many banks are distressed at once, a systemic crisis results.
6---
Fed Officials Rebuff Coordination Calls as QE Taper Looms
(Fed tells the world to "F*** off), Bloomberg
7---
The Recession That Never Ended: 2008 -2013
, zero hedge
8---
Violent chaos': Libya in deep crisis 2 years since rebels took over
, RT
9---
US, Britain and France Agree to Attack Syria Within Two Weeks
, antiwar
10
--All productivity gains go to management,
Dave Dayen
I've said this before in other venues, but this really is the chart that explains modern America: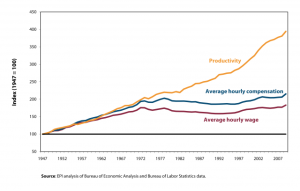 It's the famous wage/productivity chart, showing the cleavage around 1973 and the far greater discrepancy after the 1980s recession. Basically we've been living with the consequences of this wage/productivity gap ever since.
And I tend to think it explains every single economic challenge that we face. It clearly stands in for inequality, as all the wealth accumulated from the productivity gains does go somewhere, mainly into the hands of a rentier class. The over-financialization of the economy sprouted as a way to manage and divert these productivity gains after they didn't flow to labor, in addition to demanding that these gains not get plowed back into wages. Flat wages play a part in ever-expanding credit bubbles, in the low savings rate and the easy enticement of get-rich quick schemes or simply desperate borrowing to maintain standards of living
11--
Obama administration spearheading growth of part-time labor
, WSWS
12---
Trouble in Emerging-Market Paradise
, Nouriel Roubini, Project Syndicate
13---
America's Other 30%
, Stephen Roach, project syndicate
14---
America's Strategy Vacuum
, Stephen Roach, project syndicate