1---
Fortress to Blackstone Say Now Is Time to Sell on Surge
, Bloomberg
(Sell, sell, sell) Private-equity managers from
Fortress Investment Group LLC (FIG)
to
Blackstone Group LP (BX)
, which made billions by buying low and selling high, say now is the time to exit investments as stocks rally and interest rates start to rise. ...
Real Estate
Blackstone is also lining up real estate investments for sales in the next two years. Among its holdings are global hotel chain Hilton Worldwide Inc. and office properties from its $39 billion purchase of Equity Office Properties Trust in 2007.
"There will continue to be a growing series of real estate realizations as we go forth over the next 12 to 18 months," said James
2---
The Dark Side Of The Guys Who Run Japan Oozes To The Surface
, Testosterone Pit
From the text: We should proceed quietly," he said
according
to transcripts of his speech. "One day, people realized that the Weimar constitution had changed into the Nazi constitution. No one had noticed. Why don't we learn from that technique?"
"What 'techniques' from the Nazis' governance are worth learning – how to stealthily cripple democracy
Japan's Prime Minister Shinzo Abe skillfully used his miraculous economic salvation plan, a religion lovingly dubbed Abenomics, as a platform to catapult his party, the LDP, into power. With the LDP controlling both houses of parliament, real changes, after years of dickering, might now
finally
be possible...
conservative think tank has called for revising Japan's constitution to make it more militaristic and to introduce more public order and government control at the expense of civil rights. The organization has also been
vocal about denying
that the Japanese military forced women to work in brothels during the war – the "comfort women."
There were about 200,000 of them, women from China, South Korea, the Philippines, Indonesia, and Taiwan. The topic continues to ensnare Japanese politicians. In May, it was Toru Hashimoto, Mayor of Osaka, co-leader of the Japan Restoration Party, and rising political star, who broached the topic. "A comfort women system is necessary," he said. "In the circumstances in which bullets are flying like rain and wind, the soldiers are running around at the risk of losing their lives. If you want them to have a rest in such a situation," they need to have sex. "Anyone can understand that," he said, inexplicably. This caused worldwide angry mocking, including
by your humble blogger
. The light of this rising political star has since dimmed.
So, a seminar sponsored by an organization that is denying the existence of "comfort women" was the occasion where Mr. Aso spoke. He was addressing the LDP's long struggle to change the pacifist, US-imposed constitution. In 2005, the LDP had proposed its own version. It nixed the prohibition against keeping a "military" (a somewhat rubbery concept, as Japan's "Self-Defense Forces" have fighter jets and all) and emphasized, critics argue, "social order" over civil rights. It hit a wall of resistance at home – and caused outcries overseas where the atrocities committed by Japanese troops have not been forgotten. So how could the government get around that opposition? The Finance Minister chose a historical model.
At first, he was just going out on a limb. The Weimar constitution, "the most advanced in Europe" – Germany's fragile post-World War I effort at democracy – hadn't been able to prevent the Nazis from taking over, he explained. He was confronting the notion that the only barrier that kept Japan from regressing into a military dictatorship was its constitution. Even if the constitution were changed, he implied, there were other things that would keep Japan from sliding back. Then he ventured beyond the thin end of that limb:
"We should proceed quietly," he said
according
to transcripts of his speech. "One day, people realized that the Weimar constitution had changed into the Nazi constitution. No one had noticed. Why don't we learn from that technique?"
"What 'techniques' from the Nazis' governance are worth learning – how to stealthily cripple democracy?"
wondered
Rabbi Abraham Cooper, associate dean of the Los Angeles-based Simon Wiesenthal Center. "The only lesson on governance that the world should draw from the Nazi Third Reich is how those in positions of power should not behave," he pointed out to the Finance Minister.
Wild backpedaling ensued. Aso re-explained what he'd meant. Chief Cabinet Secretary Yoshihide Suga, the government's main spokesman told reporters that he didn't believe the comments merited Aso's resignation. And he wanted to "stress that the Abe administration does not perceive Nazi Germany in a positive light."
3----
'Abenomics' Serving Up The Same Old Medicine In Japan?,
NPR (NPR gets one right)
Mizuno takes great pride in offering his customers the lowest prices he can, considerably lower than in central Tokyo. A hand-lettered sign in his office sums up his philosophy: "Conserve everything."
Mizuno says he hasn't seen any rise in people's wages or any change in their spending habits. Some imported foods are now more expensive. But he refuses to pass the extra cost on to his customers.
"Our customers are very price conscious," he says. "Even a few yen's difference matters to them. I'm sure they'd be uncomfortable paying more. So actually, we cover the price rise for them."
Some economists note that fuel and food prices are the only ones going up. All other prices are still declining, suggesting that domestic demand is still weak.
Noriko Hama, an economist at Doshisha University in Kyoto, argues that much of Japan's stimulus money has gone into creating a stock market bubble, much like that of the late 1980s, while ordinary consumer prices continue to fall.
"I would rename it 'absolutely bad economics,' " she says dryly. "I think it is just a ploy to create a bubble economy, in the hope, I suppose, that people will forget the deflationary reality that is pressuring them."
Hama says Abe's policies — which she characterizes as supply-side neoconservatism — are designed to preserve the collusion between government and "Japan Inc." that has been a hallmark of the Liberal Democratic Party's rule for decades.
It's very much Rip van Winkle economics," Hama says, "dreaming about the days of strong exports, supported by a cheap yen; economic growth being sustained by public works spending, government picking winners and losers among industries."
She also notes that Abe has promised deregulation that will make it easier for companies to fire workers, or turn them into temporary workers, who now account for 38 percent of the labor force. They often do the same work as full-time workers, but without equal pay and benefits.
Some prominent
foreign
economists
have hailed Abenomics as a model for developed economies to follow.
But Hama says that Abenomics threaten to make a very few people wealthy, while leaving most ordinary Japanese behind, and she says that's not something worth emulating.
4---
Home ownership rate and rental vacancies, Dr Housing Bubble
This chart should give you a good sense as to what is happening in this housing recovery: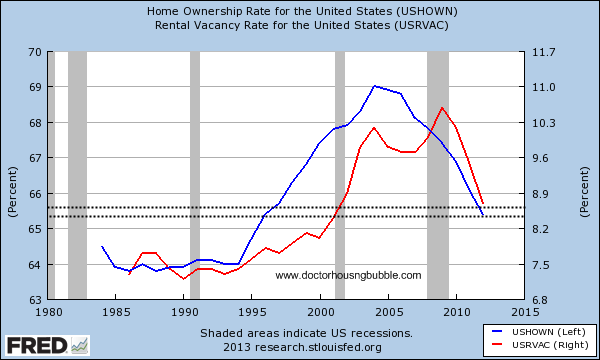 The home ownership rate is now down to 65.1 percent taking us back into the past of two decades ago (prior to any of the toxic mortgage shenanigans). Los Angeles is virtually half renters and half home owners. At the same time, the rental vacancy rate is also falling dramatically as more households become renters. After all, when you foreclose on 5,000,000 households the needs of shelter still exist...
In 2012 a record number of properties, over 2,000,000 were held off market. In 2006 this was 500,000. This is inventory that is in banking purgatory where foreclosure timelines are drawn out to comically long standards. Why would banks operate differently when this climate is working fantastic for their bottom-line?
5
---Why is inflation so low?
econbrowser
While the measured pace of growth is faster than previously reported, what's true is that output growth is still pretty tepid....I think this is only a puzzle for those who believe that potential GDP has shrunk considerably so that there is little slack in the system. For the rest of us, it's the large amount of slack that is the answer.
6
---Record Profit Share Reported on Wednesday
, CEPR
Amazingly, it seems that the media managed to completely ignore the sharp upward revision to profit shares reported on Wednesday. This one is pretty simple. By redefining many corporate expenses for research and creative work as investment, which depreciates through time rather than being a one-time cost, profits will be increased. As a result of this change the profit share in recent years was revised shaprly upward. The
after-tax share of profits
in net corporate income for each of the last three years was higher than at any previous point in the post-war era.
7---Here we go again!
Bond Rating Agencies Lowering Their Standards to Attract Business! Why Doesn't Someone Do Something
?, CEPR
8---Unbelievable!
Better Than Expected Second Quarter Growth? Is the Post Kidding
, CEPR
somehow missed this Post
article
touting the 1.7 percent growth rate reported for the second quarter as better than expected. First it is incredible that the piece would leave readers with the impression that this strong growth, at one point telling readers:
"Some economists anticipated that the better-than-expected GDP report, if coupled with encouraging data in the job market, could encourage the Fed to pull back its support for the economy sooner."
The economy's rate of potential growth is generally estimated as being between 2.2-2.5 percent. This means that rather than making up some of the 6 percentage point gap between potential output and actual output, the gap increased in the second quarter. Is the Post trying to tell us that a growing output gap will move up the date at which the Fed withdraws support for the economy?
But wait, it gets worse. The GDP data released on Wednesday also included revisions to prior quarters' data. The
revision to the prior three quarters' growth rate
(Table 1A) were sharply downward lowering growth over this period by 1.3 percentage points or an average of 0.4 percent per quarter. With the revised data, growth over the last year has been just 1.4 percent. This is supposed to be a justification for withdrawing stimulus?
9--
Bernanke gets the bad job's report he needed to avoid tapering
, WSJ
Economists weigh in on jobs data that showed decline of the unemployment rate to near five year low, but weaker-than-expected job growth and the first decline in average hourly earnings in nine months. Some suggested the release could cause the Federal Reserve to delay the pullback in its monetary stimulus efforts, currently expected by many observers in September.
–The US employment report is disappointing. Fewer people are working, a shorter work week and for lower pay. The Fed's tapering decision does not rest on a single print, especially of high frequency and noisy data, but on the margins, between the FOMC statement that gave no hint of a move in September, a manufacturing PMI that showed prices falling and now a soft employment report, look for some soul searching by those who thought and acted as if reducing long term asset purchases next month was a done deal. –-Brown Brothers Harriman
–A deterioration in the quality of jobs is a recurring theme in recent reports. Aggregate hours worked fell 0.1% despite job gains as the workweek declined, and wage growth fell 0.1% in July leading the annual pace to slow to 1.9% from 2.1%, partially reversing a modest rebound that had been underway earlier in the year. Despite the decline in the unemployment rate, we think the combination of weak GDP growth and a slowing in hiring reduce the likelihood the Fed will proceed with the first tapering of QE in September. We still see December as the most likely scenario. Hiring had been surprisingly robust in light of slower GDP, but job growth tends to be the lagging indicator and the prospect is for more subdued numbers in coming months. The July report is by no means a disaster, but it does highlight slow progress on the Fed's mandates. --Julia Coronado, economist, BNP Paribas
–The income details were also disappointing. Average hourly wages fell by 0.1 percent for the month and the average workweek fell 0.1 hour to 34.4 hours. With the combination of more jobs, a slight drop in wages and a shorter workweek, workers' earned income fell by 0.3 percent in July. Much of the job growth in July was in low-wage, part-time industries, such as retail and leisure/hospitality services, partially explaining the decline in labor income over the month. Of the 227,000 net new jobs in the household survey, 45 percent were part-time. –Gus Faucher, PNC Financial Services Group
–Although payroll employment growth came in below expectations, we believe that the results are strong enough to keep the FOMC on track to take the first decision to reduce the pace of its asset purchases in September. Assuming the labor force participation rate remains at its current level, we estimate that monthly employment gains of 150-160k would be needed to achieve a 7.0% unemployment rate by June 2014. –Nomura
–Not only did payroll employment increase by less than had been expected given an array of positive recent reports but the gains for May and July were revised down. However, one industry, leisure/hospitality, accounted for much of weakness in July, adding only 23,000 and much of the downward revision:44,000 fewer jobs than previous recorded for May and June. This industry had been contributing to an unusually high and puzzling share of jobs in recent months. Indeed, payroll employment excluding leisure/hospitality has been remarkably stable for the pace four months. –Sophia Koropeckyj, Managing Director, Moody's Analytics
(An utterly frightening look at the people who run the Empire)
Security Forum participants expressed total confidence in American empire, but could not contain their panic at the mention of Snowden
There is one vitally important number that everyone needs to be watching right now, and it doesn't have anything to do with unemployment, inflation or housing. If this number gets too high, it will collapse the entire U.S. financial system. The number that I am talking about is the yield on 10 year U.S. Treasuries.


When that number goes up, long-term interest rates all across the financial system start increasing. When long-term interest rates rise, it becomes more expensive for the federal government to borrow money, it becomes more expensive for state and local governments to borrow money, existing bonds lose value and bond investors lose a lot of money, mortgage rates go up and monthly payments on new mortgages rise, and interest rates throughout the entire economy go up and this causes economic activity to slow down.


On top of everything else, there are more than 440 trillion dollars worth of interest rate derivatives sitting out there, and rapidly rising interest rates could cause that gigantic time bomb to go off and implode our entire financial system. We are living in the midst of the greatest debt bubble in the history of the world, and the only way that the game can continue is for interest rates to stay super low. Unfortunately, the yield on 10 year U.S. Treasuries has started to rise, and many experts are projecting that it is going to continue to rise.


On August 2nd of last year, the yield on 10 year U.S. Treasuries was just 1.48%, and our entire debt-based economy was basking in the glow of ultra-low interest rates. But now things are rapidly changing. On Wednesday, the yield on 10 year U.S. Treasuries hit 2.70% before falling back to 2.58% on "good news" from the Federal Reserve.

12---Foreign central banks' US debt holdings fall - Fed, Reuters

13--- TREASURIES-U.S. bond prices tumble as data support Fed tapering view, Reuters

Longer-dated yields were on track for their biggest one-day
jump since July 5, when the last payrolls report was released.
On Wall Street, the Standard & Poor's 500 index pierced
above 1,700 points for the first time.

14----Blackstone rental bonds revive fears of mortgage-backed crisis, RT

(What could go wrong?)
The private-equity firm Blackstone and Deutsche Bank are considering selling the first bonds backed by home-rental payments. The new security shows Wall Street financial engineering, blamed for deepening the financial crisis, has become more creative.
Blackstone is among the firms that have spent billions buying homes out of foreclosure, helping to bolster demand and strengthen the US housing market, the WSJ reports.
he private-equity giant has spent $5.5bn buying more than 30,000 houses to rent out. It is now working with Deutsche Bank to create securities tied to about 1,500 of the properties to form a rental bond deal worth up to $275 million.
The "securitization" vehicles would be backed by equity and property worth between $300 million to $350 million, according to the article.
The structure of the deal would be similar to better-known securities, such as those backed by home or commercial mortgages, the WSJ reports.
Investors say the new Wall Street-engineered income idea raises concerns over the stability of the rental market itself and the structure of these instruments, investorplace.com writes.
"Distressed inventory" — which is what Blackstone calls its properties — might come back with stronger valuations, or they might not, and while Blackstone might love its tenants, it probably would be quick to hand the keys back to any lenders (or bondholders) if "distressed" turned into "hopelessly underwater," writes Marc Bastow, Assistant Editor at InvestorPlace.com.
Analysts say one of the causes of the global financial crisis of 2008 was the production of mortgage collateralized bonds. These tools were not adequately evaluated and caused billions of dollars in losses in the entire U.S. financial system as the house market fell.

15---TREASURIES-U.S. bonds rally on weaker-than-forecast job growth, Reuters

16---The Detroit bankruptcy and the drive toward dictatorship, wsws

Excerpt:
"At the decline of capitalism," wrote Leon Trotsky, "the bourgeoisie is forced to resort to methods of civil war against the proletariat to protect its right of exploitation."

Hence the erection of the infrastructure of a police state, in the form of massive and illegal surveillance programs, the militarization of police forces, the policy of extralegal drone assassinations, and the persecution of those who expose government secrets and crimes such as Bradley Manning, Edward Snowden and Julian Assange.

This is what the capitalist system has to offer: mass poverty, ever-greater inequality, and dictatorship. The only force that can oppose these attacks is the working class, fighting as a politically conscious and united force on the basis of a socialist program.....

The bankruptcy of Detroit is being widely cited in the media as a model for the use of unelected officials and bankruptcy courts to rip up agreements and impose sweeping cuts on the pensions and health benefits of public employees, not only in Detroit, but in cities across the United States.
The Obama administration has rejected any federal aid to ameliorate the financial crisis of Detroit and counter the effort of state and city officials, fronting for the banks and bondholders, to use bankruptcy to gut workers' benefits. This makes it clear that the Detroit bankruptcy is part of a broader nationwide policy that is being coordinated by the White House....

The attack on public workers is increasingly accompanied by claims that the crisis of Detroit demonstrates the unviability of democratic procedures, including elections. The financial collapse of the former center of global auto production is not, according to multiple commentators, an expression of the decay of American capitalism, but rather of a "failure of governance," which can be reversed only by more authoritarian forms of rule and more direct political control by the banks and corporations.
The ruling class is well aware that its economic policies will provoke mass social opposition. It is preparing to meet this threat by means of repression and violence....

The same theme is taken up by the British Economist, which writes that Detroit is a "flashing warning light on America's fiscal dashboard," and adds that "many other state and city governments across America have made impossible-to-keep promises to do with pensions and health care."
Financial Times commentator John Dizard writes that the gutting of workers' benefits at the state and local level will become the model for the dismantling of Social Security. "The Supreme Court has already ruled that social security benefits, unlike Treasury bills and bonds, are not full faith and credit obligations of the federal government," he writes. "Constitutional lawyers already know this; soon members of the public will as well."

That such attacks cannot be imposed by democratic means is the subject of a growing number of commentaries. The Financial Times writes: "Think of it this way: what are the chances that the contestants in the next congressional or presidential elections would ask the voters to decide if pension and health care promises made by governments are super-priority debts? Because that is what 'Detroit' is all about."
The authoritarian message obliquely hinted at in such commentaries is stated in blunt and savage terms by right-wing columnist George Will in an op-ed piece published Wednesday in the Washington Post entitled, "Detroit's death by democracy."
Will compares government employee unions to parasitic ichneumon fly larva that gnaw the inside of the caterpillars they infest. In his venomous hatred of the working class, he falsely equates the unions with the workers

17---Former CFPB Staff Return to Industry, Raise Questions of Integrity , DS News