1---
Mursi's downfall impacts on US campaign for regime change in Syria
, wsws
The July 3 army coup that brought down Egyptian President Mohamed Mursi and his Muslim Brotherhood-backed government has significant ramifications for US imperialism's campaign to depose Syria's Bashar al-Assad.
The US cultivation of the Muslim Brotherhood and other Islamist forces as the basis for securing its interest throughout the Middle East now threatens to spread civil war conditions to Egypt itself...
Faced with the eruption of potentially revolutionary struggles in Egypt, the Obama administration had to choose whether to remain loyal to Mursi and the Brotherhood or to rely on its historic ties to Egypt's long-time rulers, the army. It sided with the army.
Assad himself has concluded from this that the US-led efforts to depose him are unravelling. Speaking July 4 to the pro-government
Al Thawra
newspaper, he went so far as to proclaim the downfall of "political Islam" as a model and predicted victory in the civil war.
2---
Collaborator El Baradei seeks political role following coup
, wsws
Israeli daily
Ha'aretz
noted that "his [ElBaradei's] high international profile and diplomatic experience will be very helpful to the new regime in its attempts to convince the world that deposing President Mohamed Mursi and the Muslim Brotherhood was a popular revolution and not a coup. This recognition is crucial if Egypt wants to maintain American military assistance and re-apply for loans from the International Monetary Fund."....
The ongoing protests and the toppling of Mursi are the outcome in large measure of a powerful wave of working class struggles that has grown and shaken Egypt over the last year, reprising the powerful strike wave that led to the ouster of US-backed dictator Hosni Mubarak in February 2011.
Last year saw 3,817 labor strikes and protests over economic demands, the vast majority (71 percent) of which occurred after Mursi's election at the end of June 2012, according to recent studies by Egypt's International Development Center.
The trend accelerated this year: in the first five months of 2013 alone Egypt experienced 5,544 strikes and related demonstrations. While some were briefly noted in major Western media—like the February Sokhna port workers' strike for permanent jobs, or the April railway strike—the vast majority of these struggles go completely unreported.
As opposition to Mursi built up in the working class, powerful sections of the US foreign policy establishment and the Egyptian ruling class concluded that the Islamist president had to go. The Egyptian army—working in close coordination with the Pentagon, which funds the country's military to the tune of $1.3 billion per year—ousted Mursi, placing him under house arrest and issuing arrest warrants for hundreds of MB leaders....
While the ouster of Mursi was broadly popular in Egypt, the junta that has taken its place is an army-run regime aligned with US foreign policy and the interest of the banks. While the coup organizers' initial target is the MB, their aim is to end the ferment in the working class, slash state subsidies that keep fuel and grain prices affordable for Egypt's impoverished population, and crush popular opposition to Washington's Middle East wars.
The goals that drove the population into struggle against Mursi cannot be achieved by supporting this regime, but only by unifying workers in struggle against US imperialism and its capitalist allies in the Middle East
3--
U.S. GDP In First Quarter Worse Than Previously Announced, Exposing Austerity Folly
, Mark Gongloff
One big drag on growth in the first quarter was a sharp downward revision in the growth rate of consumer spending, to 2.6 percent annualized from an earlier estimate of 3.4 percent. Consumer spending makes up about two-thirds of total U.S. GDP and was likely hampered by an increase in payroll-tax withholding that took effect at the start of the year. Hourly pay for U.S. nonfarm workers
suffered its biggest drop on record
in the first quarter, the government announced earlier this month. That took an obvious toll on spending.
That payroll-tax hike was part of a deal to help the economy avoid falling entirely off what was known as the "fiscal cliff," an assortment of tax hikes and spending cuts that Congress and the White House set up to punish themselves for failing to reach a Grand Bargain on budget deficits -- a bizarre obsession anyway, in the middle of a stagnant economy.
Though the full fiscal cliff would probably have been even more damaging, the fiscal-cliff "solution" was not a whole lot better, involving several painful austerity measures, including the payroll-tax increase and the draconian budget cuts of the "sequester," that will likely shave 1.5 percent from GDP growth this year, economists estimate.
Federal government spending shrank at an 8.7 percent annualized rate, on top of a 14.8 percent contraction in the fourth quarter, subtracting nearly 0.7 percentage points from total GDP growth. The U.S. government has been cutting spending for most of the past two years, at the fastest pace since the end of the Vietnam War, despite the shaky recovery from the Great Recession.
Weak demand has kept businesses anxious about hiring and expanding. Business investment grew at just a 0.4 percent rate in the first quarter, contributing nearly nothing to GDP growth.
4---
Mortgage affordability, Dr Housing Bubble
It is extremely clear that one big reason why housing values have picked up is the low rate environment. The big abrupt move in the mortgage market will begin showing its effects in the second half of the year if rates remain this high (or higher). Take a look at what someone can afford at various rates: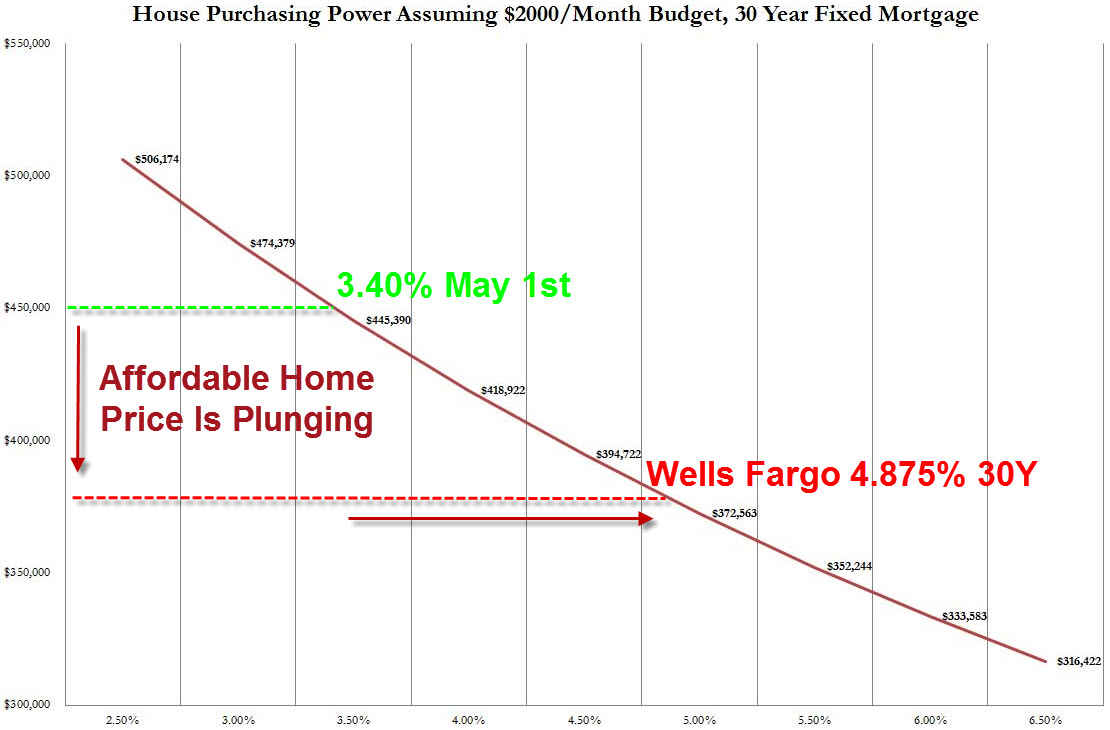 Source: ZeroHedge
Execution rates are now in the 4.75 to 4.85 percent range. So take a look at the chart above. Based on someone being able to purchase with a $2,000 payment, $450,000 was doable at 3.4 percent (just in May) versus $375,000 to $380,000 this month. In other words $70,000 to $75,000 would need to be shaved off in price to keep the affordability in the same playing field. While investors in California purchase a big number of homes (30 percent or so) that means 70 percent are being purchased by income constrained home buyers that depend on the whims of the mortgage market
5---
Banks Outbidding Private Equity Funds at Foreclosures, Believing They Can Beat Them at the Pump and Dump Game
, naked capitalism
Banking giants from Wells Fargo to Fannie Mae are routinely paying top dollar on the auction steps to hold onto their own distressed properties, outbidding cash offers and paying well above assessed value, according to a review of thousands of Southwest Florida auction purchases.
They are speculating that the properties will appreciate even more in the next couple of years
6---
The FISA court in operation--Secret laws, secret government,
wsws
7---
Implied rate hike date moves to October of 2014
, sober look
The Fed Funds futures curve steepened again on Friday, bringing forward the implied date of the first rate hike by the Fed....
The firm, which already owns more rental homes than any other investor, has set up B2R Finance LP to offer loans starting at $10 million, according to four people who reviewed the terms. B2R is reaching out to landlords with portfolios of properties seeking to grow in the burgeoning industry for single-family homes to rent, said the people, who asked not to be identified because the discussions are private.
The world's largest private-equity firm said last month that it was entering the later stages of its buying spree after leading a group of institutional investors who've spent at least $17 billion on more than 100,000 homes over two years, helping fuel the fastest
price
gains since 2006. By increasing its stake in the rebound through lending, New York-based Blackstone could benefit from smaller landlords already investing in what Goldman Sachs Group Inc. estimates to be a $2.8 trillion market....
Firms including Blackstone, Apollo, Thomas Barrack Jr.'s Colony Capital LLC and Public Storage founder Wayne Hughes's American Homes 4 Rent started emerging as large-scale landlords after more than 7 million homeowners lost their properties through
foreclosure
or by selling for a loss since 2007, according to RealtyTrac.
That's helped drive the recovery in home
prices
, which rose 12.1 percent in April from the prior year, according to a S&P/Case-Shiller index. Even as the economy has strengthened, the
homeownership
rate declined to 65 percent at the end of first quarter, from a peak of 69.2 percent in June 2004, as fewer Americans have been able to qualify for mortgages.
Fledgling Business
Blackstone's fledgling lending business could help extend the reach of rental-home buyers who can't access investment bank funding, a gap Cerberus Capital Management LP is also trying to fill with First Key Lending, which it started this year.
Prior to the crash, regional banks were the primary source of loans for landlords buying properties. More than 475 banks have failed since the real estate collapse, according to the Federal Deposit Insurance Corp., while larger banks have tightened mortgage underwriting standards and are focusing on the biggest investors. Fannie Mae, meanwhile, limits landlords to loans on a maximum of 10 properties and Freddie Mac has a limit of four.
Johnson Capital, a commercial real estate advisory firm, will originate and underwrite the B2R financing, according to people familiar with the offering. Loans will be offered at 75 percent of home values for pools of leased properties, and 65 percent of the cost of portfolios without tenants, according to terms sent to potential borrowers obtained by Bloomberg News. The debt would have floating interest rates of 5 percent to 7 percent for up to five years.
'Absolutely Huge'
Dennis Cisterna, co-head of
Irvine
, California-based Johnson Capital's opportunistic finance division, declined to comment on the company's relationship with Blackstone. He said Johnson Capital has arranged more than $100 million of loans for rental investors in the last 18 months through several different lenders.
"The market potential is absolutely huge," Cisterna said. "There are about 14 million rental homes in the U.S. with an average price of nearly $200,000. Even if you are financing 10 percent of that, it's certainly a large enough amount to warrant a new institutional lending sector."
Many landlords have been constrained since they've deployed all their equity and would have to sell assets to buy more homes, according to Cisterna.
"A lot of our clients are capped between 25 and 100 homes, and with good loans these investors are going to be able to triple their holdings," he said...
The largest buyers have been able to access either public markets or bank-arranged credit lines to finance properties, which has helped them accelerate purchases as competition increases.
Blackstone has a $3.6 billion credit line from lenders led by
Deutsche Bank AG. (DBK)
Apollo also received a $200 million facility from the Frankfurt-based lender and American Homes 4 Rent obtained a credit facility for up to $1 billion with Wells Fargo & Co. Silver Bay Realty Trust Corp., a real estate investment trust with more than 5,000 homes, got a $200 million loan in May from
Bank of America Corp. (BAC)
and
JPMorgan Chase & Co. (JPM)
...
Manage Risks
Direct lenders have more ability to manage risk than investors in securities tied to the rental properties, which large landlords expect to issue later this year, according to Suzanne Mistretta, a residential mortgage-backed securities analyst for Fitch Ratings.
9
---Reining In the Regulators
, NYT
10--
Japan in a Bind on Planned Tax: Fears Are It Will Hurt Rebound
, WSJ
11---
Friday's "Catastrophic Surge" in Mortgage Rates
, motley fool