1---
China, U.S. companies' great hope, now a drag
, Reuters
It's official. China's slowdown is starting to hurt corporate America.
As the world's second-largest economy - and still growing - China is seen as a primary source of revenue growth by the largest U.S. companies. But a country that once boasted double-digit growth is now growing at a more modest 7.5 percent rate, its credit markets are overheated and fears of a housing bubble remain.
The slowing has occurred as major U.S. names garner more revenue from Asia. Among 18 S&P companies with large exposure to China, 12 of them were underperforming the broader S&P 500 .INX index year-to-date, including Yum Brands Inc (
YUM.N
) and Intel (
INTC.O
), which noted the slower growth in China as a headwind.
"The China impact is becoming more and more significant because the (U.S.) companies' exposure has grown so much over the years," said Robbert van Batenburg, director of market strategy at Newedge in New York.
Those concerns have caused investors to reduce their global emerging-markets equity exposure to its lowest in 12 years, according to a Merrill Lynch survey....
A Merrill Lynch fund manager survey from June pegs China's problems as the most worrisome factor.
The survey said the prospect of a hard landing in China stands out as a major tail risk identified by fund managers, with 56 percent ranking it first on this measure, compared with just one-third of respondents giving it that ranking a month ago.
"China has gone from a very difficult transition as they try to spur internal consumption. That has produced inflation and a big credit crunch," said Omar Aguilar, chief investment officer for equities at Charles Schwab Corp in San Francisco.
"I think a lot of people underestimated the effect of China and Brazil. (Going forward) they will probably be very conservative on their estimates. They're going to scale down," Aguilar said.
2---
House-flipping is back, flourishing again
, Realty Check
3---
What's behind the slowdown in residential construction?,
sober look
Given yesterday's poor housing starts report, some economists are raising concerns about the sustainability of the positive momentum in residential construction.

With mortgage rates rising sharply and prices going up at record levels, something has to give. Inventory has been steadily increasing for a large part of the year. At the same time, prices have turned around sharply: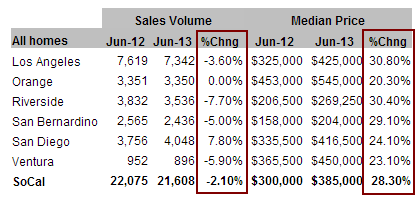 "(DataQuick) It appears that around three-quarters of last month's record 28.3 percent year-over-year gain in the Southland median sale price reflects rising home prices, while roughly a quarter reflects a change in market mix."
So only about 25 percent of this mania can be attributed to the change in mix. The rest, 75 percent is coming from
hot investor money
, artificially low interest rates, squeezed supply, and the whiff of mania from buyers. Take a look at the gains. Los Angeles is up 30 percent year-over-year (so is Riverside)...
"In Monroe, NY, Rosalie Cook of Weichert Realtors says she is seeing buyer down payments range from all cash to as little as 5 percent. Mortgage lender Tom Gildea of Prospect Lending in Rockland County, NY agrees, saying that he's doing loans with as little as 5 percent down "all day long." Those 5 percent down deals are with private mortgage insurance, are only for conforming loans (less than $417,000) and are reserved for borrowers with excellent credit, verifiable income and little debt."
At the same time this is what is happening with household income: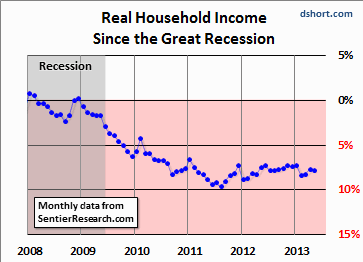 Yet
A series of new reports confirm that the policy of austerity dictated by the troika—the European Commission, European Central Bank, International Monetary Fund—after the financial crisis of 2008 is plunging Europe ever deeper into recession.
On Tuesday the European Union's statistics agency issued a report stating that in the month of May, imports to and exports from the euro zone both fell over 2 percent. Euro zone exports to the rest of the world fell by 2.3 percent in May after a sharp decline the previous month.
The decline in both imports and exports reflects the contraction of the European economy as a whole. After years of austerity, social spending cuts and growing mass unemployment, the broad mass of European consumers can no longer afford many commodities they took for granted only a few years ago.
The drop in imports to the continent was most pronounced in those countries which have been subjected to the harshest austerity measures. While imports to Germany fell by one percent and France by 2 percent, Spanish imports fell 4 percent and imports to Italy a whopping 6 percent.
The dramatic fall in domestic demand for European products is most clearly reflected in the current slump affecting the auto industry. According to figures published by the European Automobile Manufacturers' Association new auto sales in Europe fell by 5.6 percent in June, the lowest June figure since 1996.
In the first half of this year, car sales in Europe fell by 6.7 percent, to a total of 6.44 million vehicles. This is the lowest figure for the industry since 1993.
Significantly, auto sales fell in all of continental Europe's biggest economies. Sales in the leading economy, Germany, fell by 4.7 percent, in France by 8.4 percent, and in Italy by 5.5 percent.
Shrinking domestic demand is matched by a decline in euro zone exports to the rest of the world. The fall in exports expresses slackening demand for European products from economies in Asia and North and South America, which are either in recession or facing sharply declining growth....
The report notes that the total number of jobless in the 34 states in the OECD has risen by a staggering fifty percent in the course of the past five years, from 32 million to 48 million
6---
The Myth of China's Economic Reform
, Bloomberg
At the same time, Li's program is about "deceleration, deleveraging and improving growth quality," according to economist
Huang Yiping
of Barclays Capital Asia Ltd. in
Hong Kong
, who is credited with coining the term Likonomics. Carrying it out will hasten China's downshift. The premier is sure to face mounting calls for the government to throw new cash at the economy -- from businesses and from 1.3 billion Chinese, who are becoming more vocal and defiant.....
Only after a big default or two will markets begin to price Chinese risk appropriately, allowing Beijing to liberalize
interest rates
. Is Li willing to accept the consequences -- turmoil in markets, mass unemployment and credit downgrades?
That's nothing compared to the third test: inviting the Communist Party's wrath. There's ample reason to doubt Li's doctorate in economics will help him navigate Beijing's cutthroat politics. If you think Abe faces resistance from vested interests, imagine what awaits Li as he tries to get Communist Party power brokers, ambitious regional leaders, a vast network of state-owned companies and the Chinese people to make sacrifices. (Western analysts only want privatization and a giveaway of public assets)
7---
SF Bay Area House Sales Plunge in June,
Mark Hanson
DataQuick reported today that "June" NorCal sales were plunged 7.5% MoM and 9.4% YoY
….we have not seen a credible double-threat in many months. In fact, house sales never fall from May to June. This correlates very well with our internal CA MLS surveys.
What's most alarming about this is that "June" existing sales are actually from "contracts and price decisions" made in April and May when rates were at HISTORIC LOWS.
This tells me the market —
underpinned for 18 months by investors and "distressed supply"
— was already exhausted before the historic rate "surge". Historic, artificially low rates for so long filled so much pent-up demand, pulled so much demand forward, and caused institutional investors to buy so much blindly that years of housing market activity was shoved through the eye of a needle....
What this is all pointing to
…the housing market was getting ready for an 'exhaustion break' —
I call it a "stimulus hangover"
— in the action after 18 months of the most incredible, direct stimulus in history being shoved down its' throat for so long.
Unfortunately
, at the exact time the market was beginning a 'hangover phase' the mortgage market and rates blew up.
And surging rates have the power to turn a hangover into something much more pronounced....
I expect a fairly sharp drop in prices....
8---
Global Business Confidence Slips to Multi-Year Low
, zero hedge
9---
Wall Street paves the way for Adolph Hitler
, reformed theology
This interplay of ideas and cooperation between Hjalmar Sehacht in Germany and, through Owen Young, the J.P. Morgan interests in New York, was only one facet of a vast and ambitious system of cooperation and international alliance for world control. As described by Carroll Quigley, this system was "... nothing less than to create a world system of financial control, in private hands, able to dominate the political system of each country and the economy of the world as a whole.

12
This feudal system worked in the 1920s, as it works today, through the medium of the private central bankers in each country who control the national money supply of individual economies. In the 1920s and 1930s, the New York Federal Reserve System, the Bank of England, the Reichs-bank in Germany, and the Banque de France also more or less influenced the political apparatus of their respective countries indirectly through control of the money supply and creation of the monetary environment. More direct influence was realized by supplying political funds to, or withdrawing support from, politicians and political parties. In the United States, for example, President Herbert Hoover blamed his 1932 defeat on withdrawal of support by Wall Street and the switch of Wall Street finance and influence to Franklin D. Roosevelt.
Politicians amenable to the objectives of financial capitalism, and academies prolific with ideas for world control useful to the international bankers, are kept in line with a system of rewards and penalties. In the early 1930s the guiding vehicle for this international system of financial and political control, called by Quigley the "apex of the system," was the Bank for International Settlements in Basle, Switzerland. The B.I.S. apex continued its work during World War II as the medium through which the bankers — who apparently were not at war with each other — continued a mutually beneficial exchange of ideas, information, and planning for the post-war world.