1--
President Obama's Dragnet
, NYT
Within hours of the disclosure that federal authorities routinely collect data on phone calls Americans make, regardless of whether they have any bearing on a counterterrorism investigation, the Obama administration issued the same platitude it has offered every time President Obama has been caught overreaching in the use of his powers: Terrorists are a real menace and you should just trust us to deal with them because we have internal mechanisms (that we are not going to tell you about) to make sure we do not violate your rights.
Those reassurances have never been persuasive — whether on secret warrants to scoop up a news agency's phone records or secret orders to kill an American suspected of terrorism — especially coming from a president who once promised transparency and accountability.
The administration has now lost all credibility on this issue. Mr. Obama is proving the truism that the executive branch will use any power it is given and very likely abuse it. That is one reason we have long argued that the Patriot Act, enacted in the heat of fear after the Sept. 11, 2001, attacks by members of Congress who mostly had not even read it, was reckless in its assignment of unnecessary and overbroad surveillance powers.
The US administration has the phone records of everyone in the United States and is receiving them daily from carriers to the National Security Agency under secret agreements. That's what's come out
," he said.
President Barack Obama earlier
defended PRISM
, saying it was a key part of the country's counterterrorism efforts and that privacy was a necessary sacrifice for the sake of security. He also lashed out at the media, and those who leaked information on the massive spying program
Exclusive: Top-secret directive steps up offensive cyber capabilities to 'advance US objectives around the world'
There's absolutely no way Qusayr can be spun in the West as yet another "tactical withdrawal" by the FSA. The rebels insist they "withdrew". Nonsense. It was a rout. ...
This is a monster strategic defeat for the NATO-Gulf Cooperation Council-Israel axis. [1] The supply lines from Lebanon to Homs of the Not Exactly Free Syrian Army (FSA) gangs and the odd jihadi are gone. The Syrian Arab Army (SAA) will next move to Homs and the whole Homs governorate. The final stop will be two or three Aleppo suburbs still controlled by the FSA.
So the Big Picture, long term, indicates relentless Chinese expansion westwards - based on trade - versus a US strategy that is essentially military. What is certain is that a great escape from the Atlanticist-dominated routes of trade, commerce and finance has been on for quite some time. And the New Silk Road(s) will be built by emerging Asia - and not by a fearful, declining West
the ECB's various operations — the LTRO scheme of lending with sovereign debt as collateral, and then OMT (the promise that it will buy sovereign debt directly if necessary) have been highly successful at limiting spreads. But why doesn't the ECB do more?
Part of the answer is politics and dissent. But they also argue a more fundamental point, which I was aware of but which they make much more explicit: the ECB is constrained, in a way the Fed isn't, by the lack of a fiscal backstop. The Fed actually has a formal agreement that the Treasury department will make good any losses it incurs from unconventional monetary policy. The ECB doesn't have any such agreement, in part because there's nobody with whom to make that deal.
The moral is that the fiscal flaws of the euro run even deeper than people realize. Not only does it suffer from lack of the kind of fiscal integration that has, for example,done so much to cushion Florida from the effects of a housing bust; it also suffers from a central bank that has a bias toward timidity because it doesn't have a fiscal authority backing it up.
7---
Depressing Draghi
, NYT
First, "with low inflation, you can buy more stuff"???? Don't we teach students in Econ 101 exactly why that's a naïve fallacy, that lower inflation also means lower growth in earnings, and that the cost of inflation has nothing to do with reduced purchasing power?
The first is that we're suffering from inadequate demand, and the zero lower bound on interest rates is an important constraint on monetary policy.
Larry Ball
estimates that U.S. unemployment rates in recent years would have been, on average, 2 percentage points lower if we had entered the financial crisis with 4 percent rather than 2 percent inflation. Europe has the same problem, exacerbated by the lack of fiscal integration, which has caused it to adopt overall a much tighter fiscal policy than the United States...
The other inflation-related issue is downward nominal wage rigidity, and to some extent downward nominal price rigidity. You might think that these are issues only if we have actual deflation; but because relative prices and wages are changing all the time, the truth is that this downward rigidity starts to become a problem in a depressed economy even at low positive rates of inflation; it's
quite clear in the United States
. And in the euro area, where debtor countries are expected to achieve huge "internal devaluations", it's a
much bigger issue
.
8---
KEITH JUROW: The Government's Plan To Save Housing Will Cause People To Default Over And Over Again,
Business Insider
In June 2012, the credit reporting firm Trans Union issued the results of a study based on an examination of 600,000 borrowers from its enormous database who had received a mortgage modification between January 2008 and July 2011. It found that nearly 6 out of every 10 borrowers had re-defaulted within 18 months after receiving the modification.
The problem of re-defaults goes well beyond HAMP modifications. There are roughly $900 billion securitized mortgages outstanding which are not guaranteed by Fannie or Freddie. Take a good look at this shocking graph from TCW showing the re-default rate for loans modified in different years....
According to mortgage modification data provider HOPE NOW, more than 18 million mortgages have been either modified or provided with some so-called "workout solution." ...
Here We Go Again
On March 27, 2013, the Federal Housing
Finance
Administration (FHFA) announced the introduction of still another mortgage modification program. Entitled the Streamlined Modification Program, it was intended to enable distressed borrowers to more easily qualify for a modification.
Unlike the HAMP modification program, borrowers will not have to show any financial hardship whatsoever in order to qualify. If their first lien is owned or guaranteed by either Fannie Mae or Freddie Mac, the only requirement is that they be delinquent for 90 days or more and complete a 3-month trial period. Also – they cannot be delinquent for more than two years and cannot have had two or more previous modifications.
Nice deal, huh? The obvious criticism is that it will only encourage borrowers to default in order to qualify. FHFA's answer is that it will minimize losses to Fannie and Freddie by reducing foreclosures. Really?...
If you add in installment second liens, there are a total of roughly 15 million second mortgages still outstanding on homes throughout the nation. I estimate that at least 90% of these properties are now underwater. This situation is rarely discussed in the media but presents a problem that no modification program can solve.
9
----94% Of April Consumer Credit Goes To Student And Car Loans
, zero hedge
10---
Weak Productivity Growth, the Secret to Job Growth in the Obama Recovery
, CEPR
Some of us (well at least me) are surprised that an economy growing at a rate of 2.0 percent or less can create around 1.8 million jobs a year. That doesn't seem to fit. We had been seeing productivity growth of close to 2.5 percent. At that rate the economy could grow 2.0 percent a year with no additional labor. So what is going on?
Well, we aren't seeing productivity growth of 2.5 percent a year any more. In fact, in the last two years productivity growth has grown at less than a 1.0 percent annual rate. This is a sharp departure from the pattern in past upturns where we have seen strong productivity growth in the first years of the recovery
Source: Bureau of Labor Statistics.
This is the secret to job growth in this recovery. The question is whether the slowdown in productivity growth is permanent or just a response to a weak economy. The latter story would be that workers are taking low paying and low productivity jobs because there is nothing else available. This would be the more optimistic scenario since it would mean once we ever got a policy that actually generated demand we would return to a path of healthy productivity growth.
11--
Investors Cooling on 'REO-to-Rent',
CNBC
Higher prices are reducing returns on investment, and investors are responding by cutting back on their purchasing plans until conditions sort out," said Chris Clothier, a partner in MemphisInvest.com and Premier Property Management Group, which commissioned a national survey of investors conducted by ORC International. "Fewer foreclosures, rising property values and competition from hedge funds are making it tough to find good deals on distress sales." ...
Nearly half the investors surveyed said they planned to cut back on purchases of homes in the coming year; in a survey last August, just 30 percent said they planned to cut back. Only 20 percent of investors said they plan to increase purchases, compared with 39 percent who said they would last August.
All this could have a significant impact on the housing recovery.
"If the investors gets sidelined—along with first-time buyers who are already sidelined—this housing market falls apart quickly," says Mark Hanson, a California-based housing and mortgage analyst. Hanson points to still-high levels of negative equity, which has kept many homeowners stuck in place.
Connecticut-based Carrington Mortgage Holdings, a hedge fund that had been buying distressed homes, recently stopped...
Single-family rents in the cities surrounding Phoenix proper— where all the 'investors' bought all the foreclosures—have plunged 25 percent in the past 5 months," says Hanson, who recently visited the market, meeting with rental agents and investors
12---
The Fed has expanded its balance sheet by $500 billion since September of 2012 when QE3 began
, Dr Housing Bubble
The Fed has expanded its balance sheet by $500 billion since September of 2012 when QE3 began. Does that seem like a slow pace of growth? There is a big confidence game in housing at the moment.....
The Fed has expanded its balance sheet by $500 billion in a few short months only since QE3 started. The Fed is hinting at slowing down QE3 but this is more of a bluff:
"(WSJ) Federal Reserve officials are likely to signal at their June policy meeting that they're on track to begin pulling back their $85-billion-a-month bond-buying program later this year, as long as the economy doesn't disappoint."
Vague statements like that give the Fed power to enlarge a balance sheet to $3.4 trillion. Before this crisis hit it was well below $1 trillion of mostly healthy and safe securities holdings. That is no longer the case. The housing market has been ravaged like locusts by the
hungry appetites of yield seeking big money from Wall Street
. A reader is currently working on putting together some data on big money investors bailing on the real estate market (or trying) and we'll make sure to put together an article on this because this is a very telling trend similar to the massive short bets that were being placed in 2007 on subprime brokers.
Rates took a big turn recently: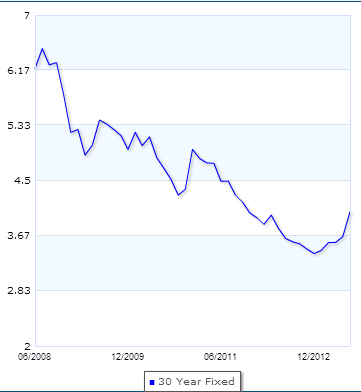 The 30-year fixed rate mortgage went above 4 percent reaching levels seen in 2011...
the fact that big money is pulling out of the market in many areas is probably a signal that something is starting to shift.
13---
The Sequester Starts to Show,
NYT
Federal employment had been on a downward trend since the start of 2011, with the government shedding about 3,000 or 4,000 positions a month through February. Then sequestration hit on March 1. And in the last three months, the federal work force has shrunk by about 45,000 positions, including 14,000 in May alone. In part, that is because federal offices have gone on hiring freezes and taken other steps to wrench down their spending.
Tens of thousands of federal workers are also seeing their hours cut through mandatory furloughs and bans on overtime. But that data is not really showing up in the jobs report, which includes data on hours for private sector employees, but not public sector ones. Still, expect those furloughs to take a significant bite out of income and consumer spending. Come July, for instance, the Pentagon is going to start to furlough
680,000 civilian workers
– out of about 800,000 total – for up to 11 days each.
Sequestration is having an impact on private businesses as well, even if it is harder to see given the way the recovery continues to chug along. Millions of their customers have less money to spend. The government is trimming back on contracts awarded to private firms. But just because sequestration's impact is diffuse and cumulative over time does not mean it is not there.
14--
Did someone say "exit strategy
"?, VOX
A common theme running through these questions was, again, that the exit strategy was bound to be highly political. Withdrawing policy support is always delicate, but the scope for capital losses and the impact on fiscal policy of large-scale bond sales stand to make exit highly controversial.
15---
Abe's "shock doctrine" reforms,
NYT
The list of initiatives was familiar, members of the cabinet and advisory councils having talked up what the government was brewing. There was establishing special deregulated zones where businesses and individuals, particularly foreign professionals, could set up shop unencumbered by Japan's regulatory thicket. There was promoting private financing for public projects, like ports, water-supply and sewerage systems, and high-speed expressways. There was eliminating the ban on Internet sales of over-the-counter drugs. There was liberalizing rules on national health insurance payments for experimental medical treatments — a topic dear to the prime minister, whose chronic ulcerative colitis is now under control thanks to a drug that was long stuck in the approval process.
Over Abe's announcements, however, loomed the long shadow of Horie's admonition: "The best thing for government to do is nothing." Rather than creating conditions for self-propelled growth, his proposals were all about carving out new exceptions, picking new winners and roping in the government as a guarantor.
16---
Profit cycle vs GDP
Source:
Investing Caffeine
17---
Low Inflation Is the Same Sort of Problem as Deflation
, CEPR
18--
Pathetic job's report sends stocks soaring
, wsws
As significant as the number of jobs added is the fact that the all of the increase is attributable to the growth of service sector jobs, mainly low-wage employment, while goods-producing jobs and government jobs declined.
Stocks rose at the news, spurred on by what one commentator said Wall Street called the "Goldilocks Jobs Report" that was "Not too hot, not too cold." Stock and bond values had fluctuated violently throughout the week on fears that any significant improvement in the jobs situation would prompt the Federal Reserve to pare back its $85 billion in asset purchases. The continual flood of money into the market has inflated the stock values and the bank accounts of the wealthy.
"May's job growth would be considered solid in an economy that had already largely recovered from the recession, but it is well below the sustained job growth of 200,000 to 300,000 a month that would mark a robust jobs recovery," said Chad Stone, chief economist at the Center on Budget and Policy Priorities..
The US has recovered only six million out of the 8.5 million jobs lost during the recession. However since the beginning of the economic "recovery" in 2010, the working age population has increased by six million, meaning that the gain in jobs relative to population growth has been essentially zero.
The share of the US population that is employed remained at 58.6 percent in May, largely unchanged from what it has been since 2009 and down from 62.7 percent in December 2007.
"At the job growth rate of the last year, we will still have a deficit of 4.6 million jobs in May 2016," wrote Heidi Shierholz, an economist at the Economic Policy Institute, in response to the jobs report.
Significantly, US manufacturing employment contracted by 8,000 jobs, pointing to the weakness of demand resulting from the global economic slump. Construction added only 7,000 jobs, and the entire goods-producing sector actually lost 1,000 jobs.
The vast majority of the jobs added in May were low-skilled and low-wage, such as food service and home health aides. Professional and business services added 57,000 jobs, nearly half of which (26,000) came from temporary employment.
Food service added 38,000 jobs. The typical food preparation worker receives $9.18 per hour, or $19,100 per year, according to the Bureau of Labor Statistics. The museums, gambling, and recreation sectors added 12,500 jobs.
Private education and health services added 25,600 jobs, including 6,900 in home health care services, mostly consisting of home health care aids, who have a median pay of $9.70 per hour.
Last month the federal government slashed 14,000 jobs, including 3,800 jobs in the postal service, which were partially offset by an increase in local government employment, leaving the total number of government employees down by 3,000....
The steady decline in federal employment is in addition to furloughs for hundreds of thousands of federal government employees, leading to in pay cuts up to 20 percent.
Since June 2009, the public sector as a whole has eliminated 737,000 jobs, nearly half of which have been in state and local education.
The millions of people who remain out of work are having any remaining government assistance taken away from them. Two million people had their unemployment benefits cut back by up to 20 percent due to the "sequester" budget cuts. Many have been cut from rolls altogether as a result of cuts in states throughout the country.
The U-6 unemployment rate, which includes those working part-time for economic reasons, remained essentially unchanged at 13.8 percent, meaning that 22 million people in the US are either unemployed or underemployed.
Wages continue to stagnate. Average hourly earnings rose by only one cent in May, to $23.89, and were up by only 2 percent over the past year, a level of wage growth significantly lower than pre-recession levels. Between 2007 and 2011, the US median household income plunged by 11.6 percent, from $57,143 (in 2011 dollars) to $50,502.
The release of the May jobs figures followed a week of negative economic data in the US. On Monday, the Institute for Supply Management said its purchasing managers index (PMI) fell to 49 in May, down from 50.7 in April.
The May jobs report points to the fact that there has been no economic recovery for working people in the United States: millions remain unemployed, and millions more have left the labor force because no jobs are available. Wages, which have plunged in real terms since 2008, remain stagnant, while government assistance for the poor and unemployed is being slashed.
19---
Job creation vs. employer size - some observations
, sober look
1. Since the beginning of 2005, ADP estimates that the US economy has generated a net of 2.6 million private sector jobs.
2. During that period roughly 2.3 million were created by small businesses, 1.3 million by medium businesses, while large businesses lost 1 million jobs.
Source: ADP