1---
China's shadow lending problem,
zero hedge
Shadow lending flourishes in China because an estimated 97 percent of the nation's 42 million small businesses can't get bank loans, according to Citic Securities Co., and savers are seeking higher returns
. The industry may be valued at 36 trillion yuan, or 69 percent of gross domestic product, JPMorgan Chase & Co. estimated last month. The crackdown may damage the economy by shrinking funding for smaller companies, Barclays Plc said on May 20....
"The problem is that when debt levels have got so high, and it's more debt that keeps the existing debt afloat, you absolutely have to stop the process, but it's very difficult to do so in an orderly way," said Michael Pettis, a finance professor at Peking University "There's always a risk that the unwinding of the debt becomes disorderly and the PBOC will be blamed for mismanaging the process
2---
Fed Officials Intensify Effort to Curb Surge in Interest Rates,
Bloomberg
Federal Reserve officials intensified efforts to curb a growth-threatening rise in long-term interest rates, seeking to clarify comments by Chairman Ben S. Bernanke that triggered turmoil in global financial markets.
William C. Dudley, president of the Federal Reserve Bank of New York, said yesterday any decision to reduce the pace of asset purchases wouldn't represent a withdrawal of stimulus, and that an increase in the Fed's benchmark interest rate is "very likely to be a long way off." He said bond purchases could be prolonged if economic performance fails to meet the Fed's forecasts.
Concerns the Fed may curtail accommodation helped push the yield on the 10-year Treasury note as high as 2.61 percent this week from as low as 1.63 percent in May. The remarks by Dudley, who also serves as vice chairman of the policy-setting Federal Open Market Committee, along with Fed Governor Jerome Powell and Atlanta Fed President Dennis Lockhart sought to damp expectations that an increase in the benchmark interest rate will come sooner than previously forecast.
"Such an expectation would be quite out of sync with both FOMC statements and the expectations of most FOMC participants," said Dudley, 60, a former chief U.S. economist for Goldman Sachs Group Inc.
The Standard & Poor's 500 Index rose 0.6 percent to 1,613.20 at the close of trading in New York, while the yield on the 10-year Treasury note fell to 2.47 percent from 2.54 percent on June 26. ...
The FOMC has said it will keep its benchmark rate close to zero as long as unemployment exceeds 6.5 percent and the outlook for inflation is no more than 2.5 percent.
"Not only will it likely take considerable time to reach the FOMC's 6.5 percent unemployment rate threshold, but also the FOMC could wait considerably longer before raising
short-term rates
," Dudley said. "The fact that inflation is coming in well below the FOMC's 2 percent objective is relevant here. Most FOMC participants currently do not expect short-term rates to begin to rise until 2015."
The strategy Bernanke laid out for tapering bond purchases was predicated on the economy growing in line with the FOMC's forecasts. Central bankers expect growth of 2.3 percent to 2.6 percent this year, according to projections released last week. The economy grew at a 1.8 percent rate from January through March, down from a prior reading of 2.4 percent.
3---
U.S. Bond Funds Have Record $61.7 Billion in Redemptions
, Bloomberg
U.S.-listed bond mutual funds and exchange-traded funds saw record monthly redemptions of $61.7 billion through June 24 amid signs the country's central bank may scale back its unprecedented stimulus.
The redemptions surpassed the previous monthly record of $41.8 billion, set in October 2008, according to an e-mailed statement by TrimTabs Investment Research in Sausalito,
California
. Investors withdrew $52.8 billion from bond mutual funds and $8.9 billion from ETFs during the period, said Richard Stern, a spokesman for TrimTabs. ...
The unprecedented liquidation of bonds this month is a dramatic departure from recent trends," David Santschi, chief executive officer of TrimTabs, said in the statement. "Before June, bond funds had posted inflows for 21 consecutive months."
4---
The Fed Just 'Doesn't Understand' Bond Market: Allen Sinai
, CNBC
Dudley has not told us anything that we don't know," Sinai, chief global economist for Decision Economics, told CNBC's
"Squawk on the Street"
.
If the Fed begins to taper, demand for Treasurys will diminish, taking the key interest rate on 10-year Treasurys upward, he said.

"If I'm a trader in the fixed income side, I can't be long until I see how that plays out," Sinai said.

Over the long term, he added, one way or another we'll see a better economy, rising inflation and higher interest rates. Short term, however, the markets "overdid it" on the move in interest rates, but playing higher rates from here is "the only way to look at it from an investment point of view," he said.

What Dudley said "doesn't matter," Sinai added. "The Fed doesn't understand the dynamics of short-term movements in markets. In the short run, you just can't be long on bonds. That's also why corporate bond yields are rising."
"It's important to remind financial markets that the economy has yet to strengthen by enough to unambiguously justify even the thought of a winding down of Fed bond purchases," said Lonski, of Moody's Capital Markets Research Group.
"The corporate bond market has responded even more negatively than the Treasury bond market of late," he said, noting that the move in corporates have far outpaced that in Treasurys by a "very wide margin."

Lonski said the corporate bond market is still concerned that the economy isn't strong enough to sustain a 2.5 percent yield on
10-year Treasurys
.

"There's really no convincing evidence that we're about to enter a period of persistently faster economic growth," he said. "The reality is, of late, both business sales and corporate profits are rising at rates that are well under their long-term averages."
"This is no time for higher borrowing costs," he added.

5---Japan factory output jumps but deflation remains, yahoo

Japan's April jobless rate was flat at a multi-year low of 4.1 percent.
"There has been a clear recovery in demand for labour in manufacturing likely on the back of stabilisation in exports and thus industrial production," said Credit Agricole economist Yoshiro Sato.
Huge infrastructure projects following Japan's quake-tsunami disaster two years ago were helping prop up demand for workers, Sato added.

On Friday the International Monetary Fund kept its 1.6 percent growth forecast for Japan's economy this year, giving Abe's plan a thumbs up. The economy expanded again in the first quarter, confirming its exit from recession.
But the IMF also warned of "considerable downside risks" if Japan doesn't chop its massive national debt -- the worst among industrialized nations at more than twice the size of the economy.

A manufacturer survey on Friday showed Japanese producers remain cautious, expecting May factory output to be flat before slipping 1.4 percent in June.
Household spending was also weaker than expected while consumer prices fell 0.4 percent on-year in April, underscoring the tough task in reversing years of deflation that has crimped private spending and business investment.
A small 0.1 percent increase in Tokyo-area prices for May, the first in about four years, offered some hope amid reports that luxury brands including Chanel and Germany's Montblanc were set to raise their local prices by about 10 percent in response to the yen's drop against the dollar....


The BoJ's huge monetary easing measures -- similar to the US Federal Reserve's bond-buying programme, known as quantitative easing -- have driven down the yen, which traded around 101 against the dollar Friday, about 25 percent lower than late last year.
A weaker currency makes exporters more competitive overseas and inflates repatriated foreign income which, in turn, tends to lift their shares.
But it also makes imports more expensive and has sent Japan's energy bills soaring as Tokyo turned to pricey fossil-fuel alternatives after shutting nuclear reactors following the Fukushima atomic crisis two years ago.

6---How Much Are the NSA and CIA Front Running Markets?, naked capitalism

Alot.

7---Mortgage rates soar to 4.46% - biggest jump in 26 years, CNN Money

8---Redistribution policies at the root of the Eurozone Crisis, VOX

In theory, 'one market' should be accompanied not only by 'one money' but also by a shared concern about distributional issues. Not only theory, but also pre-crisis empirical patterns and a crisis deepened and prolonged by revision of the convergence implications of economic and monetary integration as well as by lack of risk-sharing buffers for the asymmetric impact of global shocks, indicate that that a robust and coherent European market and policy-integration process would require implementation of the behavioural constraints and redistribution schemes that operate, not without difficulties, within national socioeconomic systems.

9---Home Builder Sales at Risk Due to Rising Mortgage Rates, cnbc

Sales of newly built homes rose to their highest level in five years in May, according to numbers compiled by the U.S. Census, but those numbers are at risk of being wrong. They are based on signed contracts, not closings, for homes, many of which have not yet been built. Those contracts were signed well before a huge spike in mortgage rates, and those closings could be up to nine months away, when the homes are completed. ...

Bottom line, 70 percent of all May 'sales' are suspect with respect to locked mortgage financing, which is a key metric to how much the buyer can pay for the house," says Hanson.
"Not all of these will fall out. Some will move to a higher-risk adjustable rate mortgages in order to save the deal. However, builder sales fall-out will spike and the May new home "sales" number will be revised sharply lower unless rates comply or builders help to soften the blow of the house being 20 percent more expensive to own than originally thought."

10--The Las Vegas housing fiasco, Dr Housing Bubble

I find this very interesting. Even today, nearly 60 percent of all buying activity is going to investors (at record levels). Just look at the crazy level of all cash buying: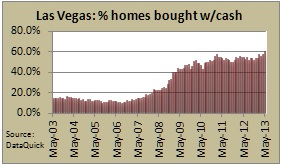 Source: DataQuick
Investors are hungry for yield. Returns just got much more lucrative outside of real estate with rates going up dramatically in the last few weeks
...
The fact that investor demand is still feverish and the economic fundamentals stopped making sense a year ago this market is safely into mania mode. Will anyone step in? Absolutely not. Our economic system seems to be "ride it until the wheels fall off" so put on your helmets because the RPMs are starting to redline.
11---
Dwindling investment in "torpid" US economy
, wsws
The central bankers' statements came after investors pulled $8.6 billion from US bonds over the past week, sending total withdrawals over the past four weeks to $23.7 billion, the largest monthly outflow from bond markets since the 2008 crash. So far this year, four-fifths of bond funds tracked by Lipper, the financial data firm, have lost money for investors.
The most recent bond selloff has led to significant increases in interest rates, a trend that is already impacting the real economy. Rates on 30-year mortgages stood at 4.56 percent Wednesday, up from 3.74 percent a month ago, while high-grade corporate bonds hit 3.47 percent, up from 2.73 percent in the same period.
The most significant factor in the downward revision of the first-quarter gross domestic product (GDP) figure was a decline in the growth rate of consumer spending, which fell from 3.4 percent to 2.6 percent. A portion of this drop was the result of the expiration in January of a two-year payroll tax cut, which reduced a typical worker's take-home pay by $20.
At the same time, business investment remained stagnant, rising by just 0.4 percent.....
The torpid state of the real US economy was outlined in a Thursday
Wall Street Journal
article entitled "Companies Still Wary Despite Hefty Profits." The article noted that US corporations, while holding vast quantities of cash, have failed to make any significant increases in investment or hiring, while manufacturing faces a protracted slump.
The report noted, "Despite stellar profits and lean payrolls, US firms remain scarred by the deep downturn," and that "their appetite for investing continues to be patchy and their hiring slow."
The report noted that capital investment by US companies is four percent below its pre-2007 level, and total manufacturing output in May was five percent less than before the crash.
This was despite the fact that US corporations are drowning in cash and profits. The
Journal
noted that non-financial US companies are sitting on $1.8 trillion in cash and cash equivalents, up by 30 percent from 2008. Corporate profits, meanwhile, are at a post-World War II record of 12 percent of economic output, with this figure having nearly doubled over the past ten years
12---
Margin debt drops after Fed announcement (as planned
), prag cap
NYSE margin debt declined to $377MM in May from April's record reading of $384MM. This was the first decline on a monthly basis since last June.
Historically, margin debt has a strong correlation with the S&P 500 as investors tend to lever up as the market advances and the mood shifts from risk off to risk on. I often refer to this as evidence of a disaggregation of credit or the way credit is often employed in our economy for productive and unproductive uses.
13---
Fukushima Daiichi: The radiation exposures are going up
, Fairwinds
You know, when you turn a nuclear power plant on, there is no off switch. The heat remains for 10 years and the radiation remains for 100,000 years. So you can't change your mind. Throwing that switch on is a 100,000 year commitment. There is no off switch with nuclear power.
AK: So in other words, we produced a car – an automobile car without a brake
The people in the prefecture especially, but then also the people in Japan, received very high radiation exposures, higher than the IAEA is willing to discuss. The evidence is clearly in that the accident released three times more radiation in the form of noble gases than compared to Chernobyl, and roughly the same amount of Cesium as Chernobyl did. So this is a world-class event that has been downplayed by the Japanese government. So you've got a latency period of 5 to 10 years, and in some cases 30 years, for cancers to develop, which gets me back to fighting the dragon you cannot see. These people have been exposed. ...
NWJ: Are we not already seeing reports of cysts on the thyroid glands of children throughout the prefecture of Fukushima as well as the rest of Japan?
CK: Children already had thyroid cancer removed. And some were suspected of having thyroid cancer just among 38,000 children. They are testing more and more children but the first study already showed that the three confirmed cancer, so that's quite alarming. But then what's more concerning is the fact that even today – I just heard on the radio that the UN officially concluded that the cancer derived from Fukushima Daiichi accident will not be increased. I mean there won't be increased cancer in Japan because of the accident. That was today's report. And I think that really compounds the problem, and especially psychologically damaging to people living in the area because they know people are getting sick. They know they are sick. They know people are dying. And yet the world has written them off in a sense; that if they get sick, well, don't blame the accident. It's your fault. And that's the part that bothers me the most.
AM: This has already happened before, the case after Chernobyl accident. That within 5 years, UN, IAEA concluded the same conclusion, that there was no serious case for children. But after 5 years, 10 years, and now, there are so many children that suffer from the thyroid. So Helen Caldicott said this doesn't appear until 5 years, 10 years. So it is irresponsible that the UN concludes at this point now....
you've got an enormous amount of radiation sitting on the roof of a building that's been compromised because it exploded. There's no doubt that the building is not as strong as it was; and in fact, there's a bulge at the bottom of a couple of inches called a first mode oil or strut bulge, which is another indication of a seismic problem. We focus on unit 4 because it has the most and hottest radioactive fuel, but to my mind, unit 3 is just as bad. It doesn't have quite as much nuclear fuel in it but it's the one that had
the
most devastating explosion. So from a seismic standpoint, it's probably more likely to topple. If unit 4 were to topple, there's more dose consequence. But either way, it's really a bad scenario
14---
John Maynard Keynes: The General Theory of Employment, Interest and Money, from Chapter 24:
Tuesday Hoisted from the Non-Internet of 57 Years Ago Weblogging, Delong
The General Theory of Employment, Interest and Money
:
The central controls [my theory claims are] necessary to ensure full employment will, of course, involve a large extension of the traditional functions of government. Furthermore, the modern classical theory has itself called attention to various conditions in which the free play of economic forces may need to be curbed or guided. ....

Whilst, therefore, the enlargement of the functions of government, involved in the task of adjusting to one another the propensity to consume and the inducement to invest, would seem to a nineteenth-century publicist or to a contemporary American financier to be a terrific encroachment on individualism. I defend it, on the contrary, both as the only practicable means of avoiding the destruction of existing economic forms in their entirety and as the condition of the successful functioning of individual initiative.
For if effective demand is deficient, not only is the public scandal of wasted resources intolerable, but the individual enterpriser who seeks to bring these resources into action is operating with the odds loaded against him. The game of hazard which he plays is furnished with many zeros, so that the players as a whole will lose if they have the energy and hope to deal all the cards. Hitherto the increment of the world's wealth has fallen short of the aggregate of positive individual savings; and the difference has been made up by the losses of those whose courage and initiative have not been supplemented by exceptional skill or unusual good fortune. But if effective demand is adequate, average skill and average good fortune will be enough.
The authoritarian state systems of today seem to solve the problem of unemployment at the expense of efficiency and of freedom. It is certain that the world will not much longer tolerate the unemployment which, apart from brief intervals of excitement, is associated and in my opinion, inevitably associated with present-day capitalistic individualism. But it may be possible by a right analysis of the problem to cure the disease whilst preserving efficiency and freedom.
(Summary: "Look, guys. High unemployment pisses people off and leads to political change, and sometimes to the end of capitalism itself. So, wise up. We can fix this by using gov deficits to increase demand and put more people to work. Of course, some of your money grubbing Ponzi scams will have to be suspended (temporarily) but the alternative is much worse"....This is Keynes in a nutshell)
15---
Pettis on China,
Mish
, we are likely to see similar stress in the banks many times again (and have seen it before) as a financial sector wholly addicted to cheap and plentiful credit struggles to accommodate Beijing's determination to control credit growth.
Second, the way the crisis was handled should make it clear that volatility in the financial sector is suppressed by administrative measures. This, however, may increase the risk of a future gapping in confidence and volatility.
During the coming week I believe that a significant amount of Wealth Management Prodiucts (WMP) will mature, and because of asset/liability mismatched this WMP must be rolled over. Beijing, correctly in my opinion, continues to be eager to clamp down on risks within the shadow-banking sector. This is likely to create further stress in WMP placement, which, if mismanaged, could create a run on WMP.
If there is indeed a reduction in the amount of funding available for WMP, the money will have to flow into some other sector. Given the large size of the WMP market, these flows might be significant, although it is not yet clear to me where they will go.