1---First-Quarter GDP Growth Rate Revised Down to 1.8%, WSJ
The revision was due largely to slower growth in consumption, which eased to a 2.6% gain from the earlier estimate of 3.4%. Consumer spending, which accounts for two-thirds of economic output, was likely hit by a rise in payroll taxes at the start of the year and relatively stagnant incomes, two forces that have pushed the saving rate lower.
Spending on legal services, personal care and health care all were weaker than previously estimated, the Commerce Department said....
Fed Chairman Ben Bernanke last week said the "main drag" to growth this year is federal fiscal policy. "Our judgment is that, given that very heavy headwind, the fact that the economy is still moving ahead at at least a moderate pace is indicative that the underlying factors are improving," he said. "Obviously, we haven't seen the full effect yet of the fiscal-policy changes. We'll want to see how that evolves as we get through that fiscal impact. But we're hopeful."

The latest figures raise questions about how much consumers—buoyed by strengthening housing and jobs markets—will be able to prop up growth for the second quarter and offset cuts from the government sector.
The recovery in global banks' balance sheets is under threat from a surge in bond yields, according to senior bank executives and analysts preparing for quarterly earnings season.
Banks have built giant portfolios of liquid securities, partly at the behest of regulators and also because they have not found better opportunities to lend a flood of deposits. Under new capital rules, unrealized losses in these "available for sale" portfolios hit banks' equity capital.
"I would think most institutions are going to have a fairly sizeable hit to their equity," said a senior executive of a top U.S. bank. "You've really had this concentrated one-to-two week period where all hell is breaking loose."
The composition of the balance sheets leaves banks vulnerable to the spike in interest rates. For example, Bank of America has a $315 billion securities portfolio, 90 percent of which is invested in mortgage-backed securities and Treasurys. As yields rise, prices fall.
In the U.S., the unrealised net gains on "available for sale" portfolios has slumped to $16.7 billion, its lowest level in two years, according to the latest Federal Reserve data. The metric tracks the performance of banks' AFS portfolios, largely comprised of mortgage-backed securities and Treasuries, and the fall represents a drop of more than 50 percent in two months.
3---
Consumer Spending in U.S. Rebounds as Incomes Increase
, Bloomberg
Saving Improves
The
saving rate
increased to 3.2 percent from 3 percent. Wages and salaries climbed 0.3 percent.
Disposable income, or the money left over after taxes, increased 0.4 percent after adjusting for inflation, today's report showed. It climbed 0.3 percent in the prior month.
Adjusting
consumer spending
for inflation, which renders the figures used to calculate gross domestic product, purchases rose 0.2 percent in May after a 0.1 percent decrease in the previous month, today's report showed.
Price-adjusted spending on durable goods, including automobiles, increased 1 percent in May, the biggest gain so far this year, after a 0.2 percent advance the prior month. Purchases of non-durable goods, which include gasoline, rose 0.5 percent...
While there are signs of a better economy, the improvement is not robust,"
David Dillon
, chief executive officer, said in a June 20 earnings call. "Consumer sentiment is gradually improving, but remains fragile. We continue to see high variability in sales comparisons between days and weeks."
4--
U.S. wages fall amid overseas pressure
, post gazette
Competition from China and other low-wage rivals, coupled with fallout from the 2007-09 financial crisis, has put American wages under such unprecedented strain that they have shifted into reverse -- not merely stagnating, but falling.
"Water finds its equilibrium, its own level," said Jeff Joerres, chief executive of Milwaukee-based global staffing giant ManpowerGroup Inc., who refers to this accelerating leveling of wages as "global labor arbitrage."
"It's happening so fast on a global scale that it's scary," Mr. Joerres said.
In the U.S., the phenomenon is not limited to isolated and vulnerable sectors, such as commodity manufacturing. Rather, wages have fallen across the entire national economy -- down 1.1 percent in the 12-month period from September 2011 to September 2012, the most recent comparisons available.
"Average weekly wages declined in every industry except for information," the U.S. Bureau of Labor Statistics reported in its latest economic census.
5---
The failure of Abenomics,
Businessweek
Deregulation Targets
Abe on June 5 vowed to deregulate the energy, health and infrastructure industries and double foreign investment to 35 trillion yen ($357 billion) by 2020.

He also plans to boost power industry investment to 30 trillion yen within a decade and triple the use of public-private partnerships to 12 trillion yen to fund infrastructure projects such as airports, waterworks and highways. He didn't address changing labor laws making it easier for companies to eliminate jobs.

"I want the government to hammer out policies that can get rid of obstacles for businesses and energize the private sector, not just provide them with subsidies," Miyauchi said

6---Rethinking Abenomics, WSJ.
Inflation expectations have certainly risen on the back of the yen's fall, but once the rise in import and energy prices pass through, there's a strong prospect that inflation will trend down again.

It's worth noting that foreign investors have been large net buyers of Japanese equities, to the tune of around 8.5 trillion yen ($85 billion) since the market started rising last autumn. Maybe it's because foreigners have more faith in Abenomics than the Japanese do themselves. And maybe that's because the Japanese have longer memories, knowing all too well how over the past twenty years successive stimulus plans have been greeted by investor enthusiasm only to run into economic reality after a couple of years

7---Desperately seeking income, naked capitalism

To make matters worse, real average hourly wages are still 0.5% lower than their June 2009 level, with real weekly wages (inflation-adjusted take-home pay) having grown by only 1.3% over the past four years (see next chart).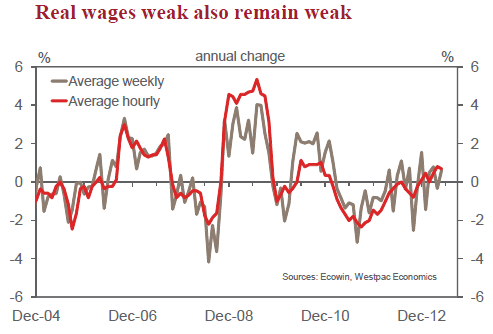 And while households have benefited from lower interest rates, this boost to discretionary incomes has been offset by rising health care and gasoline costs, meaning that real discretionary incomes have not grown since 2006 (see next chart).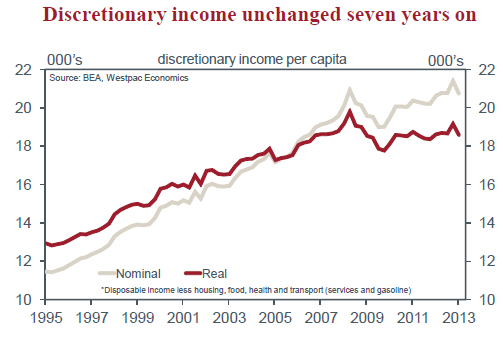 This all leaves Westpac to conclude:

It is little wonder then that consumption growth has failed to accelerate in a significant and sustainable fashion. Not only do households continue to be weighed down by large historic debt burdens, they are having their purchasing power eaten away by price rises for life's ssentials.
It is all well and good for asset price gains to bolster confidence, but real improvements in spending power are necessary to see broad-based, persistent spending growth. This is not the case at the current juncture; and, in the absence of a positive exogenous shock, seems unlikely for the foreseeable future.

8---Why China's crunch is serious this time, Business Spectator

First of all, let's recap what happened. In early June, data for May indicated a slowdown in construction and manufacturing, while exports posted their lowest growth at 1 per cent over a year. This was reflected in the imports of major metals such as copper and alumina falling at double digit rates, while energy usage such as coal also dropped sharply. In April, housing sales declined sharply. Figures for April revealed that new homes sales in Beijing fell over 57 per cent compared to the month before, while sales in pre-owned homes fell 88.1 per cent compared to the month before.

The standard analysis that China could miss its growth target of 7.5 per cent for the year by a few basis points was disappointing but hardly cause for concern. In reality, growth has been far lower. Even Premier Li Keqiang once admitted a few years back that official growth numbers were 'man-made' (read 'made up') and could not be believed. Historical forensic analysis consistently shows that the most reliable indicator has been electricity usage, with 85 per cent accuracy in indicating actual growth rates for the country once economists and accountants pour over old and revised data. Worryingly, electricity usage in May grew at around 2.9 per cent
...
Beijing is concerned about two related things. The first is the explosion in credit growth, especially since 2009, resulting in a surge of unneeded and wasteful fixed investment. I have written about this several times in previous columns. (For example, see China grasps for a growth alternative, September 3, 2012.) As another indicator of investment inefficiency or capital factor productivity, every $100 lent now generates only $17 in GDP, falling from $29 in 2012 and $83 in 2007.

The second and related problem is the shadow banking system. So-called 'shadow' lenders get money by borrowing it from traditional banks, and also raising it from wealthy individuals wanting a higher return on their capital. These lenders then issue loans that would not suit the traditional risk profile for normal commercial and retail bank lending – at substantially higher rates. Financial vehicles to facilitate such lending include trusts, insurance firms, leasing companies and pawnbrokers. Given the decade of easy money, almost every type of corporate entity is involved in setting up these vehicles: from large and small banks, SOEs, large private corporates and local governments.

It is no wonder that central authorities want to crack down on this kind of activity. According to JP Morgan Chase estimates, the debt issued by the country's shadow banking sector has grown from about $US2.9 trillion in 2010, to $US4.3 trillion in 2011, to about $US5.7 trillion in 2012. The common argument that Chinese financial system is not a heavily leveraged one clearly only looks at standard 'vanilla' loans.

9---Changing market leaves investors cautious on housing, Housingwire

...investor demand is waning as the pipeline of distressed properties shrinks and affordability declines.

"This will be part of the transition back to a more normal housing market, but also another reason to expect slowing price appreciation in coming years," explained Chris Flanagan, Michelle Meyer and Justin Borst, mortgage-backed securities strategists for BofAML ($12.76

0%

).
Institutional investor buying is concentrated in key markets today....

Overall, investor participation should start to decline given the drop in affordability and shrinking share of distressed homes.
This is evident in markets that are further along in the healing process of the housing recovery.

"In light of the changing prospects for US monetary policy, we have revised our 10-year Treasury yield forecasts higher," said analysts for Capital Economics.
They added, "Accordingly, recent gains in 30-year mortgage rates are unlikely to be unwound and could well be extended.

10---Subprime Loans Fuel Increase in Auto Loan Delinquency Rate, collections and credit risk

11--Pending Home Sales Soar 6.7 Percent to Reach 6-Year High, CNBC

12---The big one, plunging incomes, zero hedge

And as mentioned above, real per-capita disposable income took another hit: it is now reported to have dropped by an annualized $796 from quarter to quarter. Real per-capita disposable income is now down $209 annually from 1Q-2011 — a full two years ago.

Their summary:
At best this new release reports an economy with lackluster growth, created at great expense by a combination of unprecedented fiscal and monetary stimulus that have obviously progressed well past the point of diminishing returns. To be fair, many other national governments would be thrilled to be reporting a 1.78% annualized growth rate. But that observation in itself (without mentioning the plunging export numbers) also reflect global economic headwinds that do not bode well for sustaining even lackluster numbers over the balance of the year.


And we continue to note the one truly serious domestic issue within the data:

– Real per capita disposable incomes took yet another hit. The astonishing annualized contraction of real per capita disposable income has now reached -9.21% — dwarfing the -7.52% contraction rate recorded in the first quarter of 2009 (the worst quarterly contraction recorded during the official duration of the "Great Recession").

From time to time we may quarrel with the quality of the BEA's deflaters. And frankly we may even find that at face value the lackluster numbers amount to nothing more than a sham "recovery." But the most shocking part of this report is glaringly obvious from the real per capita disposable income numbers: all of the unprecedented fiscal and monetary stimulus has left American households materially worse off than they were two years ago.

13---Labor's Declining Share Is an International Problem, NYT

14---Risk of 1937 relapse as Fed gives up fight against deflation, Telegraph
The US Federal Reserve has jumped the gun. It has mishandled its exit strategy from quantitative easing, triggering a global bond rout that it did not anticipate, and is struggling to control

15--- What caused China's money market crunch?, Reuters

16---Study shows most Americans have inadequate savings, wsws

17---David Cay Johnston: The National Memo » Wages Fall At Record Pace, national memo

Breaking news alert! Wages fell at the fastest rate ever recorded during the first quarter of this year, the government's Bureau of Labor Statistics

reported

.

Hourly wages fell 3.8 percent in the first quarter, the biggest drop since the BLS began tracking compensation in 1947. Productivity rose half a percentage point. The result was that what economists call "labor unit costs" fell 4.3 percent.
In plain English, that means paychecks overall shrank, but work output grew. If you are a business owner, that is news worthy of a toast with a bottle of the finest Cristal champagne...
:
Pay for most jobs has been falling because of a combination of anti-union rules that have reduced membership to its lowest level in almost a century, trade deals with China that have destroyed 2.8 million jobs and put pressure on workers to accept lower pay to compete with imports, and the severe cuts in welfare benefits over the past two decades, which have flooded the market with low-wage workers. America ranks second only to South Korea in the share of workers earning low wages, both at about one job in four.
At the same time, taxpayers have been giving ever-larger subsidies to employers, notably Walmart, many of whose workers need food stamps.
From 2007 to 2011 the average pretax income of the bottom 90 percent fell from $35,173 to $30,437. That is a drop of more than $4,500. It is also a decline of nearly 13 percent.
The 2012 data are likely to show that drop has worsened, with the vast majority's average income likely to be down $5,000, or roughly $100 per week. We'll see how well that gets reported in the fall when new data becomes available.
By the way, if you make a good living, or your household enjoys two above-average incomes, don't think that you are exempt from this trend toward less.
During the same period, the threshold to enter the top 10 percent fell by 6.5 percent, a drop of $7,665 to $110,651, analysis of the latest IRS data by economists Emmanuel Saez and Thomas Piketty shows.
This drop in income is part of a long-term trend in which the economy grows, but nearly all the gains go to the top. From 2009 to 2011 the top 1 percent got 121 percent of all the gains, which was possible only because the 99 percent got less.