1---
Italy could need EU rescue within six months, warns Mediobanca
, Telegraph
Italy is likely to need an EU rescue within six months as the country slides into deeper economic crisis and a credit crunch spreads to large companies, a top Italian bank has warned privately. ...
Italy's €2.1 trillion (£1.8 trillion) debt is the world's third largest after the US and Japan. Any serious stress in its debt markets threatens to reignite the eurozone crisis. This may already have begun after the US Federal Reserve signaled last week that it will begin to drain dollar liquidity from the global system....
Julian Callow from Barclays said the Fed, the Bank of Japan, China's central bank and others have bought almost the entire $2 trillion issuance of AAA bonds over the past year. The effect of this has been to drive banks, insurers, and pension funds into riskier assets such as the eurozone periphery. This has helped prop up the eurozone, and camouflaged festering problems. "The Fed's shift towards tightening is highly significant, and it is causing a very dramatic rise in real yields," he said.
Borrowing costs of 5pc could prove crippling for Spain and Italy, both suffering from contraction of nominal GDP.
Mediobanca said the trigger for a blow-up in Italy could be a bail-out crisis for Slovenia or an ugly turn of events in Argentina, which has close links to Italian business. "Argentina in particular worries us, as a new default seems likely."
2
---President's promises fail to calm Brazil
, aljazeera
Protesters in Brazil have returned to the streets in low-income suburbs of Sao Paulo to demand better education, transport and health services, one day after President Dilma Rousseff proposed a wide range of actions to reform the country's political system...
Rousseff told governors and mayors on Monday that her administration would allocate $23bn for new spending on urban public transport, but did not provide details on what the new projects would be.
3---
Time to sober up as America and China remove punch bowl
, Telegraph
The term "Perfect Storm" is banned by the Telegraph as a lamentable cliché, so let us just say that this is the moment we long been fearing or waiting for – depending on taste – when markets are no longer given what they want.
The Bernanke Put has become the Bernanke Call. The Politburo Put has become the Politburo Call. Rather than putting a floor under asset markets whenever there is trouble, they are instead putting a roof on asset price rises....He choose to overlook the fall in core PCE inflation to 1.1pc, deeming it "transitory...
As for the PBOC in Beijing, we are seeing a cold-eyed refusal to intervene with liquidity to stabilize the interbank lending market, where Shibor rates have surged to record highs.
It seems they really do wish to flush out the excesses in the shadow banking system. They view the rampant credit growth after the Lehman crash as a mistake, as indeed it was, and are furious that banks have evaded property lending curbs by going off books.
Credit has grown to 200pc of GDP, up 75 points in less than five years. Fitch says total credit has jumped from $9 trillion to $23 trillion, adding the equivalent of the entire US commercial banking system in five years.
It no longer buttering many turnips. The efficiency of credit – the extra GDP added by each extra yuan of loans – has fallen from a ratio of 0.85 to 0.15. At this point it risks becoming a pure Ponzi scheme, as SocGen's Wei Yao calls it.
So yes, the Chinese are right to be tough, but that does not mean they can easily control the denouement. After all, the Bank of Japan deliberately popped the Nikkei Bubble in 1990, and the Fed deliberately popped the Wall Street bubble in 1929. Whether or not it is deliberate is a greatly overrated element.
At best, we are heading for choppy waters.
4---
When good intentions go wrong: Effects of bank deregulation and governance on risk taking
, VOX (What could go wrong?)
Our study has two clear policy implications: first, economic liberalisation should take into account the institutions' (or industry's) governance structure and its impact on economic behavior, especially risk taking. Second, liberalisation that unleashes growth might lead to undesirable outcomes if the former regulation was designed to inhibit risk taking or to maintain minimum safety standards
5---(The latest mortgage scam)
Freddie Mac gears up for RMBS risk-sharing deals
, Housingwire
Their strategy consists of drafting a bill to replace the GSEs with a new government guarantor, known as the
Federal Mortgage Insurance Corp
. The draft
legislation
is known as the Housing Finance Reform and Taxpayer Protection Act of 2013.
The bill is set up to develop risk-sharing mechanisms that require private financiers in securities insured by the corporation to assume first-loss positions.
Additionally, the proposal would require private investors to take a loss of 10% of the principal underlying securities
(Note: You don't need gov agencies and guarantees for bonds that generate profits for privately-owned financial institutions)
6---
Helicopter Ben Miscommunicates
, Big Picture
Taken alone, the FOMC minutes were positive for the market as nothing indicated that policy was going to change course. The indices acted accordingly, swaying between green and red. Then we found out that those sources were no more well-placed than a convertible parked beneath a tree with hanging bird feeders. First, the FOMC projections were released showing that the targeted 6.5% unemployment rate was now forecast to occur in 2014, not 2015, and that GDP growth was accelerating. Then, just prior to the reporter from TMZ asking Bernanke about his personal plans, his prepared remarks were released. Therein, Helicopter Ben dropped not more cash, but the bomb:
"We also see inflation moving back toward our 2 percent objective over time. If the incoming data are broadly consistent with this forecast, the Committee currently anticipates that it would be appropriate to moderate the monthly pace of purchases later this year; and if the subsequent data remain broadly aligned with our current expectations for the economy, we would continue to reduce the pace of purchases in measured steps through the first half of next year, ending purchases around midyear. In this scenario, when asset purchases ultimately come to an end, the unemployment rate would likely be in the vicinity of 7 percent, with solid economic growth supporting further job gains—a substantial improvement from the 8.1 percent unemployment rate that prevailed when the Committee announced this program."
So here we are: the transparency thing as Bernanke explained the Fed's thought process. The FOMC will apparently begin to cut back this year and, depending upon the next jobs number, may do so before the third quarter ends. The point that we reach 6.5% has been moved up but that is no longer the trigger; now it is 7% accompanied by an upward bias in the economy and inflation at 2%.
If only the Fed kept that information to themselves we could have read the minutes and gone on our merry way as the market stabilized and perhaps moved higher. Instead, traders relied traditionally unreliable FOMC forecasts – a flawed strategy in itself – and panicked
7---
Loan applications decline as mortgage interest rates skyrocket,
Housingwire
8---
Zillow expects more rate-volatility to come
, Housingwire
Mortgage rates are skyrocketing with one real estate firm reporting a 50-basis point hike for the 30-year, fixed-rate mortgage in just the past week.
That honor goes to
Zillow
, which released data showing that on Tuesday the 30-year, FRM hit 4.38%, up 50 basis points from seven days ago.
A week ago, the same mortgage rate came in at 3.88%, according to data from
Zillow
.
And Zillow
($56.25

0%

)
isn't the only one reporting high rates.
Last week
's
Freddie Mac
30-year, FRM came in at 3.93%, while
Bankrate
data showed mortgage rates at 4.12%.
While rates tend to differ from entity to entity, the speed at which they're rising has remained consistent.
Zillow's director of Mortgage Marketplace, Erin Lantz, believes there will be some more fluctuation still to come, including dips back lower. However, the longer term direction is up over the next 12 to 18 months, she told HousingWire.
"Last week rates spiked to levels not seen since July 2011 after Federal Reserve Chairman Ben Bernanke reiterated the Fed's commitment to scale back its stimulus program later this year," said Lantz.
9
---No Lehman in China, but shadow run possible
, Michael Pettis
The tension created by accelerating credit expansion (much of it supporting activities that were not generating sufficient cashflow to repay the associated debt) and decelerating money creation has created liquidity strains for much of the past year. Last weeks' events were likely to have been simply an exacerbation of those strains.
I believe talk in the market of China's experiencing its own "Lehman moment" are very much exaggerated. There is liquidity in the system and the PBoC still has the tools needed to alleviate a short-term liquidity crunch before it leads to a banking crisis. Government credibility is high, and given the wide-spread assumption that the government stands behind the banks, I do not expect anything approaching a bank run.
There are however two important lessons to be drawn. First, we are likely to see similar stress in the banks many times again (and have seen it before) as a financial sector wholly addicted to cheap and plentiful credit struggles to accommodate Beijing's determination to control credit growth.
Second, the way the crisis was handled should make it clear that volatility in the financial sector is suppressed by administrative measures. This, however, may increase the risk of a future gapping in confidence and volatility.
During the coming week I believe that a significant amount of WMP will mature, and because of asset/liability mismatched this WMP must be rolled over. Beijing, correctly in my opinion, continues to be eager to clamp down on risks within the shadow-banking sector. This is likely to create further stress in WMP placement, which, if mismanaged, could create a run on WMP.
If there is indeed a reduction in the amount of funding available for WMP, the money will have to flow into some other sector. Given the large size of the WMP market, these flows might be significant, although it is not yet clear to me where they will go.
Probably the main lesson of last week is that systems in which volatility is suppressed often seem less volatile, but this is only true when shocks are small. Large shocks tend to result in increases in volatility that far exceed expectations.
10--
The Slow Jobs Recovery in Charts
, WSJ
11---
USTs: Albatross or Opportunity
, sober look
Credit Suisse: – A break into "panic" territory has historically been a strong signal for a turning point in the bond market, indicating that the market has become very oversold in the short run. Since the start of the index in 1995, there have been seven such signals. Six out of seven times that translated into longer-dated US bonds outperforming bills over a period of 3-6 months. In recent years, panic deeps have on average become shorter and shallower, resulting in even stronger signals.
12---
Bonds Look Cheap, Lance Roberts, prag cap
For all of these reasons I am bullish on the bond market through the end of this year. Furthermore, with market volatility rising, economic weakness creeping in and plenty of catalysts to send stocks lower – bonds will continue to hedge long only portfolios against meaningful market declines while providing an income stream.
13--
Bernanke's Bursting Bubble,
sober look
May 22; Bernanke: – We're trying to make an assessment of whether or not we have seen real and sustainable progress in the labor market outlook. If we see continued improvement and we have confidence that that is going to be sustained, then we could in – in the next few meetings — we could take a step down in our pace of purchases.
Intentionally or not, the Chairman burst the market bubble just before it hit "euphoria". It was clear that the Fed was becoming concerned about froth forming in fixed income markets (Bernanke spoke about it -
see this post
). It was time to end it.
The unfortunate outcome of this action however is that it remains unclear whether the economy would have been better off if QE3 was never launched at all. The next 12 months will be filled with uncertainties about the exit timing, rising rates, and shaky credit markets. Anecdotal evidence suggests that some banks are becoming jittery about growing their balance sheets in this environment. As a result, loan growth is already slowing. That can't be good for business growth and hiring. When the dust settles, the economy may end up being in worse shape than it would have been if the Fed left it alone in August of 2012.
14---
Mortgages: 30-year fixed rate has jumped a point since early May,
LA Times
Residential mortgage rates aren't just up from the bottom — they have zoomed a full percentage point above recent record lows, reaching the mid-4% range.
The average rate for a 30-year fixed-rate home loan hit 4.63% on Monday, according to HSH Associates, up from the 4.33% that HSH recorded Friday and a record average low of 3.44% for the week that ended Dec. 14.
The rocketing rates are choking off a boom in home refinances that hit high gear in September 2011, when the 30-year fixed rate dropped below 4% for the first time on record.
15---
Sales of U.S. Homes to Foreign Buyers Decline 17 Percent
, Bloomberg
16---
76% of Americans are living paycheck-to-paycheck
, CNN Money
Roughly three-quarters of Americans are living paycheck-to-paycheck, with little to no emergency savings, according to a survey released by Bankrate.com Monday.
Fewer than one in four Americans have enough money in their savings account to cover at least six months of expenses, enough to help cushion the blow of a job loss, medical emergency or some other unexpected event, according to the survey of 1,000 adults. Meanwhile, 50% of those surveyed have less than a three-month cushion and 27% had no savings at all.
"It's disappointing," said Greg McBride, Bankrate.com's senior financial analyst. "Nothing helps you sleep better at night than knowing you have money tucked away for unplanned expenses."
Even more disappointing; The savings rates have barely changed over the past three years, even though a larger percentage of consumers report an increase in job security, a higher net worth and an overall better financial situation.
Last week, online lender CashNetUSA said 22% of the 1,000 people it recently surveyed had less than $100 in savings to cover an emergency, while 46% had less than $800. After paying debts and taking care of housing, car and child care-related expenses, the respondents said there just isn't enough money left over for saving more.
17---I
nvestor Activity Falls Sharply in May, DS News
As prices rise, investors are having a harder time justifying housing market purchases, according to a recent Campbell/Inside Mortgage Finance HousingPulse Tracking survey.
In May, the share of home purchases from investors fell to the lowest level in more than three years, dropping to 20.2 percent from 22 percent in April, according to the survey.
Previously, investors were drawn to damaged REOs and short sales due to the discounts that were generally offered and for the opportunities to flip or rent out the properties.
Though, HousePulse survey respondents explained investor incentives have weakened as profit margins dwindled due to rising prices.
Real estate agents who responded to the HousingPulse survey also said small investors are selling off their inventory of rental properties.
Although investor interest has waned, both current homeowners and first-time homebuyers have ramped up activity over the last two months. In May, current homeowners represented 43.8 percent of home purchases, while first-time homebuyers accounted for 36 percent of purchases, according to the survey, which includes responses from about 2,000 real estate agents nationwide each month.
18---
CFPB Proposes Revisions to Mortgage Rules
, DS News
Another triumph for the banks
19---
The 30 year fixed rate mortgage is now up by 40 percent in the last 52...mortgage payments just got 20 to 25 percent more expensive in the last few months
, Dr Housing Bubble
If you weren't paying attention, you might have missed one of the most dramatic moves in the history of the mortgage market. There was a sense that the Fed had all the power in the world to push mortgage rates to whatever level they desired. This seemed to be the case when rates touched a low around 3.25 to 3.29 percent. Slowly, rates have crept back up even before Ben Bernanke mentioned a tapering off of the
Fed's MBS purchasing binge
. How dramatic was the move? The 30 year fixed rate mortgage is now up by 40 percent in the last 52 weeks. We now get to test the resiliency of the housing market without the full unbridled support of the Fed. The bond market movement is stunning. I love the mentality out in the current market. "Well the Fed is devaluing money so might as well borrow, buy something tangible, and ride this puppy until the wheels come flying off in a blaze of glory." Sounds like a good foundation for a strong economy right? The Fed realizes that the market is overheating for all the wrong reasons. The financially connected have leveraged incredibly low rates to play this game to a point where hedge funds are buying rentals to lease out all in the name of higher yields. So how dramatic was this move?
30 year rate dramatic move
I have a few colleagues in the industry that have e-mailed me on how sudden this move was. Let us examine this on a chart: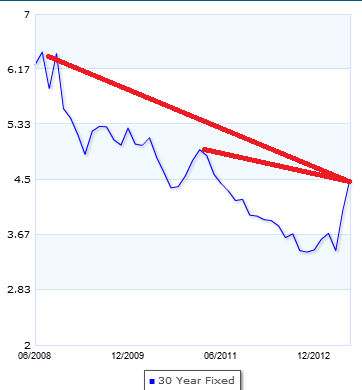 The increase in rates has occurred across the board: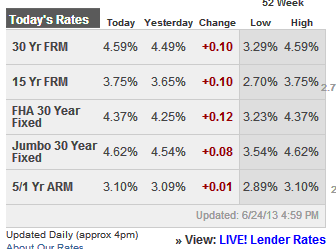 This big movement in rates comes at a time when expensive area buyers are going all in with jumbo
loans stretching every penny they have
. ...
Make no mistake in that this was a big move in the mortgage markets. Over the last few years, every panic in the market actually pushed rates lower. What is different this time is the falling in stocks is happening because rates are going higher. Bill Gross is right in that mortgage payments just got 20 to 25 percent more expensive in the last few months. The biggest budget expense of Americans just got that more expensive and you already know the trend for household income. In California, this can be anywhere from $500 to $750 a month on a jumbo mortgage (which is now back in fashion and people are stretching just to buy homes).
FHA insured loans
are already very expensive given the mortgage insurance changes in June.
Another interesting observation on the market:
"The volatility in mortgage rates has been unprecedented. Daily swings cause changes intraday and unfortunately that creates distortion for consumers. ...We went from low 3′s to high 4′s in a couple of weeks, and this morning we were possibly talking 5′s. the day is not over and the week just begun. " -Constantine Floropoulos, Quontic Bank"
20---
Chinese Premier Li Keqiang turns towards austerity, liberalization, "reforms", deregulation
, Reuters
SHOCK AND AWE
Accustomed to China's previous government where leaders bent over backwards to produce stellar rates of growth, Beijing's new stance has shocked investors.
China's stock market dived to 4-1/2-year lows on Tuesday as investors worried that steep money market rates, by raising the cost of borrowing, might be a defacto tightening of monetary policy that could stifle investment and consumption.
Some investors said the central bank's brinkmanship could backfire if it triggered a banking crisis.
Others lauded Premier Li's tactics as tough love that could gird China for other challenging economic reforms such as further slimming down giant state firms to make them more efficient.
Li took office in March, along with President Xi Jinping. As premier, Li is responsible for managing the
economy
.
His grit is reminiscent of former Premier Zhu Rongji, credited for leading China's previous round of major economic reforms in the late 1990s when he sacked more than 50 million workers at state firms to trim the bloated sector.
"Welcome to Doctor Li Keqiang's surgery," analysts from Standard Chartered said in a note.
"We had suspected that Premier Li would want to drive significant reforms. We underestimated, however, his apparent willingness to make policy choices that would risk putting further downside pressure on the economy."
In May, Li said there was limited room for policy stimulus because such measures carried risks and were not sustainable. China has a debt hangover from spending 4 trillion
yuan
($650.9 billion) at the height of the global financial crisis in 2008/2009 to boost the economy...
Some said the attitude was a sign Li had no qualms angering others to put China's economy on a more sustainable growth path.
The aggressive Zhu Rongji-style of governance means China may sacrifice growth in the short-term to achieve more balanced expansion, analysts said.
And with Zhu's former lieutenants holding top jobs in China today, including Central Bank Governor Zhou Xiaochuan, hopes for change are high.
"We believe there is likely to be more economic pain down the road," said Zhang Zhiwei, an economist at Nomura.
Growth in the world's second-biggest economy, already suffering from falling exports and sluggish domestic demand, could keep cooling to miss the government's 7.5 percent target this year and hit a 23-year low, he said.
Indeed, China faces its biggest challenge in at last a decade to change the way it does business: depend less on exports and investment for growth and more on consumption
21---
China liquidity squeeze impacts banks
, zero hedge
From
Caixin
:
A number of banks have temporarily halted lending to businesses and individuals apparently due to mounting pressure from liquidity shortages.

They include some branches of Bank of China (BOC) and Industrial and Commercial Bank of China (ICBC), sources from the two banks said.

The bank was already having a hard time keeping up with deposit-to-loan ratio requirements even before the liquidity shortages hit, not to mention executives' recent determination to sort out the bank's liquidity management and control loans.

BOC plans to resume lending on July 15, he said.

As for ICBC branches, the amount of loans they can make is routinely capped under a monthly limit set by headquarters, a source from the bank's Shenzhen branch said. It was not unusual for branch banks to reach lending quotas before the end of month, he said. What was rare, however, was that headquarters had cut down on the quotas to make room for its own operations.

"All of our loans have been put on hold," the source said, "There may be some credit line when it comes to July, but it will definitely be used up in a few days."

* * *

The tightened liquidity, which started about June 6, has affected the interbank market, stock market, government bond underwriting and securities refinancing operations.

On June 23, ICBC customers had trouble using its online, counter and ATM services. This included making withdrawals and paying bills. The same thing happened to BOC users a day later
22---
Gangster Supremes gut voting
rights act, wsws
Roberts, Antonin Scalia, Clarence Thomas, Samuel Alito and Anthony Kennedy will go down in history alongside those high court justices who issued the pro-slavery Dred Scott decision in 1857. On the eve of the 150th anniversary of the battle of Gettysburg, these minions of American capitalism have demonstrated that the US ruling class is opposed to the democratic principles for which millions of working people have given their lives.
The narrow majority dropped any pretense to judicial restraint or respect for the separation of powers, overturning a law that was reauthorized only seven years ago by overwhelming votes—92-0 in the Senate, 390-33 in the House of Representatives—and signed into law by a Republican president, George W. Bush.
In striking down a key section of the Voting Rights Act, the court majority defied the plain language of the Constitution. The Fifteenth Amendment, adopted in the wake of the Civil War, reads:
Section 1.
The right of citizens of the United States to vote shall not be denied or abridged by the United States or by any State on account of race, color, or previous condition of servitude.
Section 2.
The Congress shall have power to enforce this article by appropriate legislation.
23---
U.S. stock futures trim gains as GDP cut
, marketwatch
Gross domestic product rose by 1.8%
from January to March, down from an earlier estimate of 2.4%, with the reduction largely due to less consumer spending on services and softer business investment, the Commerce Department reported.