1--
-KKR Hires Ex-CIA Chief Petraeus to Lead Firm's New Unit,
Bloomberg
2--
-Once again, the US consumer is expected to save the day
, sober look
Why bother with manufacturing when US personal consumption remains firmly above 70% of the GDP.
3--
Tokyo Shares Down Sharply
, WSJ
4---
Mrs Watanabe brings home the bacon
, macrobusiness
One reason why Australian stocks and the dollar are struggling became a little clearer this morning. And it has little to do with Australia or US tapering. Japan released its weekly foreign stock and bond buying flows and the news is money is flooding home.
After last week's 804 billion yen repatriation in bonds and 136 billion yen in stocks, this week we have 1.1 trillion yen in bonds and 104 billion for stocks.
It's no wonder as well that the US dollar has suddenly reversed and is falling against the yen.
Abenomics seems a bit confused at this point. If rising inflation and yields is going to bring money home to invest in local bonds then the yen is going to rise.
5---
Return of the housing bubble
?, CEPR
Recent data showing house prices rising at their fastest rate since the collapse of the bubble have many people asking whether we are seeing another bubble. That is a good question.
At the national level the answer would almost certainly be no. Different indexes show slightly different stories, but inflation adjusted house prices nationwide are still down by roughly a third from their bubble peaks. This means that house prices may be slightly above their long-term trend level, but close enough that no one could say they are out of line with the fundamentals of the housing market. That doesn't mean that there can't be a dip, but there is no reason to expect another plunge like the 2007-2009 collapse that threw us into recession.
While house prices nationally may not be out of line with fundamentals, there are serious grounds for concern in many local markets. House prices have been rising at an extraordinary pace in many markets and may soon be hitting levels that are clearly unsustainable.....
Investors are driving prices in the markets seeing the rapid run-ups. In many cases, hedge funds and private equity investors are buying up large blocks of houses. Some may plan to rent them out for a period of time, but most undoubtedly expect to flip them for substantial profits in the near future. Similarly, many smaller investors are buying up homes, doing minor repairs, and then looking to resell them for a substantial profit a few months later, just as they did in the bubble days.
The problem with these investor purchased homes is that the process only makes sense as long as prices continue to rise. There are no great windfalls for people buying homes and flipping them in a stagnant housing market.
If the hedge funds and flippers end up taking a hit when the music stops no one could be too upset. Presumably they understood the risks when they got into the market.
The real problem is that many ordinary homeowners may get caught in the middle just as they did in the last bubble. If these markets go into bubble territory and then prices fall back by 20-30 percent new homebuyers will have seen their equity disappear and find themselves underwater, just as happened in 2008-2010.
6---
China Failure to Grow With $1 Trillion Is Warning to Li: Economy,
Bloomberg
7---
Foreclosure activity continues to slide
, Housingwire
The number of U.S. properties in foreclosure continued to drop in the first quarter, with 18% fewer homes foreclosed upon when compared to the previous quarter.
Down 22% from the first quarter of 2012, this year's first quarter statistics show 190,121 properties in some stage of foreclosure, according to real estate data firm
DataQuick
. The DataQuick report greatly mirrors the
CoreLogic
foreclosure
report
released a day earlier.
Foreclosure-related sales totaled 21% of all U.S. residential sales during the first quarter. This is down 25% year-over-year and a 45% drop from its peak in the first quarter of 2009
8
--Rate stories
, NYT
Here it is in a table:
And while day by day there are variations, basically what you see over the last month or so is line 3: falling bond prices accompanied by rising stocks and a rising dollar. So this looks like a story about macroeconomic optimism.
9---
The Fed's been keeping the economy afloat. That's the problem
., Wa Post
There is good reason to think that monetary easing is doing quite a bit of the work offsetting tighter fiscal policy. The Fed's policies, including buying $85 billion in bonds each month with newly created money, are directly aimed at housing; $40 billion of those purchases are of mortgage-backed securities, meaning the money is being funneled directly toward the sector. And sure enough, a solidifying housing market is an important part of the economy's holding up. And a second important consequence of Fed easing is to boost the prices of other financial assets, including the stock market.
This isn't rocket science: The Fed in September introduced a policy meant to boost housing and stock prices, and now, nine months later, housing prices and stock prices have risen quite a bit. Enough, indeed, to (so far) offset the impact of higher taxes that went into effect Jan. 1 and federal spending cuts that took effect March 1.
So far so good. The bad news, though, is that these channels through which monetary policy affects the economy tend to offer the most direct benefits to those who already have high incomes and high levels of wealth....
As the chart shows, homeownership is high among everyone from the 50th percentile of wealth and above, suggesting that the benefits of the home price rally are being felt more broadly than the stock price gains. But that still leaves the bottom half: Only 61 percent of people in the 25th through 50th percentile of wealth own a home, and 22 percent in the bottom quartile....
As
Brad details
, budget cuts due to sequestration have hit Head Start programs, federal housing programs and unemployment insurance benefits particularly hard. ...).
Still, put it all together, and an expansion like this one, driven heavily by Fed monetary easing, is better for those who are already doing well than would be the case if fiscal policy were driving the recovery train.
10--
No cause for relief—austerity will indeed drag hard on the economy in 2013 and 2014
, EPI
11---
Rising Mortgage Rates, Home Prices a Lethal Brew
, CNBC
12---
First S-300 air defense systems already in Syria – Assad
, RT
13---
US banks post record profits in first quarter
, wsws
14-
--Cash out financing
, prag cap
Borrowing against brokerage accounts hit an all-time high earlier this year, according to data from FINRA, and has continued to go higher. Margin loans outstanding totaled nearly $409 billion at the end of April. That compares to $381 billion back in July 2007, the last time stock-market-fueled lending peaked."
15---
Stop With the "Money Printing" Madness
, prag cap
16---
Economy in U.S. Grew at 2.4% Rate, Less Than First Estimated
, Bloomberg
Consumer spending, which accounts for about 70 percent of the economy, increased at a revised 3.4 percent annualized rate in the first quarter. The gain, which added 2.4 percentage points to GDP, was more than the previous estimate of 3.2 percent. The median forecast in the Bloomberg survey called for a 3.3 percent increase...
the stronger-than-projected gain in household purchases means the economy is better equipped to withstand $85 billion in fiscal tightening and the lagged effect from a two percentage-point increase in the payroll tax that went into effect at the start of 2013.
Growth may cool this quarter to a 1.6 percent annualized rate, according to the median forecast of economists in a separate Bloomberg survey conducted earlier this month. GDP is projected to climb at an average pace of 2.4 percent in the second half of the year.....
Government outlays, down for the 10th time in the past 11 quarters, fell more than previously estimated amid the winding down of military operations in Iraq and
Afghanistan
. Government spending will be limited by cuts in planned federal spending, or sequestration.
Defense spending
dropped at an 12.1 percent annualized rate, ....
Saving Rate
Americans increased their personal spending by drawing down savings, today's report showed. The saving rate dropped to 2.3 percent in the first quarter, compared with an initial estimate of 2.6 percent. It followed a 5.3 percent rate in the fourth quarter.
Disposable income adjusted for inflation dropped at an 8.4 percent annualized rate from January through March, compared with a 5.3 percent decrease that was previously estimated and the biggest decline since the third quarter of 2008. In the fourth quarter, real disposable income surged 8.9 percent.
Today's report also offered a first look at corporate profits. Earnings fell 1.9 percent in the first quarter from the previous three months, while climbing 6.1 percent from the same period last year. ...
Consumer
confidence climbed
in May to the highest level in more than five years, and the S&P/Case-Shiller index of home values in 20 cities advanced in the year to March by the most in seven months, data showed this week.
Federal Reserve
At the same time, bigger gains in employment and wages are needed to accelerate spending. The economy remains hampered by high unemployment and government spending cuts, and tightening policy too soon would endanger the recovery,
Federal Reserve
Chairman
Ben S. Bernanke
said last week.
"A premature tightening of monetary policy could lead
interest rates
to rise temporarily but would also carry a substantial risk of slowing or ending the economic recovery and causing inflation to fall further," Bernanke said in congressional testimony in Washington.
Price pressures remain contained, today's report also showed. A measure of inflation tied to consumer spending, the one tracked by Fed policy makers, climbed at a 1 percent annualized pace compared with a prior estimate of 0.9 percent. Central bankers have said their goal is to keep inflation at about 2 percent.
17---
Steve Keen on QE,
naked capitalsim
lending from a bank isn't like that: if a bank lends me money, then my spending power goes up without reducing anybody else's. So bank lending is not simply a "pure redistribution": it instead creates new money, and adds to demand when it is spent. From this perspective, aggregate demand is income plus the change in debt. (I get accused of double-counting here – I'll explain why that's not the case in another post.)
As I've explained at length before, this is why 'the Great Moderation' occurred – because Americans borrowed up big from 1993 till 2008, increasing private debt from $10 trillion to $40 trillion when GDP rose from $6 trillion to $14 trillion. It's also why 'the Great Recession' occurred – because when Americans stopped borrowing and instead started to reduce their debt, demand (for both goods and services and assets like houses and shares) collapsed.
Figure 7: Aggregate demand collapsed when the growt of private debt stalled and turned negative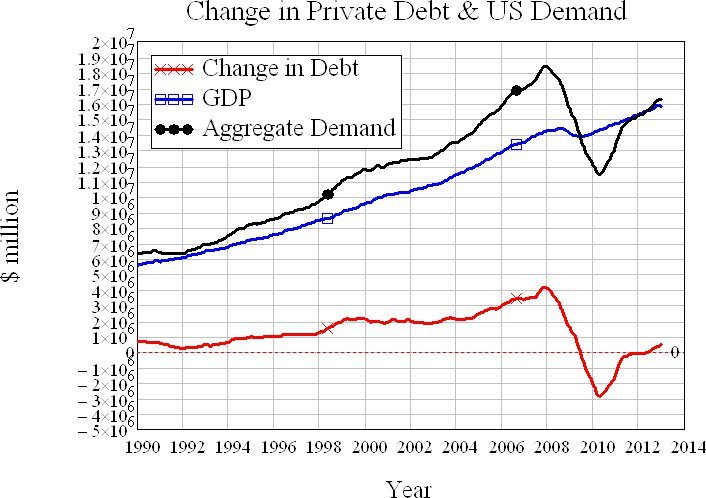 So contra Bernanke's belief that the aggregate level of private debt doesn't matter, it matters a great deal. That in turn means that Americans are very unlikely to spend more because of QE, because they're already straining under a level of private debt that is unprecedented – even after several years of deleveraging, the level of private debt compared to GDP is higher than it ever was during the Great Depression....
So QE isn't going to cause The Great Inflation as some of its critics fear, but nor is it going to restore normal economic activity, as Bernanke appears to hope it will. However it's not "
mostly harmless
" either: it could well be guilty of another charge critics throw at it, of artificially inflating asset markets in a way that could lead to market crashes when it is unwound...
ignored some extra issues in the above analysis that could enable some of QE to enter the money supply. These include other uses that banks might make of the excess reserves (such as buying shares from the public), and the Repo margin that banks will ultimately make when they buy the bonds back from the Fed when QE is unwound...
Of those factors, the largest is likely to be net buying of shares by banks while QE lasts. If this logic is in the ballpark of what banks are actually doing, then this puts flesh on economist Michael Hudson's remark that "Bernanke's helicopter is dropping money on Wall Street, not Main Street", and on fears that QE is helping drive a stock market bubble. The reaction of the stock market to fears that Bernanke might start to unwind QE this year could therefore be well founded.