1--
-Canada housing bubble update
, CNBC
House prices in Canada have doubled in the last ten years, according to the Teranet-National Bank Composite House Price Index. The surge in the index, which measures price changes for repeat sales of single-family homes, has stuttered this year falling back by 0.09 percent in what some believe is a cooling off period.
This year's figures show a long slow winter of decline following the government's move to tighten mortgage lending rules. In July 2012, Finance Minister Jim Flaherty unveiled major changes to the limits of what state-owned Canada Mortgage and Housing Corporation (CMHC) is allowed to insure
Marc Faber
Mortgage loans in Canada are mostly "recourse" loans, Stein said, so borrowers cannot just walk away from their homes if they get underwater and larger borrowers are made to buy mortgage insurance through the government.
2---
Obama's record on Guantanamo,
antiwar
Since Barack Obama became US president after pledging to close Guantanamo, which his administration is
now seeking to expand
, conditions at the military prison
have only gotten worse
, prisoners there who were once promised their freedom complaining of physical and mental torture. Though he has unilaterally waged war, Obama has decided that he can't – nay, won't – unilaterally free them. In fact, the opposite: he
issued an executive order
creating "a formal system of indefinite detention for those held at the US military prison at Guantanamo Bay." The Obama administration has unilaterally decided that dozens of men will never be tried so much as in a military tribunal because the evidence against them was obtained through torture, but that they can never be freed because they are nonetheless deemed "too dangerous."
3
---Israel's motives in Syria,
antiwar
Israel has a bunch of serious motives to once again go rogue.
It craves a weak, chaotic Syria - deprived of advanced military technology. It craves most of all an all-out Somalization of Syria - a sectarian dystopia. What better justification for Israel to be up in arms 24/7 than hardcore Wahhabi terrorism right across its (non-delimitated) borders? On top of it, Israel wants to drag Syria, Hezbollah and ultimately Iran into all out war. It wants the whole package - and the sooner and better.
4---
Divisions between major powers dominate G-7 meeting
, wsws
According to a calculation by the Bank of America, there have been almost 520 rate cuts by central banks around the world since June 2007. One of the most significant in the recent period was this week's rate cut by the Reserve Bank of Australia, which pointed to the high value of the Australian dollar in announcing its decision.
Besides the issue of currency wars, there is also concern that the historically unprecedented actions of central banks in pumping hundreds of billions of dollars into the financial markets are creating new financial bubbles that could bring about a crash.
In a speech in Chicago on Friday, Federal Reserve Chairman Ben Bernanke said he was watching "particularly closely" for "excessive risk-taking"--marked by falling returns on riskier assets. However the Fed's policies are promoting such activity. As the
Financial Times
noted last Friday: "The average yield on lowly rated corporate debt, or junk bonds, this week dipped below 5 percent to a record low that is less than US Treasury bonds yielded in 2007."
With supplies of cheap money pouring into financial markets, the attitude of the banks and major financial institutions is to make hay while the sun shines and the devil take the hindmost. In a telling remark in a recent interview, Mohamed El-Arian, chief executive officer at PIMCO, the world's largest bond trading firm, referred to the central banks as "our best friends".
5---
Brzezinski's warning
, wsws
Zbigniew Brzezinski, former national security advisor under Carter and a leading figure in the US political establishment, warned about the potentially revolutionary consequences of a generation of educated young people with no future.
"Populations of young adults…are especially explosive when combined with the revolution in communication technology," he warned in his book,
Strategic Vision
. "Often educated but unemployed, their resulting frustration and alienation" leaves them "susceptible to ideological agitation and revolutionary mobilization."
Throughout Europe, youth unemployment is at epidemic levels. Last Thursday, Greece's statistics service said that the unemployment rate in February for people aged between 15 and 24 reached a staggering 64.2 percent—affecting nearly two thirds of the entire population of youth and young workers. This is up from 54.1 percent in March 2012.
The cause is not hard to discover: the brutal austerity measures and economic collapse imposed on the country by the European banks, in alliance with the Greek ruling class. Other countries that have received "bailouts" face a similar situation. In March of this year, youth unemployment hit 55.9 percent in Spain and 38.4 percent in Italy.
The situation is getting worse. This was made clear in a report published last week by the United Nation's International Labour Organization (ILO), which concluded that global youth unemployment will continue to rise for at least five years. The agency says it expects the youth unemployment rate worldwide to hit 12.8 percent by 2018, up from the current rate of 12.4 percent....
The official youth unemployment rate in the United States is 16.2 percent, considerably more than twice the official rate for the population as a whole. But like the overall unemployment rate, this does not take into account the departure of millions of people from the labor force. The labor force participation rate for those under the age of 25 is at its lowest rate in four decades, producing a real unemployment rate of 22.9 percent.
Moreover, the vast majority of jobs created since 2008 in the US have been low-wage, paying between $7.69 and $13.83 an hour, according to a study released last year by the National Employment Law Project.
The disappearance of decent-paying work has led the wages of young people working full time in the US to fall by 6 percent since 2008—more than any other section of the population
.
Despair at the prospect of a lifetime in poverty—coupled with other social ills exacerbated by the economic crisis and government austerity policies—has driven a growing number of youth to suicide. One in six US high school students has seriously considered taking his or her life, and one in twelve has attempted it, according to the Centers for Disease Control and Prevention. Since the outbreak of the economic crisis, the portion of US teens who attempted suicide has shot up, from 6.3 percent in 2008 to 7.8 percent in 2011.
Even as wages fall and jobs disappear, the prospect of a decent education is moving further and further out of reach for young people
6---
House prices nearing affordability limits in many markets
, oc housing
Akron, Ohio, saw prices rise 32.7% to $108,300, the widest median price increase in the country. It was followed by the
San Francisco Bay area, where prices rose 32.6%; Reno-Sparks, Nev. (32.1%); the Silicon Valley area surrounding San Jose (31.7%)
; Atlanta (31.1%); and Phoenix (30.1%).
Prices are still falling in Kankakee-Bradley, Ill. (-18.8%); Edison, N.J. (-8.6%); Allentown-Bethlehem-Easton, Pa. (-8.3%); Champaign-Urbana, Ill (-5.5%); and Erie, Pa. (-5.0%)...
The supply/demand balance is clearly tilted toward sellers in a good portion of the country," said Lawrence Yun, NAR's chief economist, in a statement. "Some of the previously hard-hit markets like Phoenix, Sacramento and Miami continue to experience a dramatic turnaround, while a new set of areas like Atlanta, Minneapolis and Seattle have begun to show strong signs of upward momentum."
The NAR's quarterly reports on median pricing are a good measure of where prices in certain markets are headed generally, but
their results can sometimes overstate the magnitude of price gains
because they don't control for shifts in the number of low-priced homes versus high-priced homes that are sold each quarter....
P
rices have also risen in large part because inventories of homes for sale have plummeted
. The number of homes for sale in March totaled 1.93 million, the lowest level of inventory for the month of March—typically the first full month of the spring selling season—since 2000. Low inventories in some markets have sparked bidding wars among buyers and bolstered sales of newly built homes, which rose in March to their second-highest monthly sales pace in three years.
7---
This is why the homeownership rate in California looks like this
, Dr Housing Bubble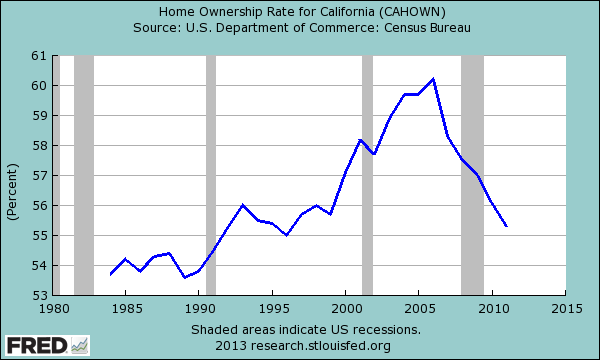 Since our population hasn't decreased, it is safe to assume that many more people have simply shifted to renting (Census data backs this up). Given current prices in many markets, it is a challenge for many young families to buy. The data supports this. Homeownership rates for those 35 and younger have fallen the most of any age range
8
---Climate change: Game Over, mass extinction dead ahead
, naked capitalism
Hansen's follow-up op-ed
in the
New York Times
was just as stark (again, my emphasis and some paragraphing):
Game Over for the Climate

… Canada's tar sands, deposits of sand saturated with bitumen, contain twice the amount of carbon dioxide emitted by global oil use in our entire history.

If we were to fully exploit this new oil

source

, and continue to burn our

conventional

oil, gas and

coal

supplies, concentrations of carbon dioxide in the atmosphere eventually

would reach levels higher than in the Pliocene era, more than 2.5 million years ago

, when sea level was at least 50 feet higher than it is now.

That level of heat-trapping gases would assure that the

disintegration of the ice sheets would accelerate out of control

. Sea levels would rise and destroy coastal

cities

. Global temperatures would become intolerable.

Twenty to 50 percent of the planet's species would be driven to extinction

. Civilization would be at risk.
9---
Commentary: Seven Little Words
, DS News
The seven words suggest the
FOMC
has been going it alone, without the cooperation of the president or Congress.
After suggesting in its statement there have been improvements in consumer spending and the housing sector, the
FOMC
added: "fiscal policy has been restraining economic growth."...
Since the recession officially ended in mid-2009, the nation's economy as measured by gross domestic product, has grown by an average of about 2.14 percent, hardly robust, but that doesn't tell the entire story. Growth rates for quarters in which federal spending increased are significantly higher than for quarters in which federal spending fell.
Federal spending increased in seven of the 15 quarters since the point at which the National Bureau of Economic Research said the recession ended. In those seven quarters, growth averaged 2.6 percent—below the "trend" of 3.0 percent, but almost half again as fast as the 1.76 percent growth rate in the eight quarters in which federal spending declined.
10--
Austerity and the Unraveling of European Universal Health Care
, Dissent
11---
Retail Sales increase 0.1% in April
, cal risk
12---
What to Make of the Fed's Planned Exit Strategy….
, prag cap
13--
QE may end this year,
economists view
Bottom Line: We need to be very careful in extrapolating the implications of the next policy move to future policy moves. The Fed has only a general strategy for exit, but policymakers lack enough certainty about the future to determine the exact nature of that exit. Still, even given that uncertainty, the current state of labor force utilization and inflation suggest that while the end of QE may occur this year, the first rate hike is not likely until some point well into the future
(the April 2013 IMF World Economic Outlook (WEO) projects that between 2009 and 2013 general government expenditures as a percent of potential GDP will fall from 41.6% to 37.8% in the US (a decrease by 9.2%) and will fall from 49.6% to 48.0% in the eurozone (a decrease by 3.3%).
14---
Fed Watch: Implications of Fed Tightening for Equities
, econ view
One more from Tim Duy:
Implications of Fed Tightening for Equities, by Tim Duy: Thinking further about this from Friday's Jon Hilsenrath Wall Street Journal article:


Stocks and bond markets have taken off since the Fed announced in September that it would ramp up the bond-buying program, and major indexes closed at another record Friday. An abrupt or surprising end to it could send stocks and bonds in the other direction, but a delayed end could allow markets to overheat. And some officials feel they've ended other programs too soon and don't want to repeat the mistake.
15---
Austerity kills
, NYT
At one extreme is Greece, which is in the middle of a public health disaster. The national health budget has been cut by 40 percent since 2008, partly to meet deficit-reduction targets set by the so-called troika — the International Monetary Fund, the European Commission and the European Central Bank — as part of a 2010 austerity package. Some 35,000 doctors, nurses and other health workers have lost their jobs. Hospital admissions have soared after Greeks avoided getting routine and preventive treatment because of long wait times and rising drug costs.
Infant mortality
rose by 40 percent. New H.I.V. infections more than doubled, a result of rising intravenous drug use — as the budget for needle-exchange programs was cut. After mosquito-spraying programs were slashed in southern Greece, malaria cases were reported in significant numbers for the first time since the early 1970s.
In contrast, Iceland avoided a public health disaster even though it experienced, in 2008, the largest banking crisis in history, relative to the size of its economy. After three main commercial banks failed, total debt soared, unemployment increased ninefold, and the value of its currency, the krona, collapsed. Iceland became the first European country to seek an I.M.F. bailout since 1976. But instead of bailing out the banks and slashing budgets, as the I.M.F. demanded, Iceland's politicians took a radical step: they put austerity to a vote. In two referendums, in 2010 and 2011, Icelanders voted overwhelmingly to pay off foreign creditors gradually, rather than all at once through austerity.
Iceland's economy has largely recovered, while Greece's teeters on collapse. No one lost health care coverage or access to medication, even as the price of imported drugs rose. There was no significant increase in suicide. Last year, the first U.N.
World Happiness Report
ranked Iceland as one of the world's happiest nations.
Skeptics will point to structural differences between Greece and Iceland. Greece's membership in the euro zone made currency devaluation impossible, and it had less political room to reject I.M.F. calls for austerity. But the contrast supports our thesis that an economic crisis does not necessarily have to involve a public health crisis.
Somewhere between these extremes is the United States. Initially, the 2009 stimulus package shored up the safety net. But there are warning signs — beyond the higher suicide rate — that health trends are worsening. Prescriptions for antidepressants have soared. Three-quarters of a million people (particularly out-of-work young men) have turned to binge drinking. Over five million Americans lost access to health care in the recession because they lost their jobs (and either could not afford to extend their insurance under the Cobra law or exhausted their eligibility). Preventive medical visits dropped as people delayed medical care and ended up in emergency rooms. (President Obama's
health care law
expands coverage, but only gradually.)
The $85 billion "sequester" that began on March 1 will cut nutrition subsidies for approximately 600,000 pregnant women, newborns and infants by year's end. Public housing budgets will be cut by nearly $2 billion this year, even while 1.4 million homes are in foreclosure. Even the budget of the Centers for Disease Control and Prevention, the nation's main defense against epidemics like last year's fungal meningitis outbreak, is being cut, by at least $18 million. ...
America's experience of the Depression is also instructive. During the Depression, mortality rates in the United States fell by about 10 percent. The suicide rate actually soared between 1929, when the stock market crashed, and 1932, when Franklin D. Roosevelt was elected president. But the increase in suicides was more than offset by the "epidemiological transition" — improvements in hygiene that reduced deaths from infectious diseases like tuberculosis, pneumonia and influenza — and by a sharp drop in fatal traffic accidents, as Americans could not afford to drive. Comparing historical data across states, we estimate that every $100 in New Deal spending per capita was associated with a decline in pneumonia deaths of 18 per 100,000 people; a reduction in infant deaths of 18 per 1,000 live births; and a drop in suicides of 4 per 100,000 people.
OUR research suggests that investing $1 in public health programs can yield as much as $3 in economic growth. Public health investment not only saves lives in a recession, but can help spur economic recovery. These findings suggest that three principles should guide responses to economic crises.