1---
Student Debt Slows Growth as Young Spend Less
, NYT
It is a new thing, a big social experiment that we've accidentally decided to engage in," said Kevin Carey, the director of the Education Policy Program at the New America Foundation, a research group based in Washington. "Let's send a whole class of people out into their professional lives with a negative net worth. Not starting at zero, but starting at a minus that is often measured in the tens of thousands of dollars. Those minus signs have psychological impact, I suspect. They might have a dollars-and-cents impact in what you can afford, too."
The weak economy and tight credit standards remain the main culprits preventing young people just establishing themselves from making major purchases. But millions now face putting a substantial share of their take-home pay toward past debts rather than present needs. Student loan debt leaves them with less money for things like clothes and restaurant meals. And it is even more likely to suppress purchases of more expensive items that need to be bought with credit. A poor job market is compounding the problem: the educational debt burden of many so-called millennials has sharply increased even as they are being forced to get by on significantly less income than the previous generation — a decline of about
15 percent in real terms
since 2000, with much of that drop coming from the recession...
Indeed, the economy is far more punishing to workers without a college degree. The college-educated earn, on average, 80 percent more than those who only completed high school, a
premium that has widened
over the last 30 years. Unemployment rates for the less educated are higher, too.
* President Obama has yet again blamed Congress for supposedly "blocking" him from fulfilling a 2008 campaign pledge to shut down the shameful and criminal US torture gulag in Guantanamo, Cuba, where some 160 captives, in violation of all international law, are still languishing in a lawless hellhole without trial or even charge, many for as long as 12 years now. Yet most of these people– currently on a lengthy and desperate hunger strike over their plight–have been cleared of any crimes or terrorist link. Now it turns out that all along, the president could have ended this atrocity on his own. Under the terms of the 2011, 2012, and 2013 National Defense Authorization Acts, all of which Obama signed into law and which he claims prevent him from carrying out his promised shutdown of Guantanamo's prison gulag, the reality is that the president has always had the authority to transfer or release any captive he wants, simply by asserting that the individual doesn't pose a security risk! Likewise, his claim that the courts prevent him from releasing Guantanamo prisoners is a lie. As Guantanamo defense attorney Martha Rayner recently wrote in a
scathing op-ed in the Wall Street Journal
[1], "The courts have made clear that this is Mr. Obama's decision." So really there is no reason to continue to have this national embarrassment that does nothing but piss off the rest of the civilized world. Yet we still are using Guantanamo to hold demonstrably innocent people without charge and without trial. WTF!?
Officials are focusing on clarifying the strategy so markets don't overreact about their next moves. For example, officials want to avoid creating expectations that their retreat will be a steady, uniform process like their approach from 2003 to 2006, when they raised short-term interest rates in a series of quarter-percentage-point increments over 17 straight policy meetings. ...
Stocks and bond markets have taken off since the Fed announced in September that it would ramp up the bond-buying program, and major indexes closed at another record Friday. An abrupt or surprising end to it could send stocks and bonds in the other direction, but a delayed end could allow markets to overheat. And some officials feel they've ended other programs too soon and don't want to repeat the mistake.
The Fed's strategy on how to unwind the program has emerged as a source of some uncertainty in markets in the wake of its policy meeting earlier this month. The Fed said in its postmeeting statement that it was "prepared to increase or reduce the pace of its purchases" as the economic outlook evolved.
The suggestion that the Fed might boost its bond buying was a change in the policy statement that seemed to some an acknowledgment that more aid for the economy might be needed. Employment data in April were weak and inflation has fallen well below the Fed's 2% inflation objective, both points that allow leeway for more stimulus. ..
A Wall Street Journal survey of private economists this week showed that 55% expect the Fed to start shrinking its bond purchases in the third or fourth quarter this year, while 45% expect the Fed to wait until next year or later. None expected the Fed to increase its purchases as its next step.
The bond-buying programs are aimed at pushing down long-term interest rates and boosting financial markets to encourage more borrowing, spending and hiring in the broader economy. The Fed's securities holdings have increased from $2.58 trillion to $3.04 trillion since September. ...
Many economists believe economic growth will slow in the second quarter—in part because of fiscal drags—from a 2.5% annualized rate in the first quarter, but then accelerate in the second half. If growth remains firm in the weeks ahead that could give officials more confidence about starting to pull back
5
---
Homeownership rate for those 35 and younger continues to decline. Overall homeownership falls in spite of rising affordability, Dr Housing Bubble
While the potential pool of home buyers may be increasing, the homeownership rate is decreasing overall. How can that be? For one, not many people are selling. Inventory is low. Second, investors are buying up a large pool of these homes. So this is why overall the rate continues to move lower. It is an interesting dynamic. This is why the homeownership rate in California looks like this: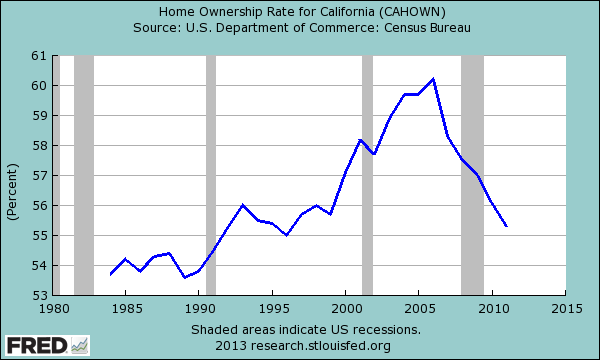 Since our population hasn't decreased, it is safe to assume that many more people have simply shifted to renting (Census data backs this up). Given current prices in many markets, it is a challenge for many young families to buy. The data supports this. Homeownership rates for those 35 and younger have fallen the most of any age range. Another important point to make is many of the properties that are purchased as rentals will be off the market for a few years, most likely. So instead of a more "normal" market where someone buys a home, but usually will list their home to add to supply, we have a case today where a home is brought to market, and then taken off the market with no subsequent addition to supply. If you missed the last housing mania and wished you had a chance to glimpse how it is to see a group of people go into a feeding frenzy, try an open house in Southern California during the weekend. The
Wall Street hunger for rentals
and easy money from the Fed are creating a big generation of renters.
6---
New mortgage rules are coming!
, oc housing news
7---
It's not just stocks; everything is overvalued
, marketwatch
Commentary: Bull markets can persist a long time, but not forever
For the stock market, one popular valuation is the Shiller cyclically adjusted P/E ratio for the S&P 500
/quotes/zigman/3870025
SPX
+0.43%
, which is now 23.2, vs. the pre-bubble average of about 15. It's been higher on only three occasions in the past 93 years: Just before the 1929 crash, just before the 2000 crash, and just before the 2008 crash.
Also read: What the Shiller P/E says about market's top.
(If anything, the Shiller ratio understates the overvaluation, because corporations are carrying much more debt today than they used to, and that debt must be serviced before any earnings can flow to the shareholders. And remember, profit levels have never been higher.)...
Asset values are currently just over 5 times GDP, an extremely high measure, exceeded only in the bubble years of the late 1990s and 2000s. The average from the 1950s to 1980 was just 3.7 times GDP. The ratio briefly topped 4 on just one occasion (in 1961) between 1951 and 1986, a period of relatively high economic growth and relatively equal distribution of income and wealth.
The asset-to-GDP ratio began climbing steadily in 1985, just as the hyper-financialization of the economy really got underway. It was 4.4 when Alan Greenspan delivered his famous irrational exuberance speech in 1996. It all seems so quaint now.
Levy and Thiruvadanthai's conclusion is that the prices of assets are too high to be justified by the underlying income stream. .....
In the 25 years between 1982 and 2007, the private sector (excluding banks) added $23.7 trillion to its debt level, while the federal government added $4.1 trillion. For all the recent talk of an unsustainable public debt, it's the private sector that's in real trouble.
The private sector has had to leverage up massively in order to afford the high prices it's paying for houses, equities and other assets.
What's the result of all this financialization? Debts are too high compared with underlying economic fundamentals, but so are asset prices
8
---More on the affects of QE
, zero hedge
In the past 10 days, the yield on the Barclays High Yield Index has collapsed from 5.37% to 4.97%. A 4-handle on Junk bonds is truly remarkable. High Grade spreads have also been tightening materially.
Credit Default Swap (CDS) premiums have been declining rapidly and plummeted the past two weeks to all-time low levels. Certainly, marginal buyers have continued to be chased into the market from fears of missing the up-trade and promises of the Fed "put" protecting the downside, but the collapse in CDS premiums represent bear capitulation and the futile results of hedging risk.
Equities are higher by almost 15% YTD (46% on an annualized basis). The FOMC wants asset inflation (the Pigou Effect), but trading has become decidedly one way. The S&P 500 has rallied 13 out of the last 14 days. There was increasing talk of equities "melting up" and finally stated publicly by Stan Druckenmiller.
NYSE Margin Debt has matched the highest levels in history (July 2007
9---
Treasury Yields Climb the Most Since March as Fed Stokes
, Bloomberg
Treasury 10-year note yields rose the most in two months as signs the
U.S. economy
is improving stoked speculation that there is no need for the
Federal Reserve
to ramp up monetary stimulus.
The benchmark notes
fell
, pushing yields to the highest level in six weeks, as the Fed and other central banks pump cash into their economies or cut
interest rates
, prompting money managers to seek higher-yielding assets. Stronger-than-forecast employment gains reported last week and fewer-than-projected jobless claims helped the dollar rally versus the yen after passing the 100 level on May 9. Consumer sentiment this month may have reached the highest level this year, according to a Bloomberg News survey of economists.
"There is little doubt that the next Fed move will be less easing, not more," said Michael Mata, a
money manager
in Atlanta at ING Investment Management Americas, which oversees about $125 billion. "Fear of increases in balance-sheet expansion have gone way down. The strong employment numbers started to change that sentiment."
The U.S. 10-year
yield
climbed 16 basis points this week, or 0.16 percentage point, to 1.9 percent in New York, after reaching the highest level since March 26, according to Bloomberg Bond Trader prices. It was the biggest yield climb since the week ended March 8. The 1.75 percent note due in May 2023 reached 98 21/32. ...
Hedge-fund managers and large speculators
cut
net-long position in 10-year note futures in the week ending May 7 by 71 percent, according to U.S. Commodity Futures Trading Commission data. Speculative long positions, or bets prices will rise, outnumbered short positions by 37,956 contracts on the Chicago Board of Trade, compared with 132,044 contracts a week earlier
10---
FBI, Homeland Security withheld information on Boston bombing suspects from local, state police
, wsws
11---
U.S. Posts Biggest Monthly Surplus in 5 Years
, WSJ
The U.S. government posted its biggest monthly budget surplus in five years as record revenues bolster federal finances and push off a drop-dead date for the debt ceiling.
The budget surplus was $112.89 billion in April, compared with $59.12 billion a year earlier. Economists surveyed by Dow Jones Newswires had forecast a $106.5 billion surplus for the month.
The government is expected to run a full-year deficit of $845 billion for fiscal 2013, which ends Sept. 30, according to Congressional Budget Office estimates. That would be the first deficit in five years below $1 trillion.
Spending is down a little. But the big reason for a narrowing deficit is higher revenue. Federal receipts reached $1.603 trillion through the first seven months of the fiscal year, the highest level on record for that period, a Treasury official said.
Higher payroll taxes, higher tax rates for households making more than $450,000 and improved wages have boosted receipts. Also, many bonus and dividend payments were moved up to December to avoid higher taxes, possibly distorting figures through the first part of the fiscal year.
The government also will get big cash infusions from mortgage giants
Fannie Mae
and
Freddie Mac
, which are paying dividends to the Treasury after receiving massive bailouts during the financial crisis.
That means less borrowing and some extra time once the federal debt limit resets later this month.
Treasury Secretary
Jacob Lew
told CNBC on Friday that the government would be able to keep borrowing until early September. "The statutory debt limit will be reached in just a few days when it expires on May 18. But because of the extraordinary measures that are available and the cash flow that we now can predict, it will be not until at least after Labor Day" that the Treasury won't be able to pay all of its bills, Mr. Lew said....
That's much more headroom than during the debt ceiling standoff in 2011, when the Treasury estimated it would have about two months before it would exhaust its capacity to borrow enough.
Of course, April's budget surplus isn't enough to offset deficits recorded most other months.
Through the first seven months of the fiscal year, the government has spent $487.59 billion more than it has taken in, the Treasury said Friday, compared with a deficit of $719.86 billion during the same period a year earlier.
Federal outlays so far this fiscal year fell slightly to $2.091 trillion from $2.103 trillion a year earlier.
Over the past 12 months, the deficit is $856.93 billion, compared with $1.147 trillion during the same period a year earlier.
12---
Food-Stamp Use Rises From Year Ago
, WSJ
Food-stamp use rose 2.7% in the U.S. in February from a year earlier, with 15% of the U.S. population receiving benefits. (
See an interactive map with data on use since 1990.
)
One of the federal government's biggest social welfare programs, which expanded when the economy convulsed, isn't shrinking back alongside the recovery.
Food stamp rolls increased on a year-over-year basis, but were 0.4% lower from the prior month, the
U.S. Department of Agriculture
reported. Though annual growth continues, the pace has slowed since the depths of the recession.
The number of recipients in the food stamp program, formally known as the
Supplemental Nutrition Assistance Program
(SNAP), reached 47.6 million, or nearly one in seven Americans
13---
Countercyclical no More,
gloomy economist
In other words, the United States government
fully played the role of supporting aggregate demand when needed, and withdrew only when private demand gained momentum.
That is a What-Keynes-Would-Have-Really-Done countercyclical fiscal policy. I would argue that, because of the exceptional levels of unemployment, and of the ineffectiveness of monetary policy at the zero lower bound, the fiscal stance should have remained more expansionary throughout the years 2010-12. It remains nevertheless true that the fiscal contraction in the US only begun once the private sector showed at least some capacity to walk alone.
In the EMU, public purchases of goods and services should have continued to increase to compensate the continuing reduction of private spending; but this did not happen, with the result that fiscal policy ended up being countercyclical....
The (mis)management of the eurozone crisis has exposed all the flaws of the single currency while showing an astounding lack of solidarity among member countries, and not indicating any clear solution for the future. The only clear indication has been the stubborn insistence on an austerity that is proving self defeating. This certainly had a negative impact on private sector's confidence, and contributed to depress its demand..
14---
Investment and consumption,
china financial markets
15---
'Mounting evidence' links Tsarnaev brothers to earlier triple homicide
, RT
16---
Reasons for the latest US dollar rally,
sober look
The US dollar saw quite a rally in the last 24 hours.
17---
Productivity cools
, SF Gate
Employee output per hour grew at an average 0.7 percent annual rate over the past 12 quarters, which economists at JPMorgan Chase & Co. say is a pace so slow it's rarely seen outside of recessions. ....
Smaller gains in productivity therefore mean advances in gross domestic product will also be restrained.
Stocks fell, after the
Dow Jones Industrial Average
climbed above 15,000 for the first time yesterday, as investors awaited corporate earnings. The Dow dropped 0.1 percent to 15,041 at 10:07 a.m. in New York....
Productivity has slowed to a "crawl," he said. "It'll be tough to generate income gains in this environment."
Postwar Period
In the first period of increased productivity growth since World War II, from 1947 through 1972, worker efficiency grew at a 2.8 percent annualized rate, Berger said. That meant the level of productivity could double every 20 years to 25 years, so an American worker in the early 1970s could generate twice as much output in an hour as his predecessor did in the late 1940s, he said. Those gains would be reflected in better pay and a higher standard of living.
Without a new driver of efficiency akin to the high-tech boom, the 0.7 percent rate of productivity over the past three years means it will take the U.S. about 94 years to achieve the same feat.
"Hopefully we'll find 'the next big thing' before then," Berger said