1---
Leverage Back to Pre-Recession Levels
, wonkwire
"Leverage, as measured by NYSE Margin Debt data, was up 31.6% on the year in January and 10.2% on the month to $364 billion, approaching the July 2007 peak of $381 billion," according to
FINalternatives
.
Said BofAML analyst Mary Ann Bartels, "Current readings indicate that investors are becoming more confident in the equity market, which generally supports further upside. Just short term levels have gotten a bit ahead of themselves with cash levels now drawn down to levels which typically result in market correction."
2---
Obama administration pushes banks to make home loans to people with weaker credit, Wa Post
The Obama administration is engaged in a broad push to make more home loans available to people with weaker credit, an effort that officials say will help power the economic recovery but that skeptics say could open the door to the risky lending that caused the housing crash in the first place.
President Obama's economic advisers and outside experts say the nation's much-celebrated housing rebound is leaving too many people behind, including young people looking to buy their first homes and individuals with credit records weakened by the recession.

In response, administration officials say they are working to get banks to lend to a wider range of borrowers by taking advantage of taxpayer-backed programs — including those offered by the Federal Housing Administration — that insure home loans against default.
Housing officials are urging the Justice Department to provide assurances to banks, which have become increasingly cautious, that they will not face legal or financial recriminations if they make loans to riskier borrowers who meet government standards but later default.

Officials are also encouraging lenders to use more subjective judgment in determining whether to offer a loan and are seeking to make it easier for people who owe more than their properties are worth to refinance at today's low interest rates, among other steps.
Obama pledged in his State of the Union address to do more to make sure more Americans can enjoy the benefits of the housing recovery, but critics say encouraging banks to lend as broadly as the administration hopes will sow the seeds of another housing disaster and endanger taxpayer dollars....

Before the crisis, about 40 percent of home buyers were first-time purchasers. That's down to 30 percent, according to the National Association of Realtors.
From 2007 through 2012, new-home purchases fell 30 percent for people with credit scores above 780 (out of 800), according to Federal Reserve Governor Elizabeth Duke. But they declined 90 percent for people with scores between 680 and 620 — historically a respectable range for a credit score.

3---Going Nuclear: Too Big to Fail, Redux? , Barron's

Derivative levels are higher than they were at the height of the financial crisis, and they are concentrated among four big banks: JPMorgan Chase, Citigroup, Bank of America and Goldman Sachs.

In case anyone cares whether Dodd-Frank or the Volcker Rule defused those financial weapons of mass destruction known as derivatives, they can start worrying. Not only have the rules failed to curtail the risky FWMD, but they are larger than at the height of the financial crisis. And they are concentrated in four banks: JPMorgan Chase (ticker: JPM), Citigroup's Citibank (C), Bank of America (BAC), and Goldman Sachs (GS).
That's according to the second-quarter derivatives report of the Office of the Comptroller of the Currency. It tallied $222.5 trillion of notional derivatives held by insured U.S. commercial banks and savings associations, compared with $203.5 trillion in the second quarter of 2009.

4---Treasury Yields Hit 2013 Lows On Dreadful Jobs Report, Barron's

5---The NINJAs Are Back: Buy Life Insurance, Get A No Doc Mortgage Loan For Free, zero hedge

6---The Economist magazine wrote in 2005 that the worldwide boom in residential real estate prices in this decade was "the biggest bubble in history". The Economist noted that – at that time – the total value of residential property in developed countries rose by more than $30 trillion, to $70 trillion, over the past five years – an increase equal to the combined GDPs of those nations.

7---Corruption at the Fed, washingtons blog

Nobel prize-winning economist Joseph Stiglitz strongly dislikes the Fed:

Joseph Stiglitz – former head economist at the World Bank and a nobel-prize winner – said yesterday that the very structure of the Federal Reserve system is so fraught with conflicts that it is "corrupt" and undermines democracy.

8---Obama Is the Driving Force Behind Cutting Your Social Security, Firedog Lake

9---Abenomics is the only way to stop Japan's debt compound crisis, Telegraph

10--Austerity Bites, Economist

UNTIL RECENTLY America's squabbling politicians have mostly resolved their fiscal differences by delaying them. That tactic came to a head at the end of last year, at which time a host of tax rises and spending cuts were scheduled to drop. Despite wide fears that such budget changes would derail a shaky recovery, Congress mostly opted to let the hits fall. Marginal income tax rates on top earners went up at the first of this year, and—more importantly—a reduction in the payroll tax rate adopted for stimulative purposes was allowed to expire. Other automatic cuts were delayed by a few months, but they too were allowed to take effect in March.

The world has since watched and waited, and puzzled a bit as January and February came and went without a collapse in economic activity. Employers continued to hire at an average pace of more than 200,000 jobs per month to start the year. Many asked: had the American economy healed enough to absorb a falling deficit without much pain, or had it simply run off a fiscal cliff but not yet looked down into the chasm below?

New figures from the Bureau of Labour Statistics suggest that the austerity may have begun to bite in March. Nonfarm payroll employment rose by just 88,000 jobs that month according to the first estimate: well below expectations and the worst performance since June of last year. If recent patterns hold, that figure will be revised up a bit. It is low enough, however, to warrant concern. Government employment subtracted 7,000 from the 95,000 private-sector job creation figure. In a possible sign of the impact of the payroll tax hike, retail employment tumbled by 24,000, and job gains in the sector in January and February were revised downward.

Signs of weakness pepper the jobs report. Though the unemployment rate ticked down to 7.6% that was due to a surge of workers exiting the labour force. Employment in the "household survey", from which the unemployment rate is drawn, also dropped, as did the labour-force participation rate and the employment-population ratio (both of which performed poorly through all of the past year despite decent payroll growth). There will be ample concern that worse is to come, given that March budget cuts will have scarcely registered in this report. No doubt fears will arise that for a fourth year running the economy will have begun the year strong only to drop into a summer swoon.

11---Obama administration expands HAMP outreach, Housingwire

12----U.S. Trade Deficit Falls as Exports Rise Sharply, NYT

13---Abenomics, noahpinion


The Bank will achieve the price stability target of 2 percent in terms of the year-on-year rate of change in the consumer price index (CPI) at the earliest possible time, with a time horizon of about two years. In order to do so, it will enter a new phase of monetary easing both in terms of quantity and quality. It will double the monetary base and the amounts outstanding of Japanese government bonds (JGBs) as well as exchange-traded funds (ETFs) in two years, and more than double the average remaining maturity of JGB purchases...
With a view to pursuing quantitative monetary easing, the main operating target for money market operations is changed from the uncollateralized overnight call rate to the monetary base...The Bank of Japan will conduct money market operations so that the monetary base will increase at an annual pace of about 60-70 trillion yen...
With a view to encouraging a further decline in interest rates across the yield curve, the Bank will purchase JGBs so that their amount outstanding will increase at an annual pace of about 50 trillion yen...


With a view to lowering risk premia of asset prices, the Bank will purchase ETFs and Japan real estate investment trusts (J-REITs) so that their amounts outstanding will increase at an annual pace of 1 trillion yen and 30 billion yen respectively...
The Bank will continue with the quantitative and qualitative monetary easing, aiming to achieve the price stability target of 2 percent, as long as it is necessary for maintaining that target in a stable manner...



Note that "price stability target" means inflation target.




Now, 60-70 trillion yen is about $600-700 billion, which is about the size of America's recent "QE1" and "QE2". Japan will basically do an new "QEx" every year

While this poses a very real risk of a clash along the highly-militarized North Korean-South Korean border, escalating into a confrontation between the US and China, Pyongyang is hardly capable of directly threatening the United States. Rather, Washington is using this crisis to whip Pyongyang and the Chinese regime in Beijing into line.

China has emerged as the most powerful country blocking US imperialism's global plans, holding massive US debt and blocking UN actions aimed at justifying war against Syria and Iran. Since the Korean War, a keystone of its foreign policy has been using North Korea as a buffer between US-backed South Korea and its own territory. In pressing the newly-installed, divided Chinese Communist Party leadership on the North Korean issue, Washington hopes to broadly turn around Chinese foreign policy in its favor....

Washington has been deploying heavy bombers and other high-tech forces to Korea, announcing that they were aimed at proving US nuclear capabilities, implicitly threatening nuclear war that could annihilate North Korea and involve the US in a war with China. It was obvious that this would massively escalate military tensions in Asia and "generate world headlines."...

It appears that the US escalation was in part also aimed at showing South Korea and Japan that Washington remains committed to exercising military hegemony in Asia. One US military official told CNN, "Eyebrows started to go up when it was clear that Foal Eagle was going to be protected from the budget cuts of sequestration"—a series of US government spending cuts that went into effect in March.

That is, while trillions of dollars in long-term cuts were being forced on American workers, causing mass furloughs and cuts in essential social services, Washington was careful to maintain its ability to wage a devastating war in Asia.

16---

A German government is bringing suffering and misery to the continent on a scale unknown outside times of war,

wsws

In the study published in

The Lancet

, London medical professor Martin McKee, together with Marina Karanikolos from the European Observatory on Health Systems and Policies and Johan Mackenbach from the University of Rotterdam have systematically analysed the effects of the crisis based on national studies and statistics.

They find that infectious diseases such as malaria, West Nile and Dengue Fever, HIV infections among drug addicts, depression and suicide have risen sharply.

While the number of suicides in people under 65 had declined in Europe steadily until 2007, before the financial crisis, it then increased sharply. This increase corresponds with the increase in unemployment and poverty. In England, the "significant" increase in the suicide rate between 2008 and 2010 is linked directly to rising unemployment, and resulted in 1,000 additional deaths, the study finds....

The researchers led by McKee rightly make the troika responsible for European austerity. They do not name any names. However, within the troika—and particularly in the EU and the ECB—it is the German government under Chancellor Angela Merkel and Finance Minister Wolfgang Schäuble (both members of the Christian Democratic Union) that is the driving force.

Today, seven decades after German tanks wreaked destruction throughout Europe, a German government is bringing suffering and misery to the continent on a scale unknown outside times of war, and all in the name of "stability" and "saving the Union". The austerity measures being imposed by Merkel and Schäuble, and which they even celebrate as a success, mean poverty, misery, despair and death for thousands. In particular, it is children who are the main victims, according to the study.

17---

Shock and Awe in Japan

, wsws

The Bank of Japan's decision, announced on Thursday, to engage in what it described as a "massive" government bond-buying program signifies an escalation in the so-called global currency wars...

Financial Times

columnist Gavyn Davies highlighted the scale of the operation.

"In effect," he wrote, "the new governor … has imported into Japan the whole of the Federal Reserve's post-Lehman balance sheet strategy, and he will implement it in under two years, instead of the five or more years taken by the Fed. The doubling in the Japanese monetary base over a period of 21 months is in itself remarkable. Taken together with the extension of the duration of bonds purchased from less than 3 years to an average of 7 years, the injection becomes of historic proportions."

The decision will have significant international consequences. It effectively blows out of the water the decisions taken at the February meeting of the G7 nations that countries should not undertake currency devaluations in order to improve their position in export markets.

Notwithstanding the claims by Japan that the measures are aimed at reviving the domestic economy, they will push down the value of the yen. The announcement had an immediate impact on currency markets. The yen fell against the US dollar, bringing to an end its short-term rise following the Cyprus crisis.

Since last June, the yen has already fallen by 22 percent and 24 percent against the US and Australian dollars respectively. One of the countries being significantly impacted is South Korea, where major electronics firms are in direct competition with Japanese companies for global markets.

Over and above the effect of the decision on the currency wars, the new BoJ policy points to the mounting instability of the international monetary system and the deepening crisis of global capitalism.

Decisions are now being undertaken which only a few years ago would have been ruled out as creating the conditions for a future financial catastrophe. Such is the state of the global economy that central bankers, once the bastions of financial conservatism, are operating according to the maxim: après moi le déluge.

18--

US jobs growth slows to a crawl--Hundreds of thousands drop out of the workforce

, wsws

While the sequester cuts are only beginning to be felt, over one million federal workers are set to begin furloughs this month. According to the Congressional Budget Office, the sequester cuts are going to result in the equivalent of 750,000 full-time job losses throughout the US economy.

Stock values fell on the unexpectedly bad jobless figures, closing the worst weekly performance for the S&P 500 so far this year. For the week, the S&P 500 was down by one percent, and nearly every major global stock index declined even more.

March's disastrous jobs report accompanies equally bad news from the other side of the Atlantic, as economic activity in the euro zone shrank again last month, raising fears of yet another quarterly contraction.

Earlier this week, the Japanese central bank responded to that country's continued economic stagnation by initiating a $1.4 trillion money-creation program that has the effect of devaluing the country's currency and boosting the competitive position of its national industry.

The White House responded to the worst jobs figures in almost a year with its typical refrain about a mythical economic recovery, stating that "today's employment report provides further evidence that the U.S. economy is continuing to recover from the worst downturn since the Great Depression."

Meanwhile, the number of people applying for unemployment benefits jumped to a four-month high, the US Labor Department said Thursday. The number of people seeking jobless pay rose by 28,000 last week, to 385,000.

But even as more people line up for unemployment insurance, benefits are being slashed. Starting this month, pay to recipients of extended unemployment benefits is being cut back by 11 percent, as a result of the sequester cuts.

The Labor Department also said that the percentage of working-age people who are in the labor force fell to 63.3 percent, the lowest level of the current downturn and the lowest level since 1979, before tens of millions of women entered the workforce.

19---

Third major oil spill in a week: Shell pipeline breaks in Texas

, RT

20---

UN: Gitmo Detention Regime 'Clear Breach of International Law'

, antiwar

21

---Iraq: How many will killed

? antiwar

This is particularly puzzling when there are two peer-reviewed epidemiological surveys that give a far more comprehensive accounting of the war's human cost. A Johns Hopkins Bloomberg School of Public Health Survey published in the Lancet, and the Iraq Public Health Survey published in the New England Journal of Medicine, gave figures of 655,000 and 400,000 excess deaths respectively. (Both were concluded in June 2006, a month before the violence peaked, suggesting the actual toll is even higher).

It is odder still that when epidemiological surveys have come to be accepted as the standard method for estimating conflict fatalities - the method has been used without controversy in Congo, Bosnia and Darfur - an exception is made in the case of Iraq.

22-

--Most and least religious metro areas of the US

, Gallup

The data are based on the

Gallup-Healthways Well-Being Index

survey of nearly 250,000 Americans across 189 metros conducted over the course of 2012.
23---
Japanese bank governor Haruhiko Kuroda makes history with monetary blitz
, Telegraph
24---
Number of the Week: Youth Unemployment at 22.9%?
, WSJ
25---
Some 15% of U.S. Receives Food Stamps
, WSJ
26----
Consumer Credit Jumps on Student, Auto Loans
, WSJ
27---
Depression, Not Ended
, P Krugman, NYT
Lousy jobs report. OK, you don't want to put too much stress on one month's numbers, yada yada, but it doesn't look at all good.
But is this really a surprise? I mean, it's true that the incipient housing recovery has made many people somewhat optimistic — I've been one of them — but when all is said and done, we are following strongly contractionary fiscal policy in an economy in which monetary policy is still ineffective because of the zero lower bound. How contractionary? Look at
CBO's estimates
of the cyclically adjusted budget deficit (third column):
That deficit has declined from 5.6 percent of potential GDP in 2011 to 2.5 percent in 2013 — that's 3 percent of GDP, which is a lot of austerity. Not all of that cut has even hit yet — the sequester isn't in the macro numbers yet — but the rise in the payroll tax is very clearly driving the latest bad numbers, which show big declines in retail.
This is really stupid; as long as we're at the zero lower bound, austerity is a huge mistake. Yet for what, the third time since 2009, all discussion in Washington has turned away from job creation to deficits (even though the debt problem has largely faded away) and the need for an early Fed exit from stimulus (even though unemployment remains high and inflation low).
Clearly, the answer is to cut Social Security!
28---
The affair of all cash buyers and real estate: What are normal historical rates for all cash buyers when it comes to the housing market? Has big money peaked when it comes to the housing market?
, Dr Housing Bubble
It is astounding how people brush off an overall weak economy and suddenly justify all cash investors as somehow a normal part of the real estate market. Once again, we are in uncharted territory. The amount of
all cash buyers
is off the charts...
All cash purchases hit a record in 2012
It is hard to find nationwide data for the real estate market going back past 2000 but here we have data on four large areas. It looks like overall, all cash purchases range from 5 to 10 percent: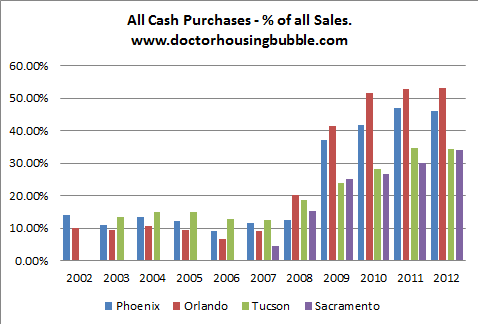 What is amazing is how crazy some markets have gotten like Phoenix and Orlando where basically investors have become the vast majority of the market. Much of the price gains in the last year are driven by investors competing for the small lot of inventory regardless of what underlying rental yields will produce.
It got worse in 2011 and 2012. In fact, at least for data for Southern California, all cash buying hit a record of 35.8 percent in December (last month it was 35.6). Last year it was 33.7 percent showing that a large amount of buying in Southern California is coming from the all cash crowd, way higher than historical norms. And most of these people are not planning on living in these places. 31.4 percent of purchases in SoCal are absentee buyers. The monthly average dating back to 2000 is around 17 percent. In other words this is a market dominated by the
all cash crowd
. Some would like to pretend like this is normal but it is clearly not. This is hot money flooding into the market. If it isn't big money, it is balance sheet weak buyers going in with FHA insured loans and the tiny 3.5 percent down payment....
"(Fortune) While this has gone on for some time, the investor frenzy might have peaked. Rents for single-family homes have essentially flattened — rising just 0.1% in March from a year earlier, according to a report released Thursday by real estate listing website Trulia. What's more, in some cities where investors had the biggest appetite for properties on the cheap, rents have fallen: Take Los Angeles, where rents fell 1.9%; rents in Orange County slipped down 0.7%; Las Vegas saw a 1.9% drop. And in two other key investor markets — Atlanta and Phoenix — single-family home rents remained flat, rising less than 1%.
Meanwhile, rents for apartments have continued to rise, climbing 2.9% in March from a year earlier."
So much for rents going up forever and ever even in untouchable Southern California. The article goes on to point out that "small investors" are now becoming a bigger part of sales. Yeah, after the massive recent run-up. Of course it is hard to break out the type of all cash buyer from the 35 percent of purchases in Southern California. One thing is certain, this market is not normal. But this market has not been normal since the early 2000s. Basically you have to ask at what stage or bubble are we currently in? Does this boom have many years to go? I think most would feel comfortable if a flood of good paying jobs were coming online at the same time. Is that even the case?
29---
Low MLS supply hurting sales but boosting prices
, oc housing
The reality of our current housing market is simple; banks are limiting the supply, and the few buyers in the market are bidding prices higher; this despite the fact that
Orange County home resale volumes are very weak by historic norms
. I recently reported how the banks transformed
must-sell shadow inventory into can't-sell cloud inventory
by stopping their foreclosures on delinquent mortgage squatters. In the process,
Banks have become the largest players in the REO-to-rental space
.The current state of affairs favor the bank's interests, so it's unlikely banks will change their policies any time soon. They are content to amend-extend-pretend with repeatedly-failing loan modifications and kick the can while prices go up. Eventually,
the loan modification entitlement will be rescinded as prices near the peak
, but until then expect to see diminished MLS inventory and rapidly rising prices...
new home sales are recovering, and although
new home starts just surpassed the lowest pre-bubble low of last 45 years
, both starts and sales are much improved from the depths of the housing recession....
The loan origination numbers tell a different story. There is no surge in demand. Demand is weak, locked in at 1990s levels about 60% less than the bubble peak. The only increase we've seen is more investors buying low-end properties.
"Banks tend to remember the experience of 2008 when they rushed to sell off properties all at once and that caused a downward spiral in house prices," said Andres Carbacho-Burgos, an associate director at Moody's Analytics in West Chester, Pennsylvania.
"They are trying to be cautious about selling off too many properties all at once."

Banks have learned to manage their liquidations in a way that permits prices to rise. (See: Las Vegas: a case study in successful housing market manipulation)...
The investors today are cashflow investors, not speculators. (See:
What's the difference between speculation and investment?
) These investors won't pull the plug and dump their holdings because they are getting cash returns greater than competing investments. With the backing of federal reserve and government policy, the value of their holdings are going up. These funds will generally do quite well.