1---
Debt and Growth: A Response to Reinhart and Rogoff,
NYT
There is no evidence in these most recent years for any drop-off at all in economic growth when public debt exceeds 90 percent of G.D.P....
.
Ms. Reinhart and Mr. Rogoff have published several other papers, including a 2010 academic
article
, "Growth in a Time of Debt." It found that economic growth was notably lower when a country's gross public debt equaled or exceeded 90 percent of its gross domestic product.
Earlier this month, we posted a
working paper
, co-written with Thomas Herndon, finding fault with this conclusion. We identified a spreadsheet coding error — which Ms. Reinhart and Mr. Rogoff promptly
acknowledged
— that affected their calculations of growth rates for big economies since World War II. We also asserted that the two of them erred by omitting some data and improperly weighting other statistics. In an
Op-Ed essay
and
appendix
last week, Ms. Reinhart and Mr. Rogoff denied those accusations.
They referred to this debate as an "academic kerfuffle," but we believe the debate has been constructive, because it has brought greater clarity over the ideas shaping austerity policies in both the United States and Europe.
The most important insight for anyone following this debate, and one that Ms. Reinhart and Mr. Rogoff acknowledge, is that there is no evidence supporting the claim that countries will consistently experience a sharp decline in economic growth once public debt levels exceed 90 percent of G.D.P. Although the two of them partly backed away from that claim in a 2012
paper
in The Journal of Economic Perspectives, they have now done so more definitively, saying the 90 percent figure is not "a magic threshold that transforms outcomes, as conservative politicians have suggested."
However, Ms. Reinhart and Mr. Rogoff stubbornly maintain that "growth is about 1 percentage point lower when debt is 90 percent or more of gross domestic product," a core finding of their 2010 paper.
There are serious problems with this claim....
We agree with Ms. Reinhart and Mr. Rogoff that the United States and Europe face extremely difficult challenges in trying to recover from the 2007-8 financial crisis and the Great Recession that followed. Sadly, in our view, they abetted, or at least failed to stop, the use of their scholarship by politicians who latched on to their findings — in particular the now discredited 90 percent figure — to call for severe cuts in government budgets and services, layoffs of public-sector employees and tax increases.
What this debate has demonstrated is that policy makers cannot defend these austerity measures on the grounds that public debt exceeding 90 percent of G.D.P. will consistently produce sharp declines in economic growth.
Here is the OECD report, dancing: "The public debt ratio has risen steadily for two decades, to over 200% of GDP. Strong and protracted consolidation is therefore necessary to restore fiscal sustainability, which is Japan's paramount policy challenge. ... Stopping and reversing the rise in the debt-to-GDP ratio is crucial. Stabilising the public debt ratio by 2020 may require, depending on the evolution of GDP and interest rates, an improvement of the primary fiscal balance from a deficit of 9% of GDP in 2012 to a surplus as high as 4% by 2020. Controlling expenditures, particularly for social security in the face of rapid population ageing, is key. Substantial tax increases will be needed as well, although this will also have a negative impact on growth. Given the size and duration of fiscal consolidation, Japan faces the risk of a marked rise in interest rates, threatening a banking system that is highly exposed to Japanese government debt."

Contemplate that for a moment: the recommendation is for moving from a deficit of 9% of GDP in 2012 to a surplus of 4% of GDP by 2020--that is, a swing in the government budget balance position of 13% of GDP in just 8 years.

The U.S. debt situation differs from that of Japan in two ways: 1) the U.S. debt/GDP ratio is far smaller; and 2) domestic savings in Japan are high enough that the country can finance its government borrowing from domestic sources. In contrast, the U.S. government has depended for years on inflows of foreign investment capital to finance its debts. Thus, Japan's government needs to be concerned that its domestic savers will start looking elsewhere for higher rates of return, while the U.S. government needs to be concerned as to whether international investors will continue to put their money in Treasury bonds.
The sequester will slow growth, but the real problem is Obama has ceded so much to the Republicans' deficit-cutting agenda
The big talk in Washington, DC this month is
the sequester
. These cuts account for roughly 8% of most discretionary spending, both military and domestic. While the cuts became effective at the start of March, many will first begin to feel the pinch this month, since government contracts generally require 30 days' notice for leaves or furloughs. This means that cuts in areas like airport security, food quality and air traffic control are just now taking effect. ....
In addition, the reduction in spending at a time when the economy is already weak will further slow down growth and weaken job creation. The
March jobs report
reminded everyone of this problem (April's is due later this week): the economy created only 88,000 jobs in March, less the number needed just to keep pace with the growth of the labor force.
The economy was growing at just a 1.7% annual rate in the second half of last year. The most recent data on new orders for equipment show that investment was just even with its pace last year. The rate of job creation over the prior five months was actually down from this time last year, by an average of 40,000 jobs. ...
None of this looks like a story of accelerating growth. Thankfully, the March jobs report helped bring discussion on the economy back to reality: the experts again recognize that we have a problem of a seriously depressed economy, which, at best, is growing just rapidly enough to keep pace with its underlying potential – and thus making up none of the lost ground from the downturn.
In this context, the hit from the sequester is clearly bad news. The
Congressional Budget Office
projects that it will reduce growth in 2013 by 0.5%, which will cost as many as 700,000 jobs. With the sequester in place, there is a high probability that the unemployment rate will be higher at the end of the year than it was at the beginning.
But there is a limit to how much President Obama and the Democrats can really complain. The reason is that President Obama himself set a course for large cuts in discretionary spending. His
budget for 2012
called for discretionary spending to be 7% less in 2021 than it had been in 2010, in nominal dollars. This budget would have implied cuts in services of more than 40%, since the economy was projected to be more than 60% larger in 2021 than in 2012. This means that most of the bad stories we're hearing about the sequester cuts likely would have been the result of the cuts that the president himself planned for, even if they would have been phased in more slowly.
5---
ECB's emergency liquidity programs will not increase private sector demand for credit
, naked capitalism
My own opinion is that this is fundamentally important and a somewhat overlooked fact of what we see in the EZ. France is an economic microcosm to understand why the ECB's programs of OMT and LTRO can't actually solve anything with the Eurozone. As I talked about back last September the ECB offers liquidity to the banking system via asset swaps, but if there is no private sector demand for credit, due to private sector retrenchment, then this will do bugger all to help the economies of periphery Europe. As I said then:
So QE and OMT are monetary programs that, in part, aim at increasing the leverage of the private sector, but they have only attempted to address the supply side of the equation. Fiscal policy in the EZ is continuing to lower the private sector wealth and by doing so is reducing the demand for credit which in turn is further weakening the economy. This dynamic appears to be more that offsetting the expansionary monetary program which is why you have seen the ECB's response continue to become larger and larger over time. The Eurozone is therefore likely to continue to see poor economic outcomes even under the open-ended OMT because the insistence on the fiscal compact as a pre-cursor to renewed intervention is likely to be completely counter-productive.
6---
Earnings down
, Jesse
7---
Russia's looters were in CIA: Putin,
RIA Novoski
Experts on Harvard University's scandal-ridden role in Russia's privatization process in the 1990s expressed skepticism Thursday at Russian President Vladimir Putin's assertion that US advisers to privatization czar Anatoly Chubais
were operatives of the US Central Intelligence Agency (CIA).
Putin did not identify the alleged CIA agents by name during his live Q&A session with the Russian public Thursday, but his mention of the individuals' alleged financial shenanigans suggests he may have been speaking about respected economist Andrei Shleifer and lawyer Jonathan Hay.
The two men, along with Harvard University, paid a $30 million fine in 2005 to settle US federal charges that they illegally profited off of Russian privatizations. Russian media reports have accused Shleifer and Hay of being CIA officers, though there is nothing in the public domain to suggest either man was employed by the agency.
Janine Wedel, an expert on the Harvard-Russia scandal of the 1990s, said US prosecutors thoroughly documented Shleifer and Hay's alleged misdeeds while the men advised Chubais and other Russian officials under a Harvard-run program funded by the United States Agency for International Development (USAID)....
The privatization process in Russia in the 1990s, which saw the rapid economic rise of a well-connected class of businessmen and politicians as much of the country sank into poverty, is widely despised by Russians who see the transition as a Western-sponsored plan to enrich an anointed few by hawking the jewels of the collapsed Soviet empires
8---
Large down payments provide stability to the housing market
, oc housing
9---
Justice O'Connor: Maybe Bush V. Gore
Was A Mistake, TPM
10---Starving the Beast: Obama proves better than Reagan, NYT


Source: Bureau of Economic Analysis, via Haver Analytics
Source: Bureau of Labor Statistics, via Haver Analytics
11---
The beatings will continue,
NYT
Sometimes economists in official positions give bad advice; sometimes they give very, very bad advice; and sometimes they work at the OECD.
It's almost exactly three years since the Paris-based OECD gave what may have been the
worst advice
of any major international organization — worse than the European Commission, worse than the ECB. Not only did it join in the demand for fiscal austerity, it also demanded that the US start raising interest rates rapidly, so as to head off the threat of inflation — even though its own models showed no such threat.
So here we are three years later. No inflation takeoff in America (and the Fed trying to find ways to boost demand at a zero rate); austerity economics has crashed and burned; the latest numbers from Eurostat look like this
And what is the OECD's chief economist (still the same person)
saying
?
The euro zone is at risk of snatching defeat from the jaws of victory by abandoning efforts to cut budget deficits and fix long-standing economic problems, the Organization for Economic Cooperation and Development's chief economist warned Monday.
…
Mr. Padoan said the growing perception that austerity has been futile is incorrect.
"Fiscal consolidation is producing results, the pain is producing results," he said.
He added that euro-zone policy makers need to do a better job of communicating their successes to a weary population.
I believe that's eurospeak for "the beatings will continue until morale improves."
12---
HUD homes add to inventory-starved market
, Housingwire
Genis added, "Inventory is there, just not being released during the banks/servicers review of the loan/mortgage documents."
"In the case of HUD properties, HUD homes are back," he continued. "FHA financing went away with the 'creative' financing of the 80/20 loans, and now with the increase of FHA financing, these government-backed loans guarantee that if the borrower defaults, HUD will pay off the mortgage, obtain the deed and re-sell the home."
13---
A slowdown in US lending or a ramp up in shadow banking?
, sober look
Inside Mortgage Finance: - The private-label market is "showing new signs of life," according to Standard & Poor's, which predicted that banks are likely to increase their securitization of jumbo mortgages. In a report released late last week,
S&P projected $14 billion in non-agency jumbo MBS in 2013
. Redwood alone set a goal of issuing $7 billion in non-agency MBS this year and is on pace to exceed that volume, helped by a pending $425 million deal, its sixth of the year. PennyMac Mortgage Investment Trust is also aiming to issue a non-agency jumbo MBS in the Redwood mold in the third quarter of 2013.
The demand for fixed income product has manifested itself in the so-called "private-label" MBS, allowing banks to securitize mortgages that don't qualify for Freddie and Fannie. Once again, it's not about lending less - which is how some economists are reading the first chart above. It's about originating product, collecting fees, and then selling into the hot securitization market - public or private. And taking those loans off the balance sheet creates room to do it all over again (the "recycling" of capital.) As one banker put it, "I want to be in the origination and fee business, not in long-term warehousing ..."
14---From S&P:
Home Prices Rise in February 2013 According to the S&P/Case-Shiller Home Price Indices
, cal risk
Data through February 2013, released today by S&P Dow Jones Indices for its S&P/Case-Shiller Home Price Indices ... showed average home prices increased 8.6% and 9.3% for the 10- and 20-City Composites in the 12 months ending in February 2013. The 10- and 20-City Composites rose 0.4% and 0.3% from January to February
15---
Krugman: "Austerity is a "monstrous exercise in unethical human experimentation
", Bloomberg
Bond shortage?
The strong demand for bonds across markets is being driven by a combination of a huge liquidity rush from central banks and slowdown in growth," Salman Ahmed, a London-based global strategist at Lombard Odier Investment Managers, which oversees $46 billion, said by telephone on April 24....
Austerity is a "monstrous exercise in unethical human experimentation" Nobel economics laureate Paul Krugman of Princeton University said in an interview with Bloomberg Businessweek on April 11. He favors governments borrowing at record-low interest rates to fund spending programs.
A March 2012 study by University of California at Berkeley economist Bradford DeLong and Lawrence Summers, who was Treasury Secretary under President Bill Clinton, concluded that stimulus may generate so much growth that it would pay for itself.
Fiscal Multiplier
Key to the debate is a number called the fiscal multiplier, a gauge of how much growth can be generated for each dollar spent by the U.S. government. With short-term rates near zero, DeLong and Summers say the multiplier is at its most powerful.
The U.S. debt-to-GDP ratio will rise to 108.1 percent this year from 98.2 percent in 2010, according to the IMF's forecast this month. Growth will increase to 2.7 percent next year from 2 percent in 2013, according to more than 75 economist estimates compiled by Bloomberg.
Advocates of stimulus say now is the time to spend because inflation is slowing.
The U.S. core consumer price index, which strips out food and energy prices, rose at a 1.9 percent annual rate in March, the smallest increase since July 2011. A report in Japan last week showed consumer prices, excluding the impact of a sales-tax increase and fresh food costs, tumbled by 0.5 percent in March, the most in two years....
There seems to be no sign of a let-up in bond demand around the world," Frances Hudson, a strategist at Standard Life Investments in
London
, which manages $248 billion, said in an interview on April 23. "I see no prospect of central banks withdrawing their bond-buying programs any time soon. The global recovery is going through a soft patch and inflation is not a concern. This suits the bond market."
16---
Housing: Fed vs BoJ,
Dr Housing Bubble
Housing prices have moved up because of three major reasons; investor demand, low supply, and historically low interest rates. Each one of these reasons can be traced to the Fed either directly or indirectly. Can an aggressive central bank with a low rate environment re-inflate asset prices?...
What gives? Well first, economic growth has been weak and so has household income growth. This typically goes hand and hand. Over a longer period of time, incomes do matter. So real estate can only increase by so much even with mortgage rates that are lower than those we currently have in the US. Next, Japan's savings rate has been falling for a couple of decades. So in spite of the Bank of Japan flooding the market with all these measures, prices are falling in many categories....
If we are in a solid recovery, why is the Fed balance sheet looking like it was still 2009? In fact, the Fed balance sheet continues to grow and will continue to grow with QE3. The balance sheet is now over $3.3 trillion. A big part of the holdings are mortgage backed securities that no one in the open market will buy. Is there a consequence for this? No one can really answer that because we've never gone into this kind of aggressive monetary policy. But to think this is a clear cut case of reviving the economy, just
look at Japan and
see that it isn't as easy as using quantitative easing and expecting the economy to jump back up.
Household incomes
Household income growth has been incredibly weak in the 21
st
Century: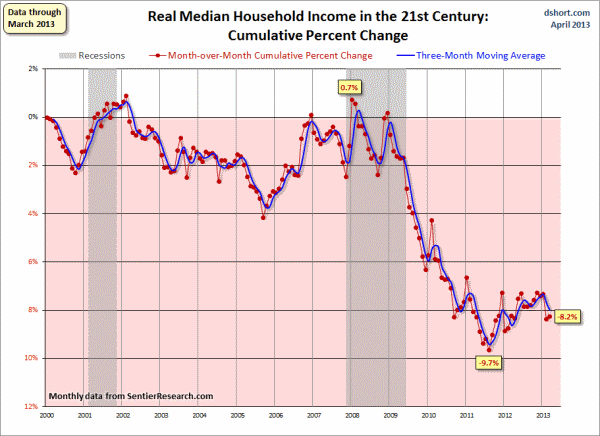 In this regard we are very similar to Japan. While the stock market is at all-time highs and real estate prices continue to move up, the same cannot be said for overall household income growth. You can see the big drops above and most came after the recession was over.
It should be obvious that the rise in stocks and housing prices are not coming from household income growth. Much of it is coming from low rates brought on by the Fed, investor demand, and very low supply.
Japan isn't exactly evidence
that we should be going full steam ahead with quantitative easing but that is the path we have taken. Even with mortgage rates in the 1 percent range Japan's economy is still stuck in the mud. While there are similarities and differences, one thing is clear and that is both the BoJ and Fed have gone into uncharted central bank territory
17
---Bank of Japan stands firm while deflation worsens
, CNN
18---
The New York Times and terrorism,
wsws
The attitude of the
Times,
and the US media and political establishment as a whole, to the word "terrorism" is entirely determined by its impact on the far-flung operations of US military and intelligence agencies. When the target of attacks is a government that has run afoul of US imperialism, the perpetrators are not terrorists. When the target is the US government or an allied regime, any and all armed opposition is labeled terrorist.
It should be noted that the
Times
is not alone in its reticence to use the word "terrorism" in relation to Monday's attacks in Damascus. The
Washington Post
writes that while no one claimed responsibility, the Syrian news agency blamed "terrorists." In language almost identical to the that of the
Times
, the
Post
offers, "The government has repeatedly cast its rivals—ranging from civilian opposition activists to hardened extremist fighters—as "terrorists" in a bid to win support for its battle…"
Both the
Times
and the
Post
are well aware that the Syrian opposition is dominated by the Al Qaeda-allied Al Nusra Front, which has carried out repeated bloody attacks on civilian targets, with devastating consequences. This year alone, a series of bombings in February killed 80 and injured at least 250 in Damascus, including a massive car bomb that killed 59, mainly civilians; an explosion at the Eman Mosque in Damascus killed 42 and wounded 82 in March; and a bombing at the Syrian Central Bank killed 15 and wounded 53 in April...
The "war on terror" has been utilized by the American ruling class, with the support of the media, as a catch-all justification for war abroad and the dismantling of democratic rights at home. Yet in the midst of this campaign, the US has maintained a working alliance with Al Qaeda, the supposed target of this phony war.
19---
Austerity and health care
, RT