1---
Protesters celebrate Thatcher's death in London's Trafalgar Square (VIDEO, PHOTOS
), RT
She destroyed our communities, she destroyed our villages, she has destroyed our pits and she tried to destroy our dignity,"
General Secretary David Hopper of the Durham Miners Association told the Guardian.
Tony Smith, a former miner from Nottinghamshire, said that any concerns over the impropriety of celebrating Thatcher's death paled in comparison to the anger felt by those affected by her policies. "
The strength of feeling is so deep it overrides any reservations. We've lived under Thatcher's shadow for many years. It split families right down the middle and that resentment is still going on,"
he explained.
In addition to the protest in Trafalgar Square, Facebook sites have been set up calling for parties to be held to celebrate the former Prime Minister's death. The Maggie's Good Riddance Party said it will hold a
"right jolly knees up"
outside St. Paul's Cathedral on the day of her funeral, which is scheduled for Wednesday, and turn their backs on the funeral procession as it passes.
2---
China Takes Another Stab At The Dollar, Launches Currency Swap Line With France
, zero hedge
One more domino in the dollar reserve supremacy regime falls. Following the announcement two weeks ago that "
Australia And China will Enable Direct Currency Convertibility
", which in turn was the culmination of two years of Yuan internationalization efforts as summarized by the following: "
World's Second (China) And Third Largest (Japan) Economies To Bypass Dollar, Engage In Direct Currency Trade
", "
China, Russia Drop Dollar In Bilateral Trade
", "
China And Iran To Bypass Dollar, Plan Oil Barter System
", "
India and Japan sign new $15bn currency swap agreement
", "
Iran, Russia Replace Dollar With Rial, Ruble in Trade, Fars Says
", "
India Joins Asian Dollar Exclusion Zone, Will Transact With Iran In Rupees
", and "
The USD Trap Is Closing: Dollar Exclusion Zone Crosses The Pacific As Brazil Signs China Currency Swap
", China has now launched yet another feeler to see what the apetite toward its currency is, this time in the heart of the Eurozone: Paris. According to China Daily, as reported by Reuters, "France intends to set up a currency swap line with China to make Paris a major offshore yuan trading hub in Europe, competing against London." As a reminder the
BOE and the PBOC announced a currency swap
line back in February, in effect linking up the CNY to the GBP
3---
Breaking: Obama Justice Department serves Oregon officials with warrant seeking the identities of the state's medical cannabis patients
, Firedog Lake
The state officials who register patients and suppliers were ordered by the US Department of Justice to not disclose the existence or contents of the search warrant. The federal demand for patient records was discovered in public court filings.
4---
Feds scoop up medical marijuana patient records in Oregon investigation
, Seattle PI
5---
Why Home Prices Change (or Don't),
Robert Shiller, NYT
home prices have risen over the last year, and with those gains there has been a renewed sense of optimism. But do these price increases mean that homes are now good investments for the long haul?
Unfortunately, no. We do know one thing from economic research: one-year home price increases, after correcting for inflation, have had almost no statistical relationship to increases 10 years down the road. Thus, the upturn last year is irrelevant to long-run forecasting. Booms are typically followed by busts, usually in far less than 10 years. In a decade, an entire housing boom, if there is one in inflation-corrected terms, is likely to have been reversed and completely washed away.
Inflation has a major impact on long-term home prices. So do the costs of construction. We'll examine these factors now, and turn to other important influences like speculative pressures and cultural and demographic trends in subsequent columns.
Home prices look remarkably stable when corrected for i
nflation. Over the 100 years ending in 1990 — before the recent housing boom — real home prices rose only 0.2 percent a year, on average. The smallness of that increase seems best explained by rising productivity in construction, which offset increasing costs of land and labor.
Of course, home prices are likely to be much higher in 2023 when measured in nominal dollars — those that aren't inflation-adjusted. Inflation is the deliberate policy of the Federal Reserve, with a target rate now of 2 percent a year as measured by the personal consumption expenditure deflator, or about 2.4 percent on the
Consumer Price Index
. At those rates, nominal prices will be roughly 25 percent higher, over all, in a decade.
All else equal, the current Fed policy would have this effect: a home selling for $200,000 today will sell for around $250,000 in 2023, though the real price — corrected for inflation — would be unchanged. But because people often forget to correct for inflation, they may have the illusion that the market is improving.
Source:
WSJ
Retail trade sales are retail sales minus food and beverage services. Retail trade sales includes gas, and is down -0.6% for the month, up 2.6% from last year.
Total retail sales are
$418.3 billion
for March.
....
The ones that are hurting are Departments stores. Their retail sales are down -4.9% from March 2012 with general merchandise stores overall are down -3.7% from a year ago. Building materials, garden sales, which are large by volume, have increased 2.6% from a year ago. Grocery stores have increased sales by 2.8% from this time last year. Below are the March retail sales categories by dollar amounts. As we can see, autos still rule when it comes to retail sales. We also see that electronics is much smaller by total dollars.
For reference sake, graphed below are weekly regular gasoline prices, so one can see what happened to gas prices in March. Gas prices actual declined -2.7% from February to March. If one takes the last price of March vs. the April 1st price, gas has dropped -3.7% for March, on the outside. That said, considering February's gas price increase run up of 12.7%, we cannot blame March's poor retail sales figures on the price of gas this time.
8---
Putin orders raids on German NGOs
, wsws
The raids were carried out following the adoption several months ago of a Russian law requiring organizations that receive money from abroad to register as "foreign agents" and open their books. NGOs, especially those from the United States, play a key role in promoting and defending the interests of Western imperialism in the countries of the former Soviet Union. In Ukraine and Georgia, they played an important part in the so-called "colour revolutions" that brought pro-Western regimes to power, while in Russia they support movements opposed to Putin.
The new law was the Kremlin's response to growing differences within the Russian ruling elite over the direction of foreign and economic policy as well as growing tensions with the NATO powers. Both the American and German governments, with the assistance of their respective NGOs, supported the anti-Putin protest movement that emerged in Russia last year. The new law and the subsequent raids made clear that Putin was not prepared to make any concessions to these pro-Western forces.
The police raids on the offices of the two German NGOs took place just days after the "rescue" of Cyprus, which represented an attack on the financial and strategic interests of the Russian elite. As has been the case in all of the European Union (EU) austerity deals, the German government was the driving force. The Cypriot banking sector was broken up and the rest of the economy dealt a heavy blow, with all bank accounts with deposits of more than 100,000 euros frozen.
9---
The Good, the Bad, and the Ugly aspects of the American housing market: Key indicators of the 2013 real estate market.
, Dr Housing Bubble
One good aspect of the market is overall, affordability is back in line to historical trends: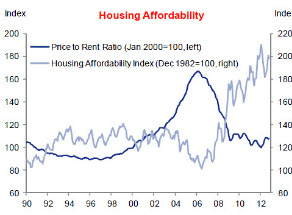 Price-to-rent ratios are back in line in many parts of the country....
While not as good as it should be, household formation is now picking back up: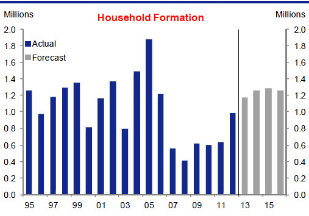 Funny how in 2005 when all you needed was a pulse for credit, household formation was up to a blistering 1.8 million per year. The crash brought on the "move in with mom, dad, or friends" trend and you can see this in 2008 where household formation was at a stunningly low 400,000. This is also another reason why the housing market is now picking up nationwide. From 2011 to 2012 household formation went from around 600,000 to a healthier 1,000,000. That is a big jump.
The Ugly
The housing market is still a mess when it comes to distressed properties: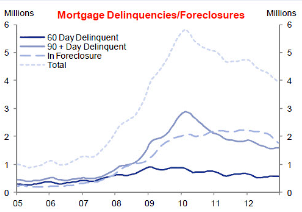 Over 5,000,000+ Americans are in one of the following:
1,927,000 properties that are 30 or more days, and less than 90 days past due, but not in foreclosure.
1,483,000 properties that are 90 or more days delinquent, but not in foreclosure.
1,694,000 loans in foreclosure process.
The market is full of bad loans but the number is going down. Many investors
buying in bulk have connections that allow them to purchase many of these properties
at auction before they even hit the MLS for the regular Joe and Jane. So the low inventory is simply a manifestation of banks leaking out properties at their own pace and to select individuals.
10---
Trouble in Retail,
sober look
With the current improvements in the labor and housing markets, investors have piled into retail-focused companies. However, today's retail sales surprise to the downside (
see chart on Twitter
) points to potential weakness in the retail sector. This was followed by another consumer-related surprise - the UMichigan Consumer Sentiment, which came in materially below expectations.
MarketWatch

: - The University of Michigan-Thomson Reuters consumer-sentiment gauge dropped to a preliminary April reading of 72.3 -- the lowest result since July -- from a final March reading of 78.6, reports said Friday. Economists polled by MarketWatch had expected a preliminary April reading of 79.3. However, consumers have faced negative news on jobs and federal spending.
With the consumer being such a large part of the economy, these results point to potentially sluggish growth in the US. It is possible that the seasonal pattern (
discussed here
) of US economic activity could be repeating itself.
Reuters

: - The data supports the view that the U.S. economy continues to struggle and hasn't performed as well as analysts believed just a few weeks ago. Many analysts cut their growth forecasts for the first quarter.
11---Consumer sentiment hits nine-month low, Marketwatch
"People presumably are responding to the news the Congress chose to implement the sequester; the cash-flow drain imposed by the payroll tax increase can't be helping either," wrote Ian Shepherdson, chief economist at Pantheon Macroeconomic Advisors, in a research note.
"This report adds to the emerging narrative of a sharper and earlier slowdown in economic activity than is currently being factored into the market expectation," Mulraine wrote.
Earlier Friday, the government reported
retail sales fell 0.4%
in March, the largest decline since June.