1---
Why Housing Affordability Is at Risk,
Realty Check
Homes are more affordable now than they have been in decades, but that could turn more quickly than expected, because the affordability is based entirely on mortgage rates.
Home prices are actually rising faster than expected, but the gains are being masked for buyers by historically low rates. These rates allowed U.S. homeowners to pay almost 37 percent less in monthly mortgage payments at the end of last year than pre-housing–bubble norms, according to a new report from online real estate portal,
Zillow
. This as homes today cost 14.5 percent more compared to historic averages, relative to median incomes.
The average rate on the 30-year fixed mortgage dropped to 3.68 percent last week, according to the Mortgage Bankers Association. From 1985 through 1999, rates ranged from 6 to 13 percent. Present low rates have allowed buyers to purchase more expensive homes, and the mortgage payment is taking less out of their monthly paychecks.
...
The trouble is that wages have either stagnated or dropped at the same time that home values are rising. Pre-bubble, U.S. homebuyers spent 2.6 times their median annual incomes on the purchase price of a typical home, but now they are spending three times their incomes—meaning homes are 14.5 percent more expensive relative to income, according to Zillow. That is all made possible by government-subsidized, record low rates....
That will directly affect home buying demand, because without dramatic income growth, potential first-time buyers will see monthly payments as too big of a chunk to pay. Meanwhile potential move-up buyers will not want to let go of their fixed low rates, and that will be a disincentive to move.
Homeowners in 24 of the 30 largest metros covered by Zillow were paying more for homes at the end of 2012 relative to their region's median income than they were from 1985 through 1999. That is a clear red flag that should rates rise, even a few percentage points, home purchases and purchasing power, will fall.
2---
Lack of MLS inventory causing bidding wars despite tepid demand
, oc housing
House prices are rising rapidly in Orange County and most of Coastal California. There are anecdotal reports of bidding wars, and many properties are selling for 5% to 10% above recent comparable sales....Lenders have curtailed the supply of homes available for sale on the MLS. They have suspended our normal inventory in the
clouds
awaiting higher prices. Just like the hated OPEC of the 1970s, the loathsome banks of the 10′s are restricting the supply for their own self-serving reasons....
In March, 75% of agents with broker Redfin said their clients' offers were countered by rival bids, up from 56% who said so in late 2011.
The competition has been most intense in California, where 9 out of 10 homes sold in San Francisco, Sacramento and cities in Southern California drew competing bids during the month
. And at least two-third of listings in Boston, Washington D.C., Seattle and New York generated bidding wars.
"The only question is not whether a new listing will get multiple bids but how many it will get," said Kris Vogt, who manages 14 Coldwell Banker offices in the Sacramento area. One home in an Elk Grove, Calif., subdivision recently received 62 separate bids. The final sale price was for more than $150,000, well above its $129,000 asking price.
3---
http://seattlebubble.com/blog/2013/04/10/distressed-sales-tumbled-in-march/
, Seattle Bubble
Let's take another look at what share of the monthly sales are being distressed sales—bank-owned and short sales. In March 2012 20.1% of the sales of single-family homes in King County were bank-owned, just a few points below the highest level on record. In March 2013 that number was just 7.7%.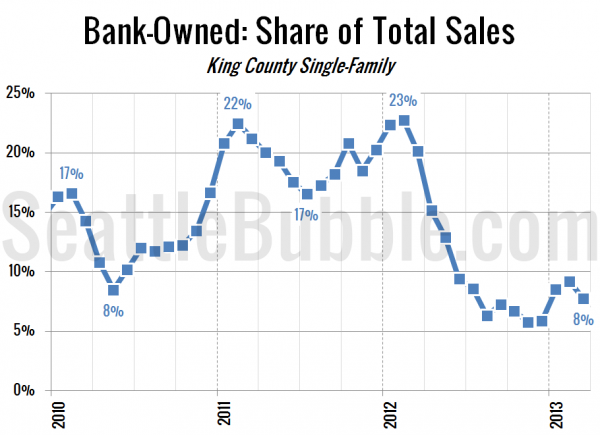 As predicted, after bumping up in January and February, the sales of bank owned-homes fell in March.
Short sales also decreased in March, falling from 12.2% in February to 9.4% in March. Down from 10.3% in March 2012, and the lowest point since October 2011.
4----
HOUSING: Time to buy? Time to sell?,
Dr Housing Bubble
What is interesting is that many agents are now seeing this as a good time to sell and not necessarily a fantastic time to buy: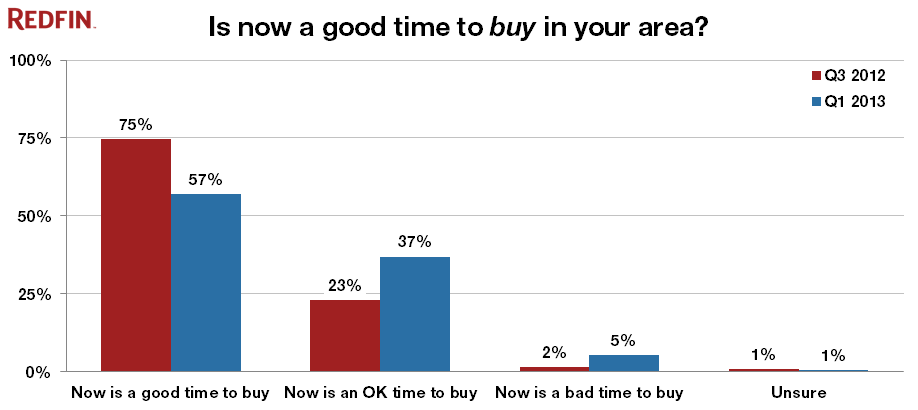 The number of agents thinking now is "a good time to buy" dropped from 75 to 57 percent from Q3 2012 to Q1 2013. Some are even saying it is a bad time to buy (up from 2 to 5 percent). Coming from real estate agents, that is a big deal. Of course, on the other side of the coin, those saying now is a good time to sell has jumped up: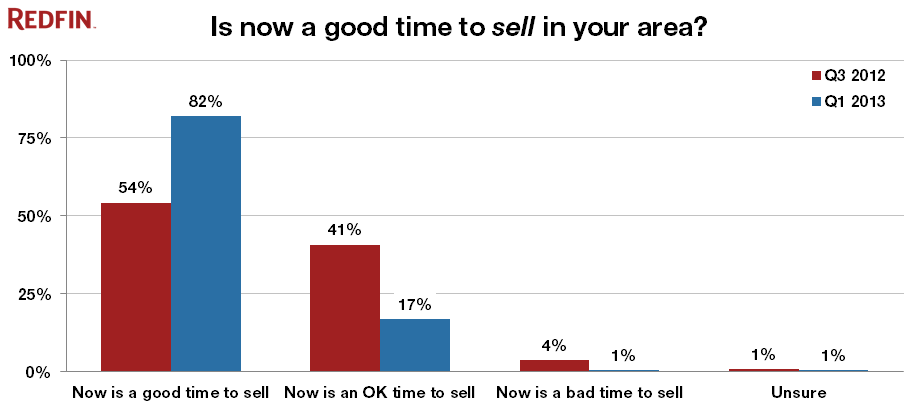 The number of agents saying now is a
good time to sell went from 54 to 82 percent from Q3 2012 to Q1 2013.
That is a near unison agreement that now is a good time to sell. Whenever an entire group believes something is a certainty, you have to watch out. Even when you look at historical stock market peaks, you see similar emotional trends.....
The
decline in inventory
is still very much a story. What I found interesting in the recent survey is that the idea that prices were going to go up in the next year has jumped: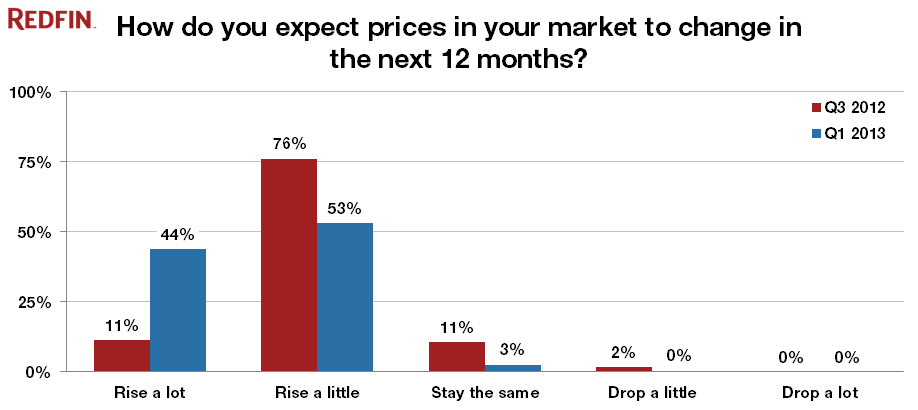 44 percent of agents now believe prices will "rise a lot" over the next 12 months. This figure went from 11 to 44 percent from Q3 2012 to Q1 of 2013. That is a massive jump. Yet if inventory rises (time to sell) and demand falls (not good time to buy) you would expect prices to remain stagnant or even fall a bit. When we look at sales volume, we are already seeing somewhat of a bottleneck. We've discussed that some big investors are losing their appetite for housing given declining yields and we should find out shortly the impacts on the market with such a high demand of investor buying. The fact that we are seeing wild optimism coupled with declining sales and prices reaching bottlenecks, it will be an interesting few years ahead. Are you seeing any of this agent euphoria in the current market? ...
According to the California Association of Realtors, annual home sales are now down about 6 percent while the median home price is up 24 percent.
Inventory is still at or near
a record low.
5---
President's 2014 budget grants $47.6 billion to housing programs
, housingwire
6---
Pending Home Sales index declines in February
, cal risk
7---
Existing Home Sales in February: 4.98 million SAAR, 4.7 months of supply
, cal risk
8----
California Housing Still Bouncing Along the Bottom
, Big Picture
9---
Housing Prices Are on a Tear, Thanks to the Fed,
WSJ
10---
Low MLS supply hurting sales but boosting prices
, oc housing
11---
Investor frenzy over housing has peaked
, CNN
12---
Existing home sales touch three-year high
, Reuters
13---
Your new landlord works on Wall Street
, New Republic
14----
Home prices jump, but new-home sales drop
, USA Today
15----
Obama administration pushes banks to make home loans to people with weaker credit, WA Post