1---
Americans Seize Second Chance Post-Foreclosure: Mortgages
, Bloomberg
About 7 million mortgage holders have had to leave their homes since 2007 because of foreclosure or a short sale, in which a property is sold for less than is owed, according to RealtyTrac. More than 1 million of them are now eligible for mortgages backed by the
Federal Housing Administration
, which requires a three-year waiting period and a minimum 3.5 percent down payment, said
Mark Zandi
, chief economist for Moody's Analytics Inc. in Westchester,
Pennsylvania
.
Eligible Expanding
While many Americans will be blocked from buying because of insufficient credit, savings and income, eligible households will expand to nearly 2 million by the end of 2014, he said.
"This could be a significant source of housing demand going forward," said Zandi. "Lots of people lost jobs through no fault of their own. They will be good credit risks in a reasonably good economy. It was not their willingness that was the problem, but their broad ability to pay."
Easing Underwriting
While underwriting standards remain restrictive compared to the real-estate boom, they're easing as lenders approve loans for borrowers with lower credit scores. The average FICO score for conventional home purchase loans fell to 761 in February from 764 a year earlier, said Pleasanton, California-based Ellie Mae. Average down payments declined to 20 percent from 22 percent, according to the company, which provides software to the mortgage industry.
Lenders may further loosen standards when a wave of borrowers refinancing recedes and originators turn their focus to homebuyers, said Andrew Davidson, president of Andrew Davidson & Co, a New York-based consulting firm. The recession hit many people who would be reliable borrowers in a better economy, he said.
2---
The Most Insane Chart Ever: Irish Mortgage Arrears
, Big Picture
3----
Special Report: How the Fed fueled an explosion in subprime auto loans,
Reuters
Thanks largely to the U.S. Federal Reserve, Jeffrey Nelson was able to put up a shotgun as down payment on a car.
Money was tight last year for the school-bus driver and neighborhood constable in Jasper, Alabama, a beaten-down town of 14,000 people. One car had already been repossessed. Medical bills were piling up.
And still, though Nelson's credit history was an unhappy one, local car dealer Maloy Chrysler Dodge Jeep had no problem arranging a $10,294 loan from Wall Street-backed subprime lender Exeter Finance Corp so Nelson and his wife could buy a charcoal gray 2007 Suzuki Grand Vitara.
All the Nelsons had to do was cover the $1,000 down payment. For most of that amount, Maloy accepted Jeffrey's 12-gauge Mossberg & Sons shotgun, valued at about $700 online.
In the ensuing months, Nelson and his wife divorced, he moved into a mobile home, and, unable to cover mounting debts, he filed for personal bankruptcy. His ex-wife, who assumed responsibility for the $324-a-month car payment, said she will probably file for bankruptcy in a couple of months.
When they got the Exeter loan, Jeffrey, 44 years old, was happy "someone took a chance on us." Now, he sees it as a contributor to his financial downfall. "Was it feasible? No," he said.
The Maloy dealership wouldn't discuss the loan. "I got nothing to say to you," an employee said.
At car dealers across the United States, loans to subprime borrowers like Nelson are surging - up 18 percent in 2012 from a year earlier, to 6.6 million borrowers, according to credit-reporting agency Equifax Inc. And as a Reuters review of court records shows, subprime auto lenders are showing up in a lot of personal bankruptcy filings, too.
It's the Federal Reserve that's made it all possible ....
The Fed's program, while aimed at bolstering the U.S. housing and labor
markets
, has also steered billions of dollars into riskier, more speculative corners of the economy. That's because, with low interest rates pinching yields on their traditional investments, insurance companies,
hedge funds
and other institutional investors hunger for riskier, higher-yielding securities - bonds backed by subprime auto loans, for instance.
Lenders like Exeter have rushed to meet that demand. Backed by Wall Street banks and big private-equity firms, they have been selling ever-greater amounts of subprime auto loans in the form of relatively high-yield securities and using the proceeds to fund even more lending to more subprime borrowers.
Expansion of the subprime auto business was chronicled in a 2011 Los Angeles Times series. Since then, growth has continued apace. Consider that in 2012, lenders sold $18.5 billion in securities backed by subprime auto loans, compared with $11.75 billion in 2011, according to ratings firm Standard & Poor's. The pace has continued so far this year, with $5.7 billion of the securities issued, compared with $4.4 billion for the same period last year, according to Deutsche Bank AG. On Monday alone, three deals totaling $1.6 billion of subprime auto securities were announced by Wall Street banks.
To make up for the risk of taking on increasing numbers of high-risk borrowers, subprime auto lenders charge annual interest rates that can top 20 percent.
The Exeter loan Nelson and his wife got, for example, carried a 21.95-percent rate. Exeter, which is majority-owned by private-equity giant Blackstone Group, assumes that one in four borrowers will default on their loan, according to an Exeter investor pitch book reviewed by Reuters
BUBBLE TROUBLE
Critics of the Fed say the growth in subprime auto lending is just one of several mini-bubbles the bond-buying program has created across a range of assets - junk bonds, subprime mortgage securities, and others. The yield chase delivered big windfalls to some Wall Street firms and
hedge funds
holding securities that soared in value. But so much money has flowed into these assets, the critics say, that the
markets
for some are beginning to resemble the housing boom in the run up to the financial crisis....
A bust in the subprime auto market wouldn't have consequences nearly as devastating for lenders, investors or the broader economy as the housing bust did. Securities underpinned by subprime auto loans, estimated at about $80 billion between 2006 and 2012, are a fraction of the $1.6 trillion in mortgage-backed products Wall Street created between 2006 and 2009, according to S&P data and the Financial Crisis Inquiry Commission, created by the U.S. government to analyze the financial crisis.
...
Indeed, auto sales have recovered to nearly pre-crisis levels. New car, pickup truck and sport-utility vehicle registrations are projected to increase 6.6 percent this year to 15.3 million, according to automotive market-analysis firm Polk. Registrations could exceed 16 million in 2015, a number last seen in 2007.
A Fed spokesman declined to comment.
Subprime auto loans may seem like an obscure corner of
finance
, but the names behind the expansion are familiar.
Santander Consumer USA Inc, a unit of giant Spanish bank Banco Santander SA, is one of the biggest sellers of securities backed by subprime auto loans, according to S&P. In 2011, KKR & Co, Warburg Pincus and Centerbridge Partners bought a 25 percent stake in the Santander unit for $1 billion.
Capital One Financial Corp, General Motors Co and Ally Financial Inc are also steadily increasing loans to subprime borrowers....
PERFORMANCE ANXIETY
Less well-known upstart Exeter, founded in 2006 and based in Irving, Texas, is run by executives from AmeriCredit Corp, an auto-finance company acquired by General Motors in 2010. It reported $100 million in originations in May 2010. It expected to hit $1 billion in 2012 and $2.2 billion by 2015, according to the pitch book. The company has grown to 46 branches with 532 employees serving more than 6,600 dealers, from one branch and six employees serving 120 dealers in 2006.
In 2008, a
Goldman Sachs Group Inc
fund, through an investment in a private-equity fund, helped infuse money into Exeter. Then, in 2011, Blackstone bought its controlling stake, turbo-charging Exeter's expansion as the Fed decided to keep pumping money into the economy. In October, Wells Fargo & Co, Citigroup Inc, Deutsche Bank AG and Goldman agreed to provide it loan commitments totaling $1 billion.
After the Blackstone deal, in particular, the push was on for Exeter to expand its loan book, according to a former employee. "Everybody was under extreme pressure to hit goals," this person said. "Your job is in jeopardy. It was not sugar-coated."
To win more business from dealerships, Exeter lowered its "holdback fee" - the small fraction of the loan amount that the lender keeps as a cushion against losses - to between $395 and $495 from about $795.
The August 2012 Exeter investor pitch book touts the firm's "highly sophisticated risk management process," which employs a "decision science" system underpinned by "predictive models." The
marketing
book adds: "The end result is to deploy
tools
to management allowing for precision control over credit performance."
This process results in customers with an average credit score of 556 and average annual income of $38,393, according to the pitch book. These borrowers pay an average interest rate of 21.4 percent a year. (Median U.S. household income was an inflation-adjusted $50,054 in 2011, according to the Census Bureau. On the widely used FICO credit-scoring scale, produced by Fair Isaac Corp, 640 or less is considered subprime.)
Loveless, working as a cook at the local O'Charley's restaurant, had trouble keeping up with the $329 monthly payment. In February last year, the family got a title loan secured by a 2001 Ford Windstar van. In May, subprime lender World Finance gave them a $1,500 loan, secured by a television, a PlayStation and a DVD player....
As the Lovelesses were struggling last year, Exeter issued $500 million in securities backed by subprime auto loans in two sales, in February and September. (Whether the Loveless loan was part of those sales couldn't be determined.)
Like subprime mortgage securities issued in the past decade, each Exeter security was divided into tranches, or layers, based on the risk and return of each. Investors couldn't get enough of them, bidding up prices and thus lowering yields. In February, the yield on the top-rated tranche was 2.029 percent. By September, demand had increased so much that the yield was just 1.312 percent.
Ratings agency DBRS gave the least-risky tranche its top rating - triple-A - in part because Exeter used a cushion to protect investors against losses and because it had a management team experienced in subprime, the agency said in its ratings reports. Exeter's proprietary model "declines approximately 50 percent of submitted applications," the agency said
...
Brett Wadsworth, the lawyer in Jasper who handled Jeffrey Nelson's bankruptcy, said the bulk of the filings he works on involve subprime debt - loans his clients shouldn't have gotten in the first place. "Most of them that's getting those types of loans are the same ones who's getting the cash loans or payday loans or title loans," Wadsworth said....
AN APPETITE FOR RISK
Despite the risk that borrowers like Thomas present, investors have proved increasingly willing to put their money into subprime auto debt for lower relative returns. According to Barclays Plc, the average spread - a measure of investors' risk tolerance - between top-rated securities underpinned by prime and subprime auto loans and a benchmark interest rate hit 0.32 percentage point in February. That represents a remarkable increase in risk appetite from the 8.85-percentage-point spread at the peak of the financial crisis in autumn 2008.
4---
Trans-Pacific Partnership: Corporate Power-Tool Of The 1%
, counterpunch
The TPP regime ensures that foreign investors and multinational corporations retain full rights to undermine the sovereignty of participatory nations by skirting domestic regulations and limiting the abilities of national governments to issue independent economic policy. There has never been such a sweeping corporate assault on sovereignty, and that includes US sovereignty. Leaked TPP documents detail how the Obama administration intends to surrender US sovereignty to international tribunals that operate under World Bank and UN rules to settle disputes arising under the TPP, specifically designed to leave Congress out in the cold while creating a judicial authority higher than the US Supreme Court. In theory, the TPP would give international judicial entities the authority to override US laws, allowing foreign companies doing business in the United States the privilege of operating in a legal environment that would give them significant economic advantages over American companies that remain tied to US laws, placing domestic companies who do not move offshore at a competitive disadvantage.
5---
Study: 28% Increase In Thyroid Problems In Babies Born After Fukushima in Alaska, California, Hawaii, Oregon and Washington,
washingtons blog
6---
Small business loan approval rates - latest trends
, sober look
The latest statistics on small business lending show application approval rates rising at banks. It seems however that banks are still relying on taxpayer support to provide credit.
Biz2Credit

: - "Smaller banks are making more and more loans through the SBA's Small Loan Advantage Program, which range in amounts from $50,000 to $350,000 and require little collateral," said Biz2Credit CEO Rohit Arora, who oversaw the research. "Big banks, including Sovereign and Citizens Bank, are also increasing their approvals of loans between $50,000 and $500,000. We have even seen an uptick by giants such as TD Bank and Bank of America. Small business lending is a profitable business
7
---EZ data stinks
, macrobusiness
Overnight was also another round of manufacturing PMI data and there wasn't any good news in it.
Germany manufacturing
hit a 3 month low,
French data
continues to worsen,
Spain
is accelerating downwards, as is
Greece
,
The Netherlands
is getting weaker and even
Ireland
took a dive in March: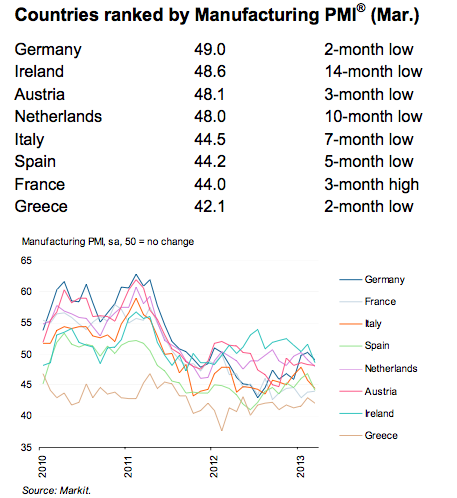 Comments from Markit Economics wrap the dour data well:
8---
Heroin production in Afghanistan increased 40 times since NATO began its 'War on Terror' in 2001
, the head of Russia's Federal Drug Control Service stated, adding that more than 1million people have died from Afghan heroin since then., RT
"Afghan heroin has killed more than 1 million people worldwide since the 'Operation Enduring Freedom' began and over a trillion dollars has been invested into transnational organized crime from drug sales,"
Viktor Ivanov said at the conference on the drug situation in Afghanistan...
However, based on the US and NATO strategy, there seems no intention to get rid of all Afghan poppy fields, which is an inconsistency in the Western approach.
"The US together with the Colombian government eradicates 200,000 hectares of coca bushes a year. In Afghanistan, only 2,000 hectares of poppy fields are being eradicated – one 100th of that amount,"
Ivanov pointed out.
And alongside the refusal to get rid of the poppies, there is the apparent interest of international banks in
"dirty"
money
. Narcotics have nearly as large a share in total world trade as oil and gas, argued Ivanov in his presentation to UN.
The head of Russia's drug enforcement suggested US and European banks tacitly welcome and "encourage" the inflow of drug money, he explained
9---
'US encouraging Venezuela's opposition not to recognize election results'
, RT
10---
Unemployment in Euro Zone Reaches a Record 12%
, NYT
11---
Half of Nevada foreclosed homes are vacant, abandoned
, Las Vegas journal review
Florida leads the nation with 90,556 owner-vacated foreclosures. Illinois is next with 31,668, followed by California with 28,821 and Ohio with 17,367.
Nevada is No. 13, with 6,070 vacant foreclosures.
The total number will be skewed toward states with higher populations, Blomquist noted.
The inventory of U.S. homes in foreclosure rose 9 percent in the first quarter, although Nevada saw a 30 percent decrease, the foreclosure analyst said.
The annual increase in national foreclosure inventory was caused by a 59 percent jump in preforeclosure inventory, or properties that received a notice of default. Inventory of homes scheduled for foreclosure auction decreased 25 percent and the inventory of bank-owned homes decreased 3 percent.....
One figure that stood out for Nevada is the 22 percent increase in "front end" inventory, or homes that have received a notice of default, Blomquist said. It's up 22 percent from a year ago, to nearly 10,000 as of mid-March.
RealtyTrac reported a 69 percent decrease in notices of trustee sale for the first quarter in Nevada, and a 31 percent drop in back-owned homes, or actual foreclosures.
The so-called "shadow inventory" of homes that have entered the foreclosure process but have not yet been listed for sale may provide hope in markets hungry for more inventory, Blomquist said.
Many of those properties will be listed as short sales in the next six to 12 months, or they'll go through foreclosure and eventually come on the market as bank-owned properties in the next 18 months, he said.
12---
Why the Euro Is Doomed in 4 Steps
, Atlantic
Austerity has been a
complete disaster
. It's actually increased debt burdens across southern Europe, because it's reduced growth more than it's reduced borrowing costs. And now northern Europe is getting in on the act. France (which is really somewhere in between "southern" and "northern") just
missed its deficit target
, and is set to slash more; the Netherlands has put through
contentious
tax hikes and spending cuts, even as its economy has shrunk; and even Germany is contemplating
new budget-saving measures
. In other words, the euro has become an austerity suicide pact.
...
Debtor-euro countries are to cut wages and deficits, but creditor-euro countries aren't forced to increase wages and deficits. Perversely, the opposite. In other words, northern Europe isn't doing enough to offset the demand destruction in southern Europe. And it's sinking them all. Even worse, this slow-motion collapse is turning loans that would have otherwise been good into losses -- losses that force bailouts and faster collapses. But, to be clear, this isn't only a problem for the periphery. As the U.S. and France found out in the 1930s, it's generally not a good idea to force your customers into bankruptcy. That just creates depression without end -- until the gold (or euro) standard ends. It's no coincidence that the countries that ditched the gold standard first recovered from the Great Depression first.
13---
FHA loan guarantees now amount to $1.1 trillion: Upcoming changes to FHA mortgage insurance premiums and the cost of low down payment loans.
, Dr Housing Bubble
FHA insured loans
stepped in to take up a lot of the slack when other low down payment loans exited the market in 2007. FHA insured loans are still a low down payment option requiring only 3.5 percent down but at least with these loans, some level of due diligence is done when looking at potential borrowers. Yet over the last few years, FHA insured loans have gone from a tiny piece of the housing market to now being up over $1.1 trillion in loan guarantees outstanding. The housing market is now becoming largely bimodal with all cash buyers picking up better properties while those with barely any down payment funds opt to go the FHA route. Given how expensive FHA loans have become, it is apparent that a large portion of the population doesn't even have enough to enter the housing market without
30x leverage
.
14----
Deep Freeze: Home Sales to Barely Budge in Spring,
CNBC
The U.S. housing market will see no surge at the start of spring, as fewer buyers signed contracts to purchase existing homes in February. An industry index of so-called pending home sales fell 0.4 percent from January but is up 8.4 percent from February of 2012. While the number of for-sale listings increased more than the seasonal norm, Realtors still say a lack of supply is keeping many potential buyers from desired deals. Pending home sales are a one to two month forward indicator of closed sales.
15---
Regulators Let Big Banks Look Safer Than They Are
, WSJ
Capital-ratio rules are upside down—fully collateralized loans are considered riskier than derivatives positions...
The recent Senate report on the
J.P. Morgan Chase
JPM
-2.61%
"London Whale" trading debacle revealed emails, telephone conversations and other evidence of how Chase managers manipulated their internal risk models to boost the bank's regulatory capital ratios. Risk models are common and certainly not illegal. Nevertheless, their use in bolstering a bank's capital ratios can give the public a false sense of security about the stability of the nation's largest financial institutions...
The main argument megabanks advance against a tough capital ratio is that it would force them to raise more capital and hurt the economic recovery. But the megabanks aren't doing much new lending. Since the crisis, they have piled up excess reserves and expanded their securities and derivatives positions—where they get a capital break—while loans, which are subject to tougher capital rules, have remained nearly flat.
16
---European banks need capital – fast,
IFR
17---
US escalates military tensions over North Korean nuclear program
, wsws
In 1950, the year after a revolution brought the Chinese Communist Party to power, the Chinese army intervened in the Korean War against the United States to prevent the destruction of North Korea by US and South Korean forces. It thus blocked the establishment of a pro-US state directly on China's border and a possible US invasion of China to restore capitalist rule. The war cost nearly one million Chinese soldiers' lives. The Chinese army maintains close ties to its North Korean counterpart to this day.
Unlike the Chinese and Vietnamese bureaucracies, however, which turned to exploiting the working class as cheap labor for export industries based on Western capital during the 1980s, Pyongyang has remained economically isolated. Washington has consistently opposed attempts to normalize relations with Pyongyang—a decision fraught with complex consequences in the explosive geo-political environment of the Korean peninsula.
Nonetheless, the Pyongyang regime is as reactionary as its counterparts in Beijing and Hanoi. As the global economic crisis drives regimes throughout Asia to prepare new assaults on working class wages and social conditions, sections of the North Korean regime are signaling their intention to press ahead with further market measures. Monday's nomination of market reformer Pak Pong-ju as North Korea's prime minister is one such signal of attempts by the bureaucracy to find a basis for better relations with US imperialism.
At the same time, the Pyongyang regime remains deeply divided internally and fearful of the consequences of normalizing ties with the US, especially under conditions where Washington is constantly threatening it with war.
In January, Germany's conservative
Frankfurter Allgemeine Zeitung
wrote that North Korean officials were secretly consulting German economists and lawyers on how to restore ties to the world capitalist economy. One of the experts told the newspaper that Pyongyang was interested in the market model in Vietnam, "where selected enterprises are chosen to carry out investment."
Another said that the army, which currently dominates North Korea's economy, largely opposed such plans. "The military in North Korea will not want to give up control, however, so it is not at all clear that the reforms will succeed," he stated.
Under these conditions, US imperialism appears set to further escalate its military threats in an attempt to whip Pyongyang and Beijing into line