1---
Bubbbles? What bubbles?
Bloomberg
Some Fed policy makers already are concerned. Esther George, president of the
Federal Reserve Bank of Kansas City
, voted against continuing asset purchases at the central bank's January meeting out of concern about "the risks of future economic and financial imbalances," according to the minutes.
Prices "of assets such as bonds, agricultural land, and high-yield and leveraged loans are at historically high levels," George said in a speech Jan. 10.
Farmland values in the Midwest jumped 16 percent last year, the third-largest annual gain since the late 1970s, the
Federal Reserve Bank of Chicago
said in a Feb. 14 report. Values in
Iowa
climbed 20 percent, the most among the five Midwest states.
Fed Governor
Jeremy Stein
said on Feb. 7 that some credit markets, such as corporate debt, are showing signs of potentially excessive risk-taking, while not posing a threat to financial stability.
"We are seeing a fairly significant pattern of reaching-for-yield behavior emerging in corporate credit," Stein said in a speech in
St. Louis
.
Speculative Grade
Stein, who voted in favor of continued asset purchases at the Fed's January meeting, singled out the speculative grade bond market as an example of potential over-heating.
Investors have piled into speculative-grade bonds, rated below Baa3 by Moody's Investors Service and lower than BBB- at Standard & Poor's, driving yields down. The extra yield investors demand to hold the securities rather than Treasuries has fallen to 4.92 percentage points as of Feb. 20 from the record high of 21.82 percentage points in December 2008, according to the Bank of America Merrill Lynch U.S. High Yield
Index. (SPX)
In his Feb. 7 speech, Stein also discussed mortgage real estate investment trusts, which he said had "grown rapidly" by using low-cost, short-term financing to fund purchases of longer-term debt.
Mortgage REITs' holdings of government-backed home-loan securities rose to about $350 billion last year, from about $90 billion in 2008, according to Nomura Securities International estimates last month.
2---
Government by Poll
, Bloomberg
Majorities also say overhauls of
Social Security
and Medicare -- including changes disproportionately aimed at wealthier recipients -- are "necessary" to lower the deficit. ...
Entitlement Changes
Fifty-one percent of respondents say overhauling Social Security is necessary to substantially reduce the deficit, and 58 percent say so of Medicare. Large majorities say they favor changes to curtail those programs, including 59 percent who back creating a sliding income scale for Social Security in which poorer people get more benefits and wealthy people fewer; 63 percent support such a system for Medicare; and 64 percent back curbing the cost-of-living increase for Social Security benefits....
Misunderstood Deficit
At the same time, the size and trajectory of the U.S. deficit is poorly understood by most Americans, with 62 percent saying it's getting bigger, 28 percent saying it's staying about the same this year, and just 6 percent saying it's shrinking. The
Congressional Budget Office
reported
Feb. 6 that the federal
budget deficit
is getting smaller, falling to $845 billion this year -- the first time in five years that the gap between taxes and spending will be less than $1 trillion.
Americans also have a skewed picture of what drives federal spending.
At least half correctly pegged defense programs, Social Security and Medicare and Medicaid -- both of which comprise about one fifth of the
federal budget
-- as accounting for at least 20 percent of federal spending. Yet almost a third of respondents say the same about education -- which actually comprises 2 percent of the budget -- and foreign aid -- which registers at just 1 percent of federal spending. Almost 40 percent of respondents say the social safety net, including
food stamps
and jobless benefits, make up at least a fifth of the federal budget; in fact, such programs amount to about 13 percent of total spending.
3----
China Home-Price Gains May Presage Policy Tightening: Economy
, Bloomberg
Real-estate Bubble
In Hong Kong, where home prices have doubled in four years in part due to an influx of buyers from the mainland, the government said today it will double the stamp duty on all properties costing more than HK$2 million ($258,000) amid efforts to prevent a real-estate bubble. The tax will rise to as much as 8.5 percent of the purchase price, Financial Secretary
John Tsang
said at a briefing.
4---
EU extends slump into 2013
, Bloomberg
The
euro-area economy w
ill shrink in back-to-back years for the first time, driving unemployment higher as governments, consumers and companies curb spending, the European Commission said.
Gross domestic product in the 17-nation region will fall 0.3 percent this year, compared with a November prediction of 0.1 percent growth, the Brussels-based commission forecast today. Unemployment will climb to 12.2 percent, up from the previous estimate of 11.8 percent and 11.4 percent last year.
5----
Mortgage applications shrink
, Housingwire
6---
Bubble Trouble in Calif Housing,
oc housing
California is blowing up another. This may seem like good news to homeowners and speculators alike but it could further accelerate the demise of the state's middle class and push more businesses out of the state.
On its face, a real estate turnaround should be a strong sign of an economic recovery. In Southern California, home sales
have jumped 14 percent
over last year and the median price is up 16 percent, some 25 percent in Orange County. We may not quite be at 2007 super-bubble levels but we're getting there, particularly in the more desirable areas.
Asking prices are up almost 30% over the last year, and with the limited inventory, some sellers are getting their WTF asking prices.
Yet, before opening the champagne, we need to look at some of the downsides of this asset recovery. We are not seeing much new construction, particularly of single-family homes, so the supply is not being replenished as inventory sinks. Meanwhile, many of the homebuyers are not families seeking residences, but flippers, Wall Street types and foreign investors. A remarkable one-in-three Southern California home purchasers paid with cash, up from 27 percent from last year.
The high percentage of investor buyers and the large percentage of underwater borrowers will cause
the move-up market to suffer for another decade
.
It's clear that this increase is not being fueled primarily by income growth among middle-class Californians; these "prices are rising disconnected from household incomes," notes one analyst.
The entire so-called housing recovery is entirely based on federal reserve stimulus. Low interest rates give potential buyers much more borrowing power on their stagnant incomes. The danger in this is what happens when this stimulus is removed. The federal reserve has pledged to keep rates this low through 2015, but there is dissension in the ranks, and Bernanke is up for reappointment in 2014, and he likely won't retain his position. The future of federal reserve policy is anything but certain.
Indeed, California incomes have been dropping somewhat more rapidly, down $2,600 per household from 2007-11, according to the American Community Survey, compared with a $200 drop nationwide....

The new bubble can be seen elsewhere in the state. The most prominent inflation in housing values can be seen in the San Francisco Bay Area, which has enjoyed the most buoyant recovery from the recession. Never a cheap area, in 2006, San Francisco reached a median multiple of10.8 and Silicon Valley (San Jose) rose to 9.3. When the bubble imploded, the median multiple fell to 6.7 in both metropolitan areas, still well above any level recorded before the housing bubble. But now, amidst a concentrated boom in the western side of the Bay, the median multiple rose the equivalent of 1.1 years of income in San Francisco (to 7.8) and 1.0 years of income in San Jose (7.9) in a single year.
7---
Housing inventory heads back to the 1990s: Housing inventory reaches decade lows and causes unusual trends in the housing market.
, Dr Housing Bubble
A big part of the market right now is being
driven by investor money
and low down payment buyers. The little inventory on the market is being fought after like a group of hyenas trying to wrestle away a carcass from a lion. In essence, that is our market today. Historically low inventory being fought after by big Wall Street funds and those seeking to buy. Where does inventory stand?
Current inventory figures
It helps to put the current inventory numbers in perspective: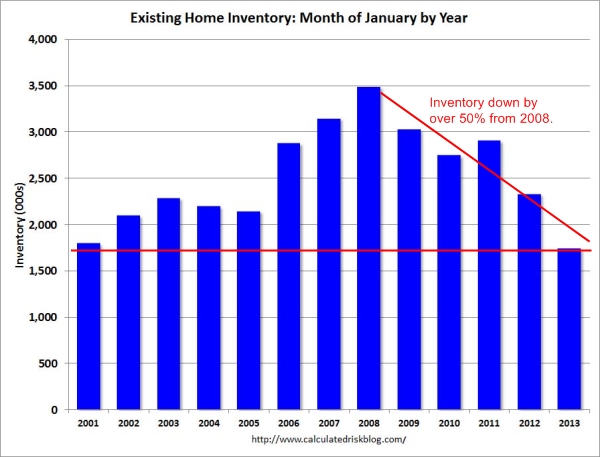 This is the lowest number of homes for sale on the market in well over a decade. Keep in mind that we have added 34 million more Americans since 2000 and we have virtually the same number of homes available for sale. ...
Inventory in
Culver City
has fallen by a whopping 80 percent. This is a dramatic decline but also highlights why it is so difficult to purchase a home in today's market if you are a normal family looking to get in. There are limited numbers of properties available and you are competing with big funds that have heavy target numbers....
Middle class in
California is six-figures
and up. How many households make more than $100,000 a year? 26 percent. So it should come as no surprise why so many households feel pinched when they are looking to buy. It also helps to explain why only 54 percent of households in California actually own their home. With all the current investor buying, it will be interesting to see if this pushes the renter percentage up as single family homes are pulled off the market as income producing assets. As we discussed in the opening of this article, the buy-sell reaction of a typical sale is muted with these all cash buys. You have one action (buy) and then the property is locked up either as a rental for years or as a flip in less than a year. This part of the calculus is a big reason why we don't see a net add for each home that is sold given the giant number of investor buying over the last few years
8---
Homeowners Rise Above Water on Mortgages
, CNBC
Fewer U.S. homeowners owe more on their mortgages than their homes are currently worth, according to a new report from online real estate company
Zillow
. Nearly two million came out from underwater in 2012, and Zillow analysts estimate another one million more will see positive home equity in 2013. That sounds like a lot, but an estimated 13.8 million borrowers are still lacking any home equity, or 27.5 percent of all homeowners with a mortgage.
"Freed from negative equity, homeowners will have more flexibility, and some will likely choose to list their home for sale, helping to ease inventory constraints and moderating sometimes dramatic, demand-driven price increases in some markets," said Zillow Chief Economist Dr. Stan Humphries. "But negative equity is still very high, and millions of homeowners have a very long way to go to get back above water, even with current robust levels of home value appreciation in most areas. As a result, negative equity will remain a major factor in the market for the foreseeable future."
Still millions more are in a "near-negative equity" position, with less than five percent home equity. That makes it impossible for them to sell without having to pay various fees out of pocket. It also gives them nothing to put down on another home....
One cautionary note is that the 90 day delinquency rate increased by 8 basis points, reversing a fairly steady pattern of decline and the largest increase in this rate in three years," notes the MBA's chief economist Jay Brinkmann....
There are currently just 1.74 million homes for sale, the lowest since December of 1999.
9---
Sequestration suicide
, economic populist
10--
Banks Use Punishment to Ditch Troubled Loans: Mortgages
, Bloomberg
11---
Fed Watch: Fed's Commitment In Question
, economists view
http://economistsview.typepad.com/economistsview/2013/02/fed-watch-feds-commitment-in-question.html
12---
Confidence is Just around the Corner!
, economists view
Kevin O'Rourke:
The good news: confidence is just around the corner, by Kevin O'Rourke, Irish Economy Blog: You might have thought that the disastrous but wholly unsurprising eurozone GDP numbers indicate that the bloc is in a bad way, and will continue to be so until the current macroeconomic policy mix is jettisoned.
Happily, Olli "Don't mention the multiplier" Rehn hasgood news for us:


The current situation can be summarised like this: we have disappointing hard data from the end of last year, some more encouraging soft data in the recent past and growing investor confidence in the future.

Thank goodness for that.
As noted in the comments of the post, Rehn also
says
:
Rehn urged nations to keep cutting budgets and overhauling their economies in the face of slowing growth. In a statement, he said any shift away from fiscal consolidation would prolong the downturn.
"The decisive policy action undertaken recently is paving the way for a return to recovery," Rehn said. "We must stay the course of reform and avoid any loss of momentum, which could undermine the turnaround in confidence that is under way, delaying the needed upswing in growth and job creation."
See also
"A week after official figures showed a steep fall in euro-zone output in late 2012 the European Commission has added to the gloom by unveiling some gloomy forecasts for 2013. ..."
13---
North Korea: Preparing for War
, oilprice
14---
Yanis Varoufakis: Europe Needs a Hegemonic Germany
, naked capitalism
In a sense, a hegemonic Germany will be playing the role that Washington did in the 1950s, adopting an activist policy to re-balance Europe's economy through efficient surplus recycling. But how can this be achieved, when Germany cannot afford to unleash a Marshall Plan? What institutions will this recycling require?
Two things are clear: Germany should
not
rely on the failed nexus between national governments and Brussels, which has been responsible for inefficient and corrupt uses of the EU's structural funds. Also, it is futile to attempt moving in a federal direction, a move that Europe's peoples are not ready for and whose glacial pace is certain to be outpaced by the galloping crisis. Is there a third way? Yes, there is.
Germany should take another leaf out of the New Dealers who put it on the road to recovery all those years ago: Europe needs its own New Deal, funded by a new class of public finance instruments. Germany can realise such a Recovery Program centred around the European Investment Bank. The EIB already has a proven track record of creating a liquid market for debt instruments that fund successful projects. In collaboration with, and supported by, the European Central Bank, an EIB-ECB partnership has the capacity to energise mountains of hitherto idle savings on pure banking principles, with minimal involvement of member-states and no need for Treaty changes.
All it will take is a German resolve to shift from panicky authoritarianism to a hegemonic, to an enlightened self-interestedness.
15---
Watch the data
, naked capitalism
For instance, one of the things you'll hear regularly (more like all the time) is how terrific corporate earnings are. Now on the one hand,
corporate earnings have hit the highest proportion of US GDP in recorded history
. But when stock touts are talking about corporate earnings, they mean of public companies.
S&P 500
earnings peaked in the first quarter of 2012 and have fallen each quarter since then. Third quarter 2012 S&P 500 earnings were
6.3% below the year earlier level
.
...
Similarly, this blogger and
Sober Look
have taken note of the fact that in each of the last three years, the economy strengthened in the first quarter and then the "recovery" petered out. Regular NC commentor and sometime guest blogger Hugh looked under the hood and
has more cheery observations
:
….note the second graph with the national data from Markit's US PMI. The tenor of the article is that there have been similar spring peaks in business expansion in each of the last 3 years. But the seasonally unadjusted data for this year is considerably worse this year than the the previous 3. As I keep pointing out, the unadjusted data is where we and the economy actually are at any given point in time. The adjusted data is a trendline. So it is not surprising that the trend is going up in 2013 because that's what happened in 2010-2012. That is the adjusted (trend) line is going up in 2013 precisely because that's what it did in spring 2010-2012. In 2010-2012 the trend was being driven and supported by a spike in the unadjusted numbers. The difference this time is that it isn't. That is there is no support from the unadjusted data (where the economy is) for the spike in the adjusted trendline. I would consider this quite worrisome.

16---
The corporate buyout surge and economic parasitism
, wsws
This month has seen a surge in corporate mergers and acquisitions on a scale not seen since before the 2008 financial meltdown. ....
These buyouts, despite coming amidst a string of indices showing a further weakening of the real economy, have prompted much talk in the media of an economic turnaround. "Mergers Make Comeback: Market Rises and Economy Strengthens," declared a front page headline of the
New York Times
last Friday. The claim was rendered particularly absurd by the fact that on the previous day the euro zone had reported its worst quarterly economic contraction since 2009.
Far from heralding a genuine economic recovery, these mergers and acquisitions are entirely parasitic. They do not add one iota of real value to the economy; they do not expand the productive capacity of society; they do not provide new jobs. They are purely financial operations enabling speculators to grow richer through an expansion of paper values that only add to the already existing mountain of debt....
The actual economic and social impact of these types of mergers and buyouts is destructive. They are the prelude to downsizing and cost-cutting involving the closure of facilities and elimination of jobs, inevitably accompanied by new demands for wage cuts and speedups.
These financial manipulations are the means by which the ruling class redistributes wealth from the bottom to the top of society. The ballooning debt that sustains the obscene personal fortunes of the financial aristocrats must, in the end, be paid back. And it is the working class that is to be made to do the paying—through brutal austerity policies backed up by state violence and repression.
The renewed surge in the most predatory forms of speculation is not simply the result of impersonal economic forces. It is, rather, the intended outcome of definite policies pursued by governments and central banks throughout the world, led by the Obama administration and the Federal Reserve in the US. They are seeking to inflate the prices of financial assets—stocks, bonds, derivatives—while they prosecute an economic war against working people....
One of the means of leveraging this cheap credit into mega-profits is to buy up corporations, banks, etc., get control of their cash hoards, load the merged company up with debt, and ruthlessly slash the jobs and wages of the workers.
The souped-up prices on global stock markets facilitate such deal-making, which, in turn, tends to propel stock prices even higher. Global equities hit a new record Wednesday, and the NASDAQ, having fully recovered its losses from 2008, has hit highs not seen since the dot-com bubble at the beginning of the 2000s.
Further contributing to the wave of buyouts is the vast hoard of cash sitting unused on corporate balance sheets. In the third quarter of 2012, corporations held $1.7 trillion in cash, according to the Federal Reserve. But investment in productive activity is contracting. Last quarter, the US economy shrank and business investment seized up even further.
The very fact that four-and-a-half years after the crash, under conditions where there has been no recovery in the real economy, the speculative frenzy is reaching new heights, not just in one or another country, but all over the world, points to the fact that this type of parasitism is integral to the capitalist system, and not a mere blemish on an otherwise healthy organism.
One might add the fact that not a single executive of any major financial institution responsible for plunging the world into the economic abyss has been held accountable. Why? Because this parasitic financial elite exerts a de facto dictatorship over governments and official institutions, and is, in practice, above the law.
All talk of reining in financial speculation while retaining the framework of capitalism, or reforming the system to make it more rational and just, is the product either of naivety, self-delusion or deliberate deception. The system cannot be reformed. It must be replaced....
The current financial boom cannot last. It rests on foundations of sand. A vast edifice of speculative and financial manipulation, sustained by constant injections of central bank cash, bestrides a stricken economy that is sinking further into the abyss. The house-of-cards character of the situation is seen in the panicky response of the markets this week to the publication of Federal Reserve minutes reflecting concerns over the massive expansion of the central bank's balance sheet. Any hint of a slowdown in the mainline injections of cash sends shudders throughout the financial system.
17---
The capitalist crisis and the return of history,
David North, wsws
Martin Wolf of the
Financial Times
wrote on March 8:
It is impossible at such a turning point to know where we are going... Yet the combination of financial collapse with a huge recession, if not something worse, will surely change the world. The legitimacy of the market will weaken. The credibility of the US will be damaged. The authority of China will rise. Globalization itself may founder. This is a time of upheaval.
In another column, the Financial Times quotes the following statement by Bernie Sucher, the head of Merrill Lynch operations in Moscow:
Our world is broken—and I honestly don't know what is going to replace it. The compass by which we steered as Americans has gone. The last time I saw anything like this, in the sense of disorientation and loss, was among my friends [in Russia] when the Soviet Union broke up.