1---
Real Risk-Takers Are the Folks at Federal Reserve
, Bloomberg
Ever since the U.S. Federal Reserve lowered its benchmark rate almost to zero and embarked on a series of
large-scale asset purchases
, Chairman
Ben Bernanke
has been using his pulpit to explain how it all is supposed to work.
In a
nutshell
: The Fed buys risk-free Treasury securities, depressing the yields. The public is goaded into buying riskier assets, such as stocks and corporate bonds, sending those prices higher. Businesses financing themselves with equity have more money to invest. Consumers feel wealthier and spend more. ...
The Fed can't control how its money creation gets allocated. It hopes the money flows from asset prices into the real economy, but that isn't always the case. (bubbles)
2---
Euro-Area Economy Shrinks Most Since Depths of Recession
, Bloomberg
The
euro-area recession
deepened more than economists forecast with the worst performance in almost four years as the region's three biggest economies suffered slumping output.
Gross domestic product
fell 0.6 percent in the fourth quarter from the previous three months, the European Union's statistics office in Luxembourg said today. That's the most since the first quarter of 2009 in the aftermath of the collapse of Lehman Brothers Holdings Inc. and exceeded the 0.4 percent median forecast of economists in a Bloomberg survey. ....
The euro-area economy shrank 0.9 percent in the fourth quarter from a year earlier, the statistics office said. In 2012, it contracted 0.5 percent.
Data earlier today showed the
German economy
, Europe's largest, shrank 0.6 percent in the fourth quarter, while French GDP fell 0.3 percent. Both contractions exceeded the median forecasts of economists. Italy's economy shrank 0.9 percent, also more than expected and a sixth straight contraction.
Ninth Contraction
Other releases today showed that
Portugal's GDP
fell by 1.8 percent in the ninth successive quarter of contraction, while in Austria and the Netherlands, it dropped 0.2 percent. In Greece, which doesn't publish quarter-on-quarter data, GDP fell 6 percent in the fourth quarter from a year earlier.
3---
Housing Industry Pins Hopes on Obama to Soften Down-Payment Rule
, Bloomberg
U.S. Realtors and mortgage bankers say they're hoping President
Barack Obama
's call for streamlining mortgage rules will lend new momentum to efforts to prevent imposing a strict minimum down payment for home loans.
"Right now, overlapping regulations keep responsible young families from buying their first home," Obama said in his Feb. 12 State of the Union address. "What's holding us back? Let's streamline the process, and help our economy grow."
The president was speaking broadly about a variety of rules that may be hampering credit availability, according to a White House aide who spoke on condition of anonymity because the deliberations were not public.
Still, bankers and real estate agents who are angling for changes to a proposed regulation requiring lenders to keep a stake in risky loans say they hope Obama's comments will help their cause.
At issue is the so-called Qualified Residential Mortgage rule, which six banking regulators including the Federal Deposit Insurance Corp. and the Federal Reserve are aiming to complete this year. The regulators drew protests in 2011 when they released a preliminary draft requiring lenders to keep a stake in mortgages with down payments of less than 20 percent and those issued to borrowers spending more than 36 percent of their income on debt...
The rule will fundamentally reshape who can lend and who can borrow because banks will probably make only those loans that conform to the new standards. (Yes, and the problem is???)...
Housing industry participants want the regulators writing QRM to drop the down payment requirement and raise borrowers' allowable debt load to 43 percent, essentially setting the same requirements in both the QM and QRM rules.
"The industry, consumers, and legislators on Capitol Hill are all saying QRM should equal QM," said Joe Ventrone, vice president for regulatory affairs at the National Association of Realtors. "A revised QRM definition should track the QM to ensure that all qualified borrowers have access to affordable and safe mortgage credit without a stringent down payment requirement." ....
"The purpose of QRM is to set a standard by which you have measurable results of what a prime mortgage looks like for securitization," Goldhaber said in an interview. "That's a very different intention than QM, which is a consumer-facing provision." ...
Groups including the Mortgage Bankers Association have been warning about the impact of rulemaking in an already tight market. Borrowers whose loans closed in 2012 had an average credit score of 748, which would place them in the top 37 percent of Americans, according to
Ellie Mae
, a Pleasanton, California, company that provides software for the mortgage industry. Those buyers made down payments averaging 21 percent. The interest rate on a 30-year fixed-rate mortgage averaged 3.9 percent in 2012, Ellie Mae said.
4---
Unbelievable Savagery: How LAPD burned Chris Dorner alive
, alternet
The "burners," or pyrotechnic rounds the San Bernardino County Sheriffs used to torch Dorner's cabin, are likely similar, and perhaps more powerful, than those employed by the FBI in Waco. Through the five-year-old
"Department of Defense Excess Property Program,"
the US military has provided police departments across the country with billions of dollars worth of military equipment, from amphibious tanks to AR-15 assault rifles, allowing the military to circumvent Posse Comitatus regulations by outsourcing their firepower to local cops.
"Burners," or military grade incendiary grenades, are very likely among the items passed down from the US army to local police outfits like the San Bernardino Sheriff's Department.The "burner" of choice for the modern American soldier is the
AN-M14 TH3.
It is a hand held grenade comprised of a thermite mixture that rapidly converts to molten iron when it is thrown, burning at a temperature of 4000 degrees Fahrenheit, hot enough to burn through a half inch steel plate or bring an engine block to a boil. It can also produce enough heat to set off unloaded ammunition, which would explain why the ammo inside Dorner's hideout was popping.
If the San Bernardino Sheriffs employed the AN-M14 TH3 or something like it against Dorner – and it appears they did – they have good reason to attempt to cover their actions up. Without even a token attempt to establish communication with the suspect, who was, to be sure, a wanted killer hell-bent on murdering cops, they attacked him with what was likely a military grade weapon designed to destroy fortified structures. By burning Dorner alive, then misleading and deceiving the public about the operation, the sheriffs may have validated the rogue ex-cop's sharpest indictments of the culture of American law enforcement.
Yet no element in the Dorner drama was more disturbing than the performance of mainstream media. At every point, major news outlets complied with law enforcement calls for self-censorship, and still demonstrate little interest in determining how and why a lethal fire started on a snow-covered mountain in the dead of winter. As a quintessentially American tragedy reaches its denouement, the truth remains buried beneath a smoldering pile of ashes.
5---Lender manipulation of MLS inventory is remedy for housing bust, oc housing
The next option is a short sale. This process generally goes nowhere because
Banks Refuse to Recognize HELOC and Second Mortgage Losses
. To give a sense of scale of this problem,
consider this
(2010 data): "
Together with Citigroup the banks hold about 42 percent of the $1.1 trillion in second-home liens. Unlike first mortgages, they are typically not bundled and sold off to investors but kept on the banks' books. The biggest home-equity lender in the U.S. is Bank of America, holding some $138 billion in such loans. Wells Fargo has about $123.8 billion of home-equity loans.
" These loans are all going to go bad, and it will decimate the banking industry when these losses are finally recognized. Restoring collateral value to second mortgage liens is one of the primary reasons Bernanke and the fed are obsessed with reflating the housing bubble....
If a short sale does go through, it is still a distressed sale. It is a sale that probably would not be occurring in the market if the borrower were not in distress. These should be inventory added to the organic inventory of people moving for other reasons. One of the side effects of having
11.2 million properties underwater
is that about 25% of our organic sales inventory is removed from the market. People are trapped in their homes....
More than one-third of all delinquent borrowers have been delinquent for more than a year. Squatters are everywhere....
First, they got regulators off their back with mark-to-fantasy accounting. Their capital ratios show a false solvency which keeps them in business.
Second, they got Bernanke to lower interest rates to zero to greatly reduce their carrying costs. Since they don't pay depositors much, and since they can borrow from the federal reserve for nothing, they can afford to sustain a portfolio with greater than 10% of their loans non-performing.
Third, they needed a way for borrowers to raise their bids. Bernanke's lowering of interest rates was a two-for in this regard. The low interest rates allow them to sustain bad loans, and it allows future borrowers to bid more for properties....
The effect of these conditions is to create limited inventory for the lenders to sell their own properties at inflated prices. If inventory is restricted enough, lenders capture the most motivated buyers. That is the way monopolies, oligopolies and cartels operate. Unfortunately, since this is a cartel, and since there is a huge shadow inventory, each cartel member gains advantage over the others by releasing more inventory. Once prices start nearing the peak —
and borrowers approach the threshold of equity
— foreclosures will pick up again, and many loanowners who withheld their properties because they didn't want to be a short sale will list them to get out from under their debts.
Until the spigot of inventory is opened wider, the flow of properties will be slow, prices will remain inflated, and shadow inventory and squatting will continue unabated.
6---
Mortgage Mess Still Mires Housing Recovery
, CNBC
"The banking industry has largely refinanced most prime customers in portfolio. For 2012, Q3/4 looks like the peak for industry mortgage banking revenue. The industry is expecting lower volumes in 2013," says Christopher Whalen of Carrington Investment Services. "New loan originations will hopefully rise a bit this year to offset lower refinancing activity."
But that has not been the case so far.
Mortgage applications
to purchase a home dropped more dramatically than did refinances, down 10 percent from the previous week. While one week does not a trend make, rising mortgage rates, coupled with severe inventory shortages, are not the mix needed for a healthy spring housing market...
President Obama echoed that sentiment in his
State of the Union address
Tuesday night.
"Overlapping regulations keep responsible young families from buying their first home," Mr. Obama said. Not exactly a new sentiment, as the Chairman of the Federal Reserve, Ben Bernanke, has said the same thing several times, as have other federal regulators.
Rising mortgage rates and tight credit standards keep first time-home buyers out, while falling inventories make it more difficult for existing home buyers to move up. The housing market is therefore still largely in the hands of all-cash investors, looking for distressed properties to buy and then rent out. Ironically, perhaps for now, more distressed properties coming to market will be what keeps home sales afloat.
7----
The next generation of home buyers and our over investment in real estate: first time home buyers and move up buyers see their net worth crushed during the last few years
, Dr Housing Bubble
In general, Americans are very poor when it comes to saving money. One of the stunning revelations that came out of the financial crisis was that the median household net worth fell from $126,400 in 2007 to $77,300 in 2010. What was even more interesting in the report put out by the Fed Consumer Survey was that median home equity fell from $110,000 to $75,000. Think about this for a second. Most of what Americans have in what we would consider as wealth is
locked up in housing
. In fact, non-housing equity wealth was $16,400 in 2007 and fell to a paltry $2,300 in 2010. Is it any wonder why so many Americans depend on Social Security deep into retirement as their main source of income? While the stock market has rallied dramatically from the lows reached in early 2009 the housing market is still far away from the peak. What is interesting is the lack of move up
buyers in the current market
. With such
little inventory
I've been seeing the first-time home buyers diving in simply with maximum leverage. Americans if given the chance would borrow a million dollars at zero percent (the big banks are doing this). What does the future hold for the next wave of young home buyers.
The current state of housing
Home values fell by 33 percent from peak to trough. Since that point, they are up 6 percent: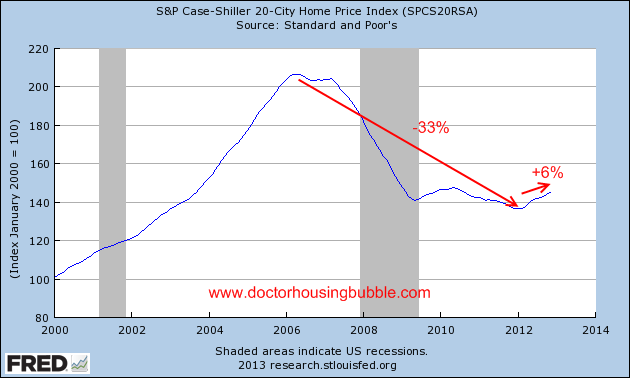 Large parts of California are not. I'm seeing folks making barely $100,000 talking about buying $600,000 or $700,000 homes. Younger dual-income families see this as the way things have always been but this is a recent phenomenon. The current market is being driven by
all-cash buyers
, investors, and over leveraged buyers.
Homeownership in California
It is no surprise then, that the homeownership rate in California is expected to fall probably into 2016...
It'll be interesting to see what happens once the investor hot money begins to recede from this current market.
8---
Krugman vs Rubio,
NYT
Marco Rubio's remarks
----:
This idea – that our problems were caused by a government that was too small – it's just not true. In fact, a major cause of our recent downturn was a housing crisis created by reckless government policies.
OK, leave on one side the caricature of Obama, with the usual mirror-image fallacy (we want smaller government, therefore liberals just want bigger government, never mind what it does); there we go with the "Barney Frank did it" story. Deregulation, the explosive growth of virtually unregulated shadow banking, lax lending standards by loan originators who sold their loans off as soon as they were made, had nothing to do with it — it was all the Community Reinvestment Act, Fannie, and Freddie.
Look, this is one of the most thoroughly researched topics out there, and every piece of the government-did-it thesis has been refuted; see
Mike Konczal for a summary.
No, the CRA wasn't responsible for the epidemic of bad lending; no, Fannie and Freddie didn't cause the housing bubble; no, the "high-risk" loans of the GSEs weren't remotely as risky as subprime.
This really isn't about the GSEs, it's about the BSEs — the Blame Someone Else crowd. Faced with overwhelming, catastrophic evidence that their faith in unregulated financial markets was wrong, they have responded by rewriting history to defend their prejudices.
This strikes me as a bigger deal than whether Rubio slurped his water; he and his party are now committed to the belief that their pre-crisis doctrine was perfect, that there are no lessons from the worst financial crisis in three generations except that we should have even less regulation. And given another shot at power, they'll test that thesis by giving the bankers a chance to do it all over again.
9----
Irish debt deal means decades of austerity to cover bank bailout
, wsws
10--
Central Bankers gone wild
, CNBC
All asset classes have an upward bias now - precious metals, stocks, bonds, real estate, art. That upward bias is robust and we have not experienced anything like it in our lifetimes," said David Kotok, chief investment officer at Cumberland Advisors. "The limit to which those prices can rise is beyond our normal imagination. It's huge."
That, however, is not the talk of a raving bull trying to pump up the markets. It's merely the observation of an investing veteran who believes markets are being manipulated to historic levels, putting investors in a place where they can only ride the tide - at their own future peril.
"The single most important thing for everybody in this room and everybody in the investment climate boils down to one simple issue: When does zero interest go away, by how much, and what are the early warning signs," Kotok said at the Inside ETFs conference presented by Index Universe.
Advisors will need to discern "the market's forecast of the then-impact of the then-policy announcement, which will finally show up in a change in interest rates for the central banks. Not one of us in this room has that answer," he said.
The goal, he said half-facetiously, is "to stay invested broadly in the market" and then be sure "to exit the day before the interest rate change
11---
Obama Renews Call for Refi Bill,
american banker
For the second consecutive State of the Union speech, President Obama called for legislation that would allow struggling homeowners to refinance their mortgages and take advantage of lower interest rates.
In a speech almost entirely devoted to other issues, Obama said the housing markets were "healing," noting that "home prices are rising at the fastest pace in six years."
But he said Congress must do more, and urged lawmakers to pass a pending bill that would make it easier for homeowners to refinance their homes.
"Even with mortgage rates near a 50-year low, too many families with solid credit who want to buy a home are being rejected," Obama said. "Too many families who have never missed a payment and want to refinance are being told no. That's holding our entire economy back, and we need to fix it."
Obama's comments echoed statements in last year's State of the Union address when he initially raised the idea of a refinance bill.
Since that time, however, little progress has been made. Democratic Sens. Robert Menendez of New Jersey and Barbara Boxer of California reintroduced a bill last week that would help borrowers with Fannie Mae and Freddie Mac mortgages to refinance.
The bill stalled last year over a dispute about whether other housing-related amendments could be added to the legislation.
Obama said there was no reason for the bill to remain in limbo.
"Right now, there's a bill in this Congress that would give every responsible homeowner in America the chance to save $3,000 a year by refinancing at today's rates," Obama said. "Democrats and Republicans have supported it before. What are we waiting for? Take a vote, and send me that bill. Right now, overlapping regulations keep responsible young families from buying their first home. What's holding us back? Let's streamline the process, and help our economy grow."
12---
The people vs the bankers
, pragmatic capitalism
MOST of what we call money is actually short-term debt created by banks when they make loans. This means that banks are the stewards of our savings and manage the payments system. As a result, they have a privileged place in our society: governments never deliberately choose to liquidate the banking system. It always appears preferable, in the short term at least, to preserve the incumbent institutions and personnel through bail-outs. (Lending to "solvent but illiquid" firms at below-market rates is another kind of bail-out, even if it is not always called one by the authorities.)"
I think it's incredibly important to understand that first point. Almost all of what we call "money" today is created by banks out of thin air. The government has essentially outsourced money creation to an oligopoly of private entities. This might sound ludicrous, but it's largely in keeping with the capitalist nature and democratic foundings of the American system. That is, the money supply is controlled not by the government, but by the private sector. And the entities that distribute this money must compete for our business. The alternative is having the government distribute all money in some fashion.
Of course, the problem with this design is that private banks are driven purely by the profit motive. So, this capitalist design can be both beneficial, but inherently unstable as banks have a tendency to reach out on the risk curve. It's the old Hyman Minsky "stability creates instability" thing. So you have a serious conflict of interests here. The banks issue and dominate the social construct that is OUR money. And their involvement in the stability of that social construct is essential as they maintain the payments system. But the profit motive leads them to do silly things at times which leads to systemic instability.
13---
The Fed's tricky QE3 escape
, financial post
Federal Reserve Chairman Ben S. Bernanke says the end of the central bank's bond buying won't constitute a move toward tighter policy. He may have a tough time convincing stock and bond investors that's true.
The Fed is acquiring $85 billion of securities each month, and policy makers are grappling with how to condition markets not to interpret a stop in those purchases as a prelude to the exit from easy credit. Bernanke said Dec. 12 in Washington that he "would emphasize" the end won't be "a turn to tighter policy."
If the Fed fails, interest rates may climb prematurely, as traders arrange positions for the withdrawal of unprecedented monetary stimulus, according to Dean Maki, chief U.S. economist at Barclays Plc in New York. The Fed has kept its benchmark federal funds rate near zero for more than four years and swelled its balance sheet to a record of more than $3 trillion through three asset-purchase programs.
"There is a risk the markets get ahead of the Fed," said Maki, a former Fed board economist. "It will be tricky for the Fed to signal it's going to stop buying without signaling that tightening is imminent
14---
Bernanke Needs To Consider Exit Strategies,
action forex
Any hopes that the Federal Reserve will take a more internationalist stance and back away from an aggressive monetary policy to help soothe currency tensions are unlikely to be fulfilled. The Fed remains committed to supporting the domestic economy and will maintain the current rate of bond purchases. On domestic grounds, however, there is a strong case for the Fed to signal greater flexibility, inject some doubt and signal a willingness, if necessary, to slow quantitative easing within the next few months. Bond markets would fall, but it would help lessen the growing threat of a much more destabilising sell-off later in the year. With markets priced for no change and given the existing positioning, the dollar can advance against the Australian dollar.
15---
Crashing the Bond Market,
counterpunch