1---
Congress somewhere below cockroaches, traffic jams, and Nickelback in Americans' esteem
, public policy polling
Our newest national poll finds that Congress only has a 9% favorability rating with 85% of voters viewing it in a negative light.
2--
-U.S. Retail Center Demand Slows Amid Sluggish Job Growth
, Bloomberg
3---
Eurozone Unemployment Hits Record High 11.8%; Spain 26.6%; Greece 26%; Youth Unemployment top 56% in Greece and Spain
, Mish
4---Something you gotta see:
Discuss: Health Care Spending by Age and Country
, Big Picture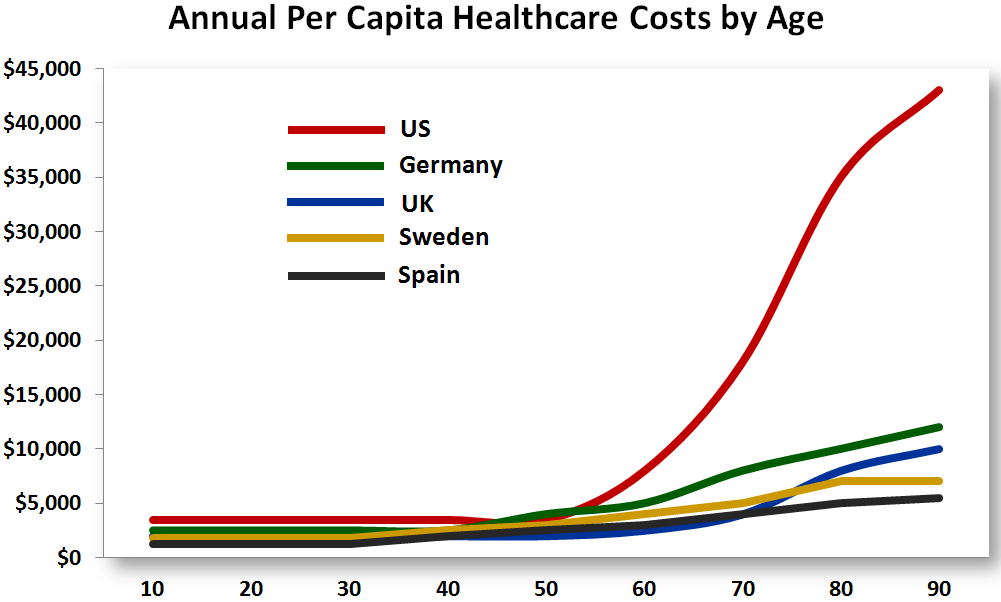 Source:
The Incidental Economist
5--
U.S. household debt burden hits 29-year low
, Reuters
A measure of the burden of U.S. household debt tumbled in the third quarter to its lowest level in 29 years, which should help free up
money
for consumer spending and support the
economy
.
The household debt service ratio -- an estimate of the share of debt payments to disposable personal income -- fell to 10.61 percent from 10.72 percent in the second quarter, the Federal Reserve said on Thursday.
It was the lowest level since the fourth quarter of 1983.
"Consumers have more
money
in their pockets to spend, which should be positive for the economic recovery going forward," said Gennadiy Goldberg, an economist at TD Securities in New York.
6---
Another Slap on the Wrist,
NYT
This week, the Federal Reserve and the Office of the Comptroller of the Currency
reached a deal
with 10 banks under which the regulators will end the reviews and the banks will instead provide $8.5 billion in aid to borrowers. Of that, $3.3 billion is earmarked for cash payments to borrowers who lost their homes and $5.2 billion is for loan modifications and other help for borrowers currently at risk of foreclosure.
...
Since there are no reliable analyses to identify wronged borrowers — which was the ostensible purpose of the self-reviews — there is also no clear way to apportion the $3.3 billion among 3.8 million borrowers covered by the settlement. Some borrowers may get big sums while others get nothing, or millions could receive token payments. But given the extent of foreclosure abuses and the amount of money available, the individual reimbursements will be paltry compared with the harm of losing one's home in an abusive process. If, say, half of the potentially eligible borrowers received a payment, each would get roughly $1,700 on average.
In the meantime,
the only hope
for lasting change rests with the Consumer Financial Protection Bureau, which is expected to issue new rules shortly to rein in the risky and abusive mortgage practices of banks.
What's needed are rules to ensure that lenders face legal consequences if they structure and promote loans that fail because of lax underwriting
Net capital spending over the past 12 months declined to -22, down from -11 in July
"He has worked to embed our efforts in a strong legal framework," President Barack Obama declared Monday during an appearance in the East Room of the White House. "He understands we are a nation of laws. In moments of debate and decision, he asks the tough question and he insists on high and rigorous standards."
The president was describing his nominee as director of the Central Intelligence Agency, John Brennan, who currently serves as Obama's homeland security and counterterrorism adviser. He also lauded Brennan's "integrity" and "commitment to the values that define us as Americans."
One would hardly guess from this high-flown rhetoric that Obama was describing Brennan's role as the nation's assassin-in-chief. He has demonstrated his "integrity" and commitment to values, law and standards by chairing the so-called "terror Tuesday" sessions at the White House, putting together "kill lists" for the president to approve, and overseeing remote-controlled murder by Predator drones.
The "strong legal framework" refers to his development of the so-called "disposition matrix," a system for "codifying and streamlining" the extrajudicial executions that are carried out by means of drone missile strikes on a virtually daily basis. This framework, developed by a cabal of military and intelligence officials, has as much to do with a "nation of laws" as the decrees issued by Hitler during the Third Reich.....
A representative reaction was that of the
New York Times,
which editorialized Tuesday on Obama's nominations of Brennan to head the CIA and former Republican Senator Chuck Hagel to lead the Defense Department. The first half of the
Times
editorial was devoted to concern that Hagel's "views on gay rights are in question," based on a remark he made in 1998 on the nomination of James Hormel, heir to the meatpacking fortune, as a US ambassador. Brennan's involvement in torture, drone strike assassinations and other crimes was relegated to the next to the last paragraph.
It would be hard to find a better illustration of the political priorities of what passes for liberalism in America today: a fixation on identity politics as it relates to the more privileged layers of the population and an indifference to democratic rights at home and the crimes of US militarism abroad...
The Brennan nomination exposes the criminal political role played by those who promote such illusions. Even before his inauguration, it could not be clearer that Obama in his second term will pursue a political agenda dictated by America's ruling financial oligarchy and its military and intelligence apparatus. Its axis will be savage austerity and attacks on working class living standards at home and an escalation of militarist interventionism and war crimes abroad.
The pursuit of these policies requires the ever more sweeping assumption of police state powers, as the ruling class prepares to confront social upheavals. The defense of basic democratic rights, jobs and social conditions requires the independent political mobilization of the working class and the preparation of a new revolutionary leadership for the historic struggles that are to come.
9---
Austerity drives up European unemployment to record levels
, WSWS
In a recent report, the Oxfam Aid charity warned that the austerity measures introduced by the Spanish government at the end of last year, which include severe cuts to unemployment benefits, could drive the number of people categorized as living in poverty to 18 million, or 40 percent of the population, over the next 10 years.
In Greece, more than a third of the population now lives below the poverty line, according to official estimates. Soup kitchens have become commonplace in major cities, and bartering communities have been established in parts of the country to enable the income-less poor to exchange commodities...
The extremes of social devastation and poverty prevailing in Greece, Spain and Italy are to be exported across the entire continent.
10---
Another sweetheart bank settlement on mortgage fraud,
WSWS
11--
A Mortgage Bond Boom Isn't a Housing Recovery, Bloomberg

12---Post Bubble Pricing Behavior, Big Picture

There is one last factor that requires some discussion: How asset prices behave following a bubble.

Regardless of the asset class — stocks, bonds, commodities, homes, etc. — assets do not merely mean revert. We have never seen a stock market that has run up into bubble territory, and then merely reverted to fair value of a 15 P/E. Instead, we careen wildly past that level, to deeply undersold, and exceedingly single digit P/E cheap.

That is the marvelous mechanism of markets. It is how assets are repriced, distressed holdings liquidated, capital markets stabilized, fools revealed, speculators punished — and money finally returned to its rightful owner, the prudent investor.

To date, we have not fully mean reverted, much less fallen far below fair value. In order to form a lasting recovery, we need to see homes cheap enough that they fall into "good hands" — i.e., long term owners who can afford to make their monthly mortgage payments.

Until that happens, homes will continue stumbling along the bottom of the price range, with a negative bias to prices. Another 5-10% is a very easy downside target — assuming nothing else goes wrong .

13-----Watchdog to Set Loan Rules, WSJ

The rules don't specify a minimum down payment and instead focus on ensuring that banks document borrowers' ability to make their monthly loan payments.

The federal government's consumer watchdog plans to unveil new home-lending rules, potentially reshaping the U.S. mortgage market by ushering in more standardization and preventing a return of the exotic loans that powered the housing bubble.

This week, the Consumer Financial Protection Bureau will define standards that all mortgage lenders are likely to follow when originating home loans. The new rules—the most significant policy implemented by the CFPB since its inception 18 months ago—will be contentious because they will determine the types of loans that banks will offer, as well as to whom, and on what terms...

in recent months, the CFPB director,

Richard Cordray

, has resisted calls for a stiffer standard, easing concerns by the White House and the Federal Reserve that the rules would restrict credit, these people said.
"If you don't create the broadest standard possible and you don't give a clear legal protection, you're just going to tighten credit further," said David Stevens, chief executive of the Mortgage Bankers Association. "You cannot afford to have credit tighten an iota further from where it is right now."
Consumer advocates, meanwhile, have raised concerns that the new rules protect lenders too much against borrower lawsuits. The banking industry, they say, used many of the same fears about tighter credit to roll back efforts to regulate predatory lending practices during the past decade.
The Dodd-Frank financial-regulatory overhaul of 2010 amended existing lending laws by making banks legally responsible for determining that a borrower has the ability to repay a mortgage...

CFPB is likely to offer two ways in which lenders can meet the regulator's standard, people briefed on the rules said. Under the first approach, the regulator will consider as qualified mortgages all loans that receive an approval after being run through the automated underwriting engines maintained by mortgage-finance companies

Fannie Mae

,

FNMA

-1.36%

Freddie Mac

FMCC

-3.87%

or the Federal Housing Administration, even if they aren't ultimately sold to or insured by those institutions.
Under the second approach, loans would be deemed qualified mortgages if borrowers are spending no more than 43% of their pretax income on monthly debt payments. The rules will be far-reaching because Fannie Mae and Freddie Mac and other private investors aren't likely to buy loans that don't meet the new standards because of the potential legal liability they would face.
...

the CFPB must determine how much protection banks should be afforded if they make loans that meet their guidelines. The regulator has decided to grant the strongest level of legal protection—known as "safe harbor"—to the vast majority of loans that meet the regulator's guidelines, the people said.
Lending industry representatives have said that without a strong legal shield—or safe harbor—from litigation, they would have to raise costs or tighten credit due to the mere threat that homeowners might challenge foreclosures by asserting that lenders didn't properly evaluate their ability to repay.
Consumer advocates have called for a weaker legal shield, arguing that lenders won't have a strong-enough incentive to properly screen borrowers without the threat of litigation

14---Banks Seek a Shield in Mortgage Rules, NYT

As regulators complete new mortgage rules, banks are about to get a significant advantage: protection against homeowner lawsuits.

But some banking and housing specialists worry that borrowers are losing a critical safeguard. Industries rarely get broad protection from consumer lawsuits, and banks would seem unlikely candidates given the range of abuses revealed during the housing bust.


The legal protection stems from the Dodd-Frank Act, the sweeping regulatory overhaul passed in 2010 to help repair the financial system.
The legislation mandated that loans be affordable, but Congress conceded that banks might fear the legal consequences if the mortgages did not comply. So lawmakers created a type of home loan that would have legal protection, called a "qualified mortgage." In practice, the protection will make it harder for borrowers to sue their lenders in the case of foreclosure.

The

Consumer Financial Protection Bureau

, the fledgling agency that is shaping the rules, faces a crucial but difficult task. Banks are pressing for a strong version of the legal shield. They also want qualified mortgages to be available to a broad range of borrowers, not just those with pristine credit.



Consumer advocates also tend to favor a broad definition for qualified mortgages, to maximize the availability of home loans and increase homeownership. But they argue that banks do not deserve a high degree of protection, citing the problems during the housing crisis.
Big financial institutions have faced an onslaught of litigation since the downturn, although mostly by the government, investors and other companies instead of borrowers. In February, five large mortgage banks reached a $26 billion settlement with government authorities that aimed, in part, to hold banks accountable for foreclosure abuses.

The bureau has some leeway. In writing the proposed rules, the Federal Reserve suggested two approaches, and it is up to the consumer agency to define the safeguard for lenders.

One option, called a "safe harbor," raises the threshold for litigation. In that case, a borrower may win a lawsuit only by showing that the disputed mortgage lacked the precise features required for a qualified mortgage, like a defined amount for points and fees.
A second option would increase borrowers' ability to challenge a mortgage in court. A loan might appear to comply with the requirements for a qualified mortgage, but the borrower might be able to introduce other evidence that shows the underwriting fell short of the standards.
For example, a borrower's payments could fall within the guidelines for the qualified mortgage, based on that person's income at the time the loan was made. But the homeowner might have also told the bank that he was about to lose his job or get a divorce, events that could make it much harder to pay back the loan. Under a looser legal shield, the borrower might be able to cite records of such conversations, and contest the mortgage in court.
A big question for the bureau is how seriously to take the banks' assertions that they will cut back on lending without a strong legal shield. JPMorgan Chase said last year that weaker protection would lead to fewer loans and higher-cost mortgages. "A large percentage of Americans may arbitrarily be shut out of the residential mortgage market," the bank wrote in

a comment letter

to regulators.
Some smaller institutions feel the same way. Steven H. Swartout, the general counsel of Canandaigua National Bank and Trust of Canandaigua, N.Y., says the bank will be strongly deterred from making mortgages without a strong legal shield.
"I want a safe harbor, and I want a safe harbor that makes sense," he said. "This is a quantum change in the risk."
But consumer advocates say banks are overstating the risks. They indicate that few borrowers have sued lenders over the recent foreclosure mess. And they note that states with tough consumer lending laws have not experienced large numbers of borrower lawsuits.
"A lot of this, quite frankly, is litigation paranoia," said Michael D. Calhoun, president of the

Center for Responsible Lending

. "If you ask any of the lawyers in the financial industry, they'll acknowledge there won't be class actions."
The banks may end up tolerating a weaker provision if the characteristics of a qualified mortgage are sufficiently clear and detailed.
That appeared to be the position banks set out in

a July letter

from the Clearing House Association, a financial industry group. It said its "priority has been and remains the issuance of clear and objective standards to ensure that the vast majority of borrowers have access to safe and affordable loans at reasonable cost." If the standards are expansive and clear, the banks say they will feel more certain that they have met them.



There is another reason that banks may continue to lend even if they end up with a less secure legal shield. They are making big profits in the mortgage market. Wells Fargo, the top mortgage lender, made $399 billion of home loans in the first nine months of this year, up substantially from $237 billion in the same period of 2011. The bank's mortgage banking revenue surged to $8.6 billion in the first nine months of this year, compared with $5.5 billion last year.
Even a more modest legal shield would still favor the banks, says Alys Cohen, a lawyer at the National Consumer Law Center. In legal terms, it "presumes" from the outset that the banks have met the qualified mortgage standards. Borrowers merely get the chance to "rebut" that presumption. "You are still putting the finger on the scale on the side of the lender," she said. "The burden for the borrower is still huge