1---
Surprise, Surprise: The Banks Win,
NYT
IF you were hoping that things might be different in 2013 — you know, that bankers would be held responsible for bad behavior or that the government might actually assist troubled homeowners — you can forget it. A settlement reportedly in the works with big banks will soon end a review into
foreclosure
abuses, and it means more of the same: no accountability for financial institutions and little help for borrowers. ...
Some back-of-the-envelope arithmetic on this deal is your first clue that it is another gift to the banks. It's not clear which borrowers will receive what money, but divvying up $3.75 billion among millions of people doesn't amount to much per person. If, say, half of the 4.4 million borrowers were subject to foreclosure abuses, they would each receive less than $2,000, on average. If 10 percent of the 4.4 million were harmed, each would get roughly $8,500....
We think if the reviews were done right, the payouts would have been significantly higher than they appear to be under this settlement," said Alys Cohen, staff attorney at the
National Consumer Law Center
. "The regulators will have abdicated their responsibility if the banks end up getting off the hook easily and cheaply."
Let's not forget that this looming settlement will also conclude the foreclosure reviews that were supposed to provide regulators with chapter and verse on how banks abused their customers. Stopping the reviews before they are finished means that the banks will be allowed to claim that abuses were rare and that $10 billion is an adequate penalty
2---
Fitch warns home prices overvalued,
Housingwire
3---
Secret and Lies of the Bailout
, Rolling Stone
The federal rescue of Wall Street didn't fix the economy – it created a permanent bailout state based on a Ponzi-like confidence scheme. And the worst may be yet to come ...
The Fed's own analysis bears this out: In the first three months of the bailout, as taxpayer billions poured in, TARP recipients slowed down lending at a rate more than double that of banks that didn't receive TARP funds. The biggest drop in lending – 3.1 percent – came from the biggest bailout recipient, Citigroup. A year later, the inspector general for the bailout found that lending among the nine biggest TARP recipients "did not, in fact, increase." The bailout didn't flood the banking system with billions in loans for small businesses, as promised. It just flooded the banking system with billions for the banks.
4---
Mortgage applications fall for third straight week
: MBA, yahoo
5---
Abe Seen Spending 12 Trillion Yen to Boost Japan's
Economy, Bloomberg
The Japanese government will announce around 12 trillion yen ($136 billion) in fiscal stimulus measures to boost the nation's shrinking economy, Japanese media reported today.
The Yomiuri newspaper and
Kyodo News
both reported the figure for extra spending in the fiscal year through March, with the Yomiuri saying that 5-6 trillion yen will be directed to public works projects, without citing anyone. Prime Minister Shinzo Abe told business leaders today that he hopes to compile the measures this week.
Vice Finance Minister Yuko Obuchi told reporters today that the government would need to sell deficit-financing bonds to pay for the extra budget.
The
Finance Ministry
will offer loans worth 100 billion yen to help companies develop new technologies, with firms contributing an additional 50 billion yen to the program, according to a ministry draft proposal obtained by Bloomberg News.
The ministry will also contribute around 70 billion yen to a fund to help finance firms' overseas mergers and acquisitions, according to the draft. The money will be disbursed through the
Japan Bank for International Cooperation
, with the total size of the fund at 200 billion yen. ..
Japan's gross domestic product shrank at an annualized 3.5 percent pace in the third quarter after contracting in the three months through June, meeting the textbook definition of a recession. The median estimate of analysts surveyed by
Bloomberg News
is for a further 0.5 percent fall in the three months through December.
More than 4 trillion yen would be allocated for public works and the extra budget will also allocate around 2.6 trillion yen to fund pension payments, Kyodo News reported today without saying where it obtained the information.
6---
Zbigniew Brzezinski on Iran, WA Post
What might be Iran's retaliatory responses against U.S. interests, and with what consequences for regional stability? How damaging could resulting instability be to European and Asian economies?
7---
DE central banks' balance sheets approaching $6 trillion; expected to grow another $1 trillion in 2013
, sober look
This is a well covered subject, but it's worth taking a quick look at the combined balance sheets of the developed economies' (DE) central banks. We are quickly approaching six trillion dollars.
8---
Banks Win an Easing of Rules on Assets
, NYT
9--
Cheap Money Era That Saved U.S. Housing Seen Bottoming
, Bloomberg
The era of increasingly cheap money that fueled the
housing recovery
and record home-lending profits is showing signs of ending in the mortgage bond market.
Fannie Mae-guaranteed 3 percent securities, which lenders use to price new loans, tumbled last week to the lowest since Sept. 12, the day before the
Federal Reserve
announced plans to add $40 billion of mortgage debt to its balance sheet each month. The drop, as lawmakers struck a budget deal and the central bank signaled it may conclude the open-ended bond-buying program this year, could lead to further increases in homeowner borrowing costs from the record lows set in December....
"It would present a test for the housing market just as we're going into the key spring selling season," said
Mark Vitner
, a senior economist in Charlotte,
North Carolina
at
Wells Fargo & Co
., the top U.S. mortgage lender. "I wouldn't wind it down when it is poised to do its most good...
Mortgage Profits
Banks and savings institutions posted $25.3 billion in mortgage-banking profit through the first nine months of 2012, or 24 percent of their $106.8 billion total earnings, according to data compiled by Bloomberg from Inside Mortgage Finance, an industry publication, and the Federal Deposit Insurance Corp.
Lenders' fattened margins appear to be already contracting as they seek to maintain volumes by absorbing some of the costs of lower bond prices rather than passing them on to borrowers, according to broker Brean Capital LLC. ...
Yields in the $5.2 trillion market for government-backed mortgage securities influence rates offered to consumers because lenders package about 90 percent of new loans into the bonds and then sell off the debt to investors.
Rates Rising
The average cost on 30-year fixed-rate mortgages climbed to 3.48 percent as of Jan. 3, from a record low 3.36 percent on Dec. 7, according to Bankrate.com data.
Mortgage rates may rise above 4 percent by the end of 2013 if the Fed ends its bond purchases and the economy continues to strengthen, Vitner said. Increases could damp the still-fragile housing recovery, which has had false starts in the past, and slow the rebound in new
home construction
, which is the real estate market's main contributor to economic growth, he said. ....
Rates Rising
While the number of investors buying homes with cash would temper the damage of rising mortgage rates, "the question is, do they go away on the anticipation of property values stalling as rates rise?"
Joshua Rosner
, an analyst at Graham Fisher & Co., said. "It really depends on the rapidity of the rise."
Cash sales accounted for 30 percent of transactions in November, up from 29 percent in October and 28 percent in November 2011, according to the National Association of Realtors. Investors purchased 19 percent of homes in November.
Higher borrowing costs have already slowed applications by homeowners to refinance, which accounted for more than 70 percent of lending last year, according to the
Mortgage Bankers Association
. Applications are down 33 percent over the past four weeks and 40 percent from the more than three-year high reached in September, according to data from the trade group
10----
Sandy Victims: Congress Has Forgotten Us
, NBC
"It's an emergency to almost everybody down here except for Congress," a resident of one devastated neighborhood said
11---
Looking into the Japanese real estate mirror: Residential home prices in Japan back to levels last seen 30 years ago in spite of near zero percent mortgage rates
., DR Housing Bubble
When the
Japanese housing bubble
burst in 1990 the economy was left in disarray. Hard to believe that this happened 23 years ago but real estate prices in Japan are now at levels last seen in 1983. In other words, thirty years of virtually no real growth in real estate values. In a system conditioned by inflation this is a perfect example of asset deflation. Many simply assume that real estate appreciation is going to happen one way or another but we are now following a low rate policy similar to what the Bank of Japan did with quantitative easing. 2012 is not a good example to set a baseline for a trend because interest rates were pushed down heavily by the Fed and inventory continues to be held off creating a low level of supply on the market. Yet when we look at what Americans can afford on a monthly basis, it is virtually locked because household incomes have been stagnant for well over a decade. The
Japanese asset boom and bust
provides many parallels to what we should expect in the US. Many point to 2012 as some sort of divergence but this is more a reflection of aggressive quantitative easing and low inventory more than a sustainable boom because of solid economic and wage growth.
Japan Prices back to 1983 levels
Residential property values in Japan are now back to levels last seen in 1983: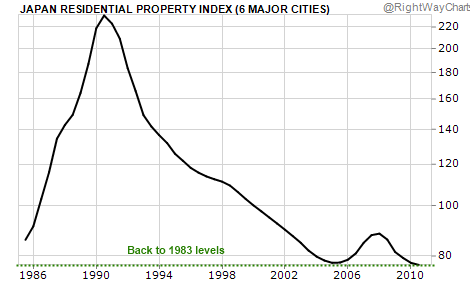 Japan is an important case example because in 1990, Japan had a GDP of $3.1 trillion and the US was at $5.7 trillion. Japan for many years was the second largest economy. But today Japan's GDP is what it was in 1995. The Bank of Japan bailed out the banking system with bucket loads of troubled assets and forced rates to incredibly low levels. You can get mortgages in Japan in the 2 percent range but once again, refer to the first chart.
Some people take the next step and talk about zero percent mortgage rates. Why speculate when we can look at Japan for an example:
"(BBC) Yoshifumi Tachibana, 32, might be one. He recently bought an apartment worth 60 million yen (£478,782; $766,430) in central Tokyo.
"I was told I'd get the best mortgage rate if paid about 20% up front, so I did," he says.
"Low interest rates were definitely one of the reasons for me to decide to buy my first home. I borrowed 47 million yen and I am on a 35-year repayment plan with an interest rate of 0.075%."
But despite such attractive rates, real estate agent Hidetaka Miyazaki says he has not seen an increase in the number of buyers and investors in the last 20 years, especially not in sub-urban areas."
Essentially what is happening is market manipulation of rates to keep home prices inflated for banks. In Japan, the support to banks has been nearly unlimited since the real estate bubble burst in 1990. The Fed is following a very similar road allowing banks to selectively
hold off properties from the market while
pushing rates lower to keep prices higher. Since there are zero conditions on bailouts or funding, banks can do what they see fit even in the aftermath of the greatest housing bubble in US history.
12---
The great housing swindle; As many as 90 percent of REOs are withheld from sale
, firedog lake
And there are growing indications that this is all based on a convenient fiction around artificially reduced supply. A little-noticed item at
AOL Real Estate
, based on the same industry data banks and analysts use to tout a recovery, introduce us to the scam in "shadow REO":
This home is part of what's known as the "shadow REO" (REO stands for Real Estate Owned) inventory: repossessed homes across the country that banks or investors often purposely keep off the market. The practice isn't a secret, and refraining from dumping a large inventory of foreclosures on the market helps to keep home prices from crashing.
But the extent to which lenders keep their stock of REOs — industry parlance for "real estate owned" properties — off the market may be much larger than most people think.
As many as 90 percent of REOs are withheld from sale, according to estimates recently provided to AOL Real Estate by two analytics firms. It's a testament to lenders' fears that flooding the market with foreclosed homes could wreak havoc on their balance sheets and present a danger to the housing market as a whole.
Online foreclosure marketplace RealtyTrac recently found that just 15 percent of REOs in the Washington, D.C., area were for sale, a statistic that is representative of nationwide numbers, the company said.
A Liability to Lenders
Analytics firm CoreLogic provided an even lower estimate, suggesting that just 10 percent of all REOs in the country are listed by their owners, which include mortgage giants Fannie Mae and Freddie Mac as well as the Federal Housing Administration. As of April 2012, 390,000 repossessed homes sat in limbo, while about 39,000 were actually listed for sale, said Sam Khater, senior economist at CoreLogic.

13---
The Disappearing College Loan
, WSJ
The amount of student-loan debt outstanding has swelled to nearly $1 trillion. Payments on 11% of student-loan balances were 90 or more days behind at the end of September, according to the Federal Reserve Bank of New York, the most recent data available.
Typically, federal student loans must be repaid within 10 years. At current interest rates, that can work out to a monthly payment of roughly $300 for a borrower with $26,000 in debt.
14---The "no reform" mortgage market, firedog lake

First off, there won't be a single change on that front as long as the private securitization markets remain unformed. Unless banks change their recent historical practice and hold mortgages on their own portfolios, only the GSEs will buy them on the secondary market. The idea that new rules on qualified mortgages will break this logjam is ludicrous. Private investors are wary of the entire unreformed system. They've been burned by fraud and nothing has fundamentally changed. Consider that the exact same enablers of fraud run the show at the big banks:

An executive who the Justice Department says facilitated a scheme to defraud Fannie Mae and Freddie Mac is now spearheading JPMorgan Chase's role in the government's program to compensate victims of the big banks' abusive foreclosure practices.
The executive, Rebecca Mairone, worked at Countrywide and Bank of America from 2006 until earlier this year, when she left for JPMorgan Chase, according to her LinkedIn profile [...]
Mairone was chief operating officer of the Countrywide lending division that allegedly carried out the "Hustle." She took the helm of JPMorgan Chase's involvement in the Independent Foreclosure Review this summer, according to a former Chase employee.
And that's really only one piece of the puzzle. The point is that there's been no reform of the system because there's been no accountability in the system. Even the weak efforts at accountability we've seen lately are being undermined. The US Attorney in New York filed suit against JPMorgan Chase over how Bear Stearns, now a subsidiary, packaged loans to investors. But the Securities and Exchange Commission, which should be the lead watchdog for investors, just settled a case over the same allegations.

15---CFPB: Qualified Mortgage to Be 'Unveiled' January 9, 2013, homebuying institute

16--100% of the job growth since the recession is in age group 55 and over, Mish

17---After tax deal, spending cuts dominate Washington agenda, WSWS

Following the agreement between Democrats and Republicans to avert the "fiscal cliff," the two big business parties enter the new year with one item on their domestic agenda: cuts in health care, retirement and other programs on which millions of people depend.
Behind the squabbling and political theater, the representatives of the financial aristocracy, along with the media, are working to create the conditions for implementing social attacks that previously were considered politically impossible. Such measures—slashing health care, cutting already meager retirement benefits, forcing people to work longer before receiving benefits—are presented as unavoidable.
...
For the ruling class, the question of the debt ceiling is a tactical issue, with a section concerned that continuing to use it as leverage for pushing through cuts imperils the US debt rating and the position of the dollar. On the end goal—slashing Social Security, Medicare and Medicaid—all are in agreement....

The analysis was remarkable for its hostility to the elderly, suggesting that retirement was a positive evil, and arguing that federal policy should be restructured so as not to "encourage" retirement, but only make it "an option." It is no accident that one of the authors, Soneji, comes from the Dartmouth Institute for Health Policy, an institution closely aligned with the Obama administration that has been in the forefront of calls for slashing "unnecessary" medical procedures to cut costs.
It is, we are supposed to believe, the elderly who are leeching off society because they want, as Times columnist David Brooks put it last week, to "spend a lot on themselves" while "pushing costs onto their children and grandchildren."
The American financial aristocracy has spent several decades consumed by the single-minded aim of extracting as much money as possible through speculative and parasitic operations. It is an occupation to which it has given redoubled attention over the past four years in order to ensure that the rich not see their fortunes diminished by the economic crisis they fostered.
Yet it is not they who must pay—not the multi-millionaire hedge fund managers or corporate executives—but the elderly and infirm. The flood of right-wing media pontification is all based on the unquestioning acceptance that society can no longer afford to have its population get old or sick.
Amidst these calls for austerity, the US stock market is at a five-year high, having largely recovered from the losses of the 2008 financial crash. American corporations are sitting on a cash hoard of trillions of dollars.

18---What to Fear, greater fool

housing correction—or, possibly, a crash—is no longer coming. It's here," gushes the current issue. "And you don't have to own a tiny $500,000 condo in downtown Toronto or a $1.3-million bungalow in Vancouver to get hurt. With few exceptions, the impact will be indiscriminate as the euphoria of rising house prices is replaced by fear. The only question now is how bad things will get. If the decline picks up speed, as many believe it will, there could be a nasty snowball effect. Construction jobs will be lost. Homeowners will end up underwater. Consumers may stop spending… It all amounts to a dramatic reversal of fortune for Canadians, albeit one we brought on ourselves. Back in 2009, our hot housing market acted as a life preserver in a sea of economic uncertainty. Now it feels more like a cinder block tied around our necks."...

News flash, dude: the market's cooked for years to come. Despite prices dipping monthly in Vancouver (and soon Toronto), this correction has only just begun. Values are unsustainable based on incomes, economic growth, wage gains, employment levels or migration and offshore investment. There are a myriad of reasons for real estate to lose value, and virtually none why it should recover. The decline we're starting to witness now will only accelerate after 2015 because of negative demographics, let alone normalizing interest rates and debt deleveraging.
....
But then, when people are misled daily, we should brace for the worst.
Below is a story from Sunday's Vancouver Sun real estate section, trumpeting that a house sold "for more than $3 million." It actually changed hands (after 67 days on the market) for $312,000 under asking and at a 2009 price. The responsible headline: "House sells for $600,000 less than assessment."
When you finally see that, duck and roll.